-- The cover art for the WWE Royal Rumble 2011 DVD has been revealed. It's a modified version of the PPV posters. You can check it out by clicking here.
-- As noted earlier, the Save Mart Center in Fresno, CA which hosts RAW on 2/21 has the text "THE RETURN OF THE UNDERTAKER" in yellow text on the event page. Incidentally, California is Sting's home state. You can check out the event listing on the Save Mart Center's website by clicking here.
-- FightLine.com has an article about Brock Lesnar talking about why he assumed coaching duties for the upcoming season of The Ultimate Fighter. "I've got one thing in mind for this whole thing, to help these kids, to improve their lives, but more importantly it's for me to be able to get down here and train. It's an opportunity for me to get my title back, sooner than later," he said. "When I beat [Junior] dos Santos, then I get a rematch with [Cain] Velasquez and I get my f***ing belt back." They also have an article with current UFC heavyweight champion Cain Velasquez breaking down a potential Lesnar - Dos Santos fight, which you can check out by clicking here.
-- The Bleacher Report posted an image going around on the Internet of a poster teasing a Sting - Undertaker WrestleMania match. You can check out the image below. My personal feeling is that it's bogus, as it too closely resembles the poster for The Dark Knight, that you can check out at this link.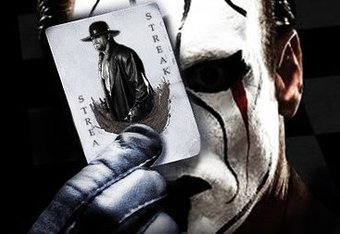 Brandon Pierson, Manny Slotberg and Josh Sewell contributed to this article. Follow Raj Giri on Twitter at @RajGiri_303. Got a news tip or correction? Send it to us by clicking here.