THQ Inc. officially announced today that Mike Tyson will "virtually" return to the ring in WWE '13.
"As one of the most dominant champions in boxing history and one of the most memorable guests to ever be featured on WWE programming, Mike Tyson led an incredible revolution that changed the way fans perceive the sport," said Sean Ratcliffe, Vice President, Global Brand Management, THQ. "He was a tremendous addition to the 'Attitude Era' and is certain to attract a wide variety of fans to 'live the revolution' offered in WWE '13."
Tyson will be available as an exclusive playable character for consumers who pre-order the videogame at any participating retailer in the United States or Canada for the Xbox 360, PS3 or Wii.
"The baddest man on the planet is back -- and only in WWE '13," said Mike Tyson. "Fans everywhere can now relive what I experienced during the 'Attitude Era.'"
Gadget Helpline posted nearly a dozen screenshots and artwork from THQ for the new Tyson character in the game, you can check them out at this link. You can check out a screenshot of Tyson blasting Chris Jericho below: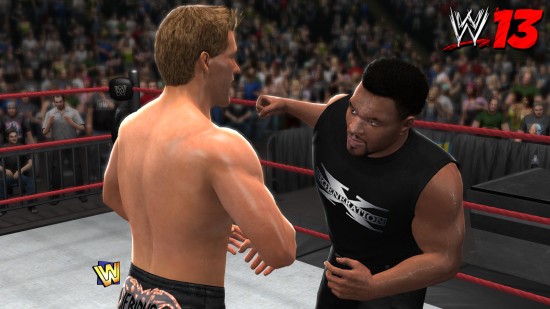 Lee and Jari Prins contributed to this article. Follow Raj Giri on Twitter at @RajGiri_303. Got a news tip or correction? Send it to us by clicking here.