There was a backstage segment with Matt Striker and Booker T. A bunch of stars interrupted.
The Undertaker comes out and the arena erupts. The Shield makes their usual entrance through the crowd. It appears that this match is televised, as the announcers are still out. Photo courtesy of @matthewconnell :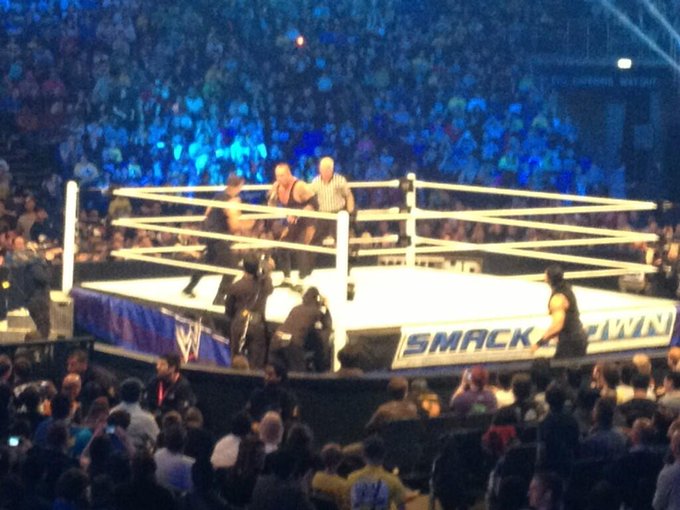 * The Undertaker defeated Dean Ambrose in a 7-8 minute match. Undertaker was able to hit a chokeslam. Shortly after, 'Taker locked in Hell's Gate and Ambrose tapped! The Shield enter the ring and attack 'Taker. They brawl to the outside, and 'Taker grabbed a chair, but before he could us it, Roman Reigns speared 'Taker through a barrier and the crowd chanted "Holy Sh-t!" Ambrose then nailed 'Taker with chairshotsThe Shield continue to beat on 'Taker and triple powerbomb him through the announce table! The crowd is hot and is chanting "You tapped out!" to Ambrose. The crowd boos as The Shield stand over The Undertaker. This appears to be where the show went off the air according to our correspondents.
The New Age Outlaws music hits and they come out. They signal to the entrance ramp and Triple H comes out to a massive pop to fend off The Shield. The reaction when Triple H came out was amazing, it was the biggest pop of the night. A brawl ensues, and DX make quick work of The Shield. Rollins took a fame-asser, followed by a pedigree. After celebrating for a few seconds, DX help 'Taker get to his feet and then go backstage.
Fandango comes out and the whole crowd is Fandangoing! That's all from Smackdown, they keep playing Fandango's music as the crowd leaves.
Follow Raj Giri on Twitter at @RajGiri_303. Got a news tip or correction? Send it to us by clicking here.
WrestlingInc.com is the largest independently owned wrestling website in the world (Source: Alexa). Follow us (@WrestlingInc) on Twitter, become a fan on Facebook: