- As noted earlier, WWE will be returning to Dallas, Texas for the Monday Night Raw on December 16th after the TLC PPV. The pre-sale code is DALLAS, you can purchase tickets at this link.
- WWE presents a loaded Supershow Sunday this evening at 5pm at the UNO Lakefront Arena in New Orleans, LA. Randy Orton vs. Daniel Bryan and CM Punk vs. Curtis Axel is scheduled for the event. There will also be a 30 man battle royal with the winner receiving a title shot against World Heavyweight Champion Alberto Del Rio later that night. We would appreciate a report for the show, so if you are attending it, please send us a report by clicking here.
- WWE Hall of Famer Jim Ross was at the Notre Dame - Oklahoma Sooners game yesterday and joined Angelo Di Carlo on Countdown to Kickoff, which you can watch above. WrestlingINC.com reader Darrin Miller also sent the photo below of JR standing outside Notre Dame Stadium before the game.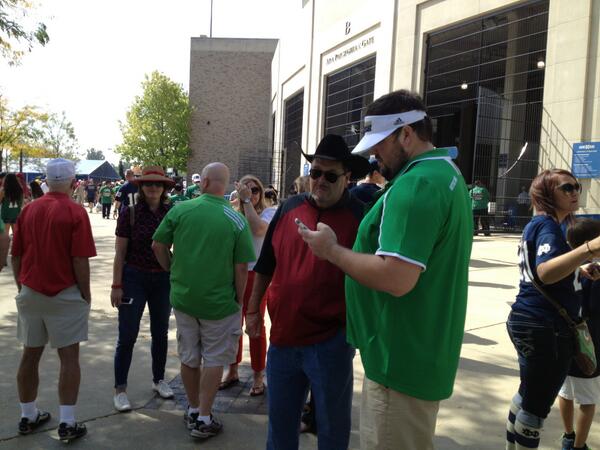 Dustin Avila contributed to this article. Follow Raj Giri on Twitter at @RajGiri_303. Got a news tip or correction? Send it to us by clicking here.