- Kurt Angle and Gail Kim are heading back to the U.S. following their promotional tour in India. TNA posted the video above of Angle visiting a wrestling school in Delhi.
- The Times Of India has an article about Angle appearing on the Indian television series, Balveer, at this link.
- NDTV.com has an interview with Angle here, who was putting over Indian Olympic medalist Sushil Kumar. Angle advised Kumar to go into MMA rather than pro wrestling, feeling that he will have more success there. He also talked about people calling pro wrestling "fake."
"If one calls it fake, then it's an insult to the commitment of a pro wrestler," said Angle. "It is (an insult if you call it fake). It is rather pre-determined. We both know who the winners are going to be. It is one of the barbaric form of athletics I have done. In that ring, we wrestle on woods like this (points to the table in front). Imagine getting slammed on that. So, we have to learn how to avoid being injured when getting slammed. Pro Wrestling is the toughest I have ever done. I broke my neck four times, broke my arms, legs. I had a great career there and I am proud of it."
- DNA India has an interview with Angle at this link. During the interview, Angle discussed working with "Stone Cold" Steve Austin.
"Steve and I had a great chemistry," Angle said. "We both did each other wrong many times. Ultimately, I would say he was one of the best I have seen in my life. He was better than anybody in the ring. Not just his character, but his ability to talk on the microphone with that attitude – he was a complete wrestler."
- WrestlingINC.com reader Prashant Rawat sent along this photo from Kurt Angle and Gail Kim's appearance at the Wave Mall in Lucknow, India earlier this week.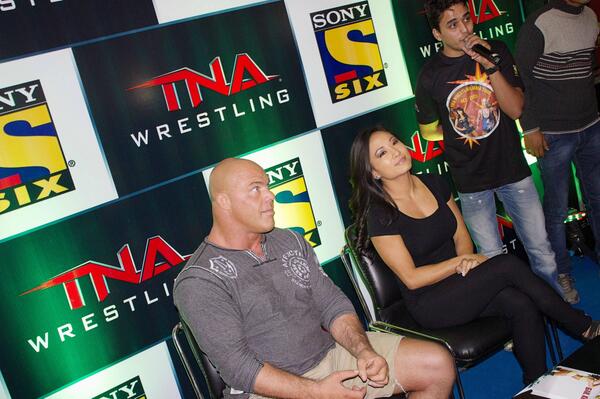 @YatharthTiwari contributed to this article. Follow Raj Giri on Twitter at @RajGiri_303. Got a news tip or correction? Send it to us by clicking here.