- Vince McMahon was the top trending topic Saturday evening and early Sunday on Yahoo.com; he is currently the second-ranked term, behind actress Anna Paquin. This could be due to the WWE Chief grabbing national headlines for his past association with Justine Sacco, a former PR executive who sparked a firestorm of controversy on Twitter for her "needless and careless tweet" about AIDS in Africa. Sacco joined IAC in September 2011 after working with McMahon as a publicist at WWE.
Inquisitr.com published an article on Saturday on Sacco's ties with the sports-entertainment organization, where an uncredited writer states, "But the interesting part is that Justine Sacco joined IAC in September 2011 after working with Vince McMahon as a publicist at WWE. Why is this important? It just shows the type of work environment Sacco was used to working within. As a publicist for WWE, Sacco would have been used to a job where AJ Lee's boy friend CM Punk could be called "f*ck face" as a friendly hello by a reporter."
"You can't argue with a straight face that WWE is politically correct (heck, McMahon even had the RAW announcers making fun of President Obama recently). To give you an idea how extreme things can be in the WWE, they faked Vince McMahon's death by blowing up his limo and even convinced the world the story line was real for quite a while."
- It was reported in the spring that Dwayne "The Rock" Johnson would be starring and producing a 'dramedy' series for HBO chronicling the lives of athletes—some retired, some still active—living in Miami, Florida. On Saturday, the wrestler-turned-actor tweeted this photo of himself at HBO's production facility in New York.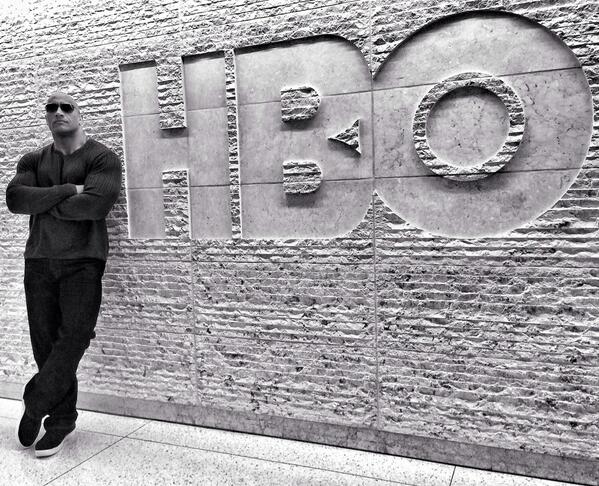 "THE BLOCK IS HOT. Partnered up w/ @HBO & ENTOURAGE producers to bring ya a great show. Its on... #BALLERS," Johnson remarked.
Got a news tip or correction? Send it to us by clicking here.