Winner: Bro-Mans
Bobby Roode vs. Abyss
Roode came out first. He cut a promo talking about how he beat Sting in a cage, and will beat Angle next Thursday in a cage. He then said there was nobody there to fight him, so he issued an open challenge to anybody in Bristol. Actually thought it might be the old Rock n Roll Express guy, Ricky Morton coming out. He was in attendance and the crowd starting chanting for him, but obviously it wasn't him. All of a sudden, Abyss' music hit and here he come. Decent back and forth match that ended with Roode going for his Death Valley Driver, but Abyss escaped. Roode shot off the ropes and Abyss hit him with the Black Hole Slam for the win.
Winner: Abyss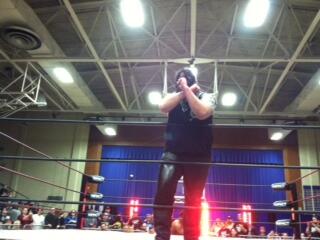 Intermission
TNA World Heavyweight Title Match
Magnus (c) vs. Sting
Pretty decent match that went about 10 minutes or so. Ended with Sting hitting a Stinger Splash, then trying again, but Magnus pulled Brian Hebner in front of him. While Hebner was down, Magnus come off the middle rope, but Sting caught him and put him in the Scorpion. Magnus tapped, but Hebner was still down. Sting went over to check on Hebner, and then Magnus rolled him up for the win.
Winner: Magnus
2 out of 3 falls
Samoa Joe vs. Bully Ray
Was really surprised this was the main event over Sting and Magnus, but Joe signed took pictures with the fans at the end, so it made sense.
Joe come out first, while he was walking around the ring, Bully come out and threw him into the steps. Bully threw Joe back into the ring and run his mouth at the crowd and Earl Hebner for a minute. Bully told Hebner to get down and count -- which he reluctantly did -- for the 3 count.
First Fall: Bully Ray
The second fall started the same as the first. Hebner got a 2 1/2 count and Joe got his arm up. Bully argued with Hebner over to the corner, then Joe rolled Bully up for the quick three count.
Second Fall: Samoa Joe
The third and final fall went back and forth for a bit. It ended with Joe slapping Bully into the Rear Choke for the tapout, and the win.
Winner: Samoa Joe
Most Heat
1. Bro-Mans
2. Magnus
3. (tie) Bobby Roode, Chris Sabin
Biggest Pops
1. Sting
2. James Storm
3. (tie) Abyss, Austin Aries
Follow Raj Giri on Twitter at @RajGiri_303. Got a news tip or correction? Send it to us by clicking here.
Short URL: http://winc.cc/OMCEye
WrestlingInc.com is the largest independently owned wrestling website in the world (Source: Alexa). Become a fan on Facebook, follow us (@WrestlingInc) on Twitter: