- ABC 6 News in Tennessee has a story at this link about Glenn "Kane" Jacobs teaming up with The Journey Church to sponsor the Faith to End Hunger Food Drive in Maynardville last night. Roughly a thousand people attended the event, which raised more than $500.
"I think it's imperative that people support folks in our community that might need help," Jacobs said. "I think it's a great effort... I'm just happy to be a part of it."
- Bray Wyatt and The Bella Twins will be attending the San Antonio Comic Con this Sunday. Bray will be available for photo and autograph opportunities from 11am - 2pm. The Bellas will be signing autographs and posing for photos from 1:30pm - 3:30pm, before participating in a Q&A panel at 4pm. You can get more details at this link. We would appreciate a report for the panel, so if you are attending it, please send us a report by clicking here.
- Through this Sunday night, you can get 40% off all sale items at WWEShop.com. Save big on popular sale items like the Evolution "Back For Business" and Daniel Bryan "Join The Movement" T-shirts! No promo code is needed, just use this link.
- Chris Jericho is on the cover of the Oct/Nov 2014 issue of tattoo magazine Rebel Ink, which hits newsstands on August 5th. In between putting the final touches to Fozzy's latest record — Do You Wanna Start a War, which just hit stores on July 22nd — Jericho linked up with Rebel Ink for a wild photo shoot and to talk about his band's latest moves, his But I'm Chris Jericho! web-series, his next book and his rock 'n' roll themed tattoos. You can check out the cover below: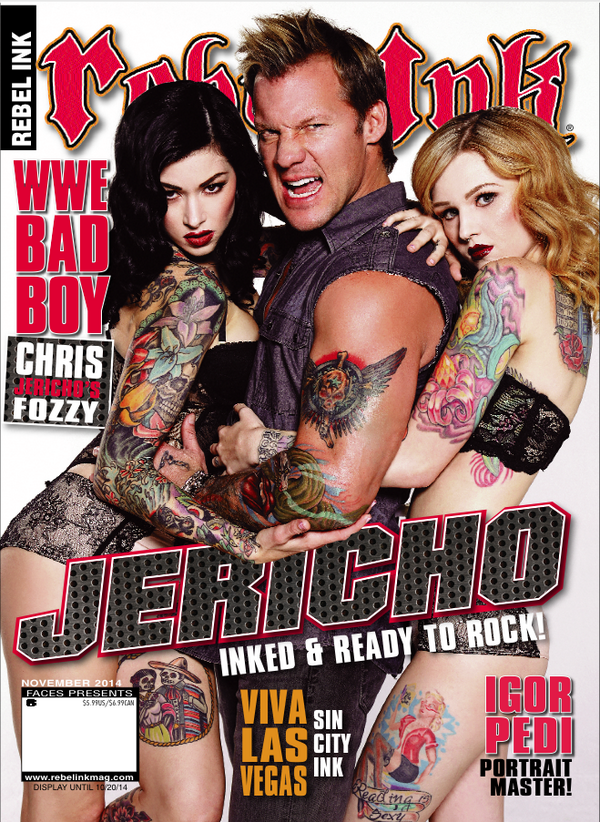 Follow Raj Giri on Twitter at @RajGiri_303. Got a news tip or correction? Send it to us by clicking here.