This morning, WWE reported record revenue of $199.0 million for the second quarter of 2016 (April-June). This included the impact of WrestleMania 32 which generated more than $21.5 million in live event revenue, $4.0 million from traditional pay-per-view sales and $3.9 million of venue merchandise sales. There were 1,517,000 average paid WWE Network subscribers during the quarter (firmly in line with WWE's guidance of "approximately 1.5 million") and as of June 30, 2016 there was 1,130,000 domestic subscribers and 381,000 international subscribers.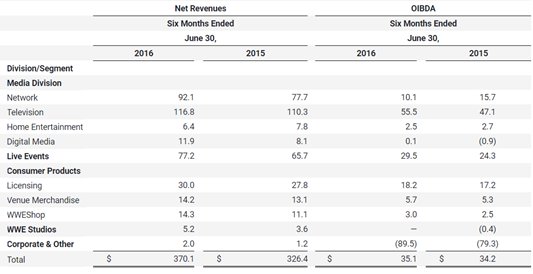 Because WrestleMania 31 was in the first quarter of 2015 and WrestleMania 32 was in the second quarter of 2016, the best way to compare financial results is to look at the combined year-to-date six month data.
For the first half of the year (H1), WWE net revenue has grown 13% compared to the prior year. More than half of the company's growth has been driven by gains in the Network and Live Events segments. However, this $43.7 million increase in revenue only corresponded to a $900,000 increase in OIBDA (operating income before depreciation and amortization excluding feature film and television production amortization and related impairments – essentially how WWE measures "profit"). Notably, despite $14.4 million growth in the Network segment net revenue (WWE Network + PPV), the Network OIBDA on this segment actually declined by $5.6 million. The majority of the rise in Corporate & Other expenses was due to "global branding, data analytics, and certain talent initiatives, as well as increased legal expenses related to ongoing litigation" in Q2'16.
While non-WrestleMania live event attendance in North America has dropped about 5% this year (6,100/show for January-June 2015 compared to 5,800/show for January-June 2016), WWE has been successful at raising ticket prices (+6% in Q1'16, +12% in Q2'16). Despite WWE's press release that WrestleMania drew 101,763 fans, the latest Key Performance Indicators slide suggests that actual paid live event attendance for WrestleMania was in the range of 74,000 to 86,000 people. In Q2'16, WWE had a very successful European tour where they averaged 8,000 fans over 19 events (compared to 6,900 fans over 21 events during Q2'15). Overall, WWE's live event growth continues to come from increased monetization of the remaining domestic fans and growing business internationally.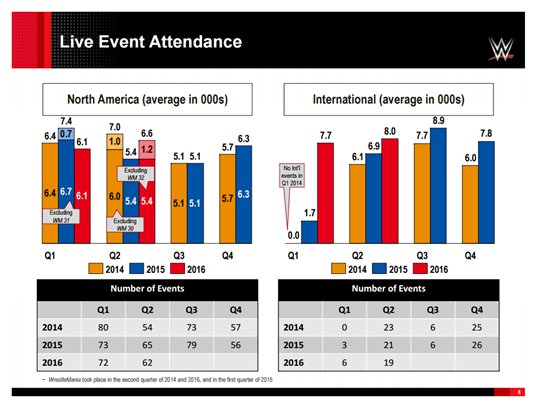 Paid WWE Network subscribers are currently at an all-time high of 1,130,000 domestic and 381,000 international accounts as of June 30, 2016. Paid domestic subscribers have increased by 21,000 households since WrestleMania 32 while international paid WWE Network subscribers have increased by 36,000 households. Last year, paid domestic subscribers fell by 184,000 between WrestleMania 31 and June 30, 2015 while paid international subscribers increased by 25,000. Free trials on the WWE Network reached their peak at WrestleMania 32 with 281,000 domestic accounts and 89,000 international accounts. That number has returned to the usual levels of 36,000 domestic accounts and 13,000 international accounts. Was the #FreeWrestleMania promotion a success? WWE was successful at growing the number of paid subscribers from WrestleMania (as opposed to last year when they registered less subscribers by June 30). However, the true value of these subscribers will come with longevity. If they are still subscribers at the end of the year, it was probably a worthwhile investment. At this time, we don't have enough specific information from WWE to categorize it as anything stronger than a gamble that may still pay off.

WWE Chairman and CEO Vince McMahon along with Chief Strategy and Financial Officer George Barrios shared prepared remarks and answered questions during the earnings call. Vince noted that he was "pleased with the execution of our strategy to optimize the long-term value of our content. He called out progress on "continued year-over-year growth of WWE Network, the transition of SmackDown to a live format every week, and the completion of our first exclusive content agreement in China."
Regarding the recent PPTV deal in China, WWE talked about how this was their first exclusive deal in China and specifically their first digital exclusive deal. Instead of waiting several weeks for editing, both Raw and SmackDown are being aired live in the Chinese market in Mandarin. As Barrios told analyst Laura Martin, "I think you're seeing similar to other parts of the world that live content has a premium".
On the brand extension, Vince noted that things were "working thus far very, very well" and they were pleased with the high rating for the Draft on live SmackDown. However, when analyst Eric Katz asked whether storyline programming (such as the brand extension second screen experience) was having any notably influence on gaining WWE Network subscriptions, Barrios noted, "SmackDown went live one week ago. The Brand Extension kicked off three days ago. We don't have trends in place but our expectation is more engagement across all platforms."
Analyst Brandon Ross also asked about the Brand Extension and the rationale for why WWE moved ahead, especially considering that there would be increased costs. Vince McMahon responded that they had a "plethora of talent due to Paul Levesque's influence on the training center" and that WWE wanted to "more personalities, more licensing opportunities" and expected to generate more income from the added pay-per-view events. George Barrios did admit that the guidance that WWE gave last year about 2016 did not include this brand extension while the guidance that the company is providing now does.
Regarding gift cards for the WWE Network, Barrios remarked that the company believes in the non-holiday season, most of these gift cards are being purchased by the primary user as a form of payment option. The future may also include gift cards with a longer duration.
There was a question at the end about the UFC sale. Barrios response to about the wildly different valuations of WWE and UFC was that, "with them not being public, all you have is what's in the media". The CFO also said that the UFC transaction "reflects the value people are putting on branded live content." When asked when WWE would ever entertain a similar sale, WWE gave their stock answer: "We're always willing to listen. All we care about is doing what's best for our audience, our shareholders and our employees. If someone has a great idea, we're open to listening to it."
There was no discussion about Brock Lesnar's failed USADA test nor any blockbuster announcements of new WWE Network programming. Currently, WWE is projecting a rosy financial picture for the remainder of 2016. As noted in the earnings call presentation: "If recent subscriber acquisition and retention trends continue over the remainder of 2016, management believes growth in subscribers would be at the upper end of the range and Adjusted 2016 OIBDA would be $80M-$85M." That would be an improvement over 2015 OIBDA of $61.6 million. However, a lot of questions remain about whether the brand extension will be successful in keeping fans engagement and spending money on WWE products. WWE told one analyst that they did not expect any impact from the Olympics. Still, WWE television ratings in Q2 continued to slide with 11% decline for Raw and 10% decline for SmackDown (which had moved Networks and moved nights). Meanwhile, the decline for USA Network and Top 25 Cable Networks was only -7% and -5% respectively.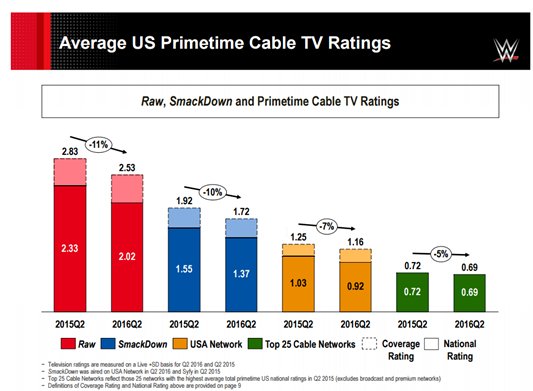 For the first time, the global hours and global views for WWE AVOD (ad-supported video on demand) consumption dropped in Q2'16. If this trend next quarter, WWE will need to address why video consumption on WWE platforms (WWE.com, WWE App, FaceBook and YouTube) has become stagnant. Conversely, WWE's favorite metric to tout, Social Media Followers and Engagement, grew again for Q2'16. Exciting as all of these likes/follows/mentions/retweets are, it's important to remember that Digital Media has only generated $11.9M in net revenues year-to-date and a paltry $0.1m OIBDA YTD. By comparison, a dying product line such as Home Entertainment (DVD and BluRay sales) was only $6.4m in net revenue but generated a profitable $2.5m in OIBDA. Social media may be the future, but WWE is still enormously dependent on their lucrative television rights contracts and growing their nascent WWE Network subscriber business. While Q2 WWE Live events generated records revenue, the underlying domestic house show attendance trends could be troublesome if WWE fans eventually revolt against the escalating ticket prices.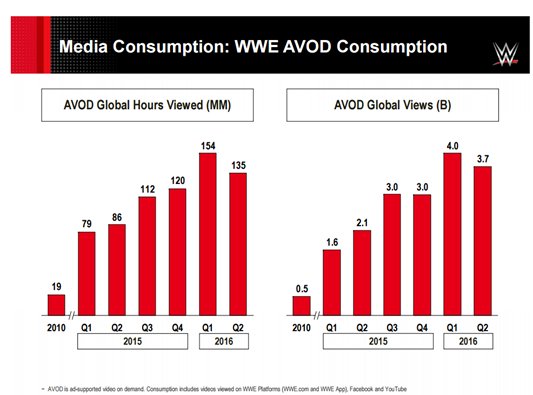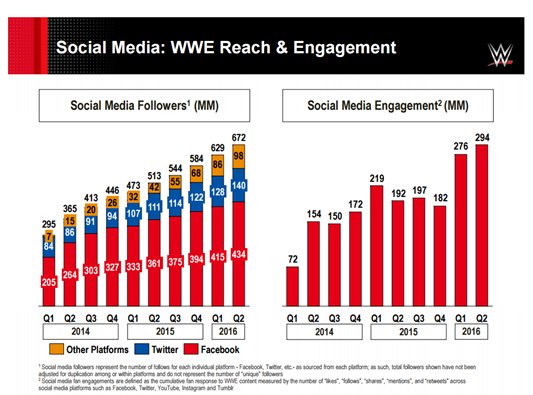 Chris Harrington covers Wrestlenomics (pro-wrestling business & analytics news) and can be reached on Twitter at @mookieghana. Got a news tip or correction? Send it to us by clicking here.