The WWE quarterly earnings announcement today was a humdrum affair. There was no blockbuster announcements or stunning revelations.
For the third quarter of this year (July 1 to September 30, 2016), WWE announced revenue of $164.2 million and OIBDA of $24.5 million. (OIBDA is WWE's principal profit measure.) Compared to the prior year, revenue was down slightly ($166.2m in Q3'15) and OIBDA was up ($23.4m in Q3'15).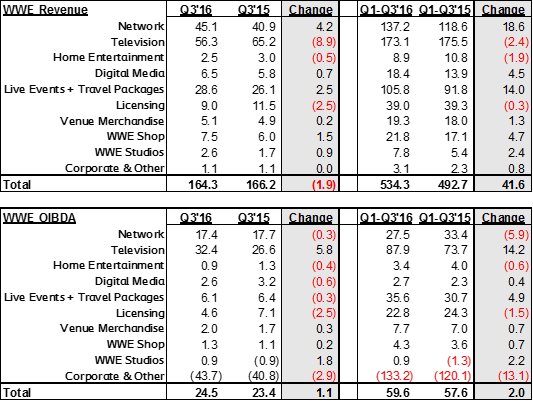 Considering how much Television rights has grown in recent years, it may be surprising to see that TV revenues were actually down year-over-year. This was noted as a timing issue based on when 21 episodes of Total Divas and Tough Enough aired in 2015. Those two shows contributed nearly $14m in TV rights revenue for Q3'15 and neither show had comparable airings in Q3'16. Licensing also is down year-over-year "due to a lower effective royalty rate for our franchise video game, WWE 2K16, and lower sales of our toy products."
During the Q&A, analysts prodded CEO Vince McMahon and CFO George Barrios with questions on the possibility of selling the company (Vince remained unsure and gave the usual vague "we're open for business" answer), the recent Fan Council survey (Barrios said not to read too much into it) and bundling the WWE Network with other streaming services (Barrios emphasized that economics, viewership and engagement metrics are key to deciding whether something like that would make sense for the brand in the short-term and long-term).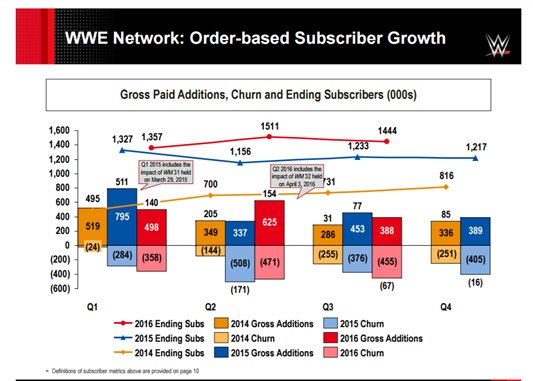 The WWE Network had 1,444,000 paid subscribers as of September 30, 2016. This number was on the low-end of the projections that WWE had shared with investors during last quarter's conference call. The worldwide split was 1,071,000 domestic subscribers (74%) and 373,000 international subscribers (26%). The WWE Network subscriber number is down from last quarter (1,511,000) with 388,000 subscriber gross additions offset by churn of 455,000 subscribers. The average number of total subscribers over the past quarter was 1,458,000 which is down from the Q2'16 WrestleMania quarter at 1,517,000. For Q4'16, WWE is projecting that the average number of subscribers over the quarter would continue to drop to 1,400,000 (+/- 2%). That means despite the big push for Goldberg versus Brock Lesnar, WWE is still expecting the overall number of subscribers throughout the rest of the year. Internationally, there are no other marketplaces to expand the WWE Network into besides China. WWE had no update on when they would be penetrating the Chinese marketplace with the WWE Network though they remained generally optimistic about the prospect. Ultimately, WWE's Chief Strategy Officer George Barrios pointed to WrestleMania as the key driver for adding new domestic and international subscribers next year.
WWE is quite positive on the financial outlook for 2017. They announced today that the company expects to "achieve record revenue" and hit all-time record of "targeted Adjusted OIBDA of $100 million". Starting in 2015, WWE latest's television deals included contractual rights escalations which will continue to deliver significant revenue growth through late 2019. Furthermore, WWE is expecting to continue to grow the WWE Network though they noted it would be "at a lower rate, on a year-over-year basis than in 2016" (which they estimated at YoY growth of 25%). Otherwise, WWE is ambiguous on how exactly they will achieve such record profitability.
North American attendance was up to 5,300 per show in Q3'16 compared to 5,100 per show last year in the same quarter and 5,400 per non-WrestleMania live event in Q2'16. International attendance was 8,200 per show in Q3'16 compared to 8,900 per show last year in the same quarter and 8,000 per show in Q2'16. WWE ran slightly less North American live events this quarter compared to last year (71 in Q3'16 vs. 79 in Q3'15) and more International live events this quarter compared to last year (11 in Q3'16 vs 6 in Q3'15). Over the last nine months, WWE has run 241 live events which generated $125.1 million in revenue (including venue merchandise) worth $43.3 million in OIBDA. That is up compared to the first nine months of 2015 where WWE ran 247 live events which generated $109.8 million in revenue (including venue merchandise) worth $37.7 million in OIBDA. The OIBDA % is pretty similar year-over-year (34.6% in Q1-Q3'16 versus 34.3% in Q1-Q3'15) though Q3'16 was much lower than other quarters (24.0% compared to a non-WrestleMania quarter average of 26.9%). It will be interesting to track exactly how operating two brands and running more live events effects the overall profitability of live events considering some of the anaemic attendances we've been seeing this year.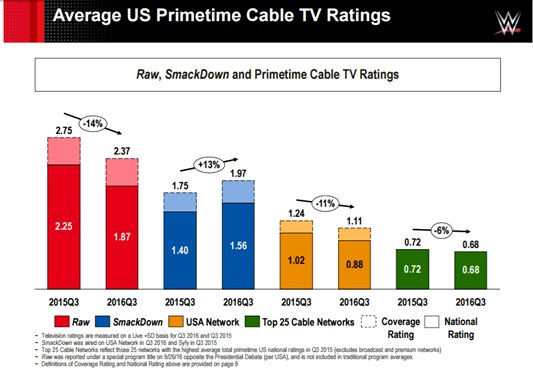 Ratings for their flagship show have continued to precipitously decline. This quarter, Raw ratings were down 17% on a national rating basis ("average of the U.S. viewing households for each minute of a selected daypart or program aired on a U.S. television network expressed as a percentage of the estimated U.S. television households within that network's coverage area") and down 14% on a coverage rating basis ("average of the U.S. viewing households for each minute of a program or daypart expressed as a percentage of total U.S. television households"). This decline is greater than the drop seen by USA Network as a whole (-11%) or the Top 25 Cable Networks (-6%).
However, the new Smackdown live format was a bright spot. Ratings are up 14% on a national rating basis and 13% on a coverage rating basis. Obviously, it helps to move to a live format with exclusive stars (including John Cena), stronger network (USA vs SyFy), improved storylines and expanded coverage/emphasis in WWE programming. As Vince McMahon noted, "in environment where all cable ratings are challenged, SmackDown transition to live format has been successful."
Overall, WWE remains on track to be a profitable company that will set another new revenue record in 2016. Their firm foundation for revenue growth is around monetizing their base of hardcore fans. They'll continue to run lots of live events and collect increased television rights fees each quarter. They've spent the year investing in various initiatives including increased focus on market localization & international staff and improved data analytics capabilities. The WWE Network is growing year-over-year with WrestleMania being the main catalyst of subscriber growth. They continue to pile up social media followers (705 million) and "engagements" (303 million). However, the future of media is very opaque. As George Barrios said, "the crystal ball is hazy" as WWE must determine whether they can count on new record television contracts in 2019 (when their US, UK and India TV deals come due) or whether it would be time to fully pivot into the world of AVOD or SVOD (subscriber video on demand). With the majority of digital views coming from outside the United States, will WWE be able to leverage this to recaptured lapsed fans and find new members of their WWE Universe in international markets? Can WWE utilize their improved customer metrics and subscriber profiles to generate more specialized content and market their consumer products and live events directly to fans? New initiatives, new marketing campaigns, new localization efforts and new pricing tiers must be explored. They have the benefit of guaranteed television rights revenue and fairly stable WWE Network trends. They must use these next few years to avoid entering a listless limbo or midcard mambo if they want to become a true entertainment juggernaut.
Chris Harrington covers Wrestlenomics (pro-wrestling business & analytics news) and can be reached on Twitter at @mookieghana. Got a news tip or correction? Send it to us by clicking here.