15 WWE Debuts Fans Will Never Forget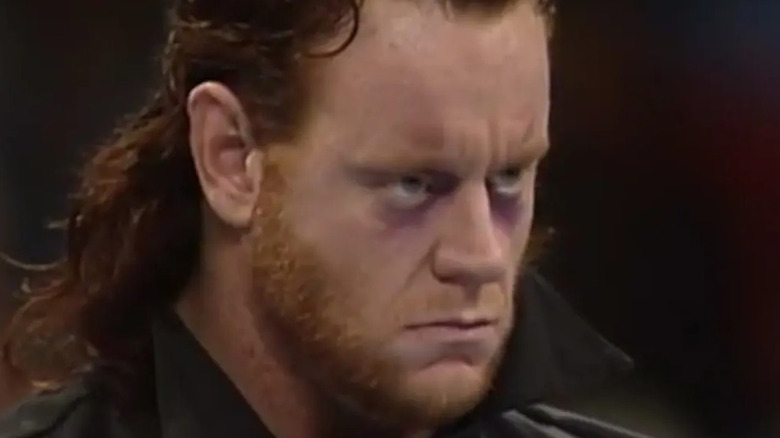 WWE
First impressions are everything, especially when it comes to the world of professional wrestling, and nowhere is that more important than in the WWE. If there's one area WWE have excelled in, despite their faults, it's the often grand introductions of their newest acquisitions. Some debuts can be unexpected surprises, while others live and die based on how efficiently the talent gets themselves over with the crowd. Introducing a talent that the audience might be largely unfamiliar with can often be a challenge, especially nowadays. If a debut is botched, it can result in the audience turning on the person or people in question in record time — just ask WCW's The Shockmaster.
However, there are many examples of WWE getting it just right when it comes to a new wrestler or group's grand introduction. Whether it's for independent wrestling standouts or for a recent defector from another company, WWE definitely knows how to roll out the red carpet.
Adam Cole
WWE
After being kicked out of Bullet Club, and poisoned on "Being the Elite," many fans wondered when Adam Cole would make his next move. En route to "NXT" Takeover: Brooklyn 3 in 2017, the new and improved Drew McIntyre was on the hunt for Bobby Roode's "NXT" Championship. However, alongside McIntyre, two other talents had made their way to WWE as well, those being Kyle O'Reily and Bobby Fish. Did this mean that ReDragon, the multiple time ROH and IWGP Jr. Tag Team Champions, were going to reunite on "NXT"? The answer to this was soon confirmed as a resounding yes, but with so much more attached.
Following McIntyre's win over Roode, Fish and O'Reily appeared at ringside after making their presence felt earlier that night. But then, as McIntyre was focused on them, the fans in the Barclays Center became increasingly more loud and raucous. This was shown to be the result of "NXT"'s newest signee making his way through the crowd, that being none other than Adam Cole. Attacking McIntyre from behind, Cole quickly established himself and his new faction as a true force to be reckoned with.
AJ Styles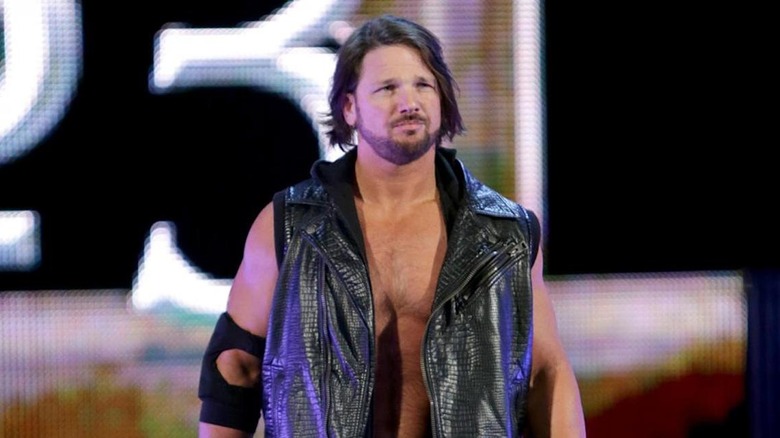 WWE
When AJ Styles announced to the world that his time in NJPW and ROH was drawing to a close, rampant speculation began. For the longest time, aside from a few scant enhancement appearances in the early 2000s, Styles remained one of wrestling's hottest non-WWE talents. The Phenomenal One mostly made his mark in ROH, NJPW and TNA/Impact, winning several major titles along the way. As far as work rate was concerned, Styles was often considered one of the best in the entire world. With his free agency coinciding with the impending 2016 Royal Rumble, many fans were hoping that Styles would be an entrant.
This was something so widely desired, that even Styles himself teased it during one of his final indie appearances. Eventually the night of the Royal Rumble arrived, wherein Roman Reigns was to defend his WWE Title against the other 29 combatants. Reigns quickly dispatched the second entrant, leaving the floor empty for number three to enter the fray in grand fashion. An unknown entrance theme began and the titantron slowly revealed the words "I am phenomenal," which quickly sent the crowd into a frenzy. As far as first impressions go, matching the WWE Champion move for move is a great way to do it.
Brock Lesnar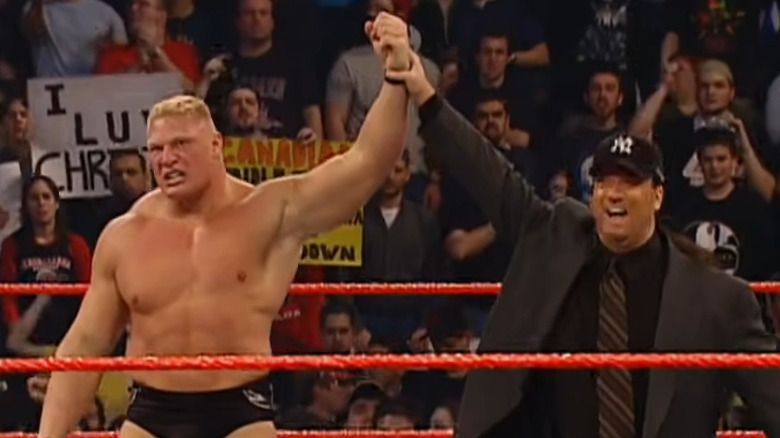 WWE
If you want to kick the door down and make a sizable impact in record time, definitely take a page out of Brock Lesnar's book. Lesnar's name often brings with it an equal amount of praise and disdain depending on who you talk to. Despite the man's undeniable in-ring prowess, he's often become content with very short and often very underwhelming matches, especially in recent years. There's been a great effort to fix that, but it's still a reputation that the "Beast Incarnate" has been unfortunately saddled with. It is worth noting however that Lesnar has never really had to work too hard to prove himself.
His debut on the main roster in spring 2002, especially with the benefit of hindsight, was a true oddity in terms of booking. Following a two-year developmental period in OVW, Lesnar was immediately flung into a prominent status on WWE's weekly television. "The Next Big Thing" immediately went to work by destroying Al Snow, Maven and Spike Dudley in next to no time at all. Lesnar's dominance soon became a regular occurrence, with the likes of the Hardy Boyz and even Hulk Hogan facing his wrath. This all culminated in Lesnar winning the WWE Championship from The Rock at SummerSlam 2002 in the show's main event. In less than a year, Lesnar destroyed several marquee talents and claimed WWE's top prize — you can't really do much better than that.
Kane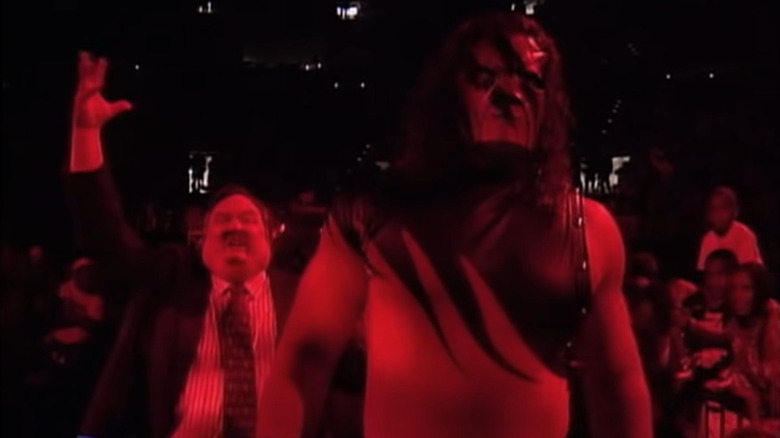 WWE
The buildup to Kane's 1997 debut still stands as some of the most intriguing television that WWE has ever produced. It all began when The Undertaker's longtime manager, Paul Bearer, revealed to his former client that his brother Kane was alive. This was a shock to 'Taker, whose childhood actions had resulted in his family's funeral home burning down and (allegedly) killing Kane. Soon enough the "Prince of Darkness" learned just how alive his brother was and in particularly grand fashion.
On the night of Badd Blood 1997, 'Taker was embroiled in an intense Hell in a Cell match with Shawn Michaels. All seemed primed for him to gain the victory, until the lights went out and a sinister new entrance track began to blare. Bathed in red light, Kane sauntered to the cell and ripped the door right off its hinges, leaving his brother in shock. Kane then opted to drop "The Deadman" with his own variation of the Tombstone Piledriver, allowing Michaels to score the pinfall. This served as the major catalyst for the two brothers to begin their inaugural feud, which reached its apex at WrestleMania 14. It's been said that pro wrestling is like a living comic book and this was definitely the height of that comparison.
Shinsuke Nakamura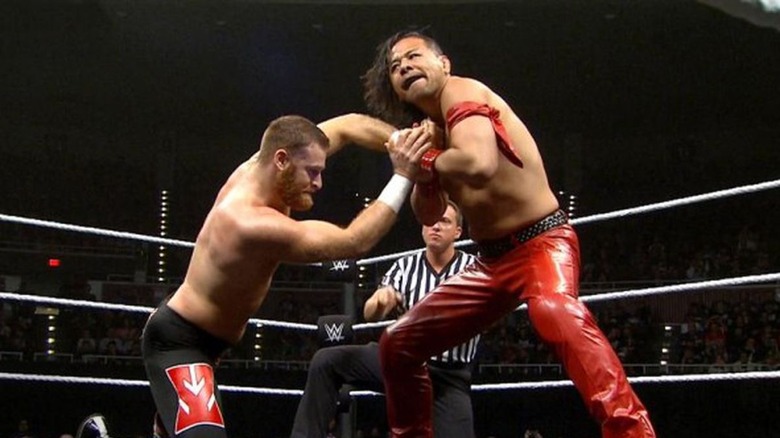 WWE
In 2015, NJPW saw a moderately sized exodus of four key talents: AJ Styles, Karl Anderson, Doc Gallows and Shinsuke Nakamura. The latter of the group, Nakamura, was one of the more intriguing prospects, especially when it was confirmed that he was heading to WWE. Following a pre-recorded introduction that aired on "NXT," it was confirmed that Nakamara was making his debut at "NXT" Takeover Dallas. Not only that, it was made clear that Nakamura's first challenge was going to be fan favorite Sami Zayn. Zayn's time on the black and gold brand was drawing to a close, so many saw this as his "NXT" swan song.
Adding to that, it was frankly unknown as to whether WWE would allow Nakamura to maintain the in-ring style that made him so popular. With all these factors in mind, it's understandable why the anticipation for their match was quite high. When the lights went down and Nakamura's new music hit for the first time it was an undeniably special moment. The match that followed was equally as special, a wonderful blend of fast paced indie-style action enhanced by a capacity crowd. The match was a glorious showcase for both men, and served as an excellent springboard for the rest of Nakamura's WWE run.
The Undertaker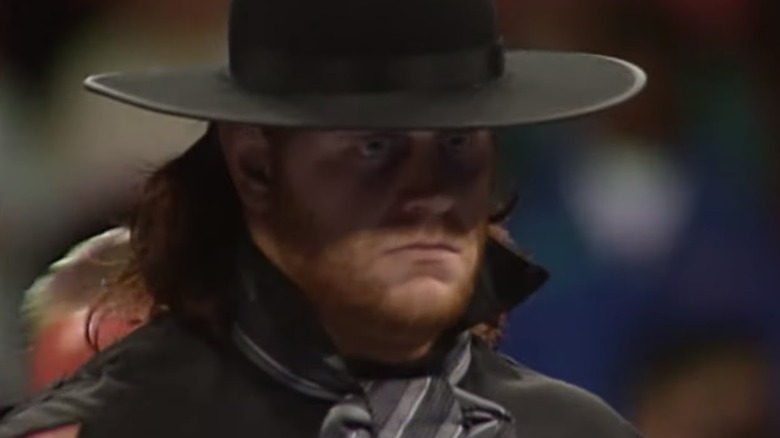 WWE
In late 1990 and well into 1991, The Million Dollar Man Ted DiBiase was embroiled in a feud with The American Dream Dusty Rhodes. This rivalry resulted in both men building respective teams for a five-on-five elimination match at Survivor Series '90. However, one of DiBiase's partners remained a secret until the night of the event, resulting in one of wrestling's most legendary debuts. Emerging from the entrance way, hailed to the ring by a haunting funeral dirge, was The Undertaker — accompanied by his original manager Brother Love. Granted, his sinister impact was lessened ever so slightly by Roddy Piper's less than subtle commentary, but that's an admittedly small nitpick.
In a few short moments, 'Taker immediately established many of the trademarks he'd become known for throughout his career. His forbidding presence was aided by his immense size, thousand-yard stare — complete with purple sunken eyes — and his finisher, the Tombstone Piledriver. Despite being eliminated via count out, 'Taker definitely left a sizable impression on the crowd, a feeling that continued throughout his early run. Year-by-year, 'Taker slowly but surely became an integral part of the WWE (formally WWF) brand, spawning ample merchandise and amassing a sizable fandom.
Chris Jericho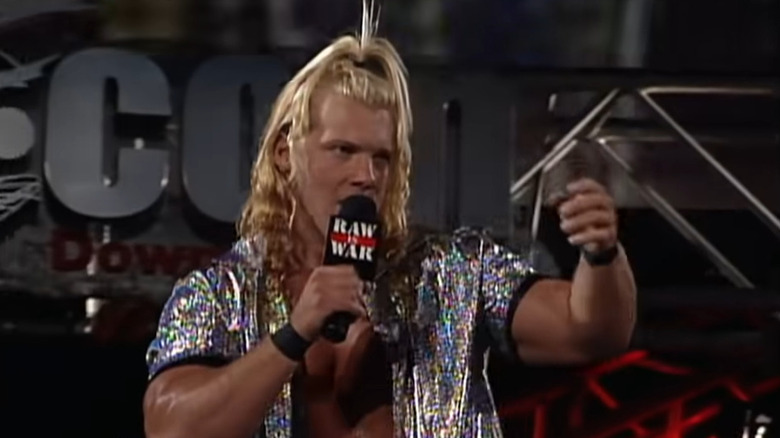 WWE
Chris Jericho has never been opposed to making a grand entrance, especially at the expense of somebody else. This was definitely the case following his departure from WCW partway through 1999 and subsequent signing with WWE the same year. En route to his onscreen debut, a mysterious countdown clock labeled "Countdown to the Millenium" began appearing on weekly episodes of "Raw." This all culminated on August 9 that same year when, in the middle of The Rock cutting a promo, the countdown hit zero. After some very cheesy late '90s graphics, the lights began to flash leading to a thunderous pyro pop and when the smoke settled, there was Jericho. With microphone in hand and the audience losing their minds, Jericho cemented his arrival by stating that "Raw is Jericho!" Quickly cementing his smarmy heel persona, Jericho went off on the fans and even ragged on the state of the company as well.
Despite then being verbally torn down by the Rock, a weekly occurrence for many, Jericho had definitely made a good impression. It's a legendary debut that many still look back on fondly, especially as a favorite moment of the Attitude Era.
Ronda Rousey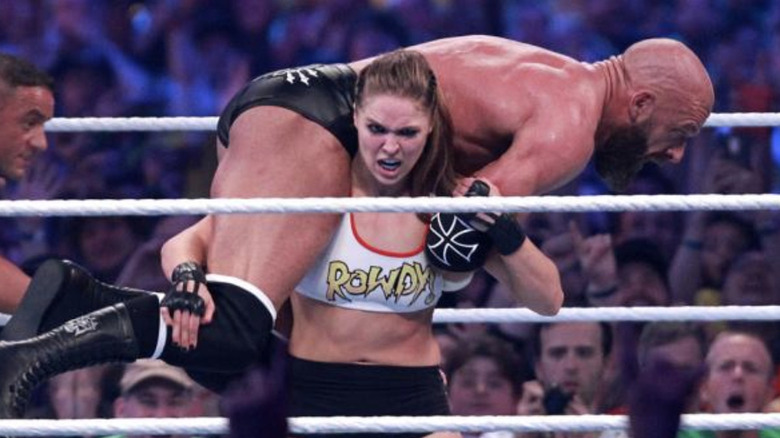 WWE
When Ronda Rousey quietly retired from the world of MMA, the prospect of her joining the WWE became a prominent theory. Following Rousey's official signing with the company in late 2017, many wondered when she'd finally debut. It was following the conclusion of the inaugural women's Royal Rumble that Rousey made her first appearance as an official WWE talent. Rousey had already made a few sporadic WWE appearances here and there, but many were curious how she'd handle the squared circle. Soon enough, the Baddest Woman on the Planet was thrust into a WrestleMania storyline with Triple H and Stephanie McMahon. The resulting match saw Rousey team with Kurt Angle against the husband and wife duo in a mixed tag team match.
The second Rousey got between the ropes, any doubts about her ability to hang in the ring quickly evaporated. From throwing Stephanie around like she weighed nothing to even giving Triple H a run for his money, Ronda was on fire. She eventualy locked the Billion Dollar Princess in a devastating arm bar, which Stephanie sold like a bear trap had clamped on her arm. It was a stellar debut and definitely proved that, regardless of what you think of her, Rousey definitely deserved a place in WWE.
Tazz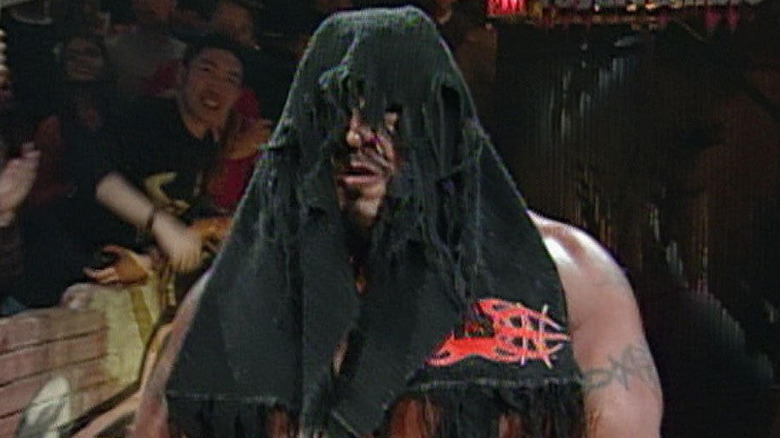 WWE
Many names helped in building the formative years of Extreme Championship Wrestling, but none in more dominant fashion than Taz. His strength and suplex-fueled in-ring prowess, matched with his catchphrase, "Survive if I let you," spoke volumes in regards to his menacing presence. When Taz hit the ring, it was the equivalent of an atom bomb going off, a supercharged explosion demolishing all in its path. Following a lengthy run in ECW, Taz chose to spread his wings and fly — opting to sign with the WWE in late 1999. His arrival was teased quite effectively with his new logo and orange lights enveloping the arena during random entrances.
Following this slow burn of lights and logos, the slightly renamed Tazz finally arrived in grand fashion in the opening segment of Royal Rumble 2000. This occurred when Kurt Angle, at peak levels of annoyance, threw out an open challenge for anyone to face him. All of a sudden, a heartbeat turning into a flatline was heard as the arena lights once again turned orange. Tazz stormed his way to the ring and, despite Angle's best efforts, made quick work of the gold medal olympian. He'd lock in the Tazmission, choke out Angle and leave New York City, his hometown, with the win. Tazz's overall in-ring career in WWE left much to be desired, but his debut was a true classic.
Kevin Owens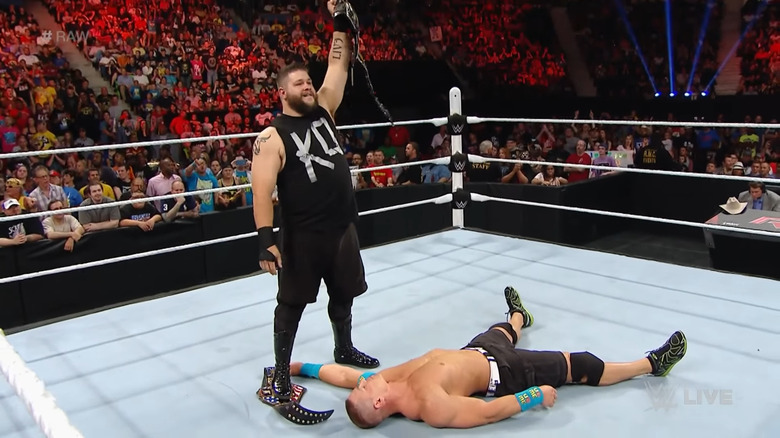 WWE
Following his 2014 arrival in "NXT," Kevin Owens (formerly Kevin Steen) wasted little time in becoming a name on every WWE fan's lips. Not only did Owens clobber poor Sami Zayn following the latter's big title win, he went as far as to powerbomb him on the ring apron. His villainy only increased when he powerbombed the "NXT" Championship right out of Zayn's hands at "NXT" Takeover Rival. At the same time Owens was dominating "NXT," John Cena was riding high over on "Raw" — enjoying quite the career renaissance. Cena, the then-current United States Champion, had instituted a weekly open challenge for anyone to step up and face him.
This resulted in stellar television matches with the likes of Cesaro, Neville, Stardust and Dean Ambrose — all future stars in their own right. However, one fateful night on "Raw," Cena's challenge was answered by Owens, making his first appearance on the main roster. Owens proceeded to share some words with Cena and then leave him laying in the ring with a devastating pop-up powerbomb. Cena and Owens had their first official match at that year's Battleground which, in a rare twist, Owens actually won! Owen's debut on the main roster was definitely a multi-step process, but it ticked every necessary box along the way.
The Shield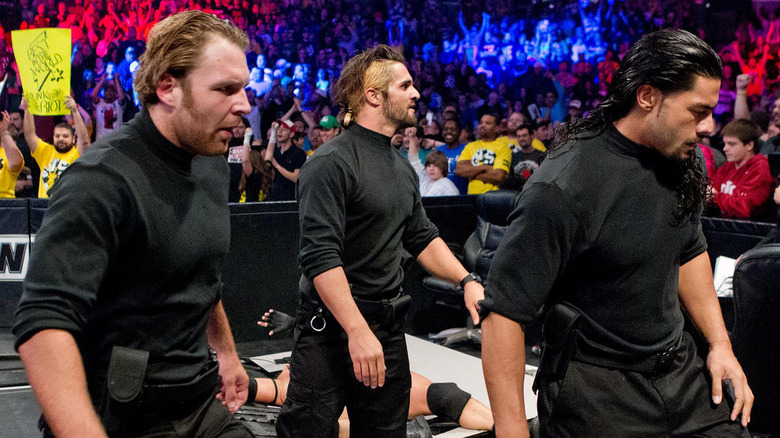 WWE
When fans tuned in for Survivor Series 2012, no one could've expected they'd be present for one of modern wrestling's most important debuts. In the 2010s, "NXT" served two key purposes — helping acclimate indie talent to the WWE style and preparing them for main roster television. This system resulted in several talents breaking through to major stardom on the main roster and this included The Shield. The idea was originally just to give CM Punk some goons to protect him, but slowly evolved into a venue to introduce some new faces. This resulted in the combination of Roman Reigns, Seth Rollins (formerly ROH's Tyler Black), and Dean Ambrose (formerly Jon Moxley).
Amid the chaos of the Survivor Series main event, The Shield stormed the ringside area, took out Ryback and helped Punk retain his gold. Despite their original attire — tight fitting shirts — being a bit goofy, their debut definitely did the trick. Over the next few years, The Shield quickly became one of WWE's main focal points, with each man getting a chance to shine. Reigns, Rollins and Ambrose all went on to win the WWE Championship — with all three holding it at different points on the same night. Almost a decade later and The Shield's legacy has been thoroughly cemented within the pro wrestling landscape.
John Cena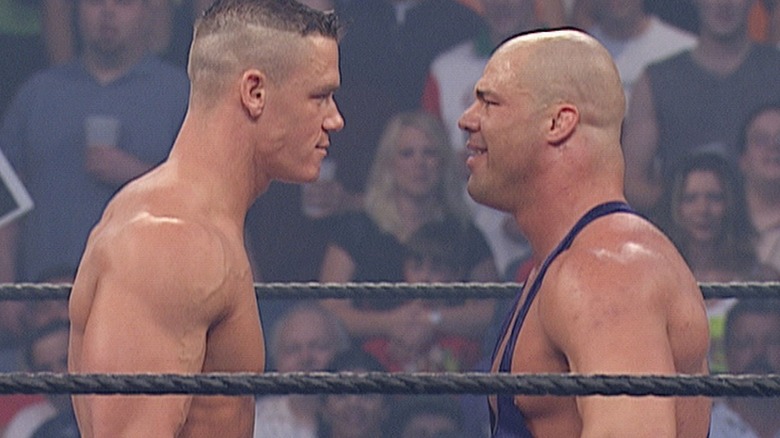 WWE
In the summer of 2002, Kurt Angle took to the ring with microphone in hand and threw out an open challenge to the "SmackDown" locker room. In no time flat, some generic music hit the speakers and a young man with an impressive physique made his way to the ring. Dressed in the most generic gear this side of a custom video game wrestler, Angle asked him who he was. Complete with an overly-gelled 2000s haircut, the young wrestler said that his name was John Cena. A clearly amused Angle asked Cena what he possessed that made him think he could be in the same ring as him. Cena responded with a rather over the top cry of "ruthless aggression" and decked the Olympic gold medalist square in the teeth. Cena followed this up with a barrage of flashy moves, catching Angle off guard with his legitimate athleticism.
Sadly, Angle was able to turn the tables on Cena and soundly put the young upstart in his place with a well placed roll-up. However, this proved to be just the first step in what would prove to be a now-legendary career for Cena. Following countless title wins and WrestleMania main events, Cena has become a modern day legend, even successfully making the transition to Hollywood stardom.
The Big Show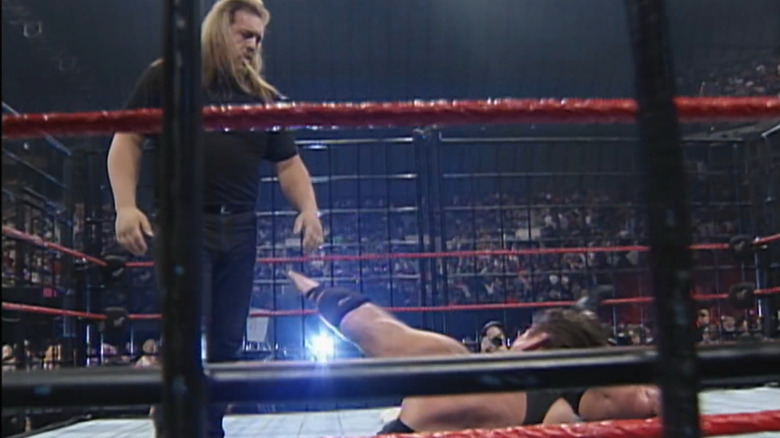 WWE
The WWE's Attitude Era saw the introduction of many key talents who'd go on to define wrestling for many decades. This included The Rock, "Stone Cold" Steve Austin, D-Generation X and, most relevant here, The Big Show. Following his departure from WCW, Paul Wight (formerly The Giant) signed a contract with the WWE in early 1999. Wight, rechristened The Big Show, was immediately slotted into a fittingly big role on television — making his debut at St. Valentine's Day Massacre.
The show's main event saw Austin take on then-WWE chairman Vince McMahon in a steel cage match. Towards the match's conclusion, The Big Show emerged from the ring canvas to attack Austin — throwing him through the cage. This confirmed his status as a heel, a role he'd fill quite frequently, and his role in McMahon's faction known as The Corporation. However, it wasn't too long before The Big Show turned his back on them and turned face for the first of what would be many times. For the next 20 years, excluding a few gaps, The Big Show was a fixture of WWE television — winning several titles along the way.
Eric Bischoff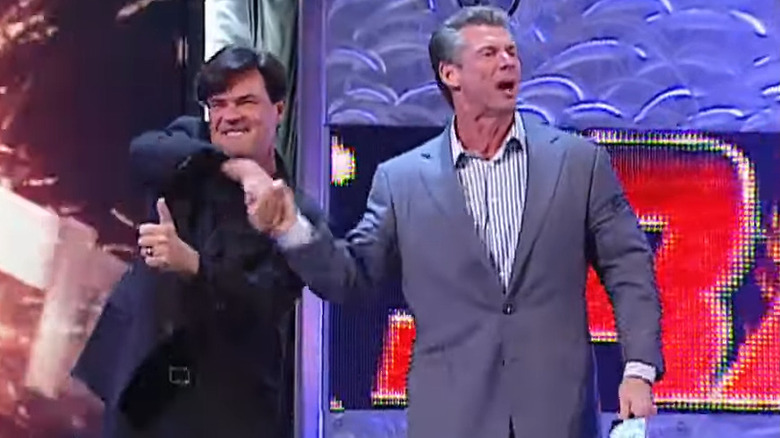 WWE
Professional wrestling fans, at one time or another, have been conditioned to understand that certain things can't really happen. Maybe because of contractual obligations, backstage conflict or even just availability, there are certain faces you wouldn't expect to see on certain shows. One such example was Eric Bischoff, who for most of his career was associated with WWE's main competition, World Championship Wrestling (WCW). For many years, Bischoff served as WCW's Executive Producer and later as the company's Senior Vice President. During the Monday Night Wars, the rivalry between WWE and WCW, Bischoff stood as Vince McMahon's main opposition.
With all that in mind, it was frankly absurd to imagine Bischoff ever stepping foot in the WWE. However, following WCW's demise in the early 2000s, Bischoff received an offer from, of all people, McMahon. Much to the shock of many backstage, Bischoff arrived in WWE on the July 15 episode of "Raw." To cement that we were truly living in the strangest timeline, an ecstatic Bischoff then shared a handshake and hug with his former competitor. For many wrestling fans, this was the equivalent of hell freezing over — just something that you never thought you'd see.
The Nexus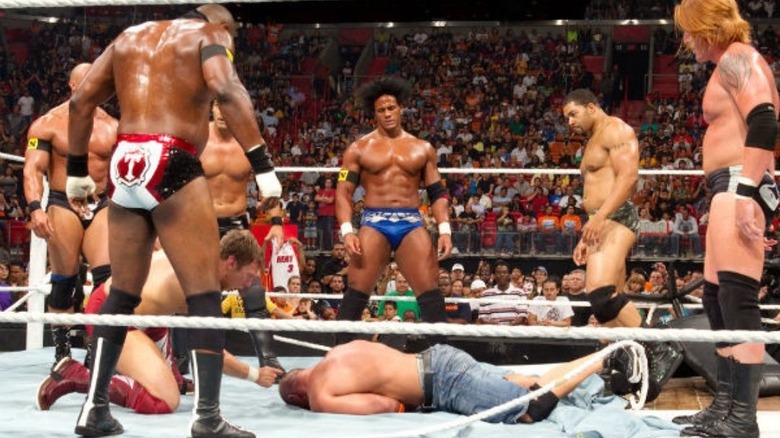 WWE
When "NXT" first launched in 2010, it was considerably different than the version we're all used to today. Despite a strong start, the weekly show quickly devolved into a rather cornball reality show-esque competition for WWE's various developmental prospects. This included the likes of Darren Young, Heath Slater, Daniel Bryan and Wade Barrett all participating in keg races and promo contests. It was far from WWE's most stellar television but it did result in one of greatest closing segments in the history of "Raw."
On the June 7 "Raw," Barrett was crowned as the season one winner and received a WWE Title shot as his prize. However, that wasn't the last we'd see Barrett, as later that night he popped up during John Cena's main event match with CM Punk. Soon enough, the rest of "NXT" season one's competitors began to swarm ringside — taking out everyone in sight, including the commentary team. Daniel Bryan even went as far as to choke ring announcer Justin Roberts out with his necktie — something Bryan was temporarily fired for. After decimating Cena, the group of bloodthirsty rookies tore apart the ring as the rest of the broadcast played out in silence. The Nexus sadly fell victim to some unfortunate booking following this, but their debut is still one of WWE's finest moments.