The 15 Worst Survivor Series Moments In WWE History
WWE
Survivor Series is one of WWE's yearly big events, serving as one of its "Big Four" alongside WrestleMania, SummerSlam, and the Royal Rumble. Originally created as competition for WCW's Starrcade event, the show has grown beyond its roots, enduring since its introduction in 1987. The event has seen many stellar moments in WWE history, many of which are still remembered fondly today by fans.
However, WWE's yearly Thanksgiving pay-per-view tradition hasn't always resulted in top-shelf content — in fact, sometimes quite the opposite. From literal clowns and screwjobs to main event misfires, the yearly event has played host to some next-level cringe. It's fair to say that Survivor Series has very much represented the best of times and the worst of times for the WWE.
Be it a rancid match or a preposterous story development, these are the moments that left fans facepalming in droves, the 15 worst Survivor Series moments in WWE history.
The Gobbledy Gooker debuts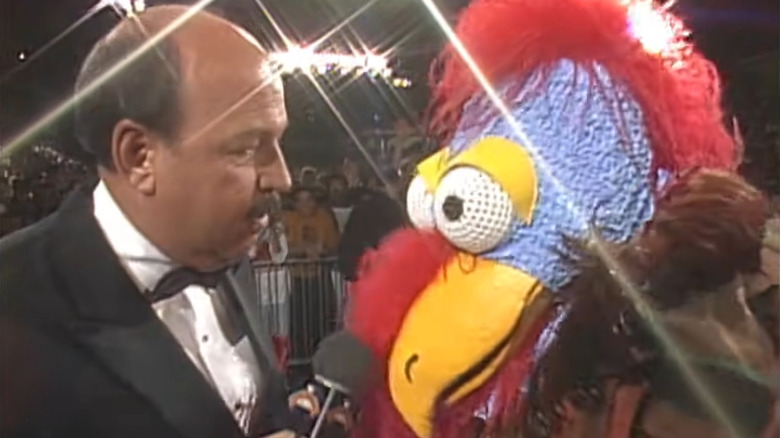 WWE
Survivor Series 1990 is an event that will forever be associated with two debuts: The Undertaker and, unfortunately, The Gobbledy Gooker. It's a professional wrestling debut so infamous that there's even a yearly award for terrible wrestling named after it. En route to Survivor Series 1990, WWE hinged the event's promotion around a giant egg with a special surprise inside. Held on Thanksgiving 1990, live fans and those watching on pay-per-view were treated to the debut equivalent of a lead balloon.
What ended up emerging from the egg was The Gobbledy Gooker, AKA Héctor Guerrero in a ridiculous turkey costume plucked from the discount bin. To this day, it's a challenge to watch this segment without groaning and if you can, you deserve a gold star. Watching the legendary Gene Okerlund try in vain to save this disaster in progress is just about the saddest thing ever. For what felt like several lifetimes, Mean Gene and The Gooker did silly dances as boos rained from the heavens.
Amazingly, the character weirdly survived well past his sell-by date, making sporadic appearances as recently as 2020. From popping up the WrestleMania X-7 Gimmick Battle Royal to winning the 24/7 Title, the Gooker has frustratingly endured.
Four Doinks of the price of one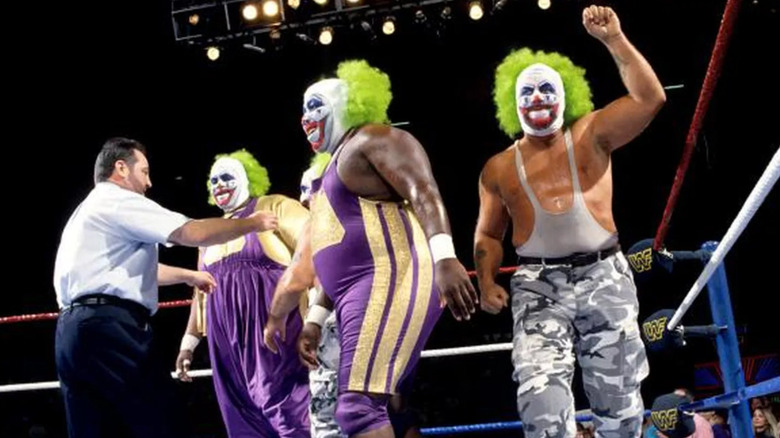 WWE
Despite the title above, Doink the Clown wasn't actually in this match. Leading into Survivor Series 1993, Doink had been making life difficult for Bam Bam Bigelow by constantly pranking the tattooed mastodon. In retaliation, Bigelow opted to assemble a team composed of Bastion Booger and The Headshrinkers to combat Doink's carnival shenanigans.
The night of the show came around and Bigelow — accompanied by Luna Vachon — and his crew were ready to demolish Doink. However they were met instead with a four man team including The Bushwhackers and Men on a Mission, all adorned in Doink's face paint. Over the course of 10 excruciating minutes, all eight men engaged in something that couldn't be considered comedy even in the loosest of senses. Believe it or not, this instance would not be the only time in which Survivor Series was stained by clown paint.
Clowns R'Us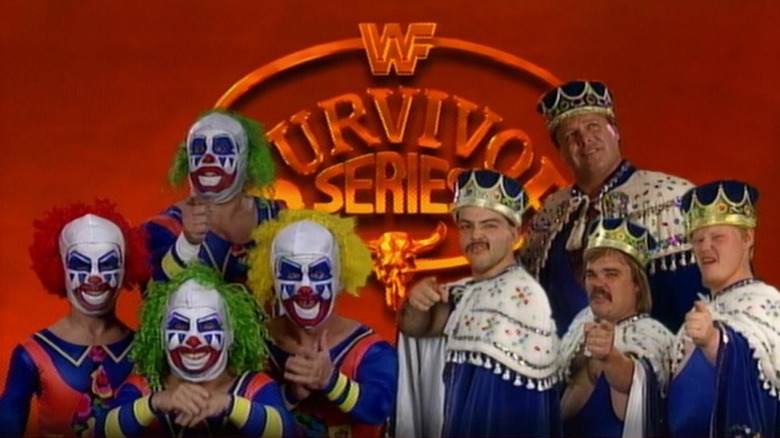 WWE
If WWE had a mascot for its cringe worthy comedy, it would be Doink the Clown. While initially pitched as an evil creepy clown, Doink eventually devolved into child-friendly fluff that made the average wrestling fan sick. This included the addition of a pint-sized Doink Mini Me by the name of Dink. So we've got clowns and little people, what else can we add to complete this three ring circus of misery? Why not add Jerry "The King" Lawler into the mix as well as three smaller wrestlers dressed like him? The names of his minuscule, royally clad crew were Queazy, Cheezy, and Sleazy — yes, you read that correctly.
As if this affair wasn't gonzo enough, Doink and Dink were joined by two more pint sized clowns by the names of Wink and Pink. Thus, over the course of 16 agonizing minutes, the Royal Family and Clowns R' Us faced off in a series of increasingly lame gags and eliminations.
The Montreal Screwjob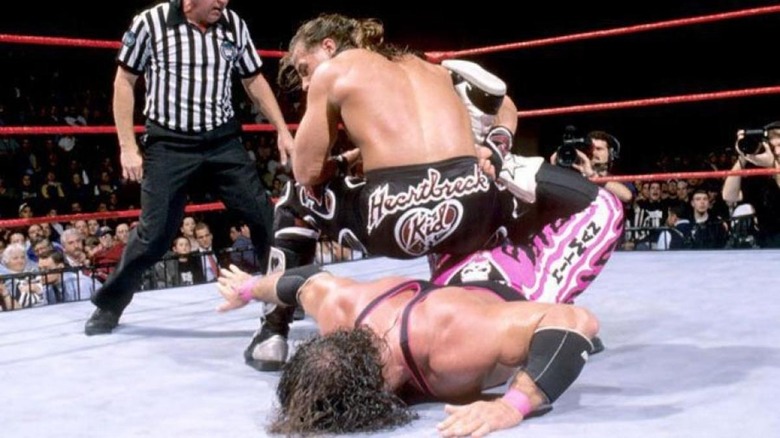 WWE
The Montreal Screwjob, for many wrestling fans, is one of the first times that professional wrestling got real — and not in a good way. The circumstances surrounding the events of November 9, 1997 are, to this day, still discussed at considerable length.
As explained on "Dark Side of the Ring," going into Survivor Series '97, Bret Hart was the defending WWF champion and his opponent was Shawn Michaels. Hart was dealing with two pressing issues: his imminent departure from the promotion and long-standing dislike of Michaels. The duo's animosity towards each other was so pervasive it even leaked into weekly television with both throwing unscripted barbs at each other. Not wanting a repeat of Alundra Blayze AKA Madusa throwing her Women's Title in the bin on WCW, Vince McMahon came up with a scenario that diverged from the original planned ending, a disqualification in which Hart would retain his title.
This plan came to fruition at the matchup's conclusion when Michaels locked Hart in his own move, The Sharpshooter. Before he could even react, McMahon signaled the timekeeper to ring the bell, screwing Hart out of the WWF Championship. To this day the entire affair is still viewed as a low point for everyone involved and one of pro wrestling's most infamous moments.
Austin gets hit by a car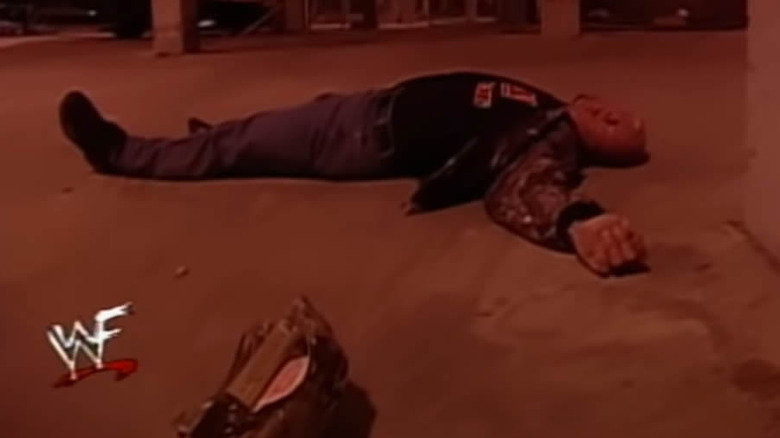 WWE
Ahead of Survivor Series 1999, Steve Austin's neck issues, first caused by Owen Hart's infamously botched piledriver, were unfortunately resurfacing. This medical issue forced Austin to get neck surgery, which was going to sideline him for at least a calendar year. However, there was an unfortunate hurdle, Austin had already been advertised to main event the show against Triple H and The Rock. Now the proper thing to do would have to simply announce that Austin was hurt, have him vacate the strap and move forward.
But, inclined to be as convoluted as humanly possible, WWF still advertised Austin as appearing up until the night of Survivor Series. Then, early on in the show, Austin was written off of television via attempted vehicular manslaughter thanks to a mystery driver. This hit and run artist was later revealed to be, of all people, Rikishi who famously said he "did it for The Rock." As far as booking goes, this was just downright ridiculous and from an advertising perspective it was a manipulative tactic.
Eric Bischoff wrestling Teddy Long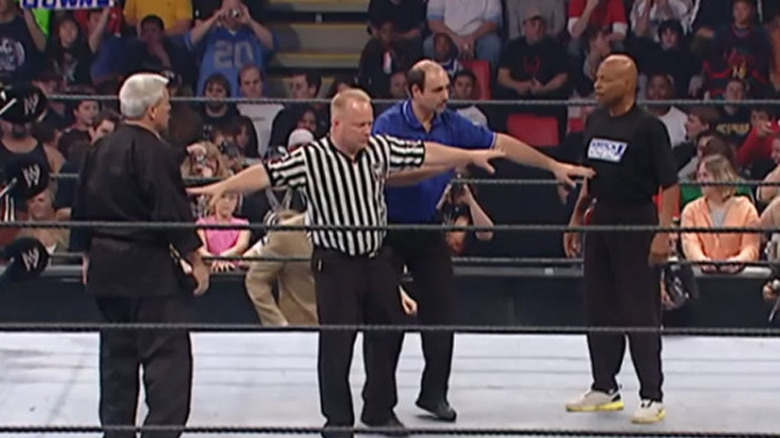 WWE
One recurring aspect of Survivor Series is brand warfare. "Raw" vs "Smackdown" matches have often resulted in stellar combinations, breakout in-ring performances and led to some excellent multi-man matchups. However, Eric Bischoff vs Teddy Long is far from what any wrestling fan would consider to be stellar or excellent. The respective onscreen general managers for the shows, they faced off one-on-one at the 2005 Survivor Series.
In a match that can charitably be described as comedic,Bischoff manhandled Long for the majority of the match. This included a sizable amount of half-hearted grappling, complete with Bischoff wearing some embarrassing Steven Seagal style karate gear. The crowd rewarded this cringeworthy snoozefest with a well-deserved barrage of "boring" chants. The only thing of note here is this match saw the main roster debut of Marty Wright AKA The Boogeyman. Following Boogeyman's attack on Bischoff and a devastating pumphandle slam, Long was able to crawl over for the three count.
The Great Khali wrestling Hornswoggle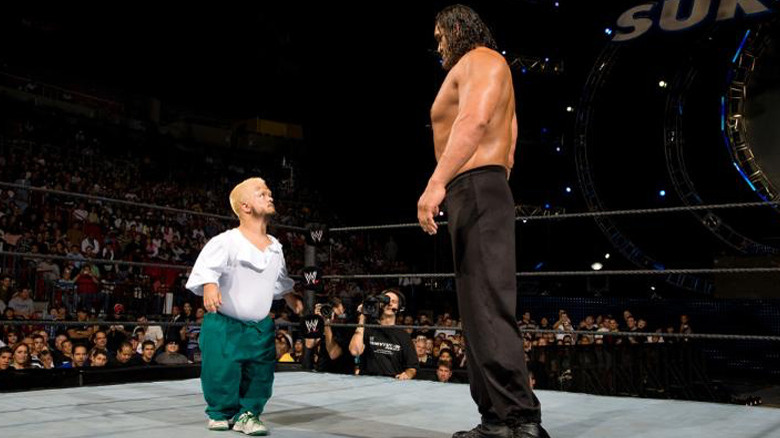 WWE
Throughout the Ruthless Aggression era, WWE leaned heavily into comedy, especially when it came to Hornswoggle. The character, conceived as a leprechaun sidekick for Finlay, quickly became WWE's recurring punchline for various gags. Whether it was winning the WWE Cruiserweight Championship or being revealed as the "Raw" general manager, cringe tended to follow Hornswoggle wherever he went. However, at the height of the character's unwavering utility, WWE saw fit to slot him into a marquee match for Survivor Series 2007. This match in question coincided with Hornswoggle being revealed to be Mr. McMahon's illegitimate child, a dumpster fire of a storyline in its own right. Ashamed to have a leprechaun as a son, Vince opted to slot Hornswoggle in matches with larger opponents. This led to daddy dearest booking his pint sized protégée in a match against the 7-foot Great Khali.
The match, of course, wasn't presented as a legitimate back and forth contest, being predicated on green mist and zany hijinks. The ordeal lasted less than five minutes and mercifully ended when Finlay hit the ring to fight off Khali with his shillelagh.
Jeff Hardy is removed from the main event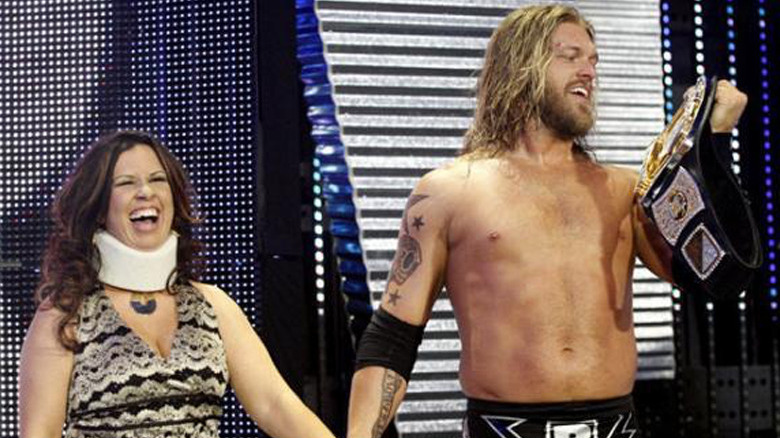 WWE
When it comes to WWE's storytelling, they'll frequently reuse previously used angles and storyline beats even if they tested poorly. During Survivor Series 2008, the WWE Championship was set to be contested in a triple threat match between Triple H, Vladimir Kozlov, and Jeff Hardy. However, on the night of the event itself, WWE reported that Hardy was found unconscious in a stairwell and thus unable to compete.
However, in yet another baffling move, WWE still ran the triple threat's video package which heavily put over Hardy's involvement. The match still went on, sans Hardy, much to the disappointment of the fans who loudly vocalized it during the match. To top off this already infuriating development, Vickie Guerrero came out part way to announce that "He's here!" The person that Guerrero was referring to however was revealed to be a returning Edge, who quickly stormed the ring. The stupidity only increased with Hardy, seemingly okay, rushed to the ring with a chair to set things right. This only delayed the inevitable, as Edge hit the spear on Triple H to win the belt, much to the chagrin of the live crowd.
Cena gets fired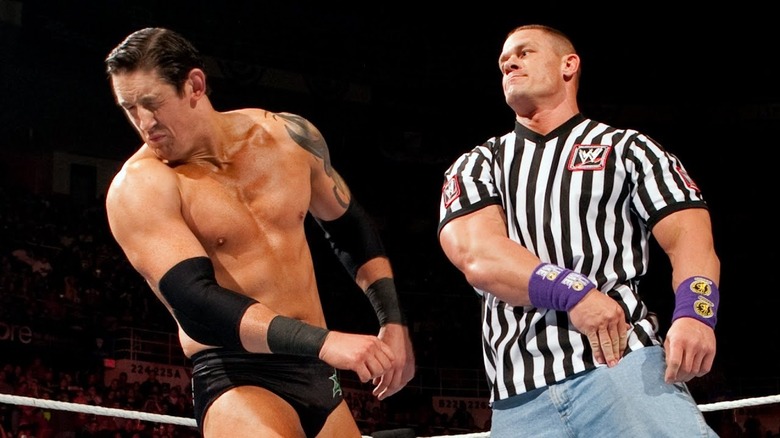 WWE
2010 was, for better and for worse, defined by The Nexus, a vicious gang of fed-up WWE rookies on a destructive warpath. The stable, led by "NXT" Season 1 winner Wade Barrett, started off with significant promise, especially following their destructive debut. Unfortunately, in typical WWE fashion, the ball was quickly fumbled with Nexus via some truly misguided and counterintuitive booking. Significant damage was done to the stable when John Cena's team was booked to soundly defeat them at SummerSlam 2010. As the weeks rolled on, the Nexus were booked more and more to look like geeks, unable to outsmart Super Cena.
The storyline regained a bit of intrigue when, via underhanded tactics, Cena was forced to join the Nexus and serve Wade Barrett. This servitude culminated in Cena serving as special guest referee for Barrett's WWE Title match with Randy Orton at that year's Survivor Series. The stipulation was if Barrett won, then Cena was free of the Nexus, but if Orton won, Cena would be fired. Orton ended up retaining, which meant that John Cena's storied WWE career was over... for all of five minutes. Fearing the effect on the ratings, WWE opted to keep Cena on weekly television, completely undermining the entire point of the stipulation. 
A seven-on-seven women's match lasting mere minutes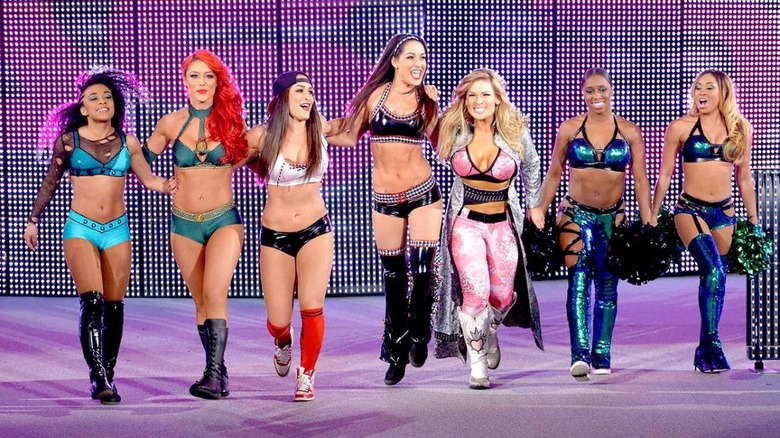 WWE
For as inconsistent as WWE can be with its women's division, it's certainly a far cry from its former presentation. Nowhere was this lack of care shown any clearer than in the handling of the 2013 women's elimination match. It's especially frustrating because the early-2010s saw the rise of "NXT," which greatly improved representation within WWE. The match in question saw the Bella Twins, The Funkadactyls, Eva Marie, Natalya and JoJo take on AJ Lee, Aksana, Alicia Fox, Kaitlyn, Rosa Mendes, Summer Rae and Tamina. Seven representatives of the "Total Divas" reality show against seven "True Divas" in a match that more closely resembled a sprint than a marathon.
In no less than six minutes, nine of the competitors were eliminated one after the other, making for quite the underwhelming watch. Add to that, the then-Divas Champion AJ Lee was made to tap out in the match's closing moments, much to fan disapproval. Thankfully women's wrestling has truly evolved for the better in the years since.
Trying to replace Daniel Bryan with Big Show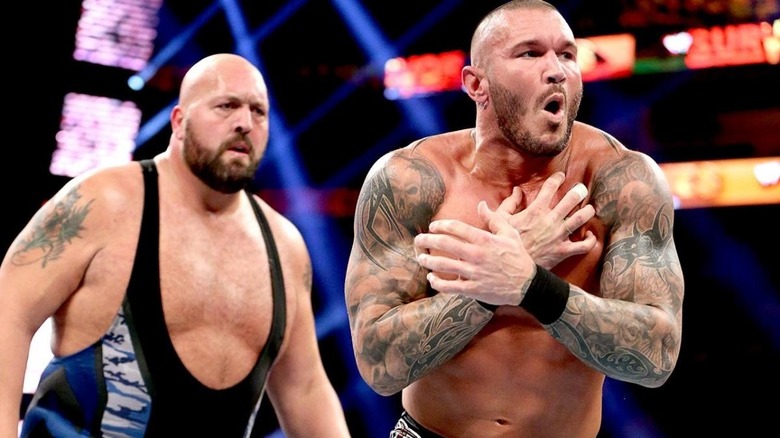 WWE
WWE has had issues when it comes to reading the room, especially when it comes to rising stars. In 2013, the WWE universe was rabidly behind Daniel Bryan, even hijacking entire segments and events to cheer for him. So WWE saw fit to give the fans exactly what they wanted and had Big Show main event the 2013 Survivor Series. Yes for whatever reason, WWE tried and failed to transplant the "Yes" chants Bryan had popularized onto the Big Show. Foolishly, the powers that be thought that anybody challenging the Authority, Triple H and Stephanie, would get over with the crowd. This, of course, was far from the case and, despite Big Show's best efforts, the storyline was dead on arrival.
Unfortunately, the main event of Big Show versus the then-WWE Champion Randy Orton was locked in and there's nothing fans could do. What resulted from this was a refund-worthy main event from two wrestlers who lacked any chemistry. Orton wrestles a fairly methodical style to begin with so pairing him with the often-lumbering Big Show was far from the best combination.
AJ Lee loses the Divas Title
WWE
AJ Lee was truly a diamond in the rough when it came to the WWE women's division in the 2010s. For many fans, she was one of the true pillars of the Women's Revolution that took hold of WWE following the advent of NXT. Along with Emma, Paige and the Four Horsewomen, AJ was largely looked at as a spark for immense change within the industry. Sadly, you wouldn't really know that based on how WWE often treated her character. From booking her into increasingly preposterous romance angles to having her be consistently humiliated, AJ Lee was made to suffer for her in-ring art.
However, the greatest indignity arrived at Survivor Series 2014, when AJ defended her Divas Title against Nikki Bella. At the time, Nikki was the heel in a feud with her real life sister Brie, which resulted in Brie serving as Nikki's indentured servant. However, for reasons never explained, Brie opted to help her spiteful sister win the Divas Title by distracting AJ with a surprise kiss. Thirty seconds and one finishing move later, AJ Lee's reign ended in a fashion nowhere near befitting her previous efforts. Add to the fact that Nikki was allowed to surpass AJ's record, effectively erasing her from the record books and the whole thing just leaves a bad taste in your mouth.
The finish of 2015's main event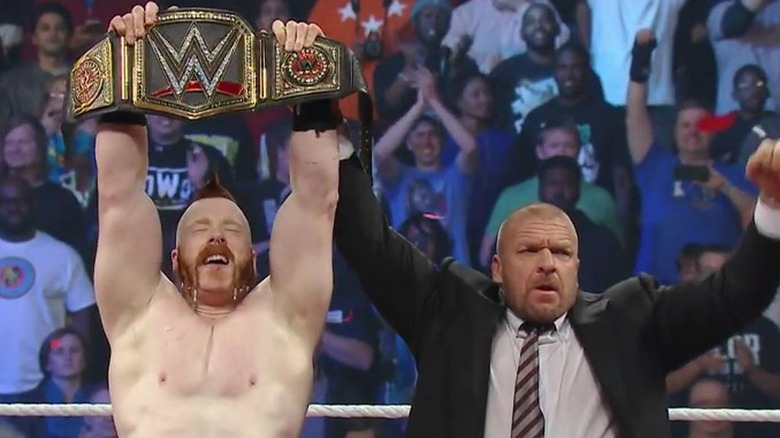 WWE
Following an unfortunate injury at a house show, then-WWE Champion Seth Rollins was stripped of his belt ahead of Survivor Series. This resulted in a tournament which saw the likes of Roman Reigns, Kevin Owens, Dolph Ziggler and Dean Ambrose fight for the company's top prize. The final round, very fittingly, came down to former Shield brothers and frequent allies, Dean Ambrose and Roman Reigns. This came at a time when the WWE audience still wasn't receptive to Roman Reigns' Superman-style push, actively rejecting it at every turn.
So the crowd in attendance would have loved nothing more than for Dean Ambrose, an actual fan favorite, to win the gold. Of course, this didn't happen and Roman ended up winning the title after an admittedly solid matchup, even receiving a confetti celebration. That would've been deflating enough, but alas that wasn't where it ended, as Triple H hit the ring to "congratulate" the Big Dog. Roman was savvy enough to see where this was going, quickly battering The Game before turning around and eating a Brogue Kick from Sheamus. Finally opting to cash in his Money in the Bank briefcase, Sheamus hit Roman with another kick and left Survivor Series as WWE Champion. 
The finish of 2017's main event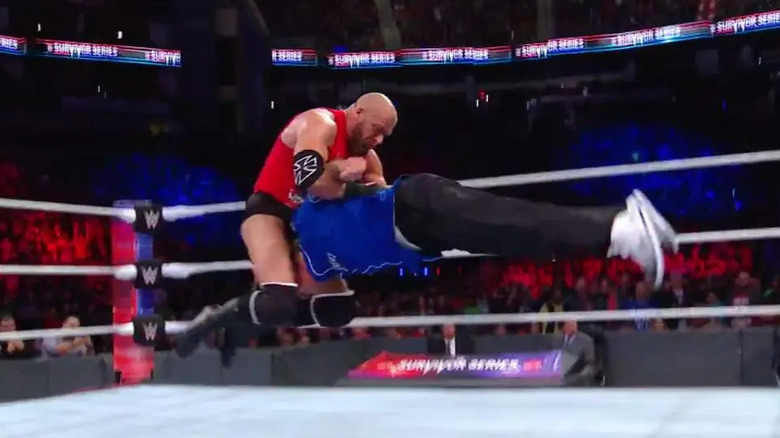 WWE
WWE has a bad habit of having everything they need for a great main event and then opting to not use any of it properly. The main event of Survivor Series 2017 saw Team Raw — Kurt Angle, Braun Strowman, Finn Bálor, Samoa Joe, and Triple H — take on Team Smackdown — Shane McMahon, Randy Orton, Bobby Roode, Shinsuke Nakamura, and John Cena — in a five-on-five elimination match. On paper, it had the makings of an overstuffed but entertaining contest of old and new stars. The match started off legitimately entertaining with Balor and Nakamura squaring off and Triple H getting to work his "NXT" pet projects. Additionally, the match saw Cena and Angle square off in a joyously nostalgic spot harkening back to Cena's debut in 2002.
Sadly, those are the only good elements of this match, as the rest was fairly underwhelming. From Cena being eliminated in lukewarm fashion to every fresh young star being ousted far too early, the match's momentum died a slow death. The whole affair eventually concluded with Triple H luring Shane into a false sense of security before battering him for the win.
Drake Maverick pees himself
WWE
It's not a stretch to say that, during his time with the company, Drake Maverick definitely went above and beyond the call of duty. From his 24/7 Title shenanigans to his Cruiserweight Title aspirations, the former Rockstar Spud was a truly indispensable player. However, that doesn't mean every moment involving him was genius; some even brushed the absolute bottom of the barrel. The lowest point for him came at Survivor Series 2018 when Maverick, serving as the AOP's manager, was grabbed by The Big Show. This resulted in Maverick, a fully grown adult man, peeing himself in front of Big Show, Sheamus, Cesaro and the entire audience.
This erroneous bit of bodily fluid comedy was hindered even more by Maverick fiddling with a "hidden" water bottle being easily seen on camera. By no means has WWE ever been averse to juvenalia, but this was one of the most embarrassing bits to grace a WWE pay-per-view, which speaks volumes.