The Most Injured Wrestlers Of All Time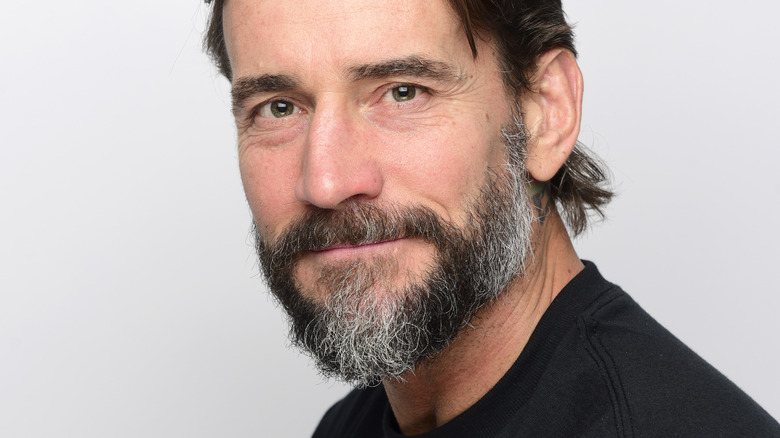 Vivien Killilea/Getty Images
Injuries come with the territory in professional wrestling. While there is a distinction to be made between being "hurt" or "injured," chances are, wrestlers who stay involved in the profession long enough will get injured at some point. The demanding schedule of some promotions, namely WWE, combined with the fear of "losing their spot" can push wrestlers toward the realm of performance-enhancing drugs and pain relievers to help them recover faster. Needless to say, the culture of pro wrestling does not exactly lend itself to wrestlers always making good choices on the road to recovery, sometimes causing seemingly minor injuries to evolve into bigger ones with lasting ramifications on one's career. 
One of the most appealing parts of pro wrestling to many fans is the quantity and diversity of styles they get to see clash on any given night. Some styles take more of a physical toll than others and lead to shorter careers, such as strong-style wrestlers working stiff and accruing "receipts" or hardcore wrestlers putting their bodies through unnecessary trauma.
The debate over career longevity versus match quality served as the catalyst for The Miz's famous "Talking Smack" promo on Daniel Bryan, one of the greatest of his career. After Bryan claimed The Miz "wrestles like a coward," Miz unleashed on his former onscreen protege, proclaiming the reason he wrestles the way he does is because he can do it "day in and day out all the time for 10-plus years" and that he has never been injured. Sure enough, Miz is among the most durable superstars in WWE history, but his career is more exception than rule as many "safe" wrestlers become injury prone for reasons beyond their control. Here are 15 of the most frequently injured wrestlers of all time.
Sin Cara
Gallo Images/Getty Images
As many WWE fans are aware, there are two Sin Caras: Mistico, the CMLL standout the company originally intended to be Sin Cara, and Hunico, a masked wrestler who came up through the developmental territories and became Sin Cara out of necessity. The WWE had big plans for the original Sin Cara, but a mounting quantity and quality of injuries put a repeated halt to those plans, among other problems.
After serving a 30-day suspension for violating the WWE Wellness Policy, Sin Cara sustained his first legitimate injury in WWE when he tore his patellar tendon, an injury that usually has a six-to-nine-month recovery timetable. While the masked wrestler's inevitable return came on the more optimistic side of the aforementioned timeline, it would not be long before he wound up on the shelf again.
This time, Sin Cara injured his knee while teaming with Rey Mysterio at the end of 2012, though the injury turned out to be minor enough that he was able to appear in the 2013 Royal Rumble match a few weeks later. However, Sin Cara would hurt himself one more time in a match against Alberto Del Rio, dislocating his ring finger. While WWE would cut bait on Sin Cara, Mistico returned to Mexico and went on to have a similar degree of success to what he had prior to his ill-fated WWE run. The injury bug continues to follow the masked sensation from time to time, however, with Superluchas reporting that Mistico underwent ankle surgery over the summer.
Mick Foley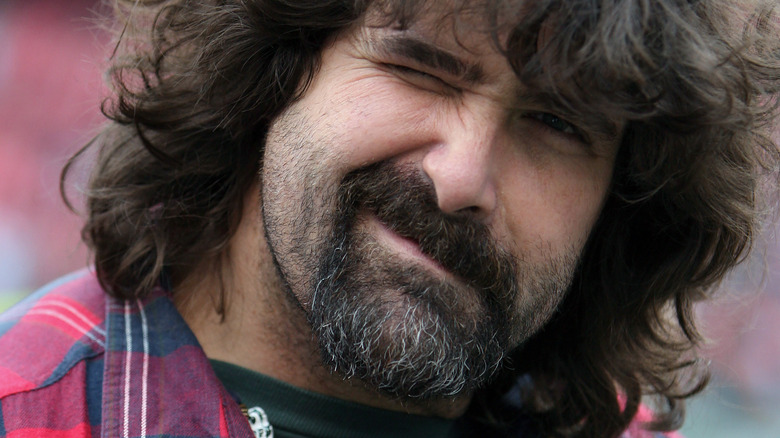 Al Pereira/Getty Images
Injuries forced Mick Foley into retirement before he could even turn 40, but unlike many of the names on this list, his decisions in the ring led to many of the physical woes he sustained over the years. On the back of his first autobiography, "Have a Nice Day: A Tale of Blood and Sweatsocks," there is a picture of Foley dressed as Mankind with a litany of arrows pointing at different parts of his body where he sustained varying degrees of injuries throughout his career.
The arrows pointed out 21 injuries in all, and included "two herniated disks," "eight concussions," "two-thirds of ear ripped off" and "over 325 stitches" just to name a few. However, the book came out in 1999 and merely chronicles Foley's career leading up to Mankind's WWE World Championship victory. Foley is also notable for landing face-first in a bed of thumbtacks during his match with Triple H at the Royal Rumble in 2000.
Today, Foley continues to feel the effects of his hardcore wrestling style, and admits it has taken a toll on his way of life. "The Hardcore Legend" broke down his 2012 visit to the doctor in an episode of his podcast, "Foley is Pod." "[The doctor] said, 'We've been looking over your MRIs and your X-rays,'" Foley explained. "'You've got too many issues. You got muscular, neurological, skeletal, and even if we are able to help from a neurological standpoint, there's nothing we can do with those other things.' I'm looking at all these things I did during the course of my career and I mean, I'm paying a steeper price than I thought imaginable."
Triple H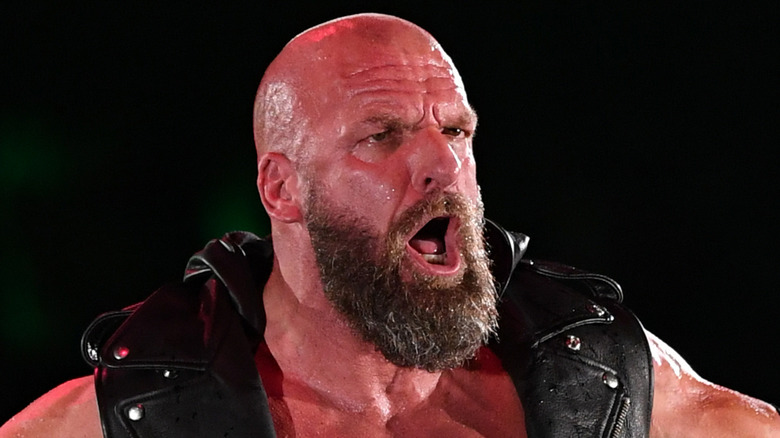 Etsuo Hara/Getty Images
WWE's Chief Content Officer has had a tough time keeping the injury bug at bay over the years. Even though Triple H worked about as safe of a style as any top WWE star in his heyday, he always seemed to be susceptible to missing time, even dating back to his early career. His first notable injury came in 1998, shortly after he defeated The Rock for the WWE Intercontinental Championship at SummerSlam. He would return three months later.
"The Game" faced a longer road to recovery after tearing his quad completely off the bone on "WWE Raw" in May 2001. However, he returned to great fanfare, won the Royal Rumble in 2002, and went on to win the Undisputed Championship from Chris Jericho in the main event of WrestleMania 18.
Triple H has also suffered a throat injury, groin injury, torn bicep, and multiple neck injuries at different points in his career. To top things off, he sustained a similar quad tear to the one in 2001 on his other leg in 2007. Even after transitioning out of a full-time in-ring role with the company, health issues have continued to persist for Triple H. He returned to the ring for a one-off tag team match against The Brothers of Destruction at "Crown Jewel" in 2018, only to sustain the first torn pectoral muscle of his career. Earlier this year, Triple H revealed he had been advised by doctors to never wrestle again after suffering a health scare in 2021 that required live-saving surgery to be performed.
Mr. Anderson
Ken Anderson, who wrestled under the name Mr. Kennedy for nearly five years in WWE, was once thought to be a future megastar in the company. Unfortunately, injuries began to mount for the seeming blue-chipper, and after earning the label of being "injury prone," he abruptly left the company under controversial circumstances. His departure stemmed from an argument Anderson had with Randy Orton about the way he slammed Orton in a match on "WWE Raw."
While in WWE, Anderson sustained a latissimus dorsi tear in the midst of his first big push, returning six months later. He would be injured again later in 2006 after suffering an exposed cranium laceration that took twenty stitches to close. Injuries continued to follow Anderson in his ascent up the card, and an initially diagnosed tricep tear cost him his Money in the Bank briefcase to Edge. Upon getting a second opinion, the tricep tear turned out to be a large hematoma.
In his older age, Anderson has maintained a largely clean bill of health, and while he may not be main-eventing WrestleMania, he is still active in wrestling, training aspiring in-ring performers at his wrestling school alongside business partner and fellow ex-WWE superstar Shawn Daivari. In 2015, Anderson gave an interview with Wrestling Inc. and was asked what it took for him to shed the injury-prone label. "Not working with people that injure me," Anderson said while laughing. "That was the one thing that fired me up about the injuries. I can't help it if someone walks up and smashes you in the knee with a baseball bat. That doesn't make you injury prone."
Edge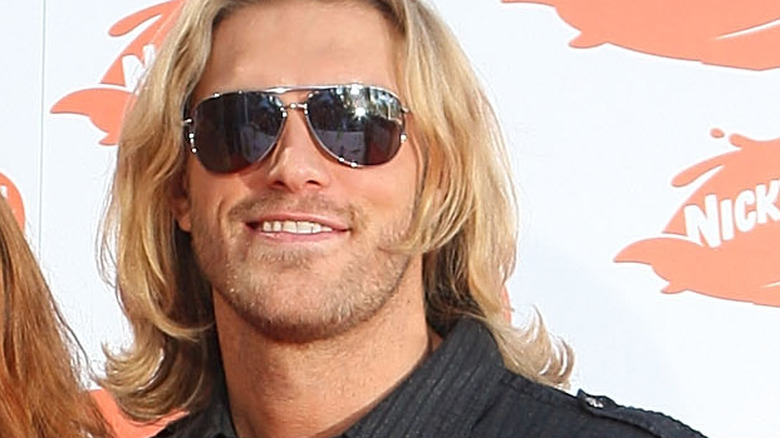 Cameron Spencer/Getty Images
Neck issues haunted the career of Edge dating back to his first big singles run in WWE. His first neck injury came during a match he had with Eddie Guerrero on "WWE SmackDown" in September 2002. After Guerrero frog-splashed a downed Edge while laying on a ladder, the Canadian began to feel intermittent numbness in his arms in the coming month. Though he had the option to delay surgery, Edge opted to go under the knife with Dr. Lloyd Youngblood, an acclaimed neurosurgeon, performing the procedure.
Edge returned to in-ring competition in 2004, but suffered a groin injury shortly after becoming the WWE Intercontinental Champion, forcing him to be stripped of the title. A torn pectoral brought an abrupt end to one of Edge's many world championship reigns in 2007, and a torn Achilles tendon brought an end to his tag team with Chris Jericho before it could even begin.
Neurological issues began to resurface in the years that followed, forcing Edge to retire at 37 years old. However, with the benefit of modern medicine, Edge later received clearance to resume his in-ring career nearly a decade later, making his triumphant return to WWE at the Royal Rumble in 2020. However, his latest run in wrestling came to a pause after he sustained an injury wrestling longtime frenemy Randy Orton, in what was questionably dubbed by the company as "The Greatest Wrestling Match Ever." Edge has since managed to keep healthy, but at 49, any injury he sustains will need to be closely monitored.
Bryan Danielson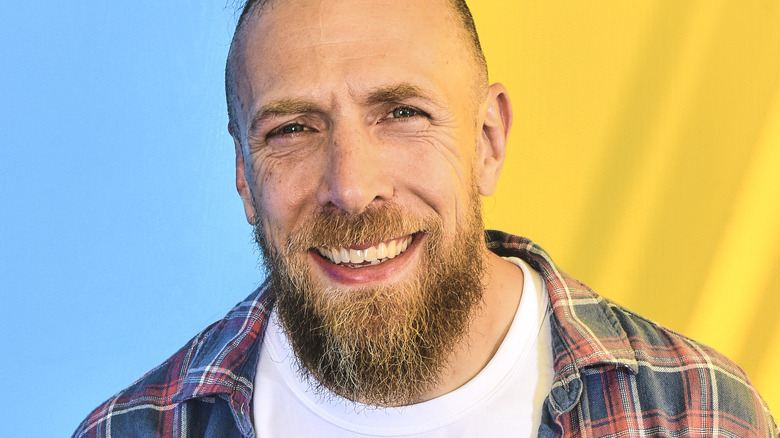 Irvin Rivera/Getty Images
A prized pupil of one of the greatest wrestlers of all time, Shawn Michaels, Bryan Danielson developed a believable, physically taxing style of wrestling that has won fans around the world. Some even consider Danielson to be one of the best wrestlers of his generation.
However, Danielson's intense style has led him to be labeled as "injury prone" at different stages of his career, and his history with injuries could conceivably be holding him back from a more prominent onscreen role in AEW. He does, after all, share the commonality with wrestlers such as Edge, Christian, and Saraya (Paige) of having been forced into early injury retirement only to make their return years down the road.
Concussions have particularly slowed Danielson's career down. He is known to have sustained concussions on several different occasions in WWE, all of which came at inopportune times. Danielson also suffered a major neck injury in 2014, which required surgery and led to a long layoff not long after he won the WWE World Championship at WrestleMania 30. Two years after delivering a heartfelt retirement speech on "WWE Raw" in Seattle, Danielson received clearance to return to the ring, and went on to wrestle in WWE for approximately three more years before heading to AEW. Since arriving in Tony Khan's promotion, the injury bug bit Danielson ahead of "Forbidden Door," nixing plans for a match between himself and Zack Sabre Jr.
CM Punk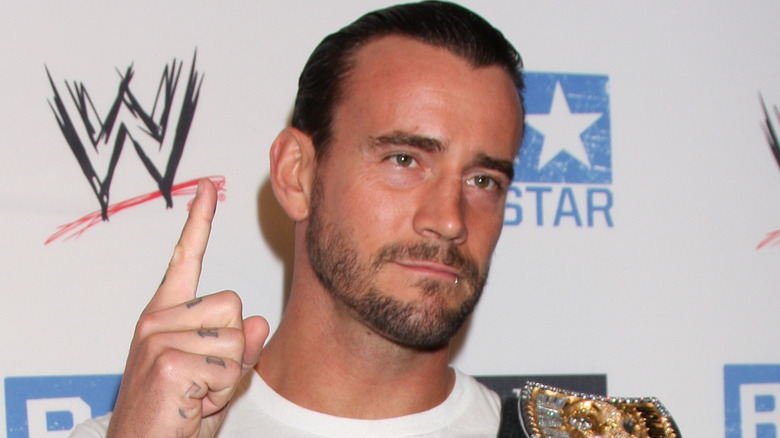 Kathy Hutchins/Shutterstock
In his athletic prime, CM Punk could keep himself reasonably healthy for sustained periods of time and eventually became a superstar any major wrestling company would want at the top of the card. However, a falling out with Vince McMahon and the WWE led to Punk changing careers in 2014, becoming an MMA fighter under the UFC banner.
Intensive training whittled away at Punk, who got into the sport at a much older age than is usually recommended. He sustained a herniated disk in training, pushing his fight with Mickey Gall to the back half of 2016. He ultimately made his UFC debut at 37, and would not return to wrestling until he was 42, having lost both his UFC outings.
CM Punk, the face of AEW, had a much tougher time staying healthy than CM Punk, "The Voice of the Voiceless" in WWE. After winning the AEW World Championship at Double or Nothing in 2022, Punk sustained a foot injury and stepped aside to make way for interim champion Jon Moxley. Shortly after returning, Punk once again became the AEW champion after regaining the belt from Moxley, but quickly landed on the shelf with a torn muscle in his arm after All Out. Given the fallout from his alleged backstage brawl with The Young Bucks and Kenny Omega, Punk is currently absent from AEW TV, though it is worth noting he would be on the shelf regardless due to his injury.
Batista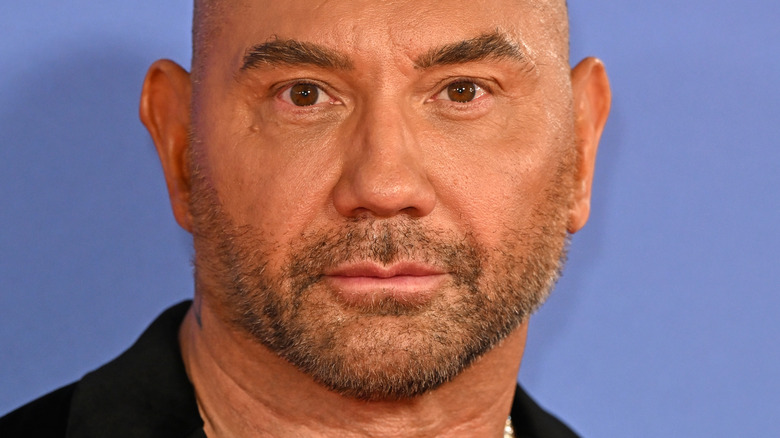 Jeff Spicer/Getty Images
Much like his mentor Triple H, Batista has dealt with a similar rap sheet of injuries despite working an in-ring style mostly predicated on taking little damage. Unlike "The Game," however, Batista got into wrestling at an older age. He signed with WWE at 31 years old, debuting on the main roster in 2002 and later joining Triple H in Evolution. He famously turned on Triple H and proceeded to become, along with John Cena, one of the biggest WWE babyfaces of the mid-2000s. 
However, Batista's run at the top felt constantly hampered by injury setbacks. During the beginning of his run with Evolution, Batista tore his right triceps muscle, then tore it again while rehabbing the injury. After he became World Heavyweight Champion, a Double Chokeslam from Kane and The Big Show caused "The Animal" to tear a muscle in his back and vacate the belt. Shortly after returning, Batista tore his right triceps for a third time in a match against Mark Henry in January 2006, causing him to miss WrestleMania 22. Upon returning, Batista's health held to form for two years before succumbing to a hamstring tear in his match with John Cena at SummerSlam in 2008.
A 2009 bicep tear marked the last of Batista's in-ring injuries. Now 53, Batista has since gone on to have a successful movie career. He is perhaps best known for his role as Drax the Destroyer in Marvel's "Guardians of the Galaxy" series, and has starred opposite comedians such as Kevin Hart and Kumail Nanjiani. However, "The Animal" did manage to have one last match against Triple H at WrestleMania 35, his retirement match. Despite Triple H not being fully recovered from a torn pec he suffered at "Crown Jewel" in 2018, Batista made it through the match unscathed.
Tegan Nox
International sensation Tegan Nox debuted for WWE in the 2018 Mae Young Classic, but actually intended to make her debut in the inaugural tournament until her first wrestling-related ACL injury forced her out of action. Prior to breaking into wrestling in 2013, Nox aspired to become a professional soccer player, but swore off the sport after a knee injury cost her a place on the Wales Under-16 team.
Upon arriving in WWE, Nox endeared herself to fans thanks to her down-to-earth personality and high-intensity in-ring style. However, Nox suffered a worst-case scenario knee injury during a match with Rhea Ripley, forcing her to go under the knife. After the match aired, Nox revealed that she had suffered numerous injuries, including a torn ACL, MCL, LCL, meniscus, and patellar dislocation.
Despite the extremity of the injuries, Nox returned to the ring less than a year later, and remained healthy for the next 14 months. While the Welsh superstar managed to have a successful rehab and seemingly make a full recovery, Nox once again tore her ACL. As a result, she would be forced to miss 10 more months of action, returning at Great American Bash 2021. After receiving her release from WWE in November of that year without ever having appeared on the main roster, Nox recently returned on an episode of "WWE SmackDown," coming to Liv Morgan's aid after an attack from Damage CTRL. 
Sami Zayn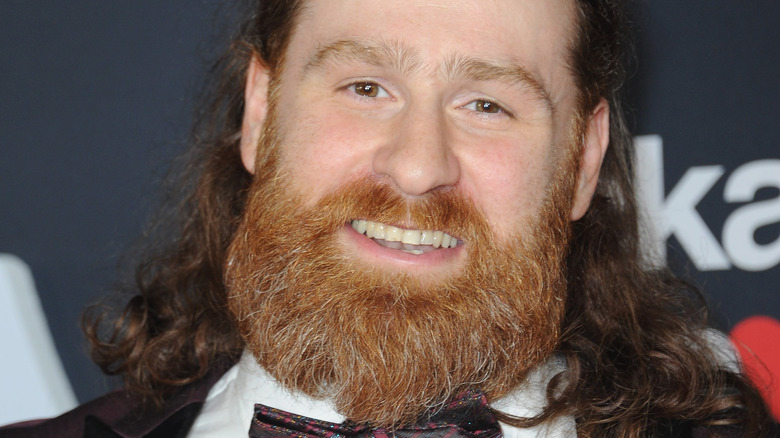 Albert L. Ortega/Getty Images
Sami Zayn is currently one of the most over wrestlers on the planet, and that's in large part due to his character work as opposed to his work inside the ring. Prior to his heel run on "WWE SmackDown" or becoming The Bloodline's "Honorary Uce," Zayn relied heavily on his wrestling to accrue favor with the fans. He wrestled for several years on the independent scene as masked luchador El Generico, but dropped the mask in signing with WWE, thereby becoming Sami Zayn, "The Underdog from the Underground." Zayn initially caught fire due to his physical and dramatic matches, and even became the "WWE NXT" Champion for a spell.
Zayn made his surprise main roster debut in his hometown of Montreal, Quebec, Canada as John Cena's opponent for his weekly United States Championship Open Challenge. However, the Canadian sustained an unorthodox injury to his arm after whipping it around during his entrance. He can even be seen immediately favoring the arm after the injury occurred. Zayn underwent an MRI, and ended up missing seven months to rehab the injury.
Zayn's faulty shoulders came back into focus in 2018, when he received double shoulder surgery to repair torn rotator cuffs on both shoulders. He spoke to WWE.com between surgeries and remarked about his evolution as a performer. "There's never a good time to get hurt or get surgeries, but I do feel like I was starting to hit my stride and find my voice and find myself as a performer," Zayn said. "Which is funny, because 16 years in, it's like I'm rediscovering the art of it in a sense, because I'm doing something I've never really done before."
Randy Orton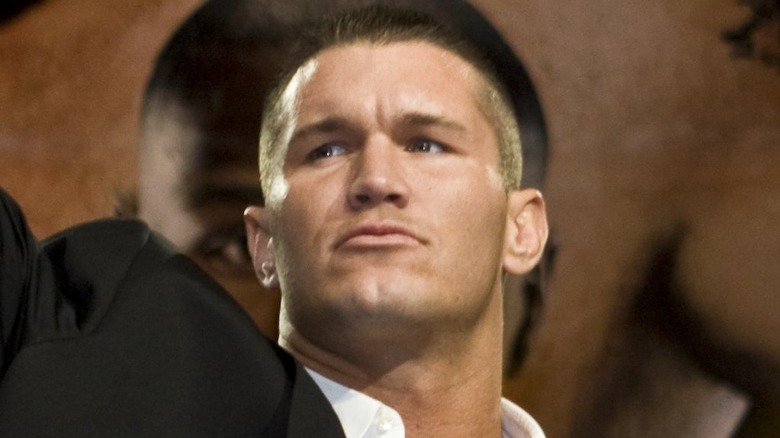 George Koroneos/Shutterstock
Randy Orton's inclusion on this list makes it three out of four members of Evolution with the "injury-prone" label. Much like Triple H and Batista, Orton wrestled a style predicated less on stiffness and more on keeping himself and his opponents safe in the ring. This fact has not, however, prevented the injury bug from worming its way into different points of Orton's career.
Orton's first bout with injuries came when he suffered a shoulder injury in late 2002. However, he dealt with it in a creative way, using a series of vignettes centered around the "Randy News Network" (RNN) to keep the fans updated on his progress. In the process, Orton managed to turn himself heel, creating a bridge to his time with Evolution.
"The Legend Killer's" next injury did not occur until three years later, when he aggravated his shoulder in his WrestleMania 21 match with The Undertaker. He did, however, manage to maintain a near-clean bill of health until he sustained a concussion after taking a belt shot to the head from Daniel Bryan in 2012. Two more shoulder injuries and nerve issues hampered Orton at different points from there on out. Orton is currently sidelined with a serious back injury and rumors continue to swirl about how much more, if any, time the 42-year-old "Viper" has left between the ropes.
KENTA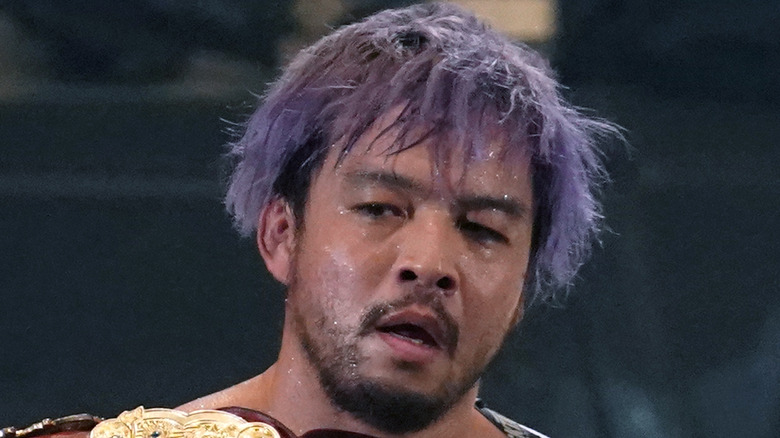 Etsuo Hara/Getty Images
KENTA's disappointing run in "WWE NXT" certainly wasn't for a lack of trying on the part of the creative team. The Japanese superstar burst on the scene at a young age due to the highly physical nature of his matches. As a result, injuries came with the territory for the 5-foot-9, sub-200 pound KENTA. He sustained three different knee injuries and had to vacate championship belts on two different occasions while employed by Pro Wrestling NOAH. He signed with WWE in the summer of 2014 and would be rechristened Hideo Itami, which appropriately translates to "Hero of Pain."
Itami's first hit of bad luck in "NXT" was a shoulder injury in May 2015 that was projected to sideline him until the end of the year. However, Itami had complications while recovering and would miss even more time. After over a year of inactivity, Itami returned on June 30, 2016, but would return to the sidelines three months later when he injured his neck on a botched powerslam from Riddick Moss.
The former Hideo Itami has since left WWE and gone on to become a featured player for New Japan Pro Wrestling, competing under his old name, KENTA. He is a member of the Bullet Club, and has won both the NEVER Openweight Championship and the IWGP United States Heavyweight Championship. While he has largely managed to keep healthy during his second run in his native Japan, KENTA will need to continue to do so if he is to ever become one of Japan's most bankable stars.
Christian
Christian (aka Christian Cage) falls into the category of wrestlers who kept themselves healthy for the majority of their career, only to fall victim to the injury bug in their more advanced age. He also falls into the category of wrestlers who have had their careers drastically affected by concussions. However, he did suffer one severe injury to his back during his first run in WWE that sidelined him for four months. He sustained the injury in a steel cage match with Chris Jericho during their 2004 feud.
Christian kept healthy throughout the majority of his TNA run, but upon returning to WWE for a second stint in 2009, injuries would begin to catch up with the Canadian veteran. Christian quietly retired from WWE after company doctors refused to clear him for a return to the ring due to an accumulation of concussion-related injuries.
Although he had an "unsanctioned match" with Randy Orton in 2020, Christian's final legitimate WWE match came in March 2014. In spite of the doctors' initial refusal to clear him, "Captain Charisma" would be cleared to compete again years later. Rather than make a full-time return to WWE like Edge did, Christian opted to sign with AEW, calling it the "best platform" for him to showcase his final run and help the next crop of young talent. He is currently on the shelf tending to an arm injury, though the expectation is he will resume his feud with "Jungle Boy" Jack Perry upon returning.
Kurt Angle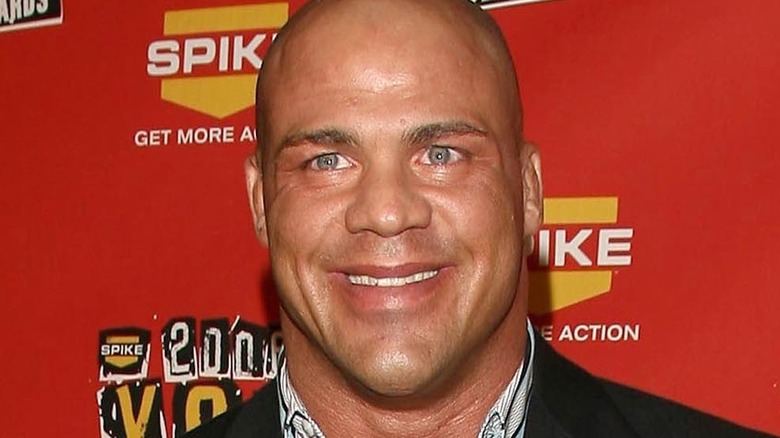 s_bukley/Shutterstock
Kurt Angle came to WWE from an Olympic-caliber amateur wrestling background. A protege of the late, great Dave Schultz, Angle put his body through some of the most intense and rigorous training an athlete can do, and the sport of amateur wrestling carries a similar injury risk to that of pro wrestling. Prior to his gold medal match at the 1996 Olympic Games in Atlanta, Georgia, Angle famously fractured two vertebrae, herniated two discs and pulled four muscles in his neck during trials.
However, Angle still planned to wrestle — if he could somehow obtain clearance from a doctor. "There were a lot of things that were going on," Angle told ESPN. "No doctor would clear me — that was the most important thing, getting cleared. Back then I was young and dumb, 26 years old, I didn't care about my health. I just wanted to get back into the game. Fortunately, I found a doctor either smart enough or stupid enough to allow me to wrestle."
Fast-forwarding to his career in WWE, Angle's injuries began to mount, namely in his neck. Angle's neck began to flare up ahead of his WrestleMania 19 match with Brock Lesnar, and similarly to his experience competing in the Olympics, doctors hesitated to clear him. However, Angle wrestled the match anyway, opting to have surgery less than two weeks later. The surgery, performed by Dr. Hae-Dong Jho, repaired nerve and spinal damage, calcium buildup, bone spurs, and intervertebral disc problems. Angle's neck flared up again after WrestleMania 20, and led to him developing a dependence on pain medication that contributed to his departure from WWE and led to a host of other minor injuries while wrestling in TNA. Today, Angle lives a relatively normal life, though his arms have since atrophied as a result of neck fusion surgery.
Kevin Nash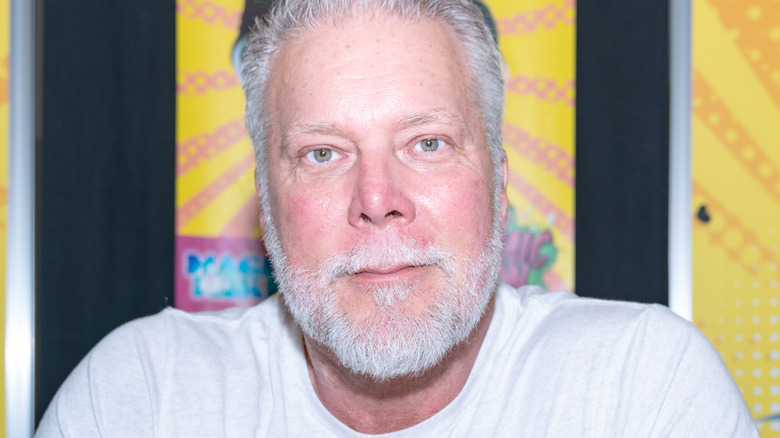 Markus Wissmann/Shutterstock
Kevin Nash's quads have long been the subject of ridicule by wrestling fans, but Nash's injury woes actually date back to his short-lived career as a basketball player at the University of Tennessee. A knee injury forced Nash to consider other outlets for himself. At 6-foot-10, Nash was legitimately one of the tallest wrestlers of his time, and as a result, maneuvering around the ring put more stress on his legs than it does for most. In a 2020 tweet, Nash revealed he injured his knee again in 1986 after his basketball career came to a close, and suggested he worked "for 29 years on one leg." While competing in WCW Nash had knee surgery in 1997 that kept him out of the ring while his tag team partner, Scott Hall, also nursed an injury.
According to an Eric Stoffers article detailing Nash's experience with stem cell therapy in 2021, Nash has undergone more than 30 orthopedic surgeries. The article also cites that Nash has dealt with issues stemming from CTE, a condition relating specifically to athletes who suffer an abundance of concussions in their career.
Perhaps Nash's most infamous injury came in 2002, when he tore his quad on an episode of "WWE Raw" in Philadelphia, mere moments after entering the ring. This closely followed a biceps injury that had put Nash out for several weeks. "It felt like a shotgun," Nash told co-host Sean Oliver during an episode of his podcast, "Kliq THIS." "Anybody who's ever torn an ACL, magnify that. You can just feel it rip and then I went down." Nash returned in April 2003, but by October had vanished from TV and gotten neck surgery, which spelled an end to his second WWE run.