Why 'All Ego' Ethan Page Ended His Fake Name No Gimmicks V-Log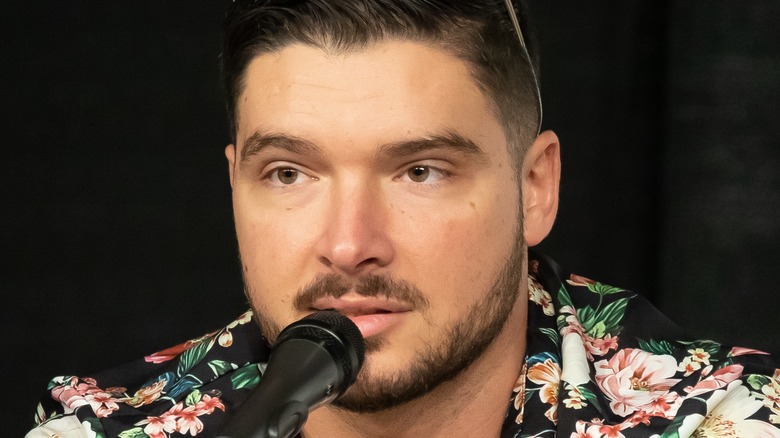 Brandon Nagy/Shutterstock
Vlogs in professional wrestling have become commonplace in recent years. The Young Bucks, founders and core members of All Elite Wrestling, popularized the trend with their series "Being The Elite," which began during their time in New Japan Pro-Wrestling back in 2016. Since then, many wrestlers have followed suit by picking up their cameras and documenting their unique lives as professional wrestlers. However, there is one vlog series that has been missed in recent months. In May, "All Ego" Ethan Page announced the end of his "Fake Name No Gimmicks V-log," a show that had been consistently uploaded to YouTube every Wednesday by the Impact Wrestling-turned-AEW star for over three years.
The final episode of "Fake Name No Gimmicks" starts like any other, with Page talking to the camera in his hotel room before documenting the events that he participated in that week, including the May 6th episode of "AEW Rampage," as well as an appearance at Blitzkrieg Pro Wrestling. Starting at roughly the 19-minute mark, though, Page addressed the reasons that he was ending his beloved vlog. 
End of an Era
"The 'Fake Name No Gimmicks' series, the backstage vlog, it kind of has reached the end of its course," Page said to begin his farewell to the series. According to Page, "Fake Name No Gimmicks" was no longer living up to his standards of content. Page admitted that "the last couple vlogs of "Fake Name No Gimmicks" have been very uninspired and kind of, in my opinion, forced." Page said he had been feeling this way for some time and couldn't continue to produce videos that he didn't believe in. Page was quick to reassure all his fans that this did not mean the end of him vlogging in general, as he unveiled his plans to put more of his focus into his "Toy Hunt Vlog" series. "I am committing fully to doing one 'Toy Hunt' a week," he guaranteed, with "extra videos that will end up on the channel regularly.
The AEW star's "Toy Hunt Vlogs," in which he and his fellow wrestlers go to toy stores looking for action figures, comic books, and other collectibles, has become quite popular in its own right, and the AEW Star made it clear that the "Fake Name No Gimmicks" series would always have a place in his heart. According to the final vlog, Page considers the series "one of the proudest things of my career," which says a lot for the 15-year veteran.