- Nate Diaz is expected to fight Gray Maynard for the third time in the main event of The Ultimate Fighter 18 Finale this November 30, but according to the Stockton native, the bout may now be in jeopardy -- due to a high school reunion.
"@ufc Cant make it november 30th ive gotta high school reuinion i have to tend too...," Diaz posted to his Twitter earlier this week.
Whether or not the younger of the fighting Diaz brothers is trolling, UFC president Dana White told a group of reporters earlier this week, via MMAJunkie.com, that he isn't surprised by the fighter's behavior and isn't counting it as an official statement.
"I'm shocked," White said. "The Diaz Brothers are doing something crazy? I'm shocked. I heard about it yesterday. Somebody told me about it. But I haven't talked to (UFC matchmaker) Joe (Silva) or Nate or anybody. I don't even know if it's true... I don't take Twitter for news. It's not an official statement."
- Though early reports from Jon Jones' camp following his five-round battle with Alexander Gustafsson over the weekend indicated that the champion's foot was "shattered," Bones tweeted today that the damage was only superficial and that he'll be on the road to recovery in no time.
"Just got back from a MRI, Great news! my foot is not broken or fractured.. Focusing on a full recovery," tweeted Jones.
- The UFC has released the poster for the much anticipated Anderson Silva - Chris Weidman rematch, which you can check out below: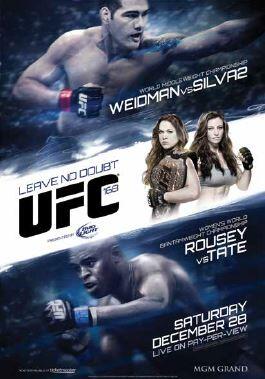 Got a news tip or correction? Send it to us by clicking here.