WWE NXT Live Event Results From Concord (4/7): Shinsuke Nakamura And Finn Balor Team, Asuka, More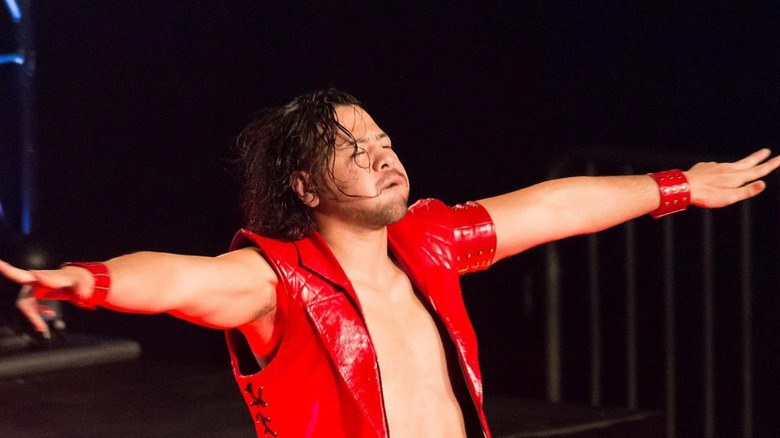 Thanks to @CT_SportsReport and my good buddy Cassidy Haynes for texting the following WWE NXT live event results from tonight's show in Concord, North Carolina:
From Cassidy Haynes:
* "No Way Jose" Levis Valenzuela defeated Riddick Moss
* Elias Samson sang a song and then defeated John Skyler
* Alex Riley defeated Blake with a second rope elbow drop. No Murphy or Alexa Bliss
* Eva Marie defeated Carmella. Carmella attacked her after the match
* WWE NXT Tag Team Champions Chad Gable and Jason Jordan retained over Dash and Dawson
Intermission
* Austin Aries defeated Manny Andrade with a roaring elbow
* Tom Phillips came to the ring and brought two fans in. The guy asked his girlfriend to marry him and she said yes
* NXT Women's Champion Asuka vs. Peyton Royce is next. Eva Marie interrupts at the beginning of the match and says she's challenging Asuka for Friday's live event in Columbia, SC. Asuka wins the match and takes the mic after. She says, "Eva Marie. Tomorrow night I kick your ass."
* NXT Champion Finn Balor and Shinsuke Nakamura defeated Tye Dillinger and Baron Corbin in the main event. Dillinger came out first and cut a promo. Balor and Nakamura got the win after Balor pinned Dillinger. Nakamura, who was said to be amazing, did quick mic work after the match as did Balor, who also brought a fan sign into the ring that asked where Doc Gallows and Karl Anderson are
From @CT_SportsReport:
The venue was 95% full (approx 4,000 fans) and fairly hot crowd most of the night. Dasha Fuentes and Tom Phillips are our hosts for the evening.
* Opener saw "No Way Jose" defeat Riddick Moss. Nothing special in the ring, but solid opener. Good support for Jose with a variation of different Jose chants.
* Elias Samson defeated hometown wrestler and NXT enhancement talent John Skyler with his swinging neckbreaker variation. Good support for the local Skyler and "go away" type of heat for Samson, hence the usual "drift away" chants.
* Alex Riley defeated Blake (minus Murphy and Bliss). Blake played the heel fairly well here and Riley is powerful in the ring. Nothing fantastic in this one. Riley ends it with an elbow drop from the 2nd rope.
* Eva Marie defeated Carmella with the aid of the ropes after a ref bump. Not a mat classic by any means, but a fairly clean match and both ladies were over in their respective roles. Carmella ended up attacking Eva Marie after the match for a pop.
* Tag Team Champions American Alpha defeated The Revival in one of the best matches of the evening to retain their championships. American Alpha came out to a big pop. Extremely snug mat wrestling by all 4 guys and put on a clinic. Typical heel antics by The Revival. Gable gets the pin via rollup after a series of pin attempts.
* Austin Aries defeated Manny Andrade with a well-connected roaring elbow. They shake hands before the match, with Aries ending up being the heel as the match goes on. Maybe the best pure wrestling match of the night. Crowd was seemingly unfamiliar with Manny but got behind him big time as the match went on. Great sign for him.
* Asuka defeats Peyton Royce via the Asuka Lock. Surprisingly good back and forth action with Royce getting a fair bit of offense in. If Royce loses the flower entrance gimmick, she could be a player in the women's division for a long time. Asuka impressive as usual.
*Before the match, Eva Marie came out with Asuka's title challenging for a title shot tomorrow night in Columbia, SC if she wants it back. After the match, Asuka accepts.
* Your main event of the evening saw the team of NXT Champ Finn Balor and Shinsuke Nakamura defeat Baron Corbin and Tye Dillinger. Extremely entertaining match with Balor doing the Ric Flair chops, strut, and woo's, with Dillinger doing the Flair Flop at one point. They are near Charlotte, NC after all. Each guy got a lot of their signature offense in. Balor pins Dillinger after Bloody Sunday for the win.
* Balor thanks the fans after the match after a long Wrestlemania week. Nakamura with a short stint on the mic as well.
Overall fun show with the undercard a bit lackluster, but the top of the card delivered as expected.