WWE NXT Results (10/5): Dusty Rhodes Classic Begins, Samoa Joe Spoils Debut, Swann Vs. Clark, More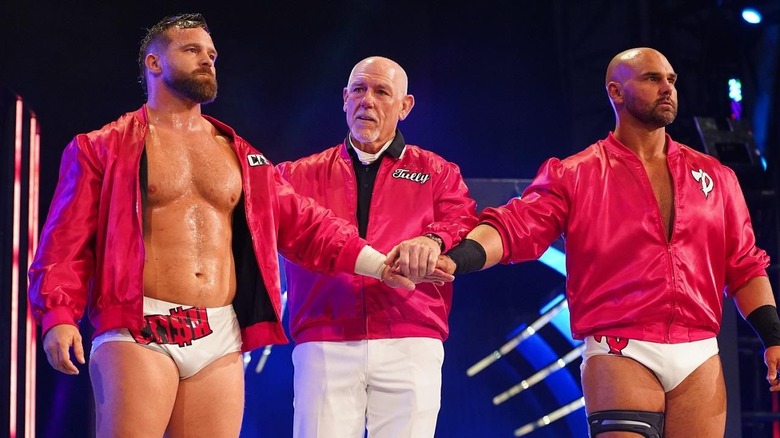 Photo Credit: AEW
Welcome to WrestlingINC's WWE NXT Live Viewing Party. Use the various SHARE buttons on the page to let others know about our coverage.
-Tom Phillips welcomes us to NXT and we head straight to the ring where ring announcer Mike Rome gets us started.
Bollywood Boyz vs. Authors of Pain (Dusty Rhodes Tag Team Classic First Round Match)
Nice reaction for the Bollywood Boyz as they dance to the ring, but the energy gets sucked right out of the building as Paul Ellering leads his brutes to the ring. Harv Sirah immediately throws hands and stuns Rezar of AOP but that doesn't last long as Harv is quickly dismantled. He's able to make the tag but Gurv suffers the same fate. Big splash from Akam that leads to a tag and their Russian Leg Sweep/Clothesline combo finisher, now named "the last chapter," for the quick win.
Winners via Pinfall: Authors of Pain
- Vignette for the debuting Dan Matha airs after we take a look at the Dusty Classic bracket.
Rich Swann vs. Patrick Clark
Showing how the Full Sail crowd is much different than main roster crowds, the extremely over Swann grooves his way to the squared circle. Patrick Clark makes a very flamboyant entrance, and Rich Swann even looks confused by the change in attire. Crowd sings a culmination of Swann's new and old entrances and the two lock up. Fast paced rope running exchange ends with Swann landing a drop kick. Clark catches Swann for a nice spine buster and slows the pace. Clark swings and misses at a pair of corner attacks and Swann nails him with a barrage of kicks from all angles. Jumping Shooting Star Press from Swann for the one, two, three.
Winner via Pinfall: Rich Swann
- We get a look at the match between Almas and Alexander that ultimately formed their tag team for tonight's match versus The Revival.
- We relive the destruction that was Asuka versus Liv Morgan. Asuka reminds us that nobody is ready for the NXT Women's Champ. We go backstage where Billie Kay and Peyton Royce mock Morgan's loss. Let's go to the ring for women's division action.
Peyton Royce vs. Danielle Kamela
The Aussie Venus Fly Trap will take on the recently signed woman trained under Rikishi. Royce in trouble early as Kamela hits a cross body and a drop kick after an early roll up. Royce regains control using her long legs in a variety of offense, similar to her buddy Billie Kay, who is at ringside. Knee and cross arm strikes from Royce grounds the newcomer and cinches in a rear chin lock. After waiting on the crowd to participate in getting Kamela out of the hold, they finally give the rookie some support and she hits a somersault back elbow. Royce regains controls and slabs a big forearm across Kamela's back to set up a PerfectPlex for the win.
Winner via Pinfall: Peyton Royce
- Backstage with Bobby Roode and Tye Dillinger. The Perfect Ten says Dusty meant the world to him and is glad to be in the tournament. Roode is focusing on being glorious and doesn't let Dillinger finish the interview.
Dan Matha vs. TBD
If Matha's gimmick to to be an extremely large robot, he's accomplished it perfectly. His eyes and facials are...interesting. No opponent is announced as Samoa Joe comes out and destroys him in short order. Joe grabs a mic and gives us a riddle: "tick tock, tick tock, who will be the next to get their head rocked?" He says he just destroyed Regal's blue chip prospect. Joe says Regal has one week to either give him Nakamura or give him back his NXT Championship.
Result: No Contest
- Backstage with No Way Jose and Rich Swann. They're asked why they've chosen to tag up for the Dusty Classic. Jose says Swann has fallen on hard times before. Swann says not only does Jose have a good time with dancing, but he's 6'3" of Dominican fire. They combine theme songs as they dance off.
- Vignette for SANITY, who debuts next week.
Andrade "Cien" Almas & Cedric Alexander vs. The Revival (Dusty Rhodes Tag Team Classic First Round Match)
Alexander and Dawson start us off and the former "mechanic" hits a pair of shoulder tackles before Cedric reverses into his unique head scissors take down. Almas joins the party with some unique offense of his own and they hit drop kicks in stereo that send the NXT Tag Champs scurrying. This Almas and Alexander tag team could be one WWE could put in their back pocket and save for later. More high flying offense from the makeshift team as they get the crowd on their feet. Dawson makes a blind tag that the referee sees and Almas doesn't, Dash takes advantage with a DDT and has control as we head to break.
Back from break and The Revival still in control as they work over Almas' arm. We are now in classic Revival mode as they make quick tags and cut the ring in half. Dawson continues to work over the left arm of Almas, but Andrade hits Dash on the outside and rolls up Dawson. Official is distracted as Dash gets his attention to block the cover. Almas with an enziguri and crawls to make the hot tag to Alexander. Handspring enziguri from Alexander to Dawson. Cedric covers but Dash breaks it up. Jack knife roll up from Alexander on Dawson for a near fall. Almas is eliminated from the equation to the outside. Cedric tries to escape a double team, but lands in the Shatter Machine. The Revival heads to the second round.
Winners via Pinfall: The Revival
- After the match, Almas not thrilled with the outcome, attacks Alexander. Almas beats him down in the ring and spills outside. The attack culminates with Almas dropping Alexander head first on the ring steps. Almas pats himself on the back at the ramp as the crowd chants "you suck" and we head off the air.