Every Ric Flair WWE WrestleMania Match Ranked Worst To Best
Ric Flair has an illustrious career in wrestling andhas done it all in the business. He is recognized by WWE as 16-time world champion by capturing the NWA, WCW, and WWF World Championships and has wrestled all over the world throughout his run. Outside of the ring, he has appeared in various television shows, documentaries, and commercials. After his in-ring career in WWE, Ric Flair managed his daughter, Charlotte Flair, and even helped her capture the "SmackDown" Women's Championship at WrestleMania 32. More recently, Flair had his retirement match at a Starrcast event heavily marketed around "Ric Flair's Last Match."
For a man with so many accolades, Ric Flair has only wrestled at The Grandest Stage of Them All, WrestleMania, a mere six times. This low number was because he was in large part because he was faithful to the National Wrestling Alliance and World Championship Wrestling, and thus not part of the WWE/F roster for many WrestleMania shows. The six appearances that Ric Flair has had at WrestleMania range from forgettable to some of the best in-ring story telling ever featured at the Showcase of the Immortals.
6. Ric Flair & Carlito Vs. Chavo Guerrero & Gregory Helms (WrestleMania 23)
WrestleMania 23 was billed as the Battle of the Billionaires and is one of the highest grossing WrestleManias of all time, clocking it at 1.188 million buys. With a buy rate like that, it makes sense to have someone of such prestige like Ric Flair on the card. However, this was one of Ric Flair's most forgettable WrestleMania appearances, due heavily in part to the fact that it appeared on the WrestleMania 23 pre-show. It is shocking that a legend in the business, such as Ric Flair, would end up on the pre-show of WrestleMania, but Flair's tag team partner, Carlito, made matters worse. 
During this era, Carlito was in full swing heel mode, spitting apple in the faces of people "who don't want to be cool." Carlito was not thrilled about his tag match with Ric Flair being on the pre-show and in an interview he lashed out saying, "I'm out of WrestleMania. Apparently, they had to make space for Kane versus Khali and Melina versus Ashley. How can I be at WrestleMania? If I politic and kiss a**, I should make it" (H/T Wrestle Zone). This caused Carlito to receive some heat from WWE management, but Carlito claimed on Wrestling Shoot Interviews that he was just talking in character and blurring the lines between reality and fiction. Regardless of the real reason, this match is barely seen and widely forgotten in the career of Ric Flair and WrestleMania.
5. Ric Flair, Randy Orton, & Batista Vs. Rock 'n' Sock Connection (WrestleMania XX)
In the early 2000s, Ric Flair was part of a dominant group known as Evolution, made up of himself, Randy Orton, Triple H, and Batista. This faction ran roughshod on the WWE roster at this time, and Mick Foley was a prime target before WrestleMania XX. Foley had just returned from an eye injury and often times found himself on the receiving end of a beat down from the members of Evolution. Three weeks before WrestleMania XX, The Rock returned on "Monday Night Raw" and helped Foley get his revenge on Evolution. Later on, a Handicap Match between The Rock 'n' Sock Connection (Mick Foley and The Rock) and Evolution was announced for WrestleMania XX.
This was Randy Orton and Batista's first time at WrestleMania, and what better way to debut at The Grandest Stage of Them All than with Ric Flair? This match saw the Rock 'n' Sock connection dominate for most of the match. However, toward the end, Mick Foley pulled out Mr. Socko, but before he could get it locked in, Randy Orton quickly hit the RKO, long before it was "outta nowhere." Although this match had a hot build and a solid payoff, it was much more of a victory for the young talent of Evolution than it was for a seasoned veteran like Ric Flair.
4. Ric Flair vs. Undertaker (WrestleMania X8)
Although Ric Flair only had six matches at WrestleMania, one of them was an opportunity to break the streak of the Undertaker at WrestleMania 18. During this time period, Ric Flair and Mr. McMahon were acting as "co-owners" of WWE on their television product. On the road to No Way Out 2002, the Undertaker attacked The Rock, and Ric Flair, acting in the manager role, was vocal about his disdain of Undertaker's actions. This led to Flair and Undertaker meeting at WrestleMania 18 in a No Disqualification Match. The build to  his match was quite shocking because the often overly confident Ric Flair was not so confident to step into the ring with the legendary status of the Undertaker.
In an episode of "Something to Wrestle With," Bruce Prichard described Flair's hesitation: "I think if you were to ask Ric, I think Ric had a lot of self-doubt as to whether or not he could perform at a WrestleMania level with The Undertaker." Ready or not, Flair and Undertaker put on a 20 minute classic that you would expect from two of the top wrestlers in the business. Of course, Undertaker kept his streak intact, but Ric Flair found himself in a high caliber match at a time when he was acting in the managerial role on WWE television.
3. Money in the Bank Ladder Match (WrestleMania 22)
The Money in the Bank ladder match started as a staple of WrestleMania, but has since blossomed into a pay-per-view of its own. The formula of the Money in the Bank ladder match has remained primarily the same: Each match features a mix of young up-and-comers, high flyers, and giants. The up-and-comers get to shine, the high flyers get to hit their high spots, and the giants are there to throw ladders around and thwart offense. However, at WrestleMania 22, Ric Flair broke the recipe of the match by earning a spot as an older legend entering the fray.
Although Flair was 57 at the time, he did not act his age or pull any punches in this match. There was one spot where Matt Hardy superplexed Flair off the top of a ladder, taking him out the match, only for Flair to have a hero comeback later on. On the podcast "The Drive With Josh Greshem," Hardy recalls Flair trusting him with this spot: "Ric pulled me aside and said 'look, I want to take a big bump off this ladder. You're the only person I trust to give me a suplex off the top." Although Flair did not win this match, he shined by taking on the rare role of a legend being in the Money in the Bank ladder match and taking a massive bump to boot.
2. Ric Flair vs. Randy Savage (WrestleMania 8)
There was a short stint of time in the early 1990s when Ric Flair jumped ship from WCW to WWF. In 1992, Ric Flair entered the Royal Rumble and won the vacant WWF Championship. This setup many potential dream matches for Flair at WrestleMania and many fans thought Hulk Hogan was going to be the destined opponent for Ric Flair on the Grandest Stage of Them All. However, the WWF went a different direction with it, with Flair claiming to have dated Randy Savage's wife, Miss Elizabeth, before her and Randy Savage were married. WWF added fuel to the fire of this storyline by releasing photos of Flair and Elizabeth together on multiple occasions (via TJR Wrestling).
An enraged Savage and pompous Flair met at WrestleMania 8 for the justice of Miss Elizabeth and the WWF Championship. Savage and Flair put on a clinic, a dream match that many fans craved when Ric Flair came to the WWF. Flair got too cocky in the match, telling Miss Elizabeth, "it's for you baby," before going for the final attack on Savage. Savage blocked the offense and rolled Flair up to become the new WWF Champion. This match is legendary partly because it a classic, and partly because it was an extremely rare WrestleMania appearance in the early 1990s from The Dirtiest Player in the Game.
1. Ric Flair vs. Shawn Michaels (WrestleMania 24)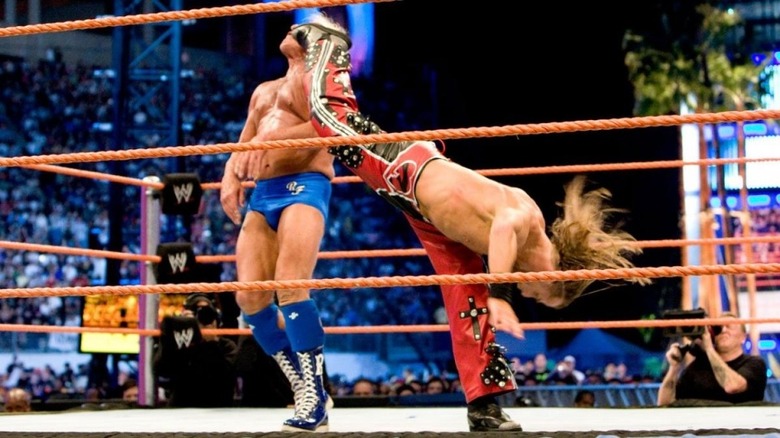 WWE
Professional wrestling is at its best when it delivers an emotional in-ring payoff to a long storyline. One of the best examples of this is when Ric Flair took on Shawn Michaels at WrestleMania 24 with the former's career on the line. In the later part of 2007, Vince McMahon put on a bounty on Flair's head by telling him that the next time he lost a match, he would have to retire. Flair had a collection of matches where his career was on the line, but none of his competitors were believable threats. It wasn't until Michaels announced that Flair would be inducted into the 2008 Hall of Fame that Ric Flair said he wanted a match with Michaels at WrestleMania. 
Shawn Michaels was uneasy about this because, being a friend of Ric Flair, he didn't want to be the one that ended Flair's historic career. Ric Flair wouldn't take "no" for an answer and slapped Michaels to change his mindset. Flair and Michaels put on a classic WrestleMania match in terms of in-ring storytelling. Michaels went rib-first into the announce table and Flair hit a low blow on Michaels, reminding him he the "dirtiest player in the game." The ending was the most heart wrenching of them all, Michaels lined up for the superkick and mouthed "I'm sorry ... I love you" before delivering the final blow to Flair and ending his WWE career for good.