Impact Wrestling Results (9/22): Victory Road Go-Home Show, Aussie Open, Ladder Match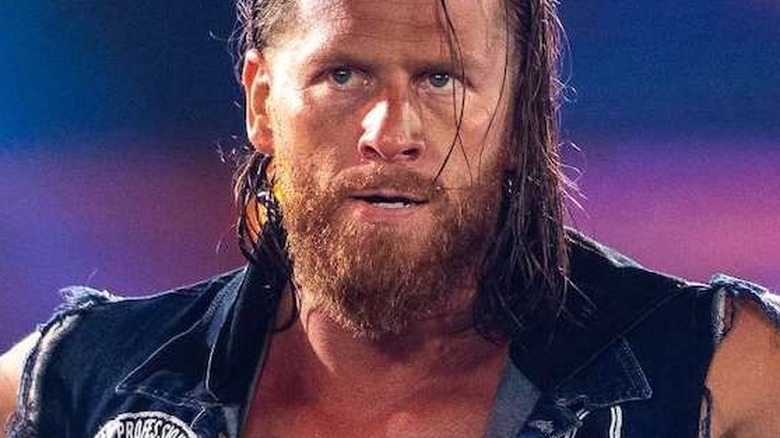 Welcome to Wrestling Inc's live coverage of Impact Wrestling for September 22, 2022.
Tonight's show will have the NJPW Strong Tag Team Champions Aussie Open (Mark Davis & Kyle Fletcher) vs. Motor City Machine Guns (Alex Shelley & Chris Sabin) and Digital Media Champion Brian Myers will defend his title against Bhupinder Gujjar in a Ladder match. Other matches are Black Taurus vs. Laredo Kid vs. Alex Zayne vs Trey Miguel vs Mia Yim, Impact Knockouts Champion Jordynne Grace vs. Zicky Dice, and the BTI match was Hyan vs. Gisele Shaw.
Brian Myers (c) vs. Bhupinder Gujjar in a Ladder match for the Digital Media Title: 
Tonight's show opens up with a Ladder Match for the Digital Media Title. The announcers note that it's Bhupinder Gujjar's first ladder match. 
Gujjar goes right after Myers. Gujjar bodyslams him after striking him. Samoan drop to Myers. The gargoyle spear and a knee to Gujjar. Myers grabs a ladder, but Gujjar dropkicks Myers. Gujjar grabs the ladder, but a spine first on the apron.
Myers now has the ladder and sets it up. He starts to climb it but is stopped by a cutter. Myers gets speared spine first on the ladder. Gujjar starts to climb the ladder, but Myers pushes the ladder over and Gujjar hits the top rope. Gujjar's nose is bleeding. Myers throws Gujjar into the ladder and it falls on him. An uppercut to Gujjar. Myers grabs another ladder. There are two ladders in the ring now. Gujjar grabs the original ladder and tries to set it up. Two ladders are set up below the Digital Media Championship now.
Jordynne Grace vs. Zicky Dice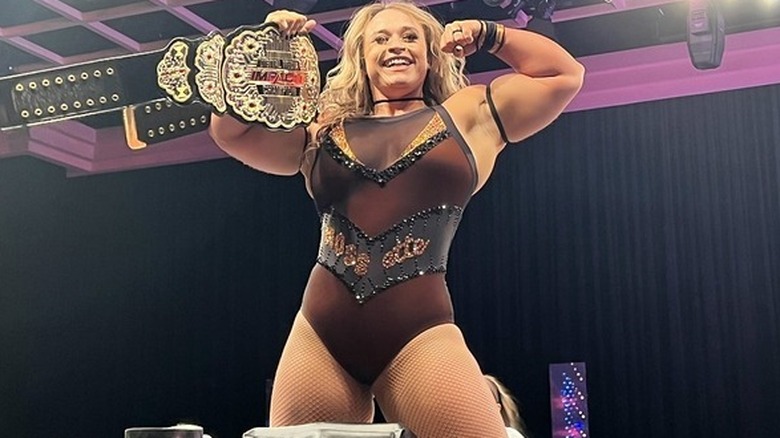 Impact Wrestling
They both start climbing and both are duking it out. Myers hits a belly-to-back suplex from the ladders to Gujjar. Myers is outside of the ring and grabs a third ladder. He puts the ladder on the steps. Powerbomb into the ladder. The crowd is chanting, 'Myers sucks' after the move. Both men are trying to climb back into the ring. Myers is the first one to roll back in. He's climbing on the ladder and is near the title. Gujjar pulls him off the ladder and hits a superkick to Myers. Low-blow to Gujjar while he was climbing on the ladder. Myers tapes him to the ladder, so he can't climb. Myers grabs the title and retains it!
Winner: Brian Myers retains the Digital Media Championship
Backstage with Josh Alexander, Rich Swann, and Heath. Heath says they have to get on the same page for their Victory Road Match. Heath comments on his open match later against any members of Honor No More.
Back from commercial break. Announcers speak about Saturday's Victory Road matches.
Footage from last Saturday's Wrestling Revolver, where Steve Maclin attacked Sami Callihan.
Knockouts Champion Jordynne Grace vs. Zicky Dice
Very quick match. Grace suplexes Dice and rips his shirt off. She uses the Grace Driver and wins the match.
Winner: Jordynne Grace

Five-Way Match: Mia Yim vs. Black Taurus vs. Trey Miguel vs. Alex Zayne vs. Laredo Kid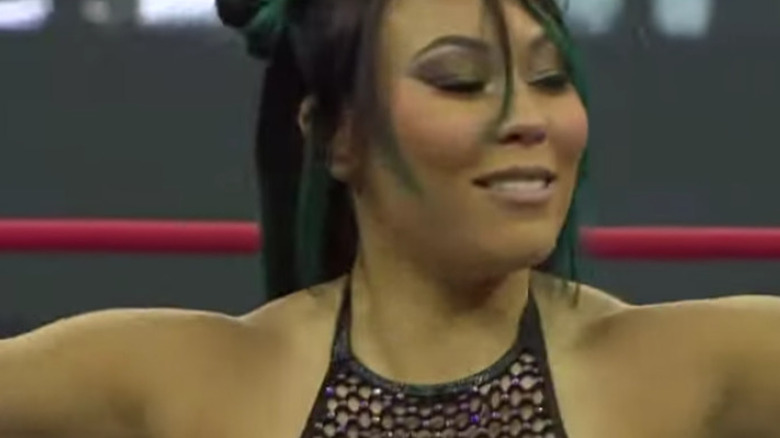 Impact Wrestling
Five-Way Match: Black Taurus, Laredo Kid, Alex Zayne, Trey Miguel, and Mia Yim
Trey Miguel and Alex Zayne go back and forth in the ring, everyone else is outside of the ring. Mia Yim comes back in the ring and knocks them down. Black Taurus comes in the ring, and Yim hits Taurus, but he headbutts Yim. Hurricanrana from Laredo Kid to Black Taurus.
Commercial break.
Back from break, Laredo Kid, Miguel, and Zayne are in the ring. Miguel goes for the cover twice. Miguel and Laredo are on the top rope, and Zayne hits a double hurricanrana.
Yim is back in the ring, powerbombs Zayne. Yim tries to cover Zayne but gets kicked by both Laredo and Miguel. Black Taurus hits the Destination hell hole to Zayne and wins!
Winner: Black Taurus.
Eric Young segment with Deaner. Outside at a creepy farm?  Young tells the yellow sweatshirt people from last week, that they 'are in this now.' He keeps asking them who they are and they say, "I am violence." After a bit, Young and Deaner attack them all. The camera zooms out with Young and Deaner standing tall. Violent By Design echoes in the back.
Commercial break. 
Back from commercial break. Another weird, but entertaining Joe Hendry segment. It's a joke about Soap Operas. 
Street Fight Match: PCO vs. Heath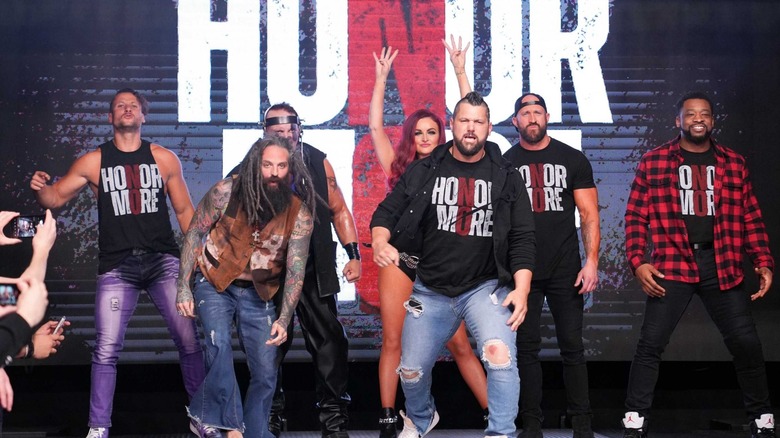 Impact Wrestling
Street Fight Match: Heath vs. PCO
Heath is in the ring. Heath is waiting for any member of Honor No More to come out. The member who comes out is PCO! Vincent and everyone are out now. They don't want him to go and fight Heath. Eddie Edwards says, "This match isn't going to happen." The crowd chants, "Fight, Fight, Fight."
Edwards berates PCO and tells him that he belongs to "Honor No More" and him. Heath coaxes him to accept the challenge.
Match starts. Heath gets the first hit. Both men are outside of the ring. PCO hits a neck breaker on the ramp.
PCO is just throwing chairs around. Heath climbs on the stage and hits a DDT on the stage. Heath throws PCO off the stage and into a "bed" of chairs.
Honor No More comes back out. Rich Swann and Josh Alexander run out with chairs. Alexander hits Edwards. Heath is in the ring, while PCO is still down by the chairs. Vincent hits Heath with a chair, but Heath hits the Wake-Up Call.
PCO comes back and is throwing chairs into the ring. Heath is dodging the chairs. PCO comes back into the ring and chokeslams Heath. PCO puts a black glove on and The Mandible Claw to Heath. 
Heath hits the Wakeup Call on PCO in the chairs and wins the match.
Winner: Heath 
Commercial time! 
Motor City Machine Guns vs. Aussie Open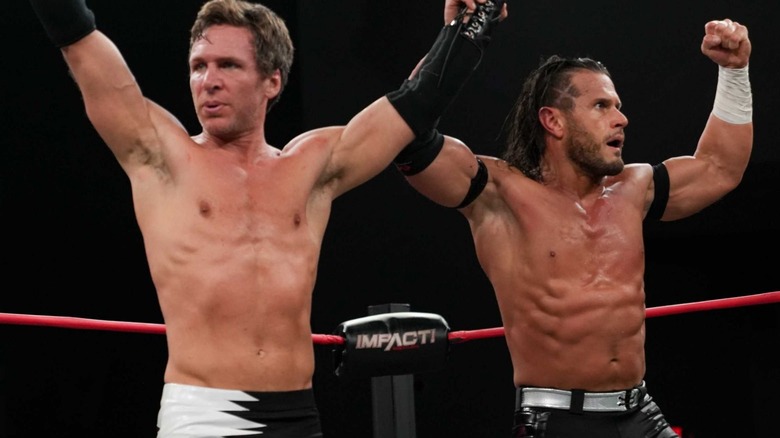 Impact Wrestling
Motor City Machine Guns (Chris Sabin & Alex Shelley) vs. Aussie Open (Kyle Fletcher & Mark Davis)
Back from the commercial break and Aussie Open is already to the ring. The announcers note that whoever wins the match, gets a match at Bound For Glory against the Impact Tag Team Champions Matt Taven and Mike Bennett.
Shelley and Fletcher lock up. They go back and forth. Tag made, Sabin is in. Sabin kicks Fletcher, while in the corner. Fletcher tags in Mark Davis. Davis throws Sabin to the mat.
Sabin and Shelley team together against Fletcher and toss him out of the ring and then kick him. Aussie Open is down. Shelley tosses Davis in the ring and tries to do a frog splash but misses. Aussie Open now team together and Motor City Machine Guns are down on the mat. 
Commercial break.
Back from the break. Fletcher tries to prevent Shelley from tagging, but Sabin gets the tagged in. Sabin dropkicks Fletcher. Sabin hits a crossbody and tries to pin Fletcher, but is not successful. Another kick out from Fletcher.
Piledriver in the middle of the ring. Fletcher tags Mark Davis. The cutter by Fletcher, Davis is legal though. Shelley makes the save. Davis and Fletcher are still teaming together to attack Sabin. Shelley comes into the ring and helps Sabin. The speed of the match is turned up!
The Guns hit The Skulls and Bones and Sabin gets the pin!
Winners: Motor City Machine Guns
Commercial time!
Hold Harmless Contract Signing: Moose, Steve Maclin, & Sami Callihan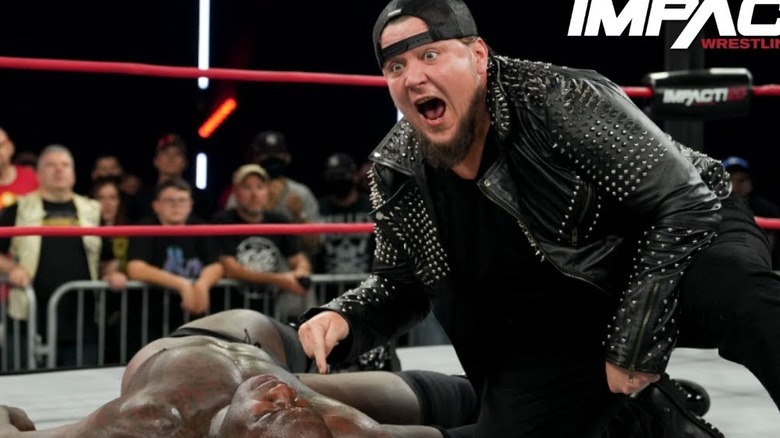 Impact Wrestling
Backstage with Tasha Steelz. She talks about facing Killer Kelly at Victory Road. Savannah Evans has a chair in her hands. They are looking for Kelly. Savannah disappears and then Kelly appears, she's sitting in a chair and says, "I heard you want to play." Steelz says they will play tomorrow at Victory Road. 
The camera goes to Gisele Shaw. Shaw talks about her match with Mickie James. She basically says that she will retire James.
Hold Harmless Contract Signing: Steve Maclin, Moose, and Sami Callihan.
We are back. Impact Executive Vice President Scott D'Amore is out. He talks about the signing and why it needs to happen. They will be in a Barbed Wire Massacre match tomorrow at Victory Road.
Moose comes out first. Steve Maclin is next. And last but not least Sami Callihan is announced next. His music hits and he doesn't come out.
Moose then tells Maclin that he still wants the match and will put him "through hell." Maclin then calls him a "coddled prizefighter." They have a war of words.
The lights go out and Callihan's music hits again and he comes out with a chair. Callihan yells, "The Deathmachine has arrived" and apologizes for being late. He calls Moose and Maclin dumbasses and calls himself the "master of puppets." Maclin tells him to shut up and tells him to sign the "damn contract." Sami has his own pen and it's wrapped in barbed wire!?! 
Maclin jabs Callihan with the pen and he and Moose team together to attack him. Things change quickly, after Moose spears Maclin. Moose gets the table ready and tries to spear Callihan in the table, but he moves. Callihan hits the Cactus Driver 97! He finally gets to sign the contract and uses his own blood! Wild!
The show is over!