The Reason Kurt Angle Didn't Initially Want To Be A Pro Wrestler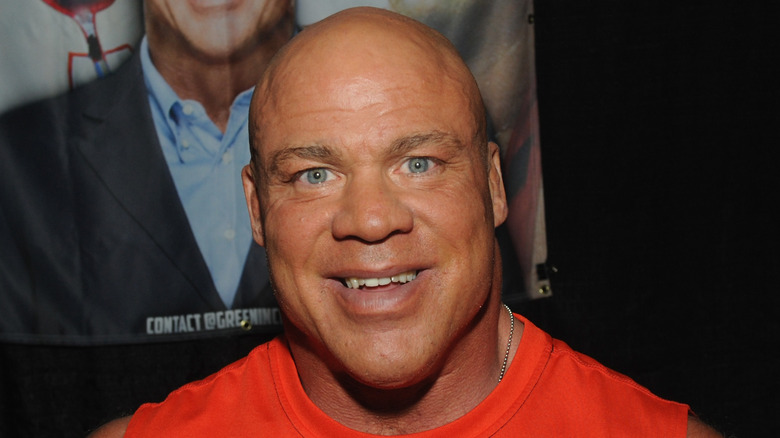 Bobby Bank/Getty Images
After winning a gold medal for wrestling at the 1996 Olympic Games, Kurt Angle was approached by Vince McMahon with a 10-year multimillion-dollar contract to join WWE. Angle turned him down, as he explained on "The Kurt Angle Show," but he changed his mind later on. But what caused Angle to do an about-face and become the rare Olympic wrestler to pursue a life in the squared circle?
In an interview with the Pittsburgh Post-Gazette ahead of his November 1999 debut in a televised WWE match, Angle acknowledged that his decision came about by default and not design. Angle recalled waking up the morning after he won the Olympic gold medal and thinking, "What am I going to do now?" At 27, he achieved his career goal of becoming an Olympic wrestling champion, but he was not able to use that achievement to leverage a lucrative career as a celebrity athlete.
Angle also tried his hand at broadcasting, taking on the weekend sports anchor role for Pittsburgh's own WPGH-TV, but he never became comfortable in that role and left after a year. He received offers to become a wrestling coach, but he wanted something that was both professionally and financially satisfying. So, he revisited the idea of a WWF career. "When I started watching it, I said, 'It's crap. I could kick the crap out of any of these guys.' Then I would watch it for five minutes more. Then it became as addictive as a soap opera."
A period Of transition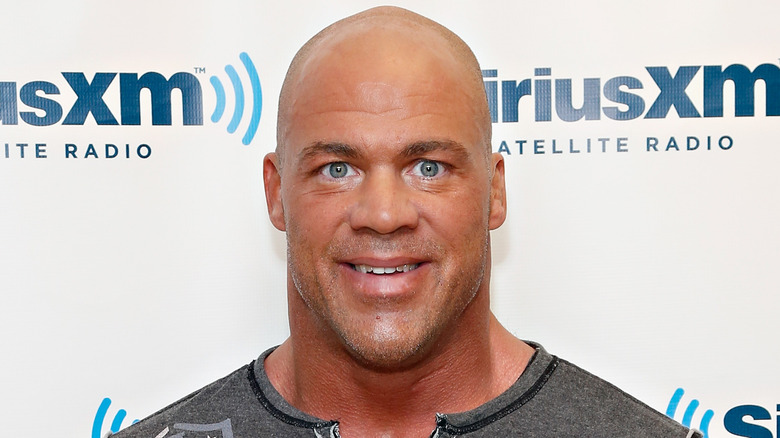 Cindy Ord/Getty Images
Angle signed with the WWF in October 1999 and had to face a negative reaction from people who felt transitioning from amateur to pro wrestling was a major step backward. "People put ideas into my head that I was larger than life," he told the Pittsburgh Post-Gazette. "But it's just another career move. You can't compare an Olympic gold medal to sports entertainment ... What people don't understand is that this is entertainment. It's like the circus. It's fun."
It was also completely different from the wrestling that brought him Olympic glory. "I would never call it wrestling," Angle said, who went through an intensive training period to learn the intricacies of pro wrestling choreography. His initial appearances were under-the-radar in the Power Pro Wrestling and in untelevised WWF warm-up matches.
Despite being an Olympic hero, Angle accepted the persona of a WWF heel, although his contract guaranteed he would not be involved in racist or sexist scenarios. "Everyone has their price. Let's face it," Angle said. "People are human. We are not Jesus Christ. I have to sit down and decide what I want to do and make sure I don't cross that line."
Angle stated he was not looking for a long career with the company, but he wound up on their roster until 2006 when he joined Total Nonstop Action Wrestling. Angle was inducted into the WWE Hall of Fame in 2017 after he rejoined his former employer, retiring in 2019.