WWE SmackDown Results (10/21) - Liv Morgan Vs. Sonya Deville, Women's Tag Team Title Match, Logan Paul To Address The WWE Universe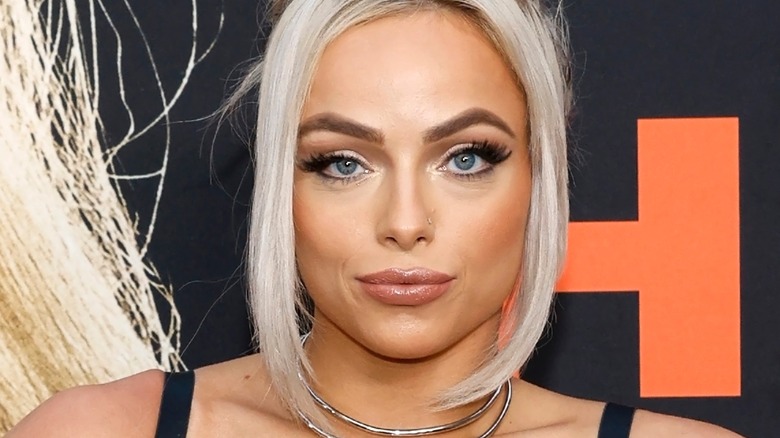 Ovidiu Hrubaru/Shutterstock
Welcome to Wrestling Inc.'s results for "WWE SmackDown" on October 21, 2022, coming to you live from the Huntington Center in Toledo, Ohio!
WWE Women's Tag Team Champions Dakota Kai and IYO SKY of Damage CTRL will be putting their titles on the line in their first title defense against former "NXT" Women's Champion Raquel Rodriguez and Halloween Havoc co-host Shotzi. Kai and SKY have been dominant since winning the titles on the September 12 edition of "Raw", aided by Damage CTRL leader, Bayley. While Rodriguez and Shotzi have only been teaming since Shotzi helped out Rodriguez after a blindside attack last month, they have already proven themselves to be a cohesive unit. Will we see new champions crowned tonight?
Elsewhere in the women's division, former "SmackDown" Women's Champion Liv Morgan looks to score a win over Sonya Deville. Morgan has been showing a more aggressive attitude since Ronda Rousey brought out this newfound side of her going into their Extreme Rules Match earlier this month, and has only been exasperated since she lost her title to "The Baddest Woman On The Planet." It won't be an easy task for her though, as Deville has reminded the world of what she is capable of since reigniting her friendship with Mandy Rose and the rest of Toxic Attraction over the past couple of weeks. Will she be able to get the job done?
Brawling Brutes member Sheamus will be taking on The Bloodline's Solo Sikoa in single's action. The two men faced off (along with Ricochet and Rey Mysterio) in a Fatal Four-Way Number One Contender's Match for GUNTHER's Intercontinental Championship last week. Sheamus almost took home the win by making Sikoa tap with the Cloverleaf, but before he could, Sami Zayn and Jey Uso caused a bit of chaos to draw away his focus. Will "The Celtic Warrior" be able to get his revenge tonight?
Logan Paul will also be addressing the WWE Universe two weeks out from his Undisputed WWE Universal Championship Match against Roman Reigns at Crown Jewel on November 5. What will he have to say?
We are live! Michael Cole and Wade Barrett greet audiences at home as The Brawling Brutes head to the ring. Solo Sikoa, The Usos and Sami Zayn follow.
Solo Sikoa vs. Sheamus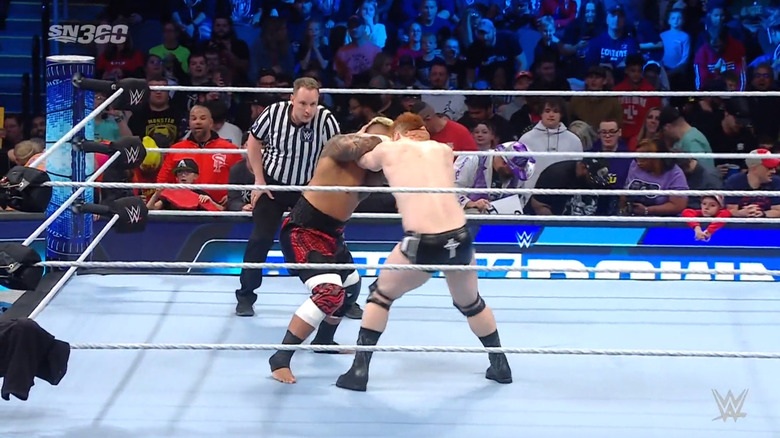 WWE/Fox
The bell rings and the two lock up. Sheamus sends Sikoa into the ropes before Sikoa fires back with a pair of chops. Sheamus delivers a couple of clotheslines, but Sikoa comes back with a spinning heel kick. Sheamus sends Sikoa onto the apron, then delivers a shot to his back. Sikoa hits an elbow before sending him to the outside and sending his shoulder into the ring steps.
Back from the break, Sikoa delivers a hip attack to Sheamus. Sheamus hits a clothesline, then hits another one in the corner and follows it up with White Noise. He goes for a pin, but Sikoa kicks out. Sheamus ascends to the top before Sikoa meets him there and hits a Samoan Drop. He goes for a pin, but Sheamus kicks out. Sheamus delivers a series of elbows to Sikoa, then sends him into the mat with a slam. He hits The Sixteen Beats of the Bodhrán, then follows it up with a super kick. Sheamus hits a knee as The Brawling Brutes, The Usos and Zayn begin fighting on the outside. The Usos dump the announce desk on Ridge Holland and Butch before Sheamus levels them. Sikoa then takes advantage of all the action on the outside by tossing Sheamus back in the ring and hitting Spinning Solo for the win.
Winner: Solo Sikoa
After the match, Zayn and Jimmy grab a chair. Jey takes the chair Zayn has and traps Sheamus' arm in it. Jimmy then takes his chair and repeatedly hits his arm.
Back from the break, we head to a video of Rey Mysterio's win from last week. We head backstage to Mysterio, Giovanni Vinci and Ludwig Kaiser. Vinci says Mysterio is all alone before Kaiser says he stands no chance against GUNTHER in two weeks time. Mysterio says this is a new beginning for him and says he doesn't appreciate being disrespected. He challenges the men to a match (saying he doesn't care which one he faces) before Kaiser takes him up on it.
We Hear From Bray Wyatt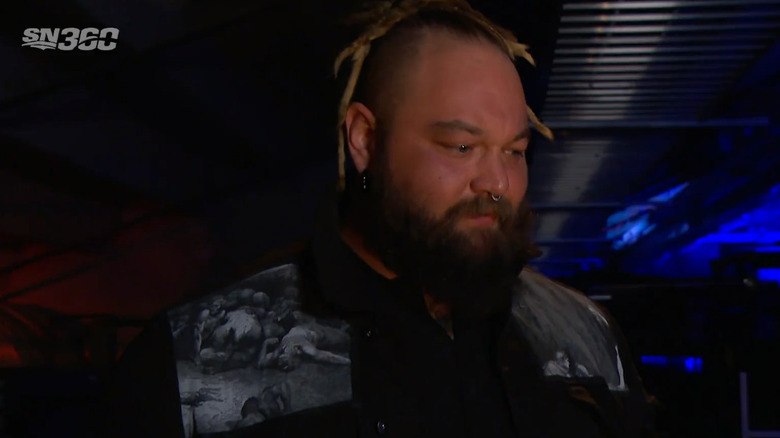 WWE/Fox
We head backstage to Bray Wyatt. He says he didn't get to finish what he was saying last week and says he believes "revenge is a confession of pain." He says he feels like confessing a few things, starting with his problems. He says it's not hard for people to see what his issues are, including his anger. He says he keeps getting chances most people don't and says he was content with being left alone. He says he's glad fans didn't stop clamoring for him to return and says he's thankful. He then confesses that he will do horrible things, but he will never be sorry for them. He says he is now "a servant that goes where the circle takes him."
We then head to The Bloodline celebrating Solo Sikoa's win. They mock Sheamus before Jey says they're levelling up. Sami Zayn tells Sikoa he's done so good and says their work for the night is done. Jey says they're going to get Logan Paul good tonight, but Zayn informs Jey that Roman Reigns told them not to get involved with him. Jey says they'll have to wait and see what happens.
Back from the break, Liv Morgan heads to the ring. Sonya Deville follows.
Liv Morgan vs. Sonya Deville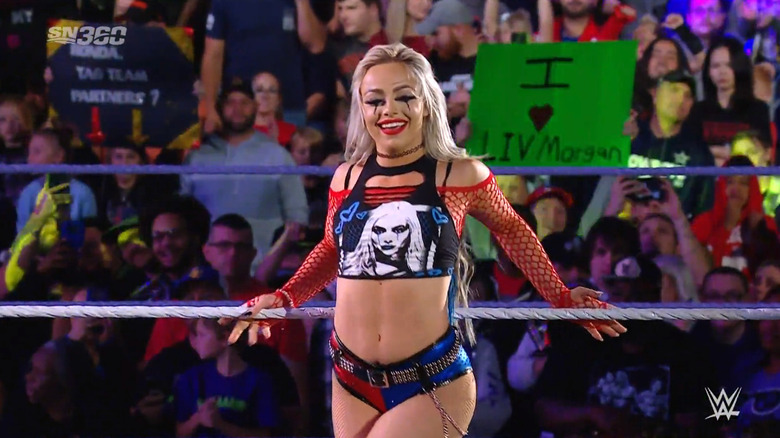 WWE/Fox
The bell rings and the two lock up. They exchange submissions before Deville knocks Morgan to the mat. Morgan laughs as Deville delivers a shoulder tackle. Morgan hits a drop kick, then goes for a pin but Deville kicks out. Morgan hits a back stabber, followed by a running elbow. Deville fires back with a knee, then goes for a pin but Morgan kicks out. Deville sends Morgan face first into the top turnbuckle several times, but Morgan comes back with several right hands to Deville's head. She delivers a kick to her head before Deville hits a boot that effectively sends Morgan to the outside.
Back from the break, Morgan hits a back elbow on Deville. Morgan hits a step-up enziguri, followed by a hip attack and a step-up knee. Deville fires back with a knee of her own, then goes for a pin but Morgan kicks out. Deville hits a series of knees to Morgan's chest, followed by a pump kick. She goes for a pin, but Morgan kicks out. Deville slaps Morgan before Morgan fires off several right and left hands. Deville rolls out of the ring and Morgan sends her head bouncing off the announce desk. The referee begins the ten count as Morgan sends Deville into the ring apron and the barricade. She then whips her head into the ring steps. Neither woman beat the count.
Winner: N/A (disqualification via double count out)
After the match, Morgan tosses several chairs in the ring. She sits Deville on the top turnbuckle, then delivers a superplex on the chairs.
We then head to a video hyping up LA Knight.
Back from the break, we head to a video hyping up the Viking Raiders and Sarah Logan. 
Back at ringside, Braun Strowman heads down.
Braun Strowman and Omos Face Off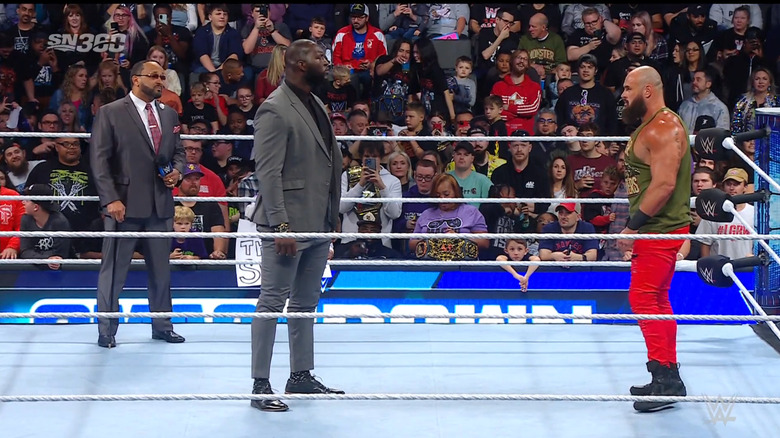 WWE/Fox
Strowman grabs a mic and tells fans to look at him. He says he's not easy to miss or hard to find. He says he heard MVP running his mouth on "Raw" this past Monday before calling him and Omos to the ring.
MVP's music hits and he heads to the ring. He says he never referred to Strowman as anything less than a monster of a man. He admits that Strowman has always been the biggest and the strongest, but says that only lasted until he was in the presence of a Nigerian Giant. He says that he will be exposed once fans see him against a literal giant.
Strowman says he's had enough and challenges Omos to a match at Crown Jewel to see who the bigger man is. MVP accepts on Omos' behalf. Strowman says actions speak louder than words and challenges MVP to a match tonight. MVP then declines the offer and says he never said Omos wasn't in the arena. Omos' music then hits and he heads down.
The two men stare one another down before Omos pushes Strowman out of the ring.
Michael Cole gives an update on Sheamus and says he has been taken to a hospital. He then throws it to a video of the opening segment from last week's show.
We head backstage to Kayla Braxton and Drew McIntyre. Braxton asks if he's been reprimanded and McIntyre says he was called to headquarters. He says it was made clear to him that if he and Kross touch one another again, there will be extreme consequences. However, he says that all parties agreed that this has to end and it will happen in a Steel Cage Match at Crown Jewel.
We then see a car pull up to the arena before Logan Paul steps out of it.
Back at ringside, Damage CTRL head down, followed by Shotzi and Raquel Rodriguez.
Damage CTRL (c) vs. Raquel Rodriquez and Shotzi for the Women's Tag Team Championships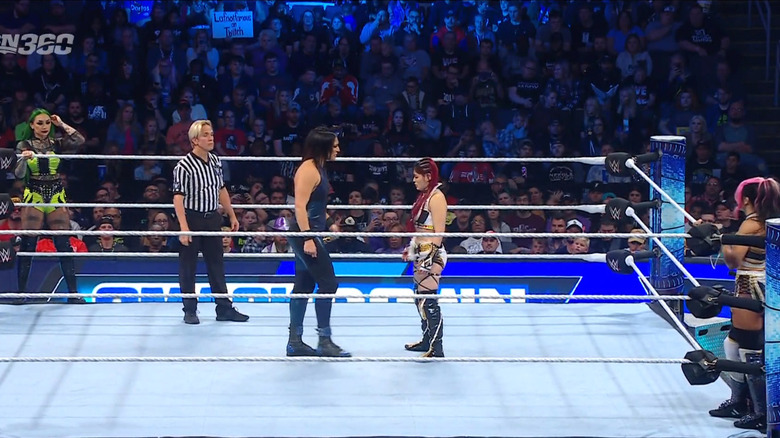 WWE/Fox
Back from the break, the bell rings as Rodriguez and SKY begin the action. SKY slaps Rodriguez and delivers a stomp to her midsection. Kai tags in and hits a knee. She looks for a Scorpion Kick, but Rodriguez blocks it and tags in Shotzi. Shotzi delivers a splash in the corner, then follows it up with a senton. SKY pulls Kai out of the ring before Rodriguez takes them both out. Rodriguez tags in and gets Shotzi up on her shoulders. Shotzi delivers a crossbody before Rodriguez tosses SKY back in the ring. Shotzi tags back in and hits a missile drop kick. Rodriguez tags back in and hits several shoulders to Kai's midsection. Shotzi tags in and delivers a back elbow. She follows it up with another elbow and goes for a pin, but Kai kicks out. SKY tags in and hits a missile drop kick.
Back from another break, Shotzi hits a series of kicks on SKY. Rodriguez tags in and hits a Fallaway Slam on SKY. The two women ascend to the top before SKY pushes her off and hits a Diving Tornado DDT. She goes for a pin, but Rodriguez kicks out. Rodriguez delivers a clothesline and tags in Shotzi. The two double team on her before Bayley causes a distraction. This allows SKY to plant Shotzi and deliver a moonsault off the top for the win.
Winners: Damage CTRL
We then head backstage to Kayla Braxton and Ronda Rousey. Braxton asks if she will be issuing an open challenge like she did in her previous reign as champion and Rousey says she only issues open challenges to prove she's the best. She says she kept trying to win the approval of fans before revealing that she will issue an open challenge next week when she feels like it.
Back from the break, we head to a video from Legado Del Fantasma. Escobar says Legado Del Fantasma is growing into a business and throws it over to their latest acquisition, Zelina Vega. Vega says she's been successful in everything she's done and says LDF is head and shoulders above everyone else. Escobar says they are fuelled by legacy, tradition and culture, and they will be the ones to put an end to Hit Row.
We see Hit Row watching on. Top Dolla makes fun of all of their sizes before B-Fab says it doesn't matter what they say about them because she has an idea.
Back at ringside, Rey Mysterio heads down, followed by Imperium.
Rey Mysterio vs. Ludwig Kaiser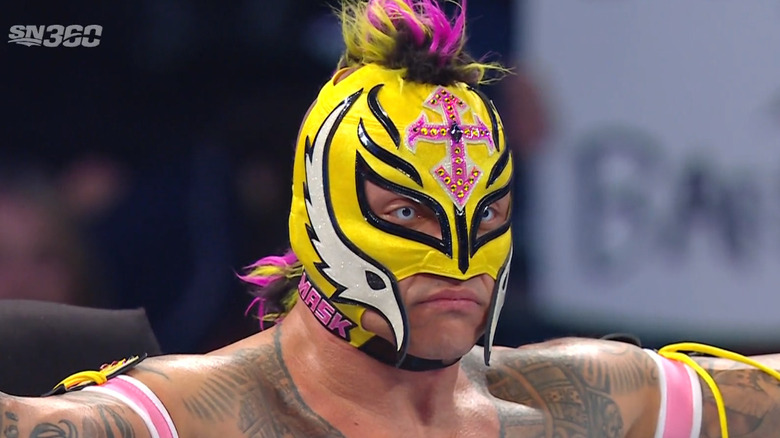 WWE/Fox
The bell rings and the two lock up. They exchange submissions before Mysterio delivers a step-up enziguri and a back elbow. Mysterio hits a kick, but Kaiser catches him with a right hand. Kaiser hits a running knee, followed by a hurricanrana. Mysterio delivers a baseball slide, then goes flying. Kaiser catches him with a right hand.
Back from the break, Mysterio ascends to the top. Kaiser meets him there, but Mysterio pushes him off and hits a senton. He hits a flying crossbody, then goes for a pin but Kaiser kicks out. Kaiser hits a kick to Mysteiro's midsection, followed by a kick and a moonsault. He goes for a pin, but Kaiser kicks out.
Mysterio hits several right hands to Kaiser's head, but Kaiser counters with an uppercut.The two men spill to the outside before Mysterio looks for a senton. Kaiser moves out of the way before Mysterio makes it look like GUNTHER and Vinci hit him with a chair a la Eddie Guerrero. The referee ejects the pair before Mysterio sends Kaiser into the rope and hits the 619. He follows it up with a Frog Splash for the win.
Winner: Rey Mysterio
Back from the break, commentary run down the card for next week's show and announce Sheamus has suffered a non-displaced fracture near his elbow. Logan Paul then heads to the ring.

We Hear From Logan Paul
WWE/Fox
Paul says it feels good to be back in his home state of Ohio. He says he knows fans doubt him, but he's been doubted his whole life. He says he runs his mouth a lot, but it's because he's confident in himself and his abilities. He takes shots at The Bloodline before saying he has the desire to be the best. He says he knows he's the underdog, then asks what happens if he wins. He says he will turn Reigns' tribe into a clean up crew.
Jey Uso pops up out of nowhere and attacks Paul from behind. He fires off several right hands before hitting a super kick. He delivers a hip attack. Sami Zayn heads to the ring and says he told Jey he couldn't do this. He tells him to leave the ring. Jey doesn't listen and Paul clocks him with a right hand as the show goes off the air.