Ricky Steamboat: What Only Hardcore Fans Know About The Wrestling Legend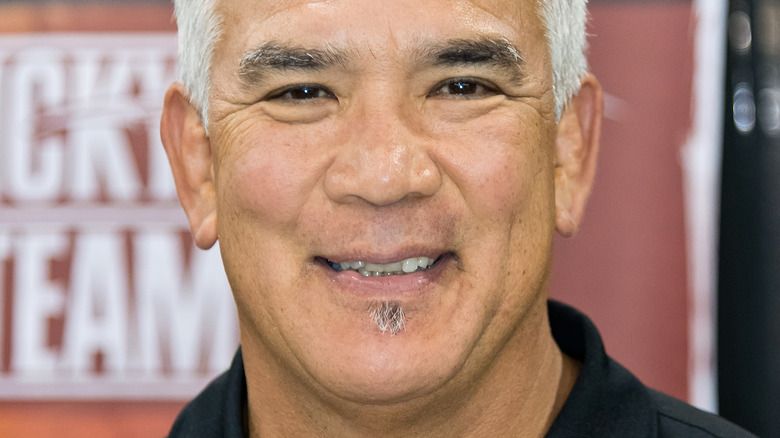 Gilbert Carrasquillo/Getty Images
Ricky "The Dragon" Steamboat, real name Richard Blood, is one of the most universally beloved living legends in professional wrestling. A career babyface in the ring, he maintained a good reputation outside of it as well, with colleagues and fans alike having nothing but good things to say about him. As a trainer/coach and producer, he made a direct impact on the careers of various current wrestling stars, but he will forever be best-known for his battles with the likes of Randy Savage, Ric Flair, and Jake "The Snake" Roberts.
That in-ring career ended in 1994, but with Steamboat embarking on a second comeback run, this time for touring independent promotion Big Time Wrestling, he's suddenly back in the thick of things. And though many of you may already know the basics about his career, like how his feuds with Flair and Savage came about, or his many tag team title reigns with various partners, that's far from all there is to learn about him. So let's dig around in the crates for some Ricky Steamboat trivia that only the biggest hardcore fans would know.
He facilitated his mother's reunion with her family in Japan via All Japan Pro Wrestling
Though his resemblance to '50s-'60s era legend Sammy Steamboat led to him being billed as Hawaiian for his whole career, the real Richard Blood behind Ricky Steamboat is actually half-Japanese, his dad having met his mom when the former was on military duty in Japan. Naturally, though it went against his backstory as stated in the U.S., his actual heritage was played up when he went to Japan to tour with All Japan Pro Wrestling.
"In about '84, when I went to Japan, I went to [promoter Shohei 'Giant'] Baba, and I said 'My mother's from Japan. When she married my dad, he was in the service and they left, she lost contact with her family. She's not had contact with them for 30-something years,'" recalled in a previously unpublished portion of a 2014 interview with the now-defunct Fighting Spirit Magazine. At Ricky's request, Baba had his TV announcer tell the viewing audience about his effort to locate his mother's family, and the results were almost immediate. The very next day, they got over 200 responses, but before long, they found the correct family as they went down the list. When Ricky returned to Japan a few weeks later, he saw that one of his uncles proved his identity by producing a copy of his parents' wedding album, and that's how he knew he found the right family.
On the next tour that Ricky worked, Baba flew over his mom, as well. Though an argument with her family about her marrying an American and leaving Japan in the first place started things off on the wrong foot, everything was smoothed over by the end of Ricky's tour two weeks later.
He studied under a circus performer to learn fire breathing
When Ricky Steamboat returned to the WWF in 1991, he was known simply as "The Dragon," complete with wearing an on-the-nose costume and breathing fire when he entered the ring. "That was Vince wanting to repackage me and coming out in the dragon's outfit," he told Wrestling Inc. in 2019. "The company was taking a different turn on really specializing on who you are and trying to make the character different from the guy you were in the ring with." In a 2021 appearance on "Stories with Brisco and Bradshaw," he would go on to detail the crash course he received in the art of fire breathing from circus performer Brian LaPalme. Steamboat claimed that he briefly had reservations about the act when he saw the flames blow back at the instructor and singe his face. "He said, 'Oh I just saved it so I could show you. I just wanted to get a laugh out of you.'"
LaPalme, however, disputes this part of the story. "I'd been doing that since 1976, two times a day for eight months of every year," he explained to POST Wrestling in a rebuttal. "So you know, I showed him about the wind and I said, 'This is what can happen if the wind is not at your back.' I turned, the wind blew the fire towards me and then I corrected my position. So no burns, no pink and definitely, definitely, Brian LaPalme was not running around in a parking lot with his face on fire."
His brother was a journeyman wrestler
Ricky Steamboat wasn't the only member of his family to enter the wrestling business. In 1986, his younger brother, Victor Blood, would turn pro as, naturally, Vic Steamboat. Getting his start in Championship Wrestling from Florida at the end of 1986, he'd also have a short run in the Dallas-based World Class Championship Wrestling in 1987 before settling into a quieter life as an independent wrestler based out of New England. This is where Vic almost surely made his biggest impact.
In New England, the most visible promotion was Mario Savoldi's International Championship Wrestling, which had a surprisingly large TV footprint between syndication to local stations and occasional cable carriage by the likes of the long since defunct Tempo Television. There, Vic was treated like a top star, with his biggest match, winning the promotion's world title from Tony Atlas in 1990, famously being replayed numerous times on the ICW TV show to the point that it became comical. As ICW slowed down, he generally limited himself to wrestling for the promotion that effectively took its place, the Century Wrestling Alliance, though he did get one more nationally televised match — on "WCW Saturday Night" against Arn Anderson in 1996—before hanging up the tights in 1998.
He almost main evented a WCW pay-per-view that would have run opposite WrestleMania V
Ricky Steamboat's 1989 feud with Ric Flair over the NWA World Heavyweight Championship is the stuff of legend. Many fans are partial to the near hour-long war of attrition that they had at Clash of the Champions VI, broadcast live and for free on TBS on April 2, 1989 opposite WrestleMania V on pay-per-view. After all, it was probably the most-watched, since the other two were on pay-per-view. As originally planned, though, that distinction about free TV wouldn't have been in play.
As reported in the February 2, 1989 issue of Variety, the show that became the free Clash special was originally "Wrestle War '89: The Ultimate Gamble," live on pay-per-view opposite WrestleMania, with the major distributors backing the WCW show. As Dave Meltzer would add in the February 13 edition of his Wrestling Observer Newsletter, the WWF wanted to cut distributors Request TV and Viewers' Choice out of the loop so they'd get more of their pay-per-view money for themselves, so the distributors went to WCW about pushing back.
It came crashing down after a week, though. "What earlier appeared to be a coup by Turner Home Entertainment against Titan Sports turned out instead to be a victory for neither side, but instead a victory for the cable industry, which used Turner and the NWA as pawns in order to drive down Vince McMahon's original deal to carry WrestleMania on pay-per-view," wrote Dave Meltzer in the February 13 Observer. "Well, it turns out, McMahon changed his deal, and while I'm not sure of the exact percentages, it is the same deal that McMahon and the cable companies had for previous PPV events."
At least we got a classic match on free TV out of it.
His WrestleMania match with Randy Savage was scripted out move by move
Randy Savage vs. Ricky Steamboat for the Intercontinental Championship at WrestleMania III is almost universally considered one of the greatest matches in WWE history. In a company that had long been known for its plodding in-ring style, the fast-paced battle full of twists and turns was so great that it even wowed wrestlers in rival companies at the time. As recapped by TJR Wrestling, then-UWF wrestler Michael Hayes noted on the WrestleMania episode of "Legends of Wrestling" that he could see the tide turning in the wrestling war because the non-WWF promotions' near-monopoly on what was traditionally considered great in-ring wrestling.
It was a major departure from how wrestling matches were crafted at the time, though, with Savage insisting on laying the match out in advance move for move instead of improvising most of it. "We wrote it down on these yellow tablets, and we had about 250 steps," Steamboat explained on "Stories with Brisco and Bradshaw" in 2021. Savage insisted on writing down everything, complete with the lock-up at the start of the match. "We got it comprised down to about 160 steps ... whenever we ran into each other leading up to the big show, I would quiz him ... and then he would quiz me and we'd keep bouncing back and forth ... I was so frickin' stressed."
Many wrestlers may quibble about the methods used to put the match together, but it's hard to argue with the results. Even if, as Steamboat said, it "caused more stress than any other match I've been involved with."
He had a featured guest spot on a short-lived cult favorite TV show
Many wrestlers have tried their hands at TV and movie acting, but if you go by Ricky Steamboat's IMDb page, his only role outside of wrestling was an uncredited cameo in a WWF-themed episode of "The A-Team." That's not true, though: On January 3, 1987, he was the main guest star in an episode of "Sidekicks" on ABC, the short-lived series that starred a young Ernie Reyes Jr. as the heir to a martial arts dynasty and Gil Gerard as the police sergeant who served as his guardian.
As of this writing, the episode has been sitting on YouTube for 15 years in three parts, and it's a doozy. Somehow, when plans are made for Ernie's cousin Primo to move in with his blended family, there was a miscommunication that the 29 year old cousin, played by Steamboat, was a 9 year old kid. Primo was a bit childlike, though, and he was particularly obsessed with cops and guns. Somehow, in the course of a half hour episode minus commercials, this leads to Primo discovering a crime ring while trying to obtain American citizenship under dubious circumstances and — which further leads to him moving in with an FBI agent in Virginia. And ... that's about it. Steamboat does an admirable job committing to the role, particularly for someone with no traditional acting experience, but it's a strange piece of work.
He wrestled under his awesome real name, but he's not the only one who used it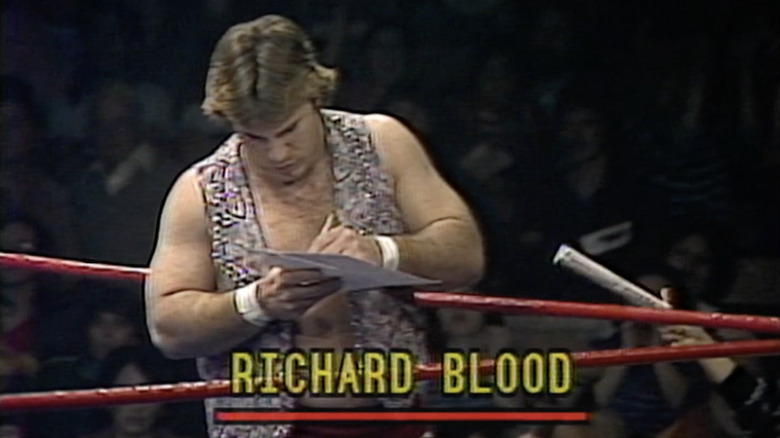 WWE
It takes a few seconds on Google to find out that Ricky Steamboat's real name is Richard Blood, but if you start diving into old results, that's just enough knowledge to be dangerous. With Steamboat being a career babyface, wrestling as Dick Blood was never going to work after some early matches in his rookie year, though. As he later told the Charleston Post and Courier in 2014, he soon picked up the Steamboat surname thanks to his striking resemblance to Hawaiian wrestling legend Sam Steamboat. But that wasn't the end of "Richard Blood" as a ring name.
First, there was Merced Solis, the future Tito Santana, who used the name for North Carolina-based Jim Crockett Promotions in 1978. Steamboat was there at the time, as well, and they were even in at least one match together, a battle royal in Charlotte won by Paul Jones. Journeyman Tommy Wright would also pick up the name himself in the Dallas-based promotion best-known as World Class Championship Wrestling for about six months in 1981-1982, as well. If you seek out "Richard Blood" using the search feature on WWE Network, Wright is the wrestler whose matches will show up, thanks to the sizable WCCW presence in the streaming service's on-demand library.
And no, there's no record of Ricky's brother wrestling as Vic Blood, unfortunately.
He trademarked his ring name on his own before most wrestlers did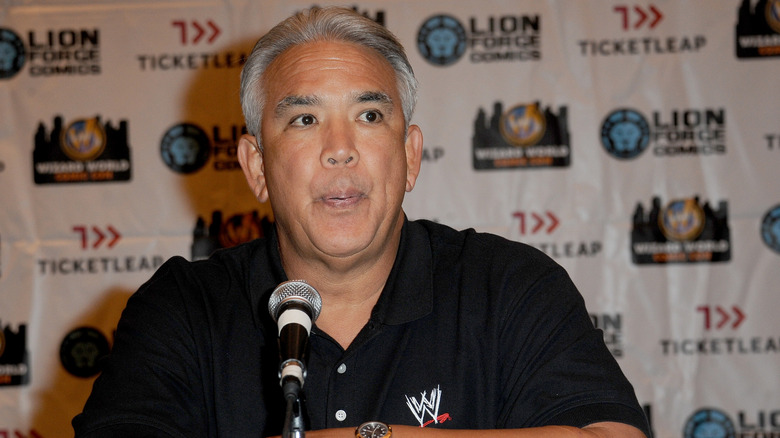 Albert L. Ortega/Getty Images
Vince McMahon's expansion of what's now WWE in the mid-1980s completely changed how the wrestling business operated. Suddenly, licensing was a valuable income stream, with all sorts of companies willing to pay to make toys, video games, board games, trading cards, stickers, lunch boxes, and more featuring the top wrestling stars of the era. Making those deals required having your paperwork in order, though, including the rights to everyone's name and image.
Unlike many wrestlers, Ricky Steamboat already had quality representation before he went to the WWF in 1985, and as he explained in 2021 on "Stories with JBL and Brisco," his lawyer was particularly diligent. "Just prior to going to Vince [McMahon], I had already trademarked the name 'Ricky Steamboat' and owned the rights to it, only in wrestling-related events," he explained (h/t POST Wrestling). Later, he said, after he became Ricky "The Dragon" Steamboat in the WWF, his lawyer implored him to "trademark 'The Dragon' for wrestling before Vince," which he did, with Steamboat recalling that McMahon soon remarked to him that "you beat me to it." The actual federal trademark filings confirm that Steamboat beat Vince to it, but it seems like he misremembered the timeline: He registered "Ricky Steamboat" on April 20, 1987 (right after WrestleMania III) and "The Dragon" on May 31, 1988 (right after he left the WWF).
WCW took a big legal risk with his 1991 return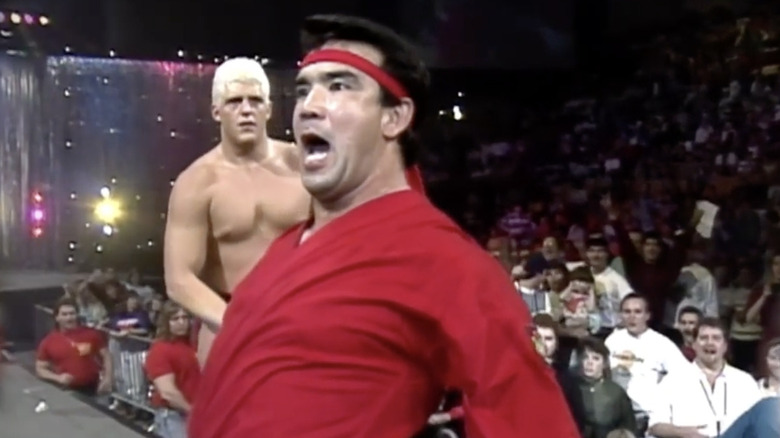 WWE
One of the single greatest moments in the history of WCW, if not wrestling on the "Turner networks" period, was Ricky Steamboat's return at Clash of the Champions XVII in Savannah, Georgia on November 19, 1991. There, The Enforcers (Arn Anderson and Larry Zbyszko) were supposed to defend their WCW World Tag Team Titles against Dustin Rhodes and Barry Windham, but Windham couldn't wrestle due to a wrist injury. Steamboat came out as his surprise replacement and blew the roof off the place en route to winning the titles. It all clicked perfectly.
And it almost didn't happen.
Steamboat had last wrestled for the WWF a month earlier, and, per the December 2, 1991 edition of the Wrestling Observer Newsletter, was claiming that the company had breached his contract in two different areas. So WCW sent the WWF a letter asking that they respond by Friday, November 15 if they felt they had a legal claim to Steamboat's wrestling services. The WWF, naturally, didn't respond until an hour before showtime on November 19. "[The WWF] sent a fax to the WCW offices in Atlanta (when everyone of importance was already in Savannah for the Clash) claiming they had the legal rights to Steamboat," wrote Dave Meltzer in the Observer. "The word did reach the building before the show and Kip Frye (WCW legal counsel) met with [WCW executives] Jim Herd and Jim Crockett and the decision was made to use Steamboat."
Thankfully for WCW and Steamboat, there were no legal issues after the fact.
One of his biggest matches caused a massive traffic jam
Perhaps the hottest feud of 1983 in American pro wrestling saw Ricky Steamboat and Jay Youngblood go to war with Sgt. Slaughter and Don Kernodle over the NWA World Tag Team Titles in Jim Crockett Promotions. It would climax in a cage match, billed as "The Final Conflict," at the Greensboro Coliseum on March 12, with Steamboat and Youngblood having to split up if they didn't win the titles. It immediately became a hot ticket. The Greensboro Record would report on March 14 that on top of a sellout crowd of 15,547, "[p]romoters said 3,000 fans were turned away, but police estimated the number who were unable to buy tickets at closer to 5,000."
That's not all, though.
As noted in a 2021 Kernodle obituary in the Charleston Post and Courier, the show caused a miles-long traffic jam off I-85 that could have impeded the main event getting in the ring. Traffic was so unusually backed up getting to the arena that Steamboat and Youngblood had to find somewhere to pull over and park their car so they could walk to the building. "The police told me that they had turned away almost 20,000 cars," recalled photographer Eddie Cheslock to the Post and Courier. "It was just unbelievable."