Nick Aldis Opens Up About Asking For NWA Release, Falling Out With Billy Corgan, Possible Leap To WWE Or AEW, More! - Exclusive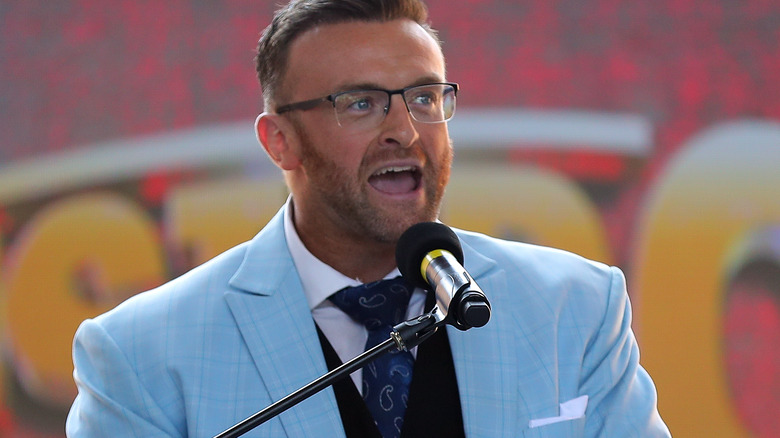 Omar Vega/Getty Images
In May 2017, Smashing Pumpkins frontman Billy Corgan purchased arguably the most prestigious promotion in professional wrestling history, the National Wrestling Alliance (NWA). The purchase came on the heels of Corgan's first foray into wrestling as a promoter for Chicagoland indie fed RESISTANCE PRO, as well as his brief stint as the figurehead for Impact Wrestling. Neither of those endeavors resulted in critical acclaim from the pro wrestling community, but Corgan, undaunted, pushed forward with his pro wrestling ambitions and acquired the NWA.
The early days of Corgan's NWA reign brought with it both optimism and intrigue. The first big moment came in September 2018, when NWA World Heavyweight Champion Nick Aldis took on Cody Rhodes at All In, the precursor event to AEW. The two men held the crowd in the palm of their hand throughout the bout and had the place going wild when Rhodes lifted the title his father carried for many years over his head. And while the success of All In created the momentum for the launch of All Elite Wrestling (AEW) the following year, the success of Rhodes vs. Aldis, specifically, arguably created the momentum for Corgan to launch "NWA Powerrr," which featured future stars like Eddie Kingston, Ricky Starks, and the face of the promotion, Aldis himself.
In this exclusive interview with Wrestling Inc. Senior News Editor Nick Hausman, Aldis opens up about his recent decision to request his release from the NWA, how things fell apart with Corgan, what the future holds for him in pro wrestling, his connections in WWE and AEW, and more!
The End Is In The Beginning Is In The End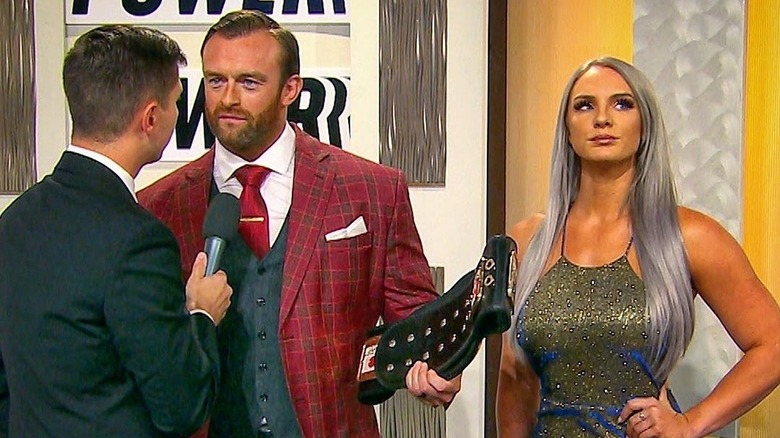 https://twitter.com/RealNickAldis
You are the center of attention right now in the pro wrestling universe. Nick, do you feel more buzz around you right now than you've kind of maybe ever felt in your career? Everybody's talking about you at the moment.
Well, that's nice. I just hope it's the right kind of buzz. I've certainly... Yes, I certainly want to say, right at the top, how appreciative I am for everybody's support. It's been overwhelmingly positive as far as not only my contributions to the NWA, but my contributions to the industry. And I'm glad that people are sympathetic to my situation. Most importantly, I think, I'm very, very grateful for the fact that the overwhelming message seems to be that they can't wait to see what I do next.
And that's kind of where I wanted to get to up top here, before we get too deep in the weeds. Obviously, a lot of people very interested in what's up next for you. I believe you're currently suspended by the NWA, and your contract with them comes up at the end of the year, if I've done my research correctly. So are you unable to negotiate or make a move until January? When can we expect to see what's next from you, Nick?
I had no intention of doing anything other than seeing out my contract. Like I said in the interview with Sam [Roberts], the way that it was laid out, it was a minimum of one year, but after the one year term, it would continue on a month-to-month basis. So I had to give 60 days notice.
Right.
So I basically did it at the earliest possible time. Was my decision to... Well, let's talk about why I decided to make that public. Because I know that on the surface, a lot of people would say, "Well, why did he make it public? What's the point in that, if he wasn't trying to cause drama and trouble?" Well, it was two reasons. One was so that I would be able to have open discussions with anybody else, and two, honestly, it was to get in front of what I knew was coming at the pay per view.
Bullets With Butterfly Wings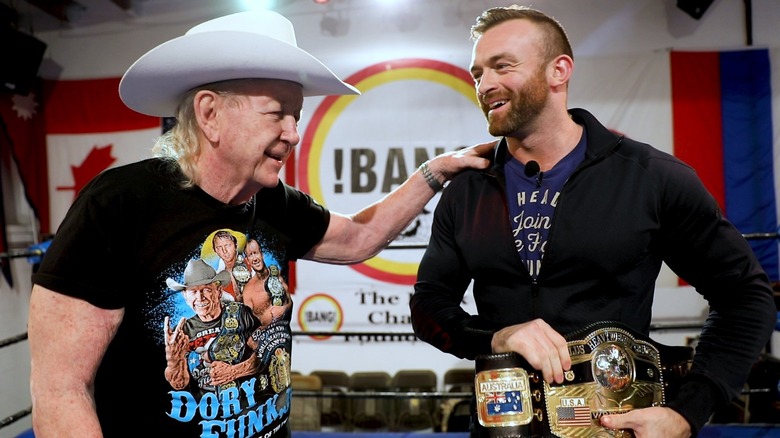 https://twitter.com/RealNickAldis
You put out this Instagram post over the weekend that got a lot of attention, Nick. You said, "I hope now you see why it is important to me to let you know that I had given my notice to the NWA before this pay-per-view. What was once a promising endeavor that I turned down bigger opportunities to take the lead on, has become the most toxic brand in pro wrestling. Thank you all for the support." A couple things I wanted to break down from there. First of all, the toxic, that phrasing? What do you think makes NWA toxic to you at the moment, Nick?
The fan sentiment.
Yeah.
The disregard for the fans. I'm not trying to get into the political stuff. That's not interesting to me. Politics in this country is very, very split, very divided, and I'm a centrist. However, I feel like as a brand, you should do your best to be apolitical as well. And that's not even really the meat of the matter.
Sure.
It's more about, the audience have been telling them one thing for a long time, and Billy specifically has been disregarding them and doing the complete opposite. Almost out of spite. I like to think I'm as in touch with the NWA audience as anybody, really more so than anybody. And the amount of communications I've had from fans over the last year and a bit, just pleading with me, "Please talk to him. Why is he doing this? Why is he doing that? What's happened to the show? Why is he doing this?"
At some point, it feels like he's sort of deliberately going against what the fans are asking for, and it just feels like a very spiteful approach. And I just don't think that it's got anything to do with business. I think it's just to do with ego. And I'm in the professional wrestling business. I've made a promise to the audience since I've been with the NWA, to go above and beyond, over-deliver. That, to me, was the basis of our success in the beginning, was under-promising and over-delivering. We couldn't compete in terms of resources, or in terms of star power, or in terms of production value. We had to compete in being a show that really connected with their audience. And then it just feels like there's this deliberate move away from that, purely out of spite.
So I'm interested in what the creative process was like at the NWA, Nick. How does it work there? Is it all just Billy handing out a script? It seems like it was different when Dave Lagana was around. Obviously, he got embroiled in that Me Too movement, and then the product seemed to kind of shift. I don't know if that resonates with you when I say something like that.
Absolutely. It's one person now. It's one guy, and it's my way or the highway. So I chose the highway.
A Possible All Elite Exit Strategy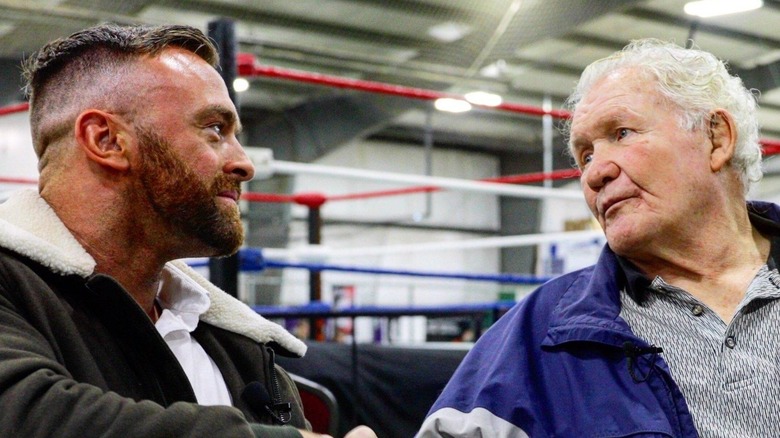 https://twitter.com/RealNickAldis
You also said in this post here that you turned down bigger opportunities that you were going to take the lead on to stick with the NWA. I don't know if you mind shedding some light on what maybe some of those opportunities were.
Well, I thought that it was well known at this point that I had talked to [AEW CEO Tony Khan] very early on, and there's a lot more to it than people know. But essentially, I wanted to go, but I also wanted to wait until I had got the NWA to a point where I felt like they could function effectively. And by the time that came around, again, the relationship between Tony and Billy had changed. And I probably should have reached out sooner and had my own direct communication, instead of trusting what was being told to me about what was potentially coming up down the road. I'll just say that.
And what's your relationship like now with Tony? Do you guys text?
We've had one conversation, a lengthy one, and I thought that it was a good one, and we've had no more communication since then. But I felt like I got unwillingly put into this position, of kind of pro-NWA, and anti-everybody else. And that was never the case. Unfortunately, it's very easy in this industry, with the tribalism that exists ... If you're very invested in the success of your place, it's very easy for that to be misrepresented as being antagonistic to others.
A lot of time, I would see very, very pro-NWA fans, or very, very hardcore Nick Aldis fans, would say unflattering things about AEW, or say unflattering things about WWE, and I hate that, because now, after a while, the association starts to be that I endorse that, when I never have. I've always believed that the wrestling business is about variety. And I believe, most importantly, that it's about giving the people what they want. And AEW has got a tremendously loyal, strong fan base, really remarkable considering how long AEW has existed.
And they give them what they want. I admire them for that. I'd like to think that I could fit in well and ... provide something unique to that audience that would compliment the rest of the guys there, and compliment the style. I think that sometimes, over the years, this image has been painted of me, that I'm this old school throwback guy, that therefore I hate everything modern. And you look at my body of work, the best stuff I've done has mostly been with guys who are the complete opposite of me. Whether it was Marty Scurll, who's totally different size and shape style, Cody Rhodes, who, yes, there are comparisons, but has a totally different approach and style, Tim Storm, totally different, Trevor Murdoch, totally different, and then when I worked with Ricky Starks at the NWA, told a great story with him, again, because of the contrast.
And even before we started doing "Powerrr," I worked with Robbie Eagles in Australia, or Jonah Rock in Australia. Two totally different guys, but who have both gone on to have great success ... I like to think I'm one of the best at this particular style. The serious, storytelling, ring general style popularized by Bret Hart or Nick Bockwinkel, and people like that ... Harley Race, those are the guys who I modeled myself after. But it's in no way an indictment of the guys who have mastered other styles.
Unfinished Business With Cody Rhodes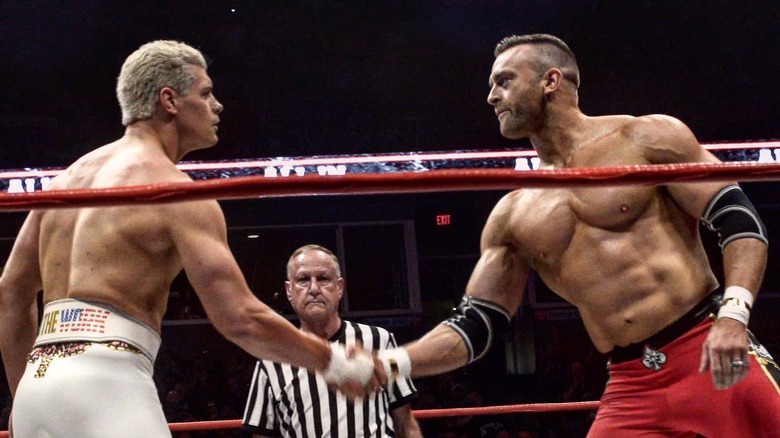 https://twitter.com/RealNickAldis
Well, and it's interesting, Nick, because I was at All In, and the way you were presented there kind of defines the tone that you're describing right now. That NWA title match felt different than anything else on that card. It really did. Can you talk just a little bit about what it was like to put that match together, and specifically what the dynamic was like between yourself, Billy and Cody?
I don't recall it being very tough. I think that after All In, and when we had the rematch, things were a little more challenging, because by that time, Cody had given his notice to Ring of Honor. And so Ring of Honor were not as willing to give him everything he wanted, because Cody and I wanted to do a trilogy. And that basically got shot down after he told Ring of Honor that he was moving on, because they basically said, "Well, we are doing you a favor by allowing you to do these NWA title matches. We've already agreed to the rematch in Nashville that's already sold out, so go ahead and do business and that'll be the end of it."
So I know that Cody was frustrated and upset with that, but I don't think that had... He and I are great dance partners ... The process with Cody and I was probably the easiest I've ever had. One of the easiest I've ever had. Because, I don't know, I think we have the same philosophy on the wrestling business. I really do. And I think that a perfect way to exemplify what I'm saying is, we never actually even discussed the finish for All In.
Wait, what?
No one ever said to me, "Hey, we'd like you to drop the title to Cody." I just understood that was the right thing to do. Obviously when we talked about the rematch and everything, there was an understanding that we were going to trade it back and forth, but no one ever sat me down in a room and said, "I want you to lose to Cody." 
That's crazy.
We did the angle, we worked together, we did the whole thing, I knew what the best outcome was for the fans, and so did Cody. We didn't need to have a conversation about, "Will you put me over?" And we also didn't need to have a conversation ... when it was time for him to do business back the other way. We just understood what was the right thing to do for the audience.
That's one of the wilder things that's been said to me in an interview for a while ... And so, wait, you guys still have this third match, hypothetically, on the horizon at some point. If you guys enjoyed working together so much, do you think there's a chance we maybe see that play out in a WWE?
Look, this will be the part that gets taken and turned into a headline. "Nick Aldis wants to wrestle Cody Rhodes in WWE." Of course I would. And I think that we would tear the house down. We tore the house down in two matches where we had nothing but a YouTube show to build it. So I could only hope that with the tremendous resources and the expertise of guys like Triple H involved in the process, that we wouldn't... I could only imagine that we'd be able to make nothing but money. But that's not up for me to say. That's not up to me.
The Aura Of A Triple H Guy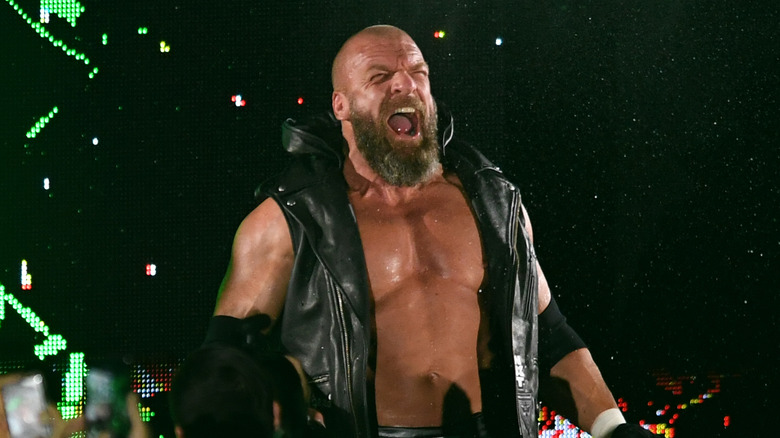 Etsuo Hara/Getty Images
And what's your dynamic like with Triple H? You seem like, I hate to say a Triple H guy, but you seem like a Triple H kinda guy.
I get told that a lot. I don't know the man. I've never met the man. I've never had a conversation with the man. I would love to, but no, we've never had a conversation, so I couldn't tell you what the dynamic is. I'd like to think I was on his radar. If nothing else, just given the fact that so many guys whose opinion, I think, is up there with the most valuable opinion in the business have endorsed me and spoken up for me, particularly in this situation too. Because unfortunately, Billy has taken it very personally, and obviously has decided to try to go out of his way to harm my reputation, which is sad because of considering what we've done together. That was never something that I saw coming. But when I think about, Bret Hart invites me to Calgary to wrestle for Dungeon Wrestling, puts me in the main event, and I win the [Stu Hart Heritage Championship] my first time working with him. Wrestling Harry Smith with the whole Hart family there, I'd like to think that would go some way to showing the level of trust that Bret has in me as a professional.
Harley Race going out of his way to invite me to Missouri to defend the title, and then wanting to appear on camera talking to me about being NWA Champion, I'd like to think that would go a long way to showing what Harley thought of me. I heard Ric Flair say some very complimentary things about Mickey and I on his show this past week. DDP, I heard say some very, very complimentary things. And those last two names I mentioned in particular, both made a point to say, "I'd love to see him in WWE. I don't know why he is not there."
I know that people bring up Bruce Prichard, and Bruce and I buried the hatchet quite some time ago. I like and respect Bruce. I think that we just got off on the wrong foot a long time ago, and I was very immature and I didn't know how to handle that at the time. And I was very, very hurt when he said what he said. But at the end of the day, I just talked to him and said, "I want to change your mind." For me, I've come backstage when I was very green, at TNA especially, and had guys like Jim Cornette, Dutch Mantel, and guys like that totally rip me apart, justifiably so. And I deserved it, and I took it, and I worked on it and improved. I think the only time I've really taken issue is if it's been said in a public forum ... because now that's sort of hurting my market value ... 
Bruce and I have mended those fences a long time ago, and I'd like to think that if there were things in the past that had maybe prevented decision makers there from thinking, "Let's take a chance on this guy," I would like to think that I've rectified all those now. I was very young, Nick ... I was too young for the spot, too young to know how to handle the media and the controversy and stuff like that. And obviously, now, it's a very different story. I've been in this business for half my life.
Hardcore Country Tag Team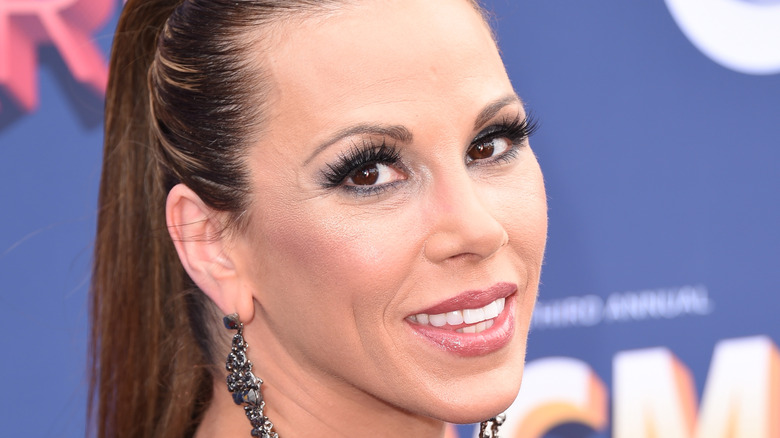 Michael Loccisano/acma2018/Getty Images
One of the things that a lot of people have talked about, obviously throughout the situation, is your dynamic with your wife, Mickie James. A lot of people very upset, obviously, about Billy's comments about women's wrestling. And you, of course, alluded to those playing a part into your leaving. But what about you and Mickie? Do you have any interest in working with your wife on screen? It does seem like you're going to have a chance to do something a little bit different, find a different presentation, maybe a little bit. I don't know. Do you have interest in working with Mickie on screen?
We've talked about it quite a bit, yeah. Look, we did the mixed tag with Matt and Chelsea, with Impact, and that was fun. And I was always open to it once I had established myself to a point where I felt like I was my own person. We'd been together a long time, and safe to say, she didn't start dating me because of my status in the industry. I was pretty low on the totem pole at TNA. I was getting opportunities, and I was doing all right, and I was getting a decent push and I was sort of working my way up the card, but I was not anywhere near her level of stature.
And there were times in TNA where people would bring it up. Russo wanted to do something at one time, I think Bruce might have even mentioned it at one point. I don't remember though. But it was certainly brought up more than once. And I was resistant to it then, because I felt like I wasn't established enough. I had the self-awareness to go, "I feel like if I do that now, that's what I'll be known as." And I didn't want that. And I'd like to think things are different now.
Empowerrring Women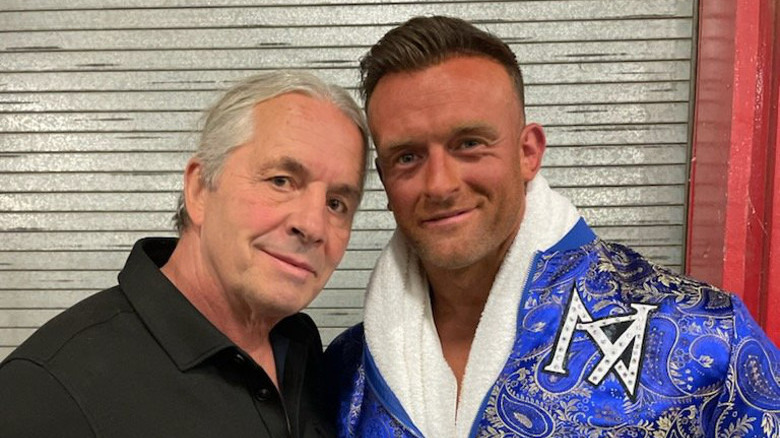 https://twitter.com/RealNickAldis
Billy doesn't seem as high on maybe doing an all-women's pay per view, but obviously Mickie was the brains behind that operation last time. Are you and Mickie interested in possibly running some kind of all women's event, or events in general? I don't know where your head's at as a promoter.
We're definitely exploring potential opportunities in a promoting and producing capacity, yes. Look, let me be clear here ... we're not about to start our own promotion. But yeah, this ties into the AEW thing a little bit. I really enjoyed being involved in the entire process with the NWA. I really enjoyed working in business development. I spent a lot of time, unpaid, going after sponsors and going after agreements with different venues like casinos and things of that nature, and exploring different broadcast opportunities. I really enjoyed getting into all that.
And over my years, particularly in Europe and in the UK, I had a good spot on a TV show when I was basically a kid. So I've been in involved in that world to some extent for a long time, as well. And I've made a lot of contacts there. I always made a point during my TNA career to take business cards and make contacts with people, and I've worked very closely with Jeff Jarrett during Global Force and things like that, so I've always been interested and active in those kinds of roles, which was one of the reasons why I dug in with Billy and the NWA, because I wanted to grow and develop this brand into something that could be a valuable asset, a valuable property.
I think that I want to make it known that my decision to move on is not because I'm assuming that I'll just be able to get a gig somewhere else. Whatever happens with that happens. I don't have anything lined up ... I want to be a free agent in that respect, but it's also because I want to be able to explore other ventures. There's a lot that goes into it. It's just not because I want to go to this company or that company. If those opportunities come up, obviously I would be thrilled and grateful. But my decision to move on is because I'm just ready to move on.
I have other business ventures. I have Legacy Sports Nutrition, which I've been working very hard on for two years, and we've had thousands of customers. We have customers all over the world. We have a growing and loyal customer base. We're adding new products all the time. We think we have 30 products now in our lineup, and we're in the top 5% of e-commerce traffic for stores that have launched at the same time as us. So of all the stores that have launched in the last two years and a bit, whatever it is, we've been in the top 5% for traffic since we began.
And we've had discussions with major nationwide retailers. So a lot of my time goes into that as well. And so the other reason that I'm moving on is just because I only want to be involved with stuff that really ignites my passion. And it wouldn't be fair to the NWA or me for me to continue on there, because philosophically, Billy and I are so far apart now.