WWE Survivor Series: WarGames Results: Two WarGames Matches, AJ Styles Vs. Finn Balor, New United States Champion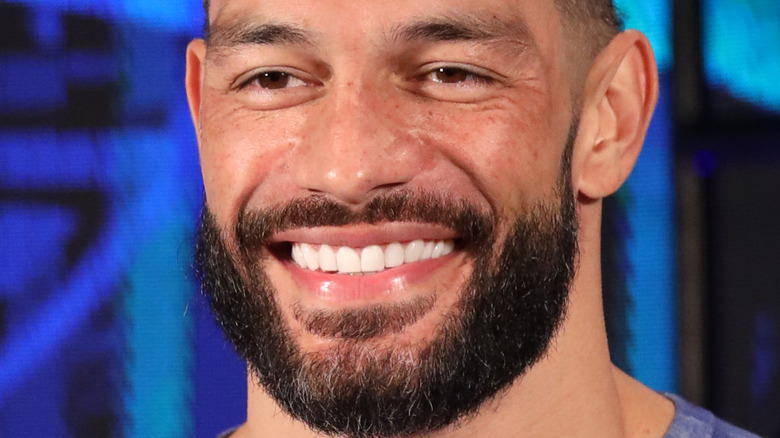 Wwe, Inc./Getty Images
Welcome to our WrestlingINC.com Live WWE Survivor Series: WarGames Viewing Party. Please share coverage of tonight's Viewing Party on social media and chime in with your thoughts in the Comments section below. Make sure to click the REFRESH button to continue to get the most current, up-to-date coverage.
Tonight will be the final main roster premium live event of the year for WWE, and the company is going out with a bang. The show will feature the first-ever WarGames matches on the main roster, with the main event set to see The Bloodline compete alongside each other as a unit against the team of The Brawling Brutes, Drew McIntyre, and Kevin Owens.
The other match inside the steel structure will see Damage CTRL work alongside Nikki Cross and Rhea Ripley as they face Bianca Belair's team which features Alexa Bliss, Asuka, Mia Yim, and the returning Becky Lynch. The latter made her return on "WWE SmackDown" this week and will be competing in her first match since WWE SummerSlam.
After months of going back and forth, former friends AJ Styles and Finn Balor are set to collide in singles action as they look to prove who is the best out of the two men. Both will likely have help on the outside in the form of The Judgment Day and The Good Brothers, as has been the case throughout this feud. 
Elsewhere there will also be two title matches as Ronda Rousey puts her "SmackDown" Women's Championship on the line in a singles match against Shotzi Blackheart. As well as that Seth Rollins will be defending the United States Championship in a triple threat match against two former champions, Austin Theory and Bobby Lashley.
Damage CTRL, Nikki Cross, & Rhea Ripley vs. Bianca Belair, Alexa Bliss, Becky Lynch, Asuka, & Mia Yim (Women's WarGames Match)
It is Bianca Belair and Dakota Kai who kick things off for their respective teams, with the "WWE Raw" Women's Champion taking control with a dropkick, and despite Kai trying to use the ponytail, it only leads to her being sent into the steel cage. Kai manages to sidestep Belair though, leaving her squashed in the corner as the Damage CTRL star runs in with a boot to the face.
Despite that, the EST of WWE turns things around again with a suplex, and while Kai catches the champion with a scorpion kick, she is made to pay for that by getting launched into the cage.
IYO SKY enters
SKY instantly comes in with a dropkick as she begins beating down Belair, who ends up in between the two rings having to fight the Women's Tag Team Champions on either side which doesn't work as SKY charges in with a crossbody. The duo then continues beating down Belair, making the most of their numbers advantage. Belair shows her strength with a double suplex, but SKY responds by walking the ropes between the rings and hitting a dropkick. 
Asuka enters
Asuka comes in hot with a German suplex to Kai, and she and SKY then face off as they start trading strikes. Belair comes in and presses Kai into the steel cage while Asuka hits a missile dropkick inside the other ring. 
Nikki Cross enters
Before getting into the ring Cross picks up several kendo sticks and trash can lids, and she then immediately takes down both her opponents, planting them in the ring as she beats them down with her jacket. Cross locks in a crossface to yank on Belair, adding in the kendo stick for further punishment. 
Alexa Bliss enters
Bliss dropkicks Kai, while she has a garbage, can lid as she then unloads a series of strikes on her former partner, Cross. The babyfaces then take control as SKY gets bulldogged onto the trash can lid while Kai then gets dropped onto it as well. Cross tries to use a kendo stick, but Belair snaps it as the Scottish wrestler climbs to the top corner of the cage while all the other women use the weapon to attack each other. Belair adds her hair as a weapon, but then Cross dives from the top of the cage to nail a crossbody, taking everyone out.
Bayley enters
Bayley also opts to bring in a weapon upon entry, choosing a couple of ladders and a table while the others continue to brawl. When she does come in, Belair gets sent into the turnbuckles by her. Damage CTRL then pushes the table into Belair, pinning her in the middle section of the steel structure while they pick off Asuka and Bliss. 
Mia Yim enters 
She charges in with a trash can in hand and uses it well while then hitting the Eat Defeat to SKY with a trash can lid in hand, and Kai then gets sent face-first into it as well. Cross decides to just leap onto her back, but she gets shrugged off as Yim dives through the middle of each ring to take out Bayley. All eight women then end up on a top turnbuckle, and one after the other superplexes take place with everyone being down. 
Rhea Ripley enters
The Judgment Day star immediately takes down several of her opponents, showcasing the physicality that she has as her team takes control. Yim fights back though, throwing a can in front of Ripley as she nails a cannonball into the corner. However, she then tries to dive through the rings but gets caught and is hit by the lid repeatedly until Kai stomps down on her from the top turnbuckles.
Becky Lynch enters and the match officially begins
Lynch immediately starts unloading on everybody, sidestepping Cross who nails SKY with a trash can lid. Lynch then covers SKY's head with it as she hangs off the second rope, crashing down with a Leg Drop from the second rope. Lynch then demands Bayley fight and they go back and forth with Lynch dominating until she turns into Ripley who headbutts her and plants her with Riptide, but Asuka saves the match. 
Asuka then mists Ripley as Lynch hits the DDT, but Bayley then charges in and attacks them both as she hangs Lynch in a tree of woe and stomps down on her. She follows it with the Rose Plant onto the steel, but Asuka saves the match again, only to be mauled. SKY then looks to climb the structure, and she doesn't get all the way, and Cross then comes in with the lid again, attacking her opponents while Bayley gets powerbombed by Belair. 
SKY does reach the top, and she drops Yim and Belair with a huge moonsault! Cross then brings out handcuffs but ends up being linked to Bliss who drops her with an Electric Chair through a trash can. Asuka connects with knees to the face on Ripley, but she then gets launched into the steel while Yim begins brawling Ripley. She locks in a Sleeper Hold but Ripley breaks it by sprinting and diving through a ladder in the corner, with both of them going down.
Lynch and Belair then face off with Damage CTRL and Lynch drops Kai with a Manhandle Slam while SKY eats the KOD. SKY and Kai are set on a table while Lynch climbs to the top as Belair stops Bayley with a KOD to the cage. Meanwhile, Lynch hits a huge Leg Drop from the top through the table to win the match!
Winners: Becky Lynch, Asuka, Alexa Bliss, Mia Yim, & Bianca Belair
Finn Balor vs. AJ Styles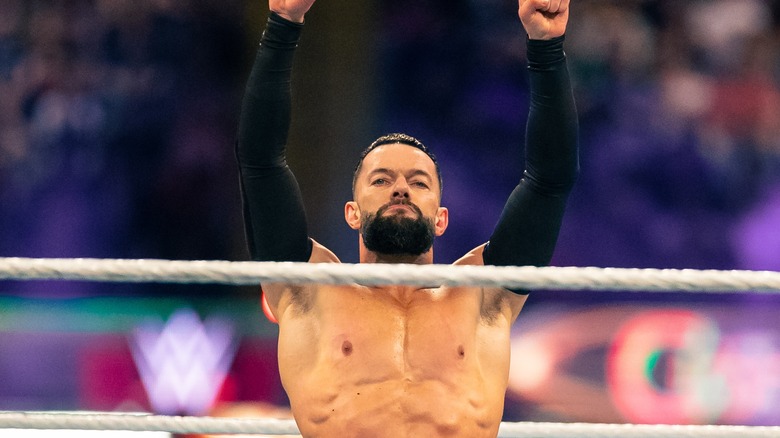 Arthur Cauty/Shutterstock
Jey Uso is shown backstage talking to Roman Reigns, making it clear he doesn't think Sami Zayn can be trusted after seeing him talk with Kevin Owens on "WWE SmackDown." Reigns says Uso needs to just be the right-hand man, and he will worry about everything else, but he will look Zayn in his eyes and he'll know if he is telling the truth. 
AJ Styles vs. Finn Balor
After a tentative start, AJ Styles kicks up the aggression with several kicks to the legs of Finn Balor before connecting with a backbreaker. The Judgment Day star attempts to fight back but is met with a series of headbutts, yet Balor quickly rolls up his opponent and then drops several knees to the sternum of Styles. He tries to respond with a sunset flip but Balor rolls through and connects with a basement dropkick instead. 
Styles manages to get a few quick punches in, and then a sliding forearm before dropping Balor onto his knee which gains him a near fall. Balor then sidesteps his opponent and begins attacking him while Styles is in the middle ropes, but he smartly reverses by yanking Balor's leg onto the rope. Damian Priest then distracts the official which allows Dominik Mysterio to pull Styles off the ring apron as the two men and The O.C. begin brawling at ringside. 
The four men begin fighting into the crowd, and back inside the ring, Balor drops Styles with a Slingblade. He looks for the shotgun dropkick but Styles stops him in his tracks with an enziguri and then a suplex into the corner, but Balor kicks out. Styles tries for a Calf Crusher but Balor has it scouted, rolls through, and hits a stomp to the chest instead. Balor hits several kicks to the face, but Styles responds with a flurry of his own only for Balor to drop him down to the mat for a near fall.
Balor looks for a Styles Clash but he gets out and hits a Pele Kick, but The Judgment Day leader responds with one of his own as they both end up down. Styles ends up getting caught by Balor and he gets knees to the gut for his troubles, but Styles then moonsaults over Balor from the second rope, catching him with a DDT on the way down. Balor avoids a 450 and hits the dropkick which leaves Styles in the drop zone, but he avoids the Coup De Grace and then locks in the Calf Crusher! 
Balor slams AJ's head into the mat, and that's enough to relinquish the hold. The two throw punches and chops, but Styles hits a forearm that allows him to follow with a Phenomenal Forearm to get the victory. 
Winner: AJ Styles
Ronda Rousey (c) vs. Shotzi Blackheart (WWE SmackDown Women's Championship Match)
Shotzi Blackheart goes immediately after Ronda Rousey, but she then misses with a step-up enziguri and the ankle gets picked, but she reverses out and drives Rousey into the corner, following up with a cannonball. With the champion out of the ring Blackheart dives to the outside, but Shayna Baszler pushes away her friend and takes the hit herself. 
Blackheart continues the attack though, sending Rousey into the steel stairs as she then nails several forearms inside the ring. Blackheart once again kicks away Baszler, dropping Rousey again but as she tries to dive from the top rope the former UFC star uses her momentum to slam her to the mat. The champion then connects with a few kicks but Blackheart catches the feet and then stomps down.
The challenger makes a mistake though as she tries to dive down with her legs, with Rousey catching them only for Blackheart to rock her with another kick. That frustrates the champion who locks in another submission which she escapes from, only to be hit with several shots from Rousey. However, a right hand from Blackheart stuns the champion, yet as she attempts to suplex her back into the ring she is yanked down as both women land awkwardly. 
Once again Blackheart takes down Baszler, and she then dumps both women into the front row. Blackheart then dives off the guardrail with a crossbody which wipes out both women and three fans on the front row. As they get back to the ring they head to the top rope with Rousey taking her down with a Judo throw, only for Blackheart to kick out! However, she follows that with Piper's Pit and then an Armbar and Blackheart taps. 
Winner (and still "WWE SmackDown" Women's Champion): Ronda Rousey
Sami Zayn is then shown with Roman Reigns as he asks him about if he was talking to Kevin Owens. He admits that they did talk, and Reigns then wants to know why he lied to Jey about it. Zayn says it was because Jey had a huge match and he already has trouble trusting him. Zayn admits when Owens said to him, and Reigns wants to know if Zayn is with them, and he assures the Tribal Chief that he is. He says it means the world that Reigns took him in, and he pushes that he is with The Bloodline and they hug.
Seth Rollins (c) vs. Austin Theory vs. Bobby Lashley (United States Championship Match)
Bobby Lashley immediately sends Austin Theory out of the ring, and as he tries to get back in Seth Rollins does the same. The All-Mighty then takes the fight to the champion, attacking him in the corner with his aggression, but Rollins responds with some chops. Theory then appears again, pulling Rollins out to launch him into the barricade, and he then gets Lashley to give chase as he jumps him when he tries to return to the ring. 
However, Lashley's power wins out again with a vertical suplex, and he then catches Rollins and launches him across the ring as well, allowing Lashley to charge back and forth into each man with attacks in the corner and then plants them both to the mat. Theory pulls the official to stop the pinfall attempt and Lashley throws him into the timekeeper's area for that. He then blocks a chair shot, but instead, he eats a knee from Rollins as he dives from the apron. 
Theory then uses the steel stairs to his advantage, dropping Lashley several times as he rolls into a dropkick to the champion back inside the ring. The upcoming star launches Lashley into the barricade, but Rollins rallies in the ring with a series of chops, a slingblade, and then a superkick. That is followed by him diving out to Lashley and then again at the other side to Theory, which he does again to Lashley before going over the top rope to wipe out both men. 
Rollins aims for a Stomp to Theory but Lashley pulls him out of the way and then plants the champion instead. He gets the Hurt Lock applied to Rollins, but Theory breaks it up by putting on a sleeper hold to Lashley. That gets broken up and Rollins nails Lashley with a Pedigree, but it's not enough. Theory then sends Rollins out of the ring after he misses a Phoenix Splash, and hits Lashley with a blockbuster, but as he goes for the A-Town Down Lashley reverses with a Hurt Lock. Theory runs up the turnbuckles to reverse into a pinning attempt but Rollins breaks it with a Frog Splash which almost gets the win. 
Lashley then ends up getting the Hurt Lock set on both men, but they scamper back and break it at the turnbuckles. He goes for a Spear but Theory avoids it only to be dropped an elbow to the neck by Rollins while Lashley slams into the turnbuckles. Rollins then runs over the body of Theory as a step to hit a Stomp on Lashley, but Theory stops the pin attempt.
Rollins goes for his suplerplex/falcon arrow combination to Theory, but as he looks to lift him Lashley charges in with a Spear. However, he can't capitalize and Theory instead pins the champion. 
Winner (and new United States Champion): Austin Theory
Jey Uso asks about if Sami Zayn lied to Roman Reigns earlier, but the Tribal Chief makes it clear he saw what he needed. 
The Bloodline vs. The Brawling Brutes, Drew McIntyre, & Kevin Owens (Men's WarGames Match)
Butch and Jey Uso get things started for their teams with The Brawling Brutes member getting the best of it by working the joint manipulation to the hand of Uso. He carries on the attack by bending the fingers inside the steel before kicking them in. However, Jey turns things around and works on the left arm of the Englishman.
Ridge Holland enters
Holland charges in with several shoulder tackles as he then checks on his partner, and the two of them go high and low with a double team on Jey as they continue isolating him.
Jimmy Uso attempts to enter, but Roman Reigns says no and he sends in Sami Zayn
He immediately jumps Holland from behind and helps out Jey as he runs on the Englishman while holding both of the ropes in the middle section. Holland turns things around with some uppercuts, but this time Jey comes to help him, yet they then showcase tension between themselves. Their argument allows Butch to recover and take them both out with a moonsault. Zayn then saves Jey once again as Holland tries to charge in, and that sees him collide with the steel. 
Drew McIntyre enters
The Scottish Warrior instantly begins dominating as he launches Jey into the cage repeatedly, meanwhile Zayn gets launched with a belly-to-belly throw several times. The Bloodline members fight back, but McIntyre then lifts himself out of a tree of woe to throw Jey as Zayn is then hit with a Futureshock DDT. 
Jimmy Uso enters 
He comes in with several tables, but Zayn and Jey argue about setting it up and they begin fighting amongst themselves as Jimmy splits them. The trio then continues to attack their opponents as The Usos focus on McIntyre, throwing him into the cage. 
Kevin Owens enters
KO then comes down with some chairs as he unloads on The Usos, dropping Jimmy face-first onto one of them as he then cannonballs to Jey, following it with a senton. He and Zayn then stare at each other, but different wrestlers attack them to stop any possible confrontation. Owens then ends up putting Jimmy through a table.
Solo Sikoa enters
Sikoa immediately starts fighting with The Brawling Brutes, launching Butch into the cage as Holland eats a Samoan Drop. Owens then meets him between the rings and they start throwing hands with Sikoa being sent into the steel, which just angers him. He eats several superkicks and then KO stands on his feet, but Solo reverses with a backdrop onto the steel. He continues to dominate against McIntyre, but he meets him in the middle with a flying headbutt, with everyone then being down. 
Sheamus enters
Zayn immediately tries to keep the door shut to block Sheamus, but he rips it and slams the door in his face as he begins attacking everyone in sight. He drives Zayn into the cage and gets his two partners up as they pin The Usos and Zayn against the cage and just attack them while McIntyre deals with Sikoa. Sheamus shows his power by climbing up the turnbuckles with Sikoa on his back though, dropping him with White Noise. 
Roman Reigns enters and the match officially begins 
The Tribal Chief steps in and the two teams are in one ring each, and then the brawls begin between them all, but Reigns ends up dropping each man with an uppercut each. Sheamus eats a Superman Punch for good measure as Reigns takes complete control. Sheamus denies the Spear, and then the babyfaces all have an opponent each as they hit 10 beats of the bodhran on The Bloodline. 
Sheamus hits the Brogue Kick to Sikoa, but he turns around and is Speared, forcing Butch to break up the pinfall at the last second. Zayn then attacks him, but as Jey Uso goes for a superkick Butch ducks it and he nails Zayn instead. Jimmy questions it but Jey pushes him to get on with it and The Usos hit the 1D, yet Holland breaks things up, however, he gets Speared through a table by Reigns! 
Sikoa then saves Reigns from McIntyre as he hits the Spinning Solo to put the Scotsman through a table, but he is then hit with a Stunner by Owens. Reigns breaks that pinfall up and then the two men begin slugging it out, but Reigns comes out on top with a Superman Punch. However, his Spear attempt is met with a superkick and then a Pop-Up Powerbomb and a Stunner, but as he is set to win it Zayn stops the official putting his hand down for three right in front of his former friend. 
Zayn and Owens then stare each other down, but Jimmy comes in with a superkick attempt which KO blocks only for Zayn to deliver a low blow. He charges in with a Helluva Kick and he then lays him down for Jey Uso who hits the Splash to win it for his team. 
Winners: The Bloodline
After the match Roman Reigns opens his arms and hugs Sami Zayn, and that is followed by Jey Uso hugging him as well, with the two men finally burying the hatchet.