AEW Dynamite Results (11/30): MJF Betrays Regal, Death Triangle Vs. The Elite, Adam Page Returns
This is Wrestling INC.'s results of "AEW Dynamite" for November 30, 2022!
Tonight's episode will see the return of MJF who will be making his first appearance since winning the AEW World Championship at Full Gear earlier this month. Last week he was unavailable to appear due to the fact he had filming commitments for "The Iron Claw," but that is not the case this time around.
MJF has plenty to explain following the controversial way he defeated Jon Moxley which saw William Regal turn on his Blackpool Combat Club star by handing MJF his famous knuckle dusters to win the match, and fans will hear from the champion on the show.
When it comes to in-ring action the AEW World Trios Championships will be continuing their best-of-seven series against The Elite. Since making their returns at Full Gear Kenny Omega and The Young Bucks have failed to win a match, and subsequently, they find themselves 2-0 down in the series, putting some pressure on themselves for tonight. 
Jade Cargill is also confirmed to be appearing on this show, and after finally getting her title back following Nyla Rose stealing her property the undefeated AEW star will be having a TBS Championship celebration.
Elsewhere in the women's division, there will be in-ring action when Anna Jay A.S. competes against Willow Nightingale in singles competition.
Another major singles match that has also been confirmed is a dream match for many fans as Dax Harwood will be facing off against Bryan Danielson in a first-time-ever encounter.
Tony Khan also confirmed that Samoa Joe will be defending his TNT Championship for the first time against AEW's newest full-time signing, AR Fox on tonight's show.
Jon Moxley Addresses The People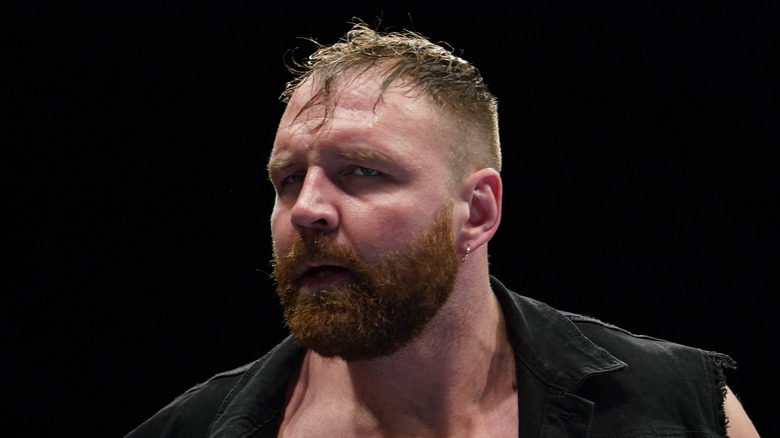 Etsuo Hara/Getty Images
Tonight's show kicks off with Jon Moxley hitting the ring and he says there are three constants in this world; death, taxes, and Jon Moxley. He claims there is nobody that can outwork, hustle, bleed, or sweat him. He says nothing has changed since day one that he is at the top of the food chain in AEW and he does what he wants as the ring belongs to him. He bets there isn't a man in the locker room or this building or anywhere near that has the balls to tell him any different. 
One man apparently can..."Hangman" Adam Page is back! This is his first appearance since the concussion that he suffered which just so happened to be in a match against Moxley himself. He immediately gets in Moxley's face, who asks if he wants to do this after what happened last time, and he questions if Page doesn't remember and the Cowboy flips. 
He immediately starts attacking Moxley as they brawl to the outside until AEW officials attempt to split them up. However, they struggle to make that happen as the two continue to brawl until Page is pushed up the stage. Moxley manages to break free again, and while he does trip up on his way back, he eventually reaches Page, and the brawl continues again, but once more the former AEW World Champions are ripped apart. The two men are taken down different tunnels to bring an official end to the frantic start of the show. 
Bryan Danielson vs. Dax Harwood
The two men lock up and earn a "this is awesome" chant before anything happens. Both men look for their submissions early on but aren't able to lock them in, and Bryan Danielson connects with a stiff kick to the face to break it up. Dax Harwood then comes back with a huge couple of chops that light up his opponent. Harwood then manages to connect with a kick of his own, but Danielson sends him out of the ring and immediately hits a tope suicida which sends the FTR start spilling into the first row, and they continue the slugfest straight away.
With Harwood stuck with the fans, he decides to suplex Danielson over the guard rail and onto the floor next to the fans. The American Dragon manages to beat the 10 count, but he immediately eats more chops and uppercuts in the corner. Danielson does respond with a few of his own, but Harwood immediately regains control with a trio of German suplexes. The two then go back and forth reversing and avoiding offense from the other, but Harwood can nail a Piledriver, which gets him a near fall. 
The FTR star opts to go high risk, but he misses with a diving headbutt and Danielson almost catches him out with a pinning attempt after. Harwood then slides to try and knock Danielson off the apron but he avoids it and responds with a knee to the face as the former World Champion begins firing several chops. As they head back to the ring Harwood cuts off Danielson's attempted to move from the top turnbuckle, but Danielson then slides under him and pushes him onto the turnbuckle. 
Danielson then gets behind him on the top turnbuckle and drives down his hammer and anvil elbows, but as he looks to a suplex Harwood reverses in mid-air with a crossbody. They then both look for several lariats, hitting each other repeatedly as they fade to one knee, and when they come up Harwood drops him only for Danielson to hit another as they then meet in the middle again and both fall down. 
Harwood aims for a Slingshot Powerbomb but it gets reversed with a Hurricanrana into a kick to the head, forcing Harwood to kick out of a pinfall attempt. Harwood then aims for a German suplex but Danielson reverses it on his landing only to be hit with the Slingshot Powerbomb which is followed by a Sharpshooter until Danielson forces a rope break. They then roll around with several pinfall attempts, but Danielson is eventually able to transition into the LeBell Lock which forces a submission.
Winner: Bryan Danielson
After the match Danielson puts a hand out, and Harwood teases just leaving the ring but he comes back with a hug as they both show respect.
Samoa Joe (c) vs. AR Fox (TNT Championship Match)
Tony Schiavone is shown backstage with Ricky Starks, who says he is entering the Dynamite Diamond Ring battle royal next week. He says he will win that because he is coming for everything MJF has, the ring and the championship, he wants his spot. 
Adam Page is then shown backstage and the brawl between him and Jon Moxley is continuing as Mox gets launched into a steel shutter as the officials desperately try to pull them apart once again. 
Renee Paquette is with members of the Jericho Appreciation Society and the Blackpool Combat Club as Matt Menard tells him the beautiful thing about sports entertainers is that he can be anything, such as a yodeler. Claudio Castagnoli says he needs to silence the doubts in his head, but Jake Hager then throws a purple bucket hat at him, until Castagnoli says he is sick of all this. He is here to prove he's the best wrestler. Wheeler Yuta then fires up to Daniel Garcia and it leads to a tag match being set for next week, and a Pure Championship match is set between them for Final Battle. 
Samoa Joe (c) vs. AR Fox (TNT Championship Match)
Joe immediately uses his power to corner his champion as he starts unloading his jabs. Fox uses his speed to avoid the next move and hit an enziguri, but as he dives to the outside Joe just moves out of the way, but as he gets cocky Fox comes in with a pump kick. Despite that, back in the ring Joe trips Fox and follows with a senton to regain control as he then unloads chops.
Joe continues to dominate with a big kick and then a sidewalk slam, but Fox fights back after being placed on the top turnbuckle as he catches Joe with a DDT. He follows with several kicks and then a short cutter, and Fox then connects with a 450 Splash, but it's not enough to get the job done. He goes for another high-risk move but Joe avoids it and then hits a back elbow which sees Fox fly into the ropes. He follows that with the Muscle Buster to retain. 
Winner (and still TNT Champion): Samoa Joe
After the match Joe welcomes us to a new and glorious era, as he is the one true king of television. Wardlow then appears backstage and mocks that new nickname, and he says he is coming for what is his as this is Wardlow's world. 
MJF Debuts As World Champion
William Regal makes his way to the ring first as he introduces the new AEW World Champion, MJF. He says not too long ago Regal sent him an email after The Firm had attacked him. It said that it had become clear MJF had grown weak, but he saw potential in MJF to be the greatest villain in his time and he has lots to learn. Regal told MJF that he wanted to help him, and he shouldn't grab the diamond ring, he had to grab the brass one.
After that, they met a lot and MJF claims that Regal is a genius so he was happy to listen when it came to using the brass knuckles. MJF says Regal didn't just want him to beat Jon Moxley, he wanted him to leave an emotional scar so he wouldn't forget the day. MJF says he kinda respects The Firm, they saw a weakness and attacked, but even if he had resentment, does he seem the type to chase someone down? The Champion says that takes effort, and that is for the poors. 
He says when he became AEW World Champion he wanted to make a change, and that's why when he looks at the title he wants to gag in his mouth as it is tacky and reminds him of the people who held it previously. He says they were all talented, but none of them are on his level. MJF reveals this version of the title is garbage, and he throws it away. Regal then reveals the new AEW World Championship which has the Burberry pattern on the leather. He calls it the Triple B – The Big Burberry Belt, which MJF says is the most prestigious title in wrestling because he is holding it. 
MJF says he deserves to be champion more than fake tough guys like Eddie Kingston, who he claims will never be World Champion. Guys like Ricky Starks, or fake wrestlers like Bryan Danielson. MJF says Danielson couldn't wrestle out of a paper bag, and he tells Regal he means no offense. MJF sends a message to the roster, saying they will never know what it is like to be on top, as he will be champion until the bidding war of 2024, where he will use the title as a bargaining chip. MJF then says to Regal that come January 2024 he doesn't know if a wrestling company will win as he is sick of looking at wrestling fans, maybe Hollywood wins. 
He hears people moan claiming he's a coward, boring, and only talks, but he thinks that's great because everyone will be tuning in to see if he will be beaten. MJF says he will defend Triple B rarely and will wrestle rarely as he is a special attraction, people will have to buy a PPV to see him most of the time. He claims that his title run will make Bruno Sammartino roll in his grave. He then puts over Regal for everything he does and thanks him, but he then uses the knuckle dusters to knock him out from behind. He says Regal made a deal with the devil, and he leaves him with the same words he left him seven years ago...the game has changed, and MJF only hires top-class athletes, and when he's one of them he can send him his stuff.
MJF leaves and Danielson sprints down to the ring to check on his mentor as the doctors get into the ring and he is stretchered out.
Willow Nightingale vs. Anna Jay A.S. w/Tay Melo
Ricky Starks vs. Ari Daivari 
Before the match begins Stokely Hathaway and Ethan Page appear, but Matt Hardy instantly pops out and gets the fans chanting for him as Hathaway tells him to get to the back, while Page reminds him they own his ass and he will help him win the battle royal next week. 
After the distraction, Daivari attacks Starks in the corner, but that doesn't last long as he immediately hits a Spear and then the Roshambo for a quick victory. 
Winner: Ricky Starks 
Britt Baker says the sit-down interview with Saraya is a problem, and Jamie Hayter says why don't they do it with her, and they set one up for next week. 
Willow Nightingale vs. Anna Jay A.S. w/Tay Melo
Nightingale starts out dominating with her power, connecting with several shoulder tackles and then a couple of short-arm lariats, her third attempt is blocked but Nightingale still throws her back down to the mat. Despite that Jay responds with an elbow of her own and then comes off the top turnbuckle, catching Nightingale in mid-air to slam her down to the mat. 
Melo then takes a cheap shot with a forearm strike, and Jay continues the attack with blows to the back. That is followed by an elbow strike as she then just drives her thumbs into the windpipe of Nightingale. The then go back and forth with their forearm strikes, with Nightingale coming out on top by charging into the corner with a lariat which she follows with a big boot and then a spinebuster, but Jay kicks out!
The Jericho Appreciation Society showcases her quality by lifting Nightingale onto her back as she drops her face-first, but it doesn't get the win. She then locks in the Queen Slayer but Nightingale reverses by splashing her to the mat. She looks for the Dr. Bomb but Melo distracts her, yet Jat can't take advantage as her roll-up is kicked out of. Nightingale fires back with a lariat of her own and then the Dr. Bomb. 
Winner: Willow Nightingale
After the match Ruby Soho's music hits and she immediately goes after Melo, headbutting her as she then hits the Destination Unknown on the ramp.
Jade Cargill's TBS Championship Celebration
Backstage QT Marshall and Orange Cassidy are backstage as Marshall complains he keeps getting interrupted or jumped. This leads to him asking for a shot at the All-Atlantic Championship in a lumberjack match and the champion accepts everything immediately wasting no time in making it official. 
Jade Cargill's TBS Championships Celebration 
Jade Cargill says everyone is here because of her and her big-ass celebration. She sets the record straight as she made The Baddies and she picks who stays and goes. The champion points out she got rid of the trash last week, so she wants to know why the other two were hanging out with her at the weekend. She says to stand next to her is a blessing, so they need to get in line or step. 
She believes The Baddies are eating because of her, and she is the brightest star in AEW as nobody has her body, and face, and she puts asses in seats. The champion claims to be the real deal as she creates careers, and she says Bow Wow is a total joke. The rapper then appears on the titantron and he says he's done with talking, he has time on his hands and he teases she will be seeing him at some point soon. 
The Acclaimed are shown backstage as Billy Gunn asks them questions like they're in the army. He wants to know why they don't have a match but they say they'll give a title shot to the second-best team on the roster this Friday on "AEW Rampage."
Death Triangle vs. The Elite (2-0)
Rather than waiting for Death Triangle to make their entrance the three men jump them on the stage and they begin brawling there as Kenny Omega dives over PAC and slams him down head-first to the ring. The Young Bucks then hold PAC at the bottom of the ramp but as Omega sprints down for a V-Trigger the Englishman fights out and superkicks him while The Lucha Bros roll down the ring and into double cutters. 
All six men then begin brawling all around the stage area as Penta El Zero M. is thrown off the ramp to the opponents below. They all continue wrestling down on the floor while Matt Jackson and PAC compete on the stage and he hits Jackson with a superkick and then moonsaulted off the stage onto everybody, however, Jackson then launches himself in with a crossbody to wipe out his opponents as well. 
The match then gets underway officially while The Young Bucks powerbomb their opponents onto the ring apron, but Penta begins fighting all three men, connecting with chops and backbreakers. Matt Jackson launches himself out of the ring to try and kick Penta, but he moves and he collides into the official, allowing Penta to sneak the hammer, while he then dives out to attack them all. 
Penta then goes for the hammer but Rey Fenix tries to stop him and he eats a V-Trigger for his troubles, while Penta is hit with double superkicks and then a snap dragon suplex. Omega powerbombs Penta and hits another V-Trigger but PAC breaks things up to keep the match alive. Death Triangle then begin firing back with the striking ability, and they head to the turnbuckles as they all moonsault off to their opponents. Penta follows it with the Fear Factor to Omega, but he can kick out. 
Matt Jackson then saves Omega from being taken out and he nails superkicks to all his opponents before hitting a double suplex on the Lucha Brothers. PAC attacks him and he then hits Omega with a big boot before taking him to the second rope but the former AEW World Champion fights his rival down until he responds with a headbutt with the mask on. He follows that with an avalanche Falcon Arrow, but somehow Omega kicks out. 
Death Triangle remains in control as they isolate Omega with PAC throwing punches and strikes as he demands more from Omega only to light him up with another kick. Omega does first back though, and he bounces up from the momentum of a German suplex to nail the Englishman with a knee strike. Tags are made and Nick begins fighting Fenix, nailing several kicks to the masked man which is followed by a big cutter but Fenix kicks out. 
The Young Bucks then work together, catching Fenix but the Meltzer Driver is reversed as they hit each other instead, but they then hit the More Bang For Your Buck only for Penta to break off the pinfall. The Elite tries to hit the BTE Trigger but it is broken up, and then Fenix hits a Cutter to Matt as he is then stomped into a Fear Factor while Fenix dives into his opponent, Penta then does the same. PAC connects with a brainbuster, but that isn't enough for him. 
PAC attempts the Black Arrow, but Nick gets his feet up and he immediately reverses it into a pinfall as Omega blocks Penta so The Elite gets the win. 
Winners: The Elite (2-1)
Omega then gets on the mic and says there was never going to be a clean sweep as he then hits his classic catchphrase.