SmackDown Results (12/09) - Undisputed Tag Team Titles Match, Kurt Angle Birthday Celebration And More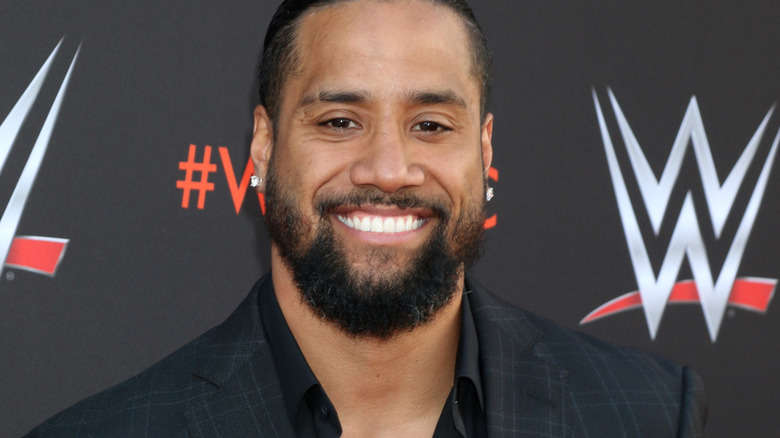 Kathy Hutchins/Shutterstock
Welcome to Wrestling Inc.'s results of "WWE SmackDown" on December 9, 2022, coming to you live from the PPG Paints Arena in Pittsburgh, Pennsylvania!
Undisputed WWE Tag Team Champions The Usos will be putting their titles on the line tonight, as they take on Sheamus and Butch of The Brawling Brutes. While "The Scottish Warrior" Drew McIntyre was initially going to be the man to team with Sheamus, he was not medically cleared to compete in the ring earlier this week after sustaining a ruptured eardrum. Will The Bloodline members be able to hold on to their gold, or will new champions be crowned?
WWE Hall of Famer Kurt Angle will be celebrating his birthday with the WWE Universe in his hometown tonight. Angle was last seen on the August 29 episode of "Raw" the last time the company was in Pittsburgh, during which he got involved in a verbal exchange with Alpha Academy. What will happen tonight?
Raquel Rodriguez was taken out of in-ring action with a broken arm and a dislocated elbow a couple of weeks ago due to an attack at the hands of "SmackDown" Women's Champion Ronda Rousey and Shayna Baszler. Her tag team partner Shotzi will be going head-to-head with Baszler tonight as part of her efforts to seek retribution on the duo. What will happen when the pair collide?
Additionally, reigning Intercontinental Champion GUNTHER and former "SmackDown" Women's Champion Liv Morgan are also slated to appear on tonight's show, as per WWE's event page.
We are live! Michael Cole and Wade Barrett greet audiences at home as The Brawling Brutes make their way to the ring. The Bloodline follows.
The Usos (c) vs. The Brawling Brutes for the Undisputed WWE Tag Team Championships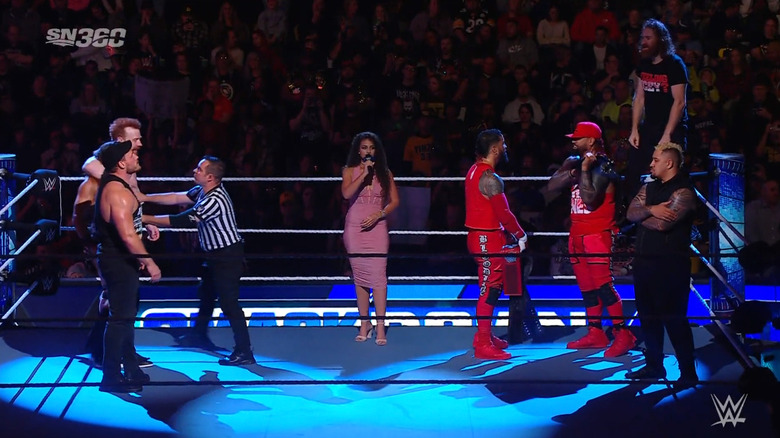 WWE/Fox
Jimmy and Sheamus begin the action. The bell rings and the two lock up. They exchange submissions before Jimmy rolls out of the ring to catch his breath. He gets back inside, then delivers a kick to Sheamus' midsection. Sheamus fires back with a clothesline and a rolling senton, then tags in Butch. Butch delivers the double knees to Jimmy, but Jey makes the blind tag and hits a flying forearm. Butch delivers a basement dropkick, but Jimmy tags in and The Usos send his face bouncing off the top rope.
Back from the break, Butch looks to make th tag to Sheamus, but Jey prevents him from doing so. He whips him into The Usos' corner, then tags in Jimmy. Jimmy delivers a flying right hand, then goes for a pin. Butch kicks out and Jey tags in. Jey rains down right hands, but Butch manages to deliver a kick and a release German suplex.
Both men tag in their partners. Sheamus delivers a pair of back elbows to Jimmy, then hits a bodyslam. Sheamus and Butch get The Usos set up between the ropes, then deliver the Fifteen Beats of the Bodhran. Sheamus then sits Jimmy on the top turnbuckle, then climbs up to the middle rope and delivers White Noise. He goes for a pin, but Jimmy kicks out at the last second.
Back from another break, Butch snaps Jey's fingers. Jey fires back with a neck breaker, then goes for a pin but Sheamus breaks it up. Butch tosses Jey to the outside, then delivers a moonsault and tosses him back in. He delivers a Tornado DDT, then goes for a pin but Jey kicks out. Butch stomps on Jey's fingers, then delivers a kick to his ear. Jimmy tags in and sits Butch on the top rope. Butch escapes and manages to deliver a powerbomb. He goes for a pin, but Jimmy kicks out. Sheamus tags in and delivers a Razor's Edge-neckbreaker combo with the help of Butch. He goes for a pin, but Jey breaks the fall. Jey tags in and Sheamus catches him with a running knee as Ridge Holland begins brawling with Solo Sikoa on the outside. Sheamus sets up for the Brogue Kick, but Jimmy counters with a superkick. Butch tags in and delivers the step-up enziguri. Jimmy makes the blind tag and The Usos deliver 1-D for the win.
Winners (and still): The Usos
Back from the break, we see Kurt Angle and Gable Steveson are walking around backstage. Braun Strowman walks in and says hello to Angle. Angle introduces Steveson and Strowman says if he's ever looking to get these hands, he's more than happy to face him in the square circle.
Back at ringside, LA Knight heads down.

We Hear From LA Knight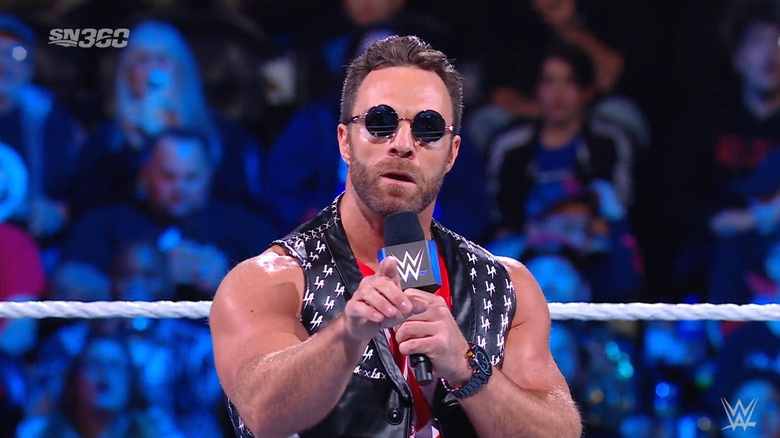 WWE/Fox
Knight gets right to it and addresses Bray Wyatt. He says it's obvious he's struck a nerve in him, and maybe even some fear. He says he keeps getting blindsided by Wyatt, then denies that he's the one doing it. Knight says he's calling his bluff, then throws it to a series of videos from before he was attacked with masks in the background.
Uncle Howdy then appears on the screen and asks what he's waiting for. He says Knight deserves to be punished, and says they should do it now. He says "the door is closed."
Knight says that's just more evidence and if no one else is going to do anything, then he will. He leaves ringside to go find Wyatt.
We then head to a video from earlier tonight of Shotzi grasping her wrist, crying. We then head backstage to Megan Morant, Ronda Rousey and Shayna Baszler. Megan Morant asks them if they think they've taken things too far and Baszler asks her what she's implying. She says all that was seen in the video was Shotzi was crying on the ground, and for all they know, she simply fell. Liv Morgan and Tegan Nox walk in. Morgan says they've hurt various members of the women's division, and faced everyone but them. Baszler says if you mess with the bull, then you get the horns.
Back at ringside, Legado Del Fantasma heads down followed by the Viking Raiders.
Viking Raiders (w/ Valhalla) vs. Legado Del Fantasma (w/ Santos Escobar and Zelina Vega)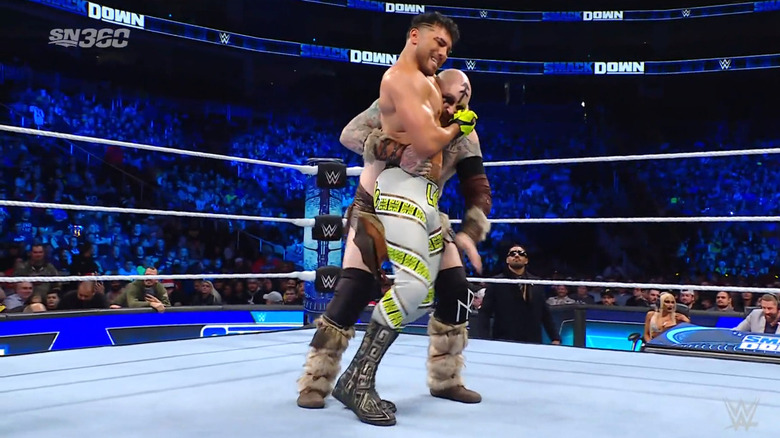 WWE/Fox
Erik and Wilde begin the action. The bell rings and the two lock up. Erik delivers a shoulder tackle, then flips Wilde inside out. Ivar tags in and rains down rights and lefts. He delivers a shoulder to Wilde's midsection, then tags in Erik. Erik does the same, but Wilde fires back with a hurricanrana. Erik delivers a vicious right hand.
Hit Row's music hits and B-Fab heads to the ring with a chair in hand. She sets it up on the ramp as Viking Raider dare her to get in the ring. Top Dolla and Ashante "Thee" Adonis come out of nowhere and attack Legado and Hit Row.
Winners: N/A (via disqualification)
After the match, Top Dolla and Adonis continue to beat down The Raiders with a chair. Adonis delivers a Tornado DDT to Erik, but Valhalla jumps on his back. Adonis shakes her off and B-Fab delivers a kick to her face. She sends her into the barricade as Wilde looks to surprise Top Dolla with a flying crossbody off the top. Top Dolla catches him and plants him with a Fireman's Carry.
We then head backstage to LA Knight looking around backstage for Bray Wyatt. He opens the locker room door and sees a Bray Wyatt shirt hanging. He takes it off the cubby its hanging on before the lights go out. Knight turns on the flashlight on his phone and comes face-to-face with Uncle Howdy.
Back from the break, we head to a party being held backstage for Kurt Angle. Someone hands Angle a card and the camera pans out to reveal them as...Jason Jordan!
Back at ringside, Ricochet heads to the ring, followed by Imperium. The "SmackDown Cup and Adam Pearce both wait in the ring.
GUNTHER and Ricochet Sign The Contract For Their Intercontinental Championship Match Next Week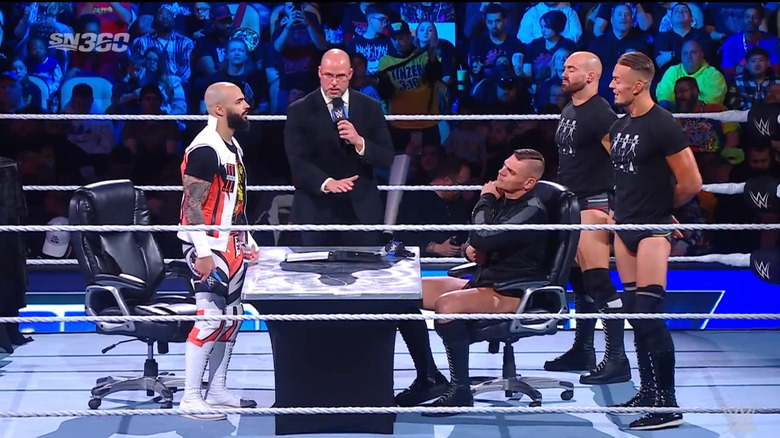 WWE/Fox
Pearce welcomes the men to the signing, but before he can continue, New Day's music cuts him off.
Xavier Woods and Kofi Kingston head to the ring. Woods says they are sorry for interrupting them, but they wanted to watch on. Kingston says they know how contract signings usually go and when GUNTHER inevitably gets mad, he and Imperium will jump Ricochet. Woods says they couldn't just sit in the back and watch on, and they came out to have Ricochet's back.
GUNTHER grabs the contract and says he wants him to remember that he took the Intercontinental Championship off him and has already beat him twice. He says he will beat him again next week, and nothing will be able to save him from that. He says the difference between Imperium and New Day and Ricochet is they are professional wrestlers rather than performers. He signs the contract.
New Day and Ricochet make fun of the fact that "Imperium can't perform." Ricochet then tells GUNTHER he's in for the fight of his life next week. The two men get in one another's face and Pearce calls for someone to get rid of the furniture. GUNTHER throws the table out of the ring before the six men begin brawling. New Day and Ricochet toss Imperium out of the ring, then go flying and take them down as a referee gets in the ring.
Imperium vs. New Day and Ricochet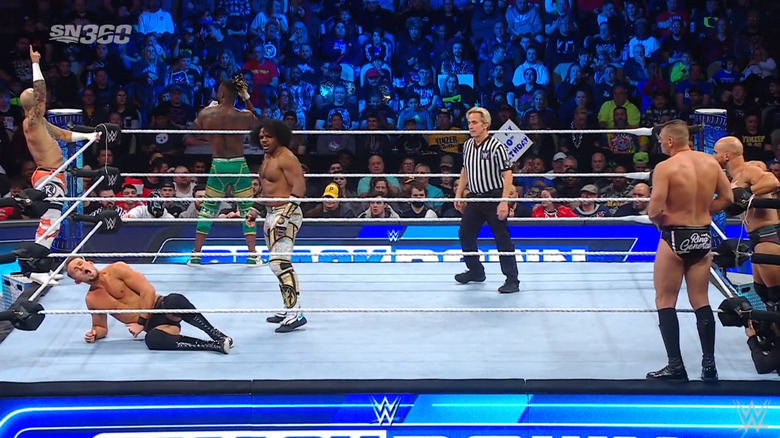 WWE/Fox
Kaiser and Ricochet begin the action. The bell rings and the two lock up. Ricochet takes Kaiser down with a dropkick, then tags in Woods. Woods delivers a dropkick of his own, followed by a boot to his face and a right hand. Vinci tags in and tosses Woods to the outside.
Back from the break, Woods delivers several chops to Vinci. Woods delivers a kick to his face, but Vinci fires back with a backbreaker. GUNTHER tags in and delivers a bodyslam. He follows it up with a double stomp and tags in Kaiser. Kaiser delivers an enziguri, followed by a pair of right hands to Woods' head. He delivers several elbows, followed by a knee to his midsection and an overhand chop.
The two men teeter on the top rope before Woods knocks Kaiser off it and delivers a missile dropkick. Kingston and Vinci tag in. Kingston takes Vinci out with a series of kicks, then ascends to the top rope and delivers a high crossbody. He follows it up with the Boom Drop, then looks for Trouble in Paradise. Vinci ducks it and Kingston trips him. Vinci sends him to the outside, then tosses him over the announce desk.
Back from another break, Kingston delivers a back body drop to Kaiser. GUNTHER and Ricochet tag in. Ricochet delivers a few right hands, but GUNTHER delivers a vicious chop and a big boot. Ricochet delivers a step-up enziguri, followed by a running knee and several right hands. He hits another enziguri, but GUNTHER catches him with a chop. Woods and Vinci both tag in. Woods delivers a Tornado DDT, then tags in Kingston. New DAy looks for Midnight Hour, but Kingston overshoots it to take out Kaiser. Vinci delivers a moonsault, then tags in Kaiser. Kaiser ascends to the middle rope, but Ricochet pulls him off with a hurricanrana. Kingston delivers Trouble In Paradise, then tags in Ricochet. Ricochet ascends to the top and delivers a Shooting Star Press for the win.
Winners: New Day and Ricochet
We head backstage to Kurt Angle's party. Alpha Academy looks to get in, but the bouncer tells them they aren't on the list. Street Profits walk in and they're allowed in. Chad Gable tells the bouncer to check again.

Back from the break, we head backstage to The Bloodline celebrating The Usos win. Zayn asks Jey if he's feeling ucey, and he says yes. Jimmy and Solo Sikoa walk off an dJey holds Zayn back. He tells him it might be a good idea for him to trim his hair and beard because next week is going to be a big night for him.
We head to the medical area, and see Rey Mysterio rehabbing. Karrion Kross and Scarlett walk in and Kross sits down. He says he heard about his predicament and falling out with his son, and says he must be in hell. He says he's shown a lot of restraint, then asks if he knew Scarlett was from Romania. He says she once told him a story about a racehorse she used to have when she was a child that the family had to make a workhorse. He says it's always a sad thing to see when one has to put an animal out of its misery, then says tick tock.
Back at ringside, Liv Morgan and Tegan Nox head down, followed by Shayna Baszler and Ronda Rousey.
Back from the break, we head to a video hyping up Lacey Evans.
Ronda Rousey and Shayna Baszler vs. Liv Morgan and Tegan Nox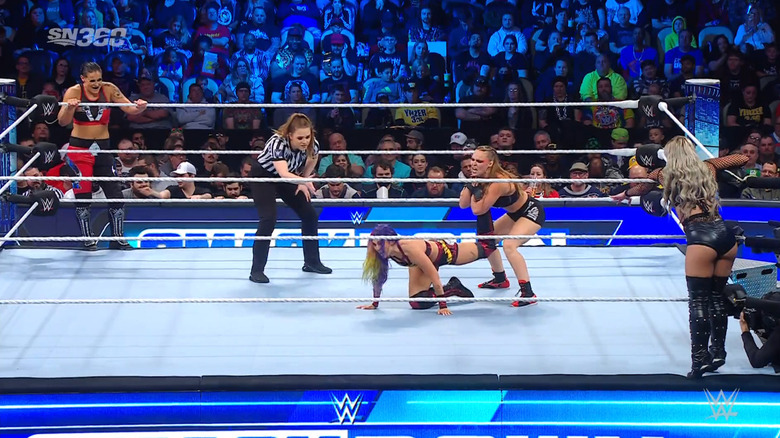 WWE/Fox
Baszler and Nox begin the action. The bell rings and the two lock up. They exchange submissions before Nox trips Baszler in the corner. She follows it up with a pair of arm drags and an uppercut, then delivers a senton in the corner. Baszler delivers a modified Pele Kick, then tags in Rousey. Rousey delivers three hip tosses, then mocks Morgan. Rousey locks in an Ankle Lock, but Morgan escapes. Baszler and Morgan tag in. She delivers a running elbow, followed by a knee and a missile drop kick. Morgan delivers a double stomp, then goes for a pin but Baszler kicks out. Baszler delivers a German suplex as Raquel Rodriguez heads to the ring while officials try to prevent her from being at ringside. Rousey goes to tell her off and while the referee is distracted, Nox delivers the Shining Wizard to Baszler and Morgan then pins her for the win.
Winners: Liv Morgan and Tegan Nox
We head backstage to Kurt Angle's party. He says it's time for him to head to the ring and Gable Steveson asks if he wants him at ringside. Angle says he's good.
Back from the break, Kurt Angle heads to the ring to massive cheers.
Kurt Angle Celebrates His Birthday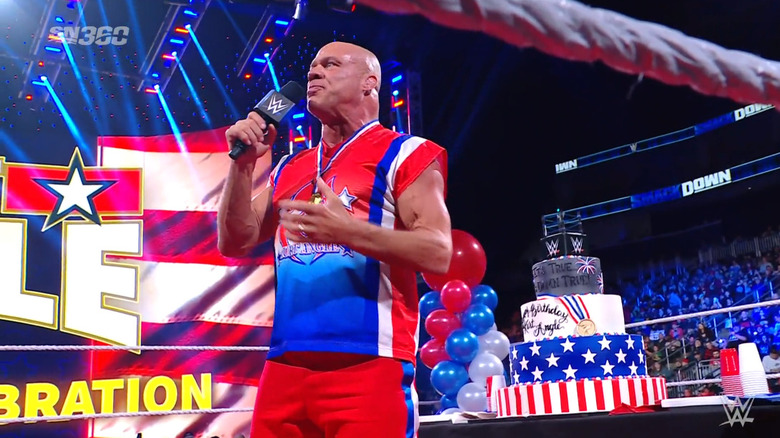 WWE/Fox
Angle thanks Pittsburgh for his birthday celebration.
Alpha Academy's music hits and they cut him off. Gable says everyone in Pittsburgh was invited to his party, but they weren't. He says it was hard to get a tie for a guy who has no neck (Otis) and says Angle didn't want him there because he would outshine him. He says he has to agree with the fans for one time on one thing: Angle sucks. He says he has no integrity, lost his intensity, and if he has any intelligence, he should leave the ring. He then says Otis is going to eat his cake, and if he doesn't leave, then he'll end up with another broken freaking neck. Angle walks up the ramp in defeat as Gable continues to insult him. Angle says if Otis is going to eat his cake, then he needs a lot of milk. A milk truck and Gable Steveson then head to the ring.
Angle and Steveson then start throwing bottles of milk on Otis and Gable, then grabs a hose and sprays them with milk. The pair then grab a couple of pints of milk, then crack them open and chug them.