Recap: 'The 9 Lives Of Vince McMahon' Documentary On VICE TV
Ethan Miller/Getty Images
On December 12, VICE TV aired a documentary surrounding the life of one of wrestling's most polarizing and influential figures, Vince McMahon. Entitled, "The 9 Lives of Vince McMahon," the television documentary covered the "real story" of the former WWE Chairman and CEO's impactful, and often controversial, moves in the professional wrestling business.
The documentary description reads: "Despite lawsuits, allegations, scandal and controversy, Vince McMahon has dominated the world of wrestling for over 40 years, turning it into a multibillion-dollar global empire."
The opening scene denotes Vince McMahon's declining to participate or make any statements in the project, before foreshadowing with a clip of his daughter, Stephanie McMahon addressing Vince's most recent announcement that "stunned the world." The narrator notes that while Vince has confronted many possible "career-ending scandals" throughout his multi-decade career, he's kicked out every time.
The documentary transitions to Vince McMahon's origin story, as he grew up in a poor, run-down trailer park in North Carolina. Though Vince didn't talk much of his childhood, he did once allude to a dark past, suffering alleged abuse from his mother, and another teenager, while growing up. Vince's mother would often bring multiple men into his family's life, voiding him of a true familial bond until he meets his biological father, Vincent James McMahon, at the age of 12.
Through his father, Vince Jr. is introduced to the professional wrestling world and eager to join it. However, his dream would be deterred.
Fulfilling A Dream
The documentary recounted the young Vince Jr. stealing cars and developing a delinquent attitude, forcing his father to send him away to military school. McMahon serves there until his mother "finds him a girl" and introduces him to his future wife, and business partner, Linda McMahon.
After McMahon completes college, he once again tries to find his way into the wrestling business, Vince Sr .wanted him to have a more secure future, though. Eventually, Vince Jr. convinced his father otherwise. He was hired as an announcer and allowed him to promote in small towns. Vince Jr., described as a natural-born hustler, begins promoting events outside of wrestling, including rock concerts and a stunt by the popular performer Evel Knievel.
Unfortunately, Vince later filed for bankruptcy after his failed ventures. Still determined to bring his father's company to the next level, he mortgaged nearly everything he had to invest and became the new owner after his dad handed over control. Though Vince Sr.'s true motivation in giving up control was never clear, many believe his ongoing struggle with pancreatic cancer contributed to the decision.
As Vince Jr. seized control of the World Wrestling Federation, he sought to make it the biggest company in the world, often disregarding the respect and boundary between territorial promotions. To turn his vision into a reality, Vince recruited Hulk Hogan in 1984 to become his "larger than life" superstar and top title holder.
The Controversies Begin
The documentary delved into Vince McMahon's efforts to "modernize" the wrestling industry, while still stressing the importance of maintaining kayfabe, which was then challenged by John Stossel.
The "20/20" journalist began an investigation into wrestling's kayfabe aspect, which threatened to "lead to an exodus of disillusioned fans." Amidst his quest, Stossel recruited wrestler Eddy Mansfield for the story, who showed him some of the ins and outs of the business, like intentionally blading to create blood. During a meeting with WWF wrestler David Shultz, Shultz stayed in character, stunning Stossel with a slap to the face. As Stossel's project is released, he further sued for damages from the slap. McMahon eventually buys off Stossel to make the issue go away, and starts a trend of "buying his way out of problems."
The documentary then overviews a string of controversies, including the murder investigation involving one of the WWF's top stars at the time, Jimmy "Superfly" Snuka. In 1983, Snuka's girlfriend, Nancy Argentino, died after Snuka claimed she fell. However, the autopsy report wasn't indicative of an accident, but rather ruled a homicide. McMahon rushed to Allentown, Pennsylvania, where Snuka was being questioned, and later released. As rumors swirled that McMahon bailed Snuka out of the police interrogation, the case went cold until 30 years later. Snuka was arrested in 2015, and charged with third-degree murder and involuntary manslaughter for Argentino's death.
Pattern of Behavior
As McMahon momentarily shakes off Snuka's investigation, he turns his focus back to making the WWF the top national wrestling brand. He soon spotlights his refinement of the company with the introduction of WrestleMania, linking up with American actor Mr.T to catapult his top star Hulk Hogan into the mainstream.
Feeling the pressure to deliver a grand spectacle, McMahon invested a lot of his own money, but the event struggles to gain traction, until the last minute. On "Saturday Night Live," Mr. T and Hulk Hogan served as last-minute replacements as special guests, garnering more attention and revenue for the event. McMahon then wins recognition and gets a television deal for "Saturday Night's Main Event." While things finally settle financially, another scandal threatens McMahon's enterprise.
The female referee in WWF, Rita Chatterton, felt she wasn't getting booked as much as she wanted, so she scheduled a meeting with McMahon, who allegedly coerced her into sex. According to Chatterton, McMahon said if she wanted a half-a-million-dollar contract, she'd have to satisfy him. McMahon later denied the allegations, and sued for defamations, but dropped the charges because he pivoted towards yet another scandal.
The Steroid Trial
As McMahon beckoned for "larger than life" superstars, his wrestlers kept getting bigger, and bigger – professionally and physically. Pressure began building for talent to put on weight to fulfill McMahon's vision, which resulted in talent taking performance-enhancing drugs, such as steroids. As the documentary explained, one doctor would even "set up shop" for talent to "purchase their candy." In 1991, steroids became illegal without a prescription and that doctor, George Zahorian, soon got caught and convicted.
McMahon was indicted on conspiracy to distribute steroids and faced the possibility of eight years in prison and half a million dollars in fines. He denied the charges. With the trial looming, he "retooled" WWF, shifting focus to smaller performers, and advocated for a "drug-free" environment. McMahon even showed up for his trial in a neck brace, apparently looking for sympathy from the jury. McMahon's former prized investment, Hogan soon emerged as a key witness for the prosecution in the trial but essentially exonerated Vince of any drug distribution. Many other witnesses followed suit, downplaying McMahon's involvement in the related charges, and accordingly, McMahon was found not guilty.
The Montreal Screwjob
The documentary states that after surviving the steroid trial, McMahon turned his gaze up north to the Hart family, and bought out Stampede Wrestling, including the rings and top talent. After acquiring Bret "The Hitman" Hart, Hart was then booked to be the WWF Champion. With his stock significantly raised, he was then approached by WWF's rival, World Championship Wrestling. McMahon countered with an offer for $1.5 million a year for 20 years for Hart, but then realized he couldn't afford "The Hitman," so Hart signed with WCW. However, there was still one hang-up: the WWF Championship.
In November 1997, McMahon orchestrated the infamous "Montreal Screwjob" to take the title off of Hart. Shawn Michaels was then awarded the WWF Championship after referee Earl Hebner called for the bell, even though Hart hadn't tapped out. Hart later punched McMahon backstage in fury and went on his way to WCW.
In an interview that aired on "Raw," Vince denied that he screwed Bret Hart, saying Hart didn't "honor the tradition" and "respect" of dropping the title of the company he was leaving. He infamously proclaimed that "Bret screwed Bret."
Desperate Times
The documentary then turns to the "Monday Night War" between WCW and WWF, as McMahon claimed his rival "stole" his talent, including Hogan, Roddy Piper, Curt Hennig, Scott Hall, and Kevin Nash, amongst many others. As a result, the WWF struggled to compete, with WCW winning the rating war for 83 consecutive weeks. This lit a fire underneath McMahon, as instilled some new tricks into his playbook, carving out an edgier and often more violent approach to his programming, effectively morphing into the Attitude Era.
With "Raw" and " WCW Nitro" airing on the same nights at the same time, McMahon even wrote himself into programming too, engaging in feuds with the likes of Dwayne "The Rock" Johnson, "Stone Cold" Steve Austin, and even his own family. As McMahon attempted to sustain this vision, he often pushed the boundaries of conventional television, and sometimes, went too far.
In late 1996, Steve Austin engaged in a scripted home invasion, where Brian Pillman "shot" at Austin with a gun, which resulted in serious backlash. McMahon later publicly apologized.
Over The Edge
According to the documentary, McMahon soon realized that his drastic theatrics and often gimmicky storylines didn't get over, so he searched out the next top prospect, which turned out to be Owen Hart, brother of Bret. McMahon tried to write Owen into an edgier storyline, putting his athleticism to the test. That test would prove to be fatal, though. As Owen was lowered to the ring from cables at WWF's Over The Edge pay-per-view, his harness malfunctioned, sending Owen plummeting to the ring, and falling to his death.
Shortly after, an investigation into criminal negligence emerged, centering around the safety of the cables. Owen's wife, Martha Hart, filed a lawsuit against the WWF, but McMahon sued the manufacturer of the cables. Martha ultimately settled and later launched the Owen Hart Foundation.
Another settlement was reached in the 2002 "plane ride from hell" scandal where intoxicated superstars sexually harassed and assaulted flight attendants on their long plane ride. Two flight attendants sued, but McMahon offered settlements to subdue the lawsuit.
The Continuing Fight
In 2006, McMahon once again faced his own allegations at the Tanzabar Tanning Salon in Boca Raton, Florida. The WWF CEO allegedly asked an employee to take a photo of him to send to his "girlfriend," then showed naked photos of himself, before attempting to grope her. The employee called the police, but they decline to prosecute due to insufficient evidence.
The documentary then quickly recounted Eddie Guerrero's tragic death in 2005, as McMahon utilized Randy Orton to exploit Eddie's death.
Less than two years later, one of Eddie's good friends and fellow wrestlers, Chris Benoit, passed away. The WWF orchestrated a tribute to Benoit, without knowing the full story surrounding his death. Police later ruled it a murder-suicide, as Benoit strangled his wife Nancy, then suffocated his son the next day, before taking his own life the day after that.
Vince scrambled to do damage control after learning the facts of the case, but speculation began to brew that drug abuse contributed to Benoit's fatal act. Benoit was taking steroids, and many believe Vince knew, and still didn't stop it. As Benoit's severe case of CTE later comes to light, McMahon was again under major scrutiny, and accordingly banned all chair shots to the head.
Vince's WWE Exit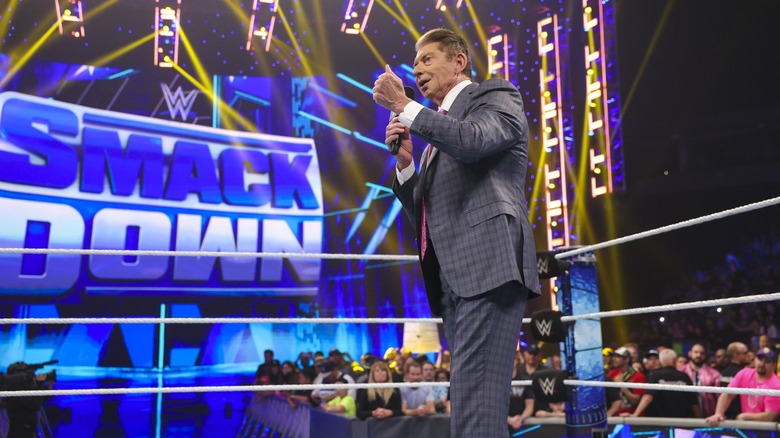 WWE
"The 9 Lives Of Vince McMahon" closed out by noting WWE's waning viewership over the past two decades, as the company was forced to scale back the edginess of his product. However, McMahon is still making more money than ever with business deals, even as he gets "lazy" and cultivates "lame, uninspiring" products, according to Bruce Hart. Fan satisfaction is said to be at an all-time low, but McMahon continues forward with his dream of taking over professional wrestling until he is "snapped back to reality" in 2022.
The documentary flashes forward to McMahon's exit from WWE at the age of 77 earlier this summer, amidst investigations into money payments made to several former female employees to hush allegations of sexual misconduct and harassment. McMahon then appeared on "SmackDown," reiterating WWE's signature phrase: "Then. Now. Forever. Together."
Per the documentary, McMahon claims he never did anything wrong but later realized he can't evade the law anymore. Since then, McMahon went noticeably silent in his appearances, and announced his retirement, resulting in a "complicated ending for the most divisive figure" in wrestling.