12 Most Memorable Kurt Angle Opponents Of All Time
Dave Kotinsky/Getty Images
Few people in the history of the business took to pro wrestling as quickly as Kurt Angle did. Everyone knows Angle was an Olympic gold medalist in amateur wrestling, but when it comes to the completely unique world of worked professional matches, he was having those in front of crowds within weeks of starting his training. In just over a year, The Olympic Hero went from never having a lesson to being not just a WWF Superstar, but one that was a critically-acclaimed talent right from the start. He hit the ground running and, over the next two decades, built a legendary career.
But no wrestler's career, not even a hall of fame one, is built without a lot of help. Year by year, match by match, Kurt got to work with amazing talents. Jumping into the deep end with the biggest promotion in the world right at the start of his run, Angle had the special privilege of working with the biggest and best stars in the world during the hottest period in wrestling, right as he was still learning the ropes. Jumping to TNA years later, Angle was more than able to keep up with a new crop of hungry young talent that had risen to prominence after him. These are some of the top opponents that shaped the unforgettable career of Kurt Angle.
Triple H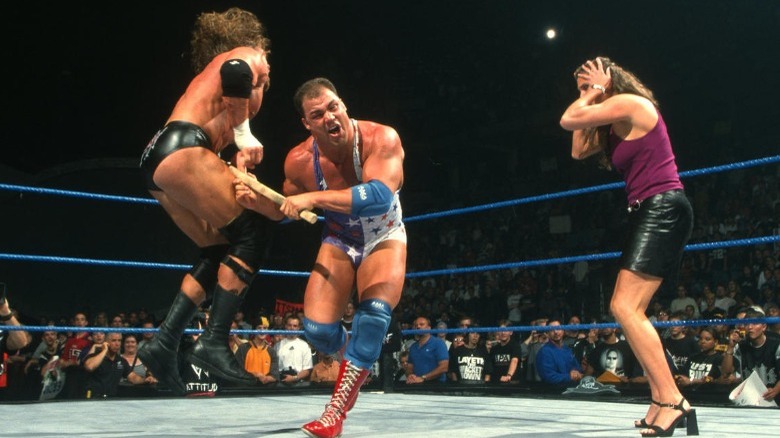 WWE
Maybe the first true home-run storyline Kurt Angle was ever involved in was against Triple H. In one of the great love triangles in wrestling history, Kurt became the third wheel for The Game and his wife, Stephanie McMahon. A lot of fans were hoping it would end with Kurt eventually winning Stephanie's heart and, if you believe some rumors, at one point that was the original plan. Instead, The Billion Dollar Princess stood behind her man and The Cerebral Assassin won their first one-on-one major singles match at Unforgiven 2000, with the whole feud being seen simultaneously as both a great highlight of the era, and perhaps one of its biggest missed opportunities.
The two faced off in many rematches on both pay-per-view and cable TV, but their biggest match together came many years later and it wouldn't be a one-on-one attraction. In 2018, when it came time for Ronda Rousey to join the world of wrestling, a tag match seemed the best way to ease her in, and what better tag slot to put her into than by rekindling a classic feud of the past? Rousey and Kurt versus Triple H and Stephanie at WrestleMania 34 shocked some fans with how good it was considering one participant was having their first-ever match. In a way, Ronda was just following in the steps of her tag partner, another legitimate athlete that took to sports entertainment immediately.
The Rock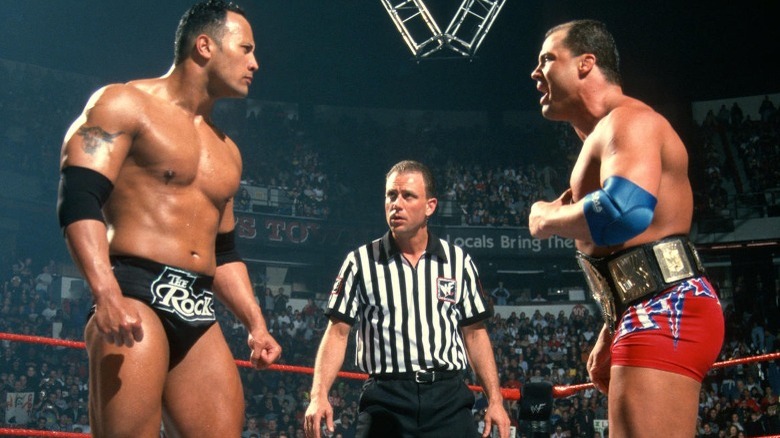 WWE
The Rock maybe did not have quite as extensive a history with Kurt Angle as many of the other names on this list, but he did give Kurt something special that could never be repeated: his first World Title win. It was The Great One, at No Mercy 2000, who did the honors being the person Angle defeated to become the WWF Champion for the first time. Did he need some inadvertent help in the form of some botched interference from Rikishi? Sure. Nothing changed the fact that the match was great, and that The Olympic Hero became the champion of the biggest promotion in the world, by beating one of the biggest stars in the world, just a year after debuting on WWF TV.
There'd be other encounters between the two men. Before the title change, Angle and Rock had already main evented a SummerSlam together with Triple H. The Brahma Bull and The Olympic Hero faced off in other notable multi-man matches, including a six-way Hell in a Cell match at Armageddon 2000, and a triple threat match with The Undertaker at Vengeance 2002. They'd eventually have a second major pay-per-view singles match, another quality outing at No Way Out 2001, where Angle dropped the WWF Championship back to The Rock. In the end though, nothing would be quite as cool as that first singles pay-per-view encounter where Angle rose to the top.
Steve Austin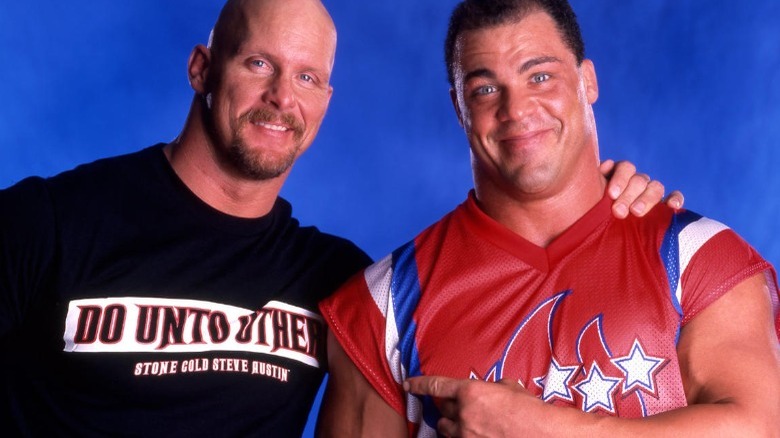 WWE
Kurt got to do quite a bit more with the other top star of his generation, Steve Austin. From late 2000 to early 2002, the two wrestled each other on TV quite a few times. More notable though, was how they were at the center of 2001's Invasion storyline. When Stone Cold turned on Team WWF at the official Invasion branded pay-per-view, it was The Olympic Hero he attacked. The feud between the two played out in the following months, with both men winning the WWF Title from the other, as well as being in a key match in the 2001 SummerSlam pay-per-view.
We would end up getting some symmetry later in the year, after Angle actually turned heel to join Austin and The Alliance. When the moment came for the Invasion feud to come to an end, this time it was Kurt who turned on Austin in a huge pay-per-view main event tag, costing Stone Cold and The Alliance the victory in the feud-ending match at Survivor Series 2001. After that feud was all said and done, there was still the matter of unifying the WWF and WCW World Titles, putting The Olympic Hero and Stone Cold in a position to fight yet again at Vengeance 2001 in the first round of a four-man World Title unification tournament to crown the first undisputed champion. It was a year when the two seemed to be unable to escape each other.
Brock Lesnar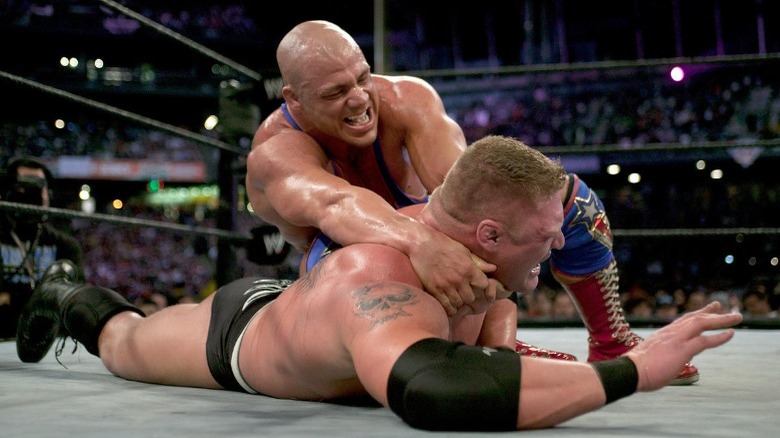 WWE
Kurt Angle and Brock Lesnar were destined to be classic rivals. Both men had decorated amateur wrestling backgrounds, both men took to professional wrestling about as fast as anyone has in history, and both men hit the ground running in WWE. The Beast and The Olympic Hero's first major singles match against each other was as big as it gets, the main event of WrestleMania XIX. Lesnar earned the right to challenge for Kurt's World Title by winning that year's Royal Rumble, and he'd go on to unseat Angle for the belt.
The rest of the year would be about Kurt getting his revenge. He returned just months later after recovering from surgery, and quickly took his title back from Lesnar. Kurt defeated Brock again at SummerSlam before dropping the title back to The Beast in a special 60-minute Iron Man match on "SmackDown." Team Angle defeated Team Lesnar at the 2003 Survivor Series, but the final encounter between these two took place years later outside of WWE, halfway around the globe in Tokyo, Japan, where Angle became the man to beat Lesnar for the IWGP Heavyweight Title, finishing a feud that had been on pause for years.
Eddie Guerrero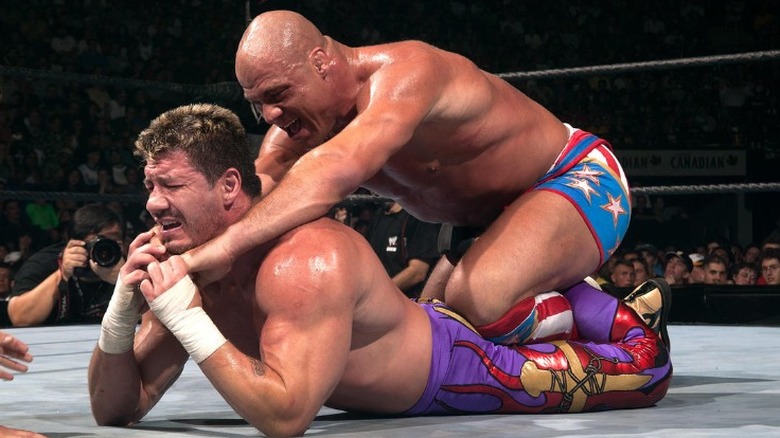 WWE
It's interesting how many beats of Angle's feud with Lesnar were repeated just one year later with another one of his historic rivals, Eddie Guerrero. Just like Brock had one of his biggest WrestleMania moments beating The Olympic Hero in a World Title match at WrestleMania XIX, Latino Heat had his own huge Mania moment when he successfully defended his own title against Kurt at Mania XX. Also just like when The Olympic Hero fought The Beast at Mania, Angle immediately followed up his loss by getting another round of neck surgery. The similarities with the Brock feud deepen further when you realize that Angle defeated Eddie at that year's SummerSlam, just like he did with Lesnar the year before.
Oh, and remember how Brock and Kurt had a special lengthy gimmick match on "SmackDown" at that point in their feuds? Well, it happened here with Latino Heat too, with The Olympic Hero defeating him in a two out of three falls match that went almost half an hour. Yet it does a disservice to say this feud was a complete copy of the Brock one, as the characters here gave it a completely different dynamic: Eddie as the guy you love even when he cheats, and Angle as the guy you often love to hate even when he acts wholesome and All-American, the good side of bad versus the bad side of good.
Rey Mysterio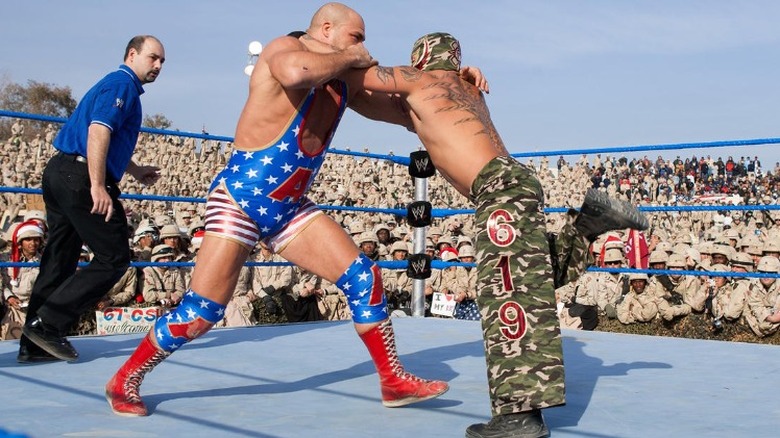 WWE
While Rey Mysterio and Kurt Angle wrestled each other many times, it's a trio of special moments that gets The Master of the 619 on this list. Rey's first-ever WWE pay-per-view match was against Kurt, the opener of SummerSlam 2002, a heck of a way to kick off both the show and Mysterio's WWE career. Later that year, the two expanded their feud into a two-on-two affair, and the match that resulted, Angle and Chris Benoit versus Mysterio and Edge, would go down as one of the greatest tag matches in the history of WWE. The readers of the Wrestling Observer would go on to vote it match of the year, the first time a WWE match had won the award in half a decade.
For The Master of the 619 though, the biggest moment he shared with The Olympic Hero had to be WrestleMania 22. In a triple threat match that featured them as well as Randy Orton, Kurt lost his World Heavyweight Title to Rey, giving him his first world title reign ever in WWE. It was a moment many thought would never come for the diminutive Mysterio. Sometimes your most memorable opponents are the people who were there for special moments in your own career, but sometimes, as in this case, your most memorable opponents are the people who you did the honors for.
Edge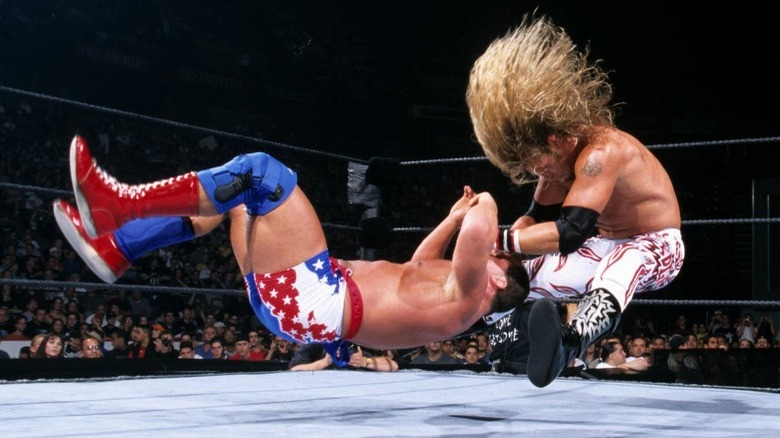 WWE
That classic Mysterio and Edge versus Angle and Benoit match was not the only significant one between The Olympic Hero and The Rated R Superstar. Kurt's on-screen friendship with Edge and Christian created some of the funniest moments in WWE history. Who can forget the legend of Kurt's chicken suit? But in wrestling, friendships have a way of fizzling out, and the one between Kurt and Edge was no exception. Kurt Angle's hair was thinning by 2002, so it only made sense that if he was to go bald, a wrestler should get to be the reason why. The lucky man to get the credit for changing Kurt's appearance forever just happened to be Edge.
At Judgment Day 2002, Edge beat Angle in a hair versus hair match and, well, in one of those wacky cases of wrestling logic, Kurt's hair never grew back. Losing his hair was just the beginning, and The Rated R Superstar and The Olympic Hero would have multiple rematches on TV, including a steel cage match in Edge's native Canada. Eventually, they'd branch off into the legendary tag match we talked about earlier, capping off a year of wrestling that was just as fun as all the months of comedy they had created in the years before it.
Chris Benoit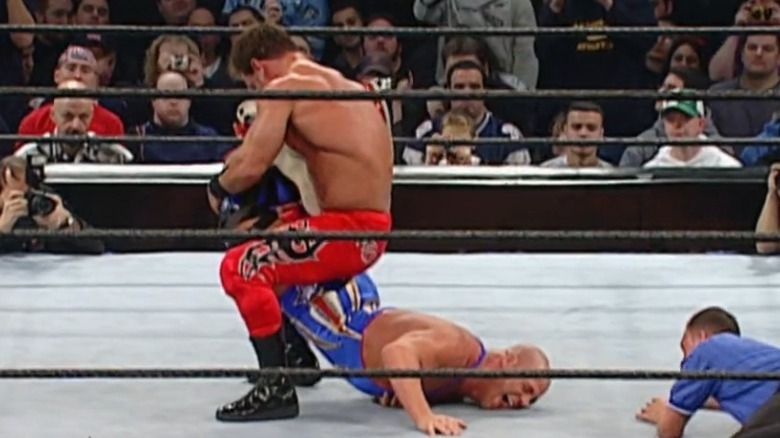 WWE
Kurt's first WrestleMania match ever was his favorite match at the event, which he discussed in length on "The Kurt Angle Show" podcast. It featured him versus Chris Benoit versus Chris Jericho in a unique two-falls triple threat match where Angle's European and Intercontinental Titles were on the line in separate falls. A year later, The Olympic Hero and The Rabid Wolverine had a rematch at WrestleMania without Y2J, and the opening minutes were some of the best technical wrestling WWF fans have seen, with Angle's amateur background meshing perfectly with Benoit's style. The match was a highlight of one of the greatest WrestleManias (XVII) ever.
Angle continued to feud with Benoit after that bout, in matches as diverse as an Ultimate Submission match and a two out of three falls match. Their best bout ever though, might just be one of their last, a World Title contest at the 2003 Royal Rumble that in terms of pure wrestling, might be the greatest match that pay-per-view has ever seen. Benoit was seen as the best technical wrestler of a generation, after spending his whole adult life in pro wrestling. Angle was the man from the legitimate world who jumped into it later in life. Yet whenever they wrestled, they were complete equals.
Shawn Michaels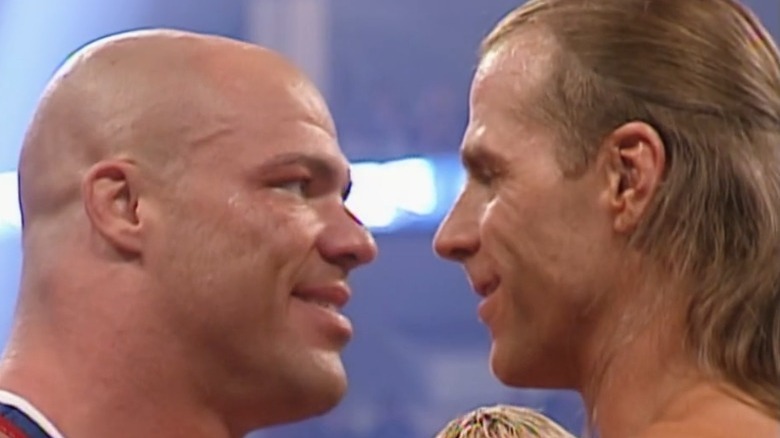 WWE
If a wrestler is judged by how they perform on the biggest stage, then it might have been Shawn Michaels who Kurt had his finest hour with. Yes, Angle had been in some good, even great, WrestleMania matches before Shawn. Yet, it was a match against Michaels, fourth from the top at Mania 21, with no title on the line, that is the best single performance Angle ever had at the Showcase of the Immortals. It was a dream match, one of the WWF's biggest stars from the '90s taking on the man who it could be argued replaced him as the company's in-ring workhorse for the next batch of years.
The Mania match is a classic, one that won multiple match of the year awards, including one from Pro Wrestling Illustrated magazine, but The Olympic Hero would meet The Heartbreak Kid again multiple times down the line. Of all their rematches, it was a 2005 "Raw" match that was the most unique, a 30-minute Iron Man match that ended in a draw, with each man scoring two falls. Matches of that length, let alone Iron Man matches, were a rarity on WWE TV, and it says a lot about how the company saw Kurt that they chose him to work multiple matches of that type with Shawn and Brock.
Samoa Joe
When Kurt Angle joined TNA in 2006, the dream match was obvious. Samoa Joe had spent the previous two years building the case between his work in ROH, TNA, and the indie scene that he might have been the best wrestler in the world in the mid-2000s. Angle was one of the few men who could challenge him for that title. Rather than build the program slowly, Joe was Angle's first feud in TNA, with Kurt winning a straight-up singles match at the Genesis 2006 pay-per-view, ending a winning streak Joe had in the promotion. The Samoan Submission Machine would get even with a victory over The Olympic Hero at Turning Point 2006, before they would have another rematch at Final Resolution 2007 in a match-type Angle knew well, a 30-minute Iron Man, with Kurt again coming out the victor.
Their matches were great, living up to the fans' high hopes for them, but perhaps more importantly for TNA, Genesis set the all-time company record for pay-per-view buys. Joe and Kurt would rematch multiple times in the coming years, with Lockdown 2008, a show headlined by Joe finally dethroning Angle for the TNA World Heavyweight Title, inside a steel cage, becoming another one of the promotion's biggest pay-per-view successes. Angle's TNA run was stuffed full of great matches with a variety of wrestlers, but in terms of getting fans to shell out their hard-earned money, Joe was his very best dance partner.
AJ Styles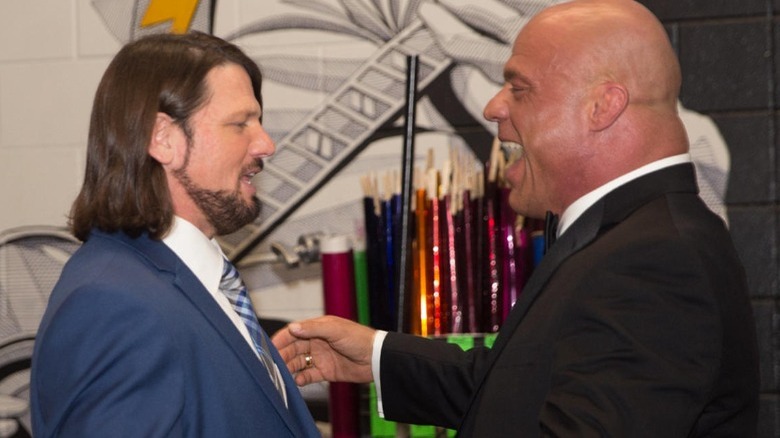 WWE
Samoa Joe wasn't the only elite-level opponent TNA had to offer Angle. Of all the wrestlers on this list, Kurt might have the most extensive history with AJ Styles. Over the course of fewer than seven years in TNA, Styles and Angle wrestled each other in singles matches on TV and pay-per-view no fewer than 17 times. That's not counting tag matches or any kind of multi-man match. That's also not counting a short match they'd have on "SmackDown," nor a pair of tag matches they worked in New Japan. The Olympic Hero and The Phenomenal One were two of TNA's most reliable performers, so it's no surprise the company went back to that pairing over and over again.
It might be easier to go over what AJ and Kurt haven't done against each other rather than what they have. They've wrestled in a ladder match, a tables match, a last man standing contest, cage matches, Full Metal Mayhem, and multiple King of the Mountain bouts. They fought for Angle's Olympic gold medal, which AJ temporarily won. Is AJ Kurt's greatest opponent? That's impossible to say, but what we can tell you is that in a 2017 interview on Lilian Garcia's AfterBuzz show, Kurt said that if he could have one last match, it would be against Styles. To have wrestled one person so much for so long and to still want to go back for more says a lot in our book.
Jeff Jarrett
In terms of rivals, Kurt has never had one like Jeff Jarrett. In addition to being one of the founders of TNA, Double J was also one of its top stars, so it was only natural that the two were frequent opponents in The Olympic Hero's new post-WWE home. Over time though, something else happened that kicked things up to a new higher level: In real life, Jeff ended up marrying Kurt's former wife, Karen. It was a development that resulted in TNA owner Dixie Carter temporarily suspending Jarrett from the company. When he returned, that legitimate backstory, as well as Karen herself, ended up being weaved into one of the weirdest feuds in modern wrestling.
Ever heard of a match where Angle teamed with Chyna to wrestle Jeff and his ex-wife? It happened. How about a match referred to as Ultra Male Rules? It happened. How about a match between the two where if The Olympic Hero failed to score the victory, he'd be forced to walk his ex-wife to the altar for her vow renewal ceremony with Double J? Not only did it happen, but Jeff won. It all ended with a final match where the stipulation was that if Jarrett lost, he would be exiled to Mexico and not be allowed to take Angle's kids with him. Thankfully, for Kurt's sake, Jeff lost that one. Is Jarrett the opponent Kurt had the best matches with or drew the most money with? Definitely not. Was Jarrett the opponent he had the weirdest feud with? There is no doubt.