AEW Dynamite: Holiday Bash Results (12/21): The Elite Face Death Triangle, FTR In Action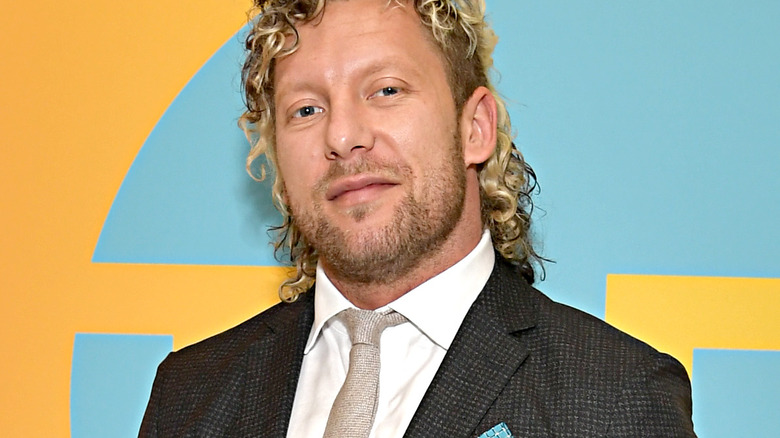 Emma Mcintyre/Getty Images
Tonight's festive episode will see all the fallout from last week's AEW World Championship match unfold as we are expected to hear from both Bryan Danielson and Ricky Starks. MJF was able to defend his title successfully against Starks, who will now be looking for what's next. However, when it comes to who is next for MJF it appears that the Blackpool Combat Club member is exactly that as Danielson chased him out of the ring last week to close the show.
When it comes to in-ring action it will be match five in the best-of-seven series between The Elite and Death Triangle this week, with the latter currently leading 3-1. This is a must-win match for Kenny Omega and The Young Bucks, and after suffering at the hands of the hammer previously, this one is going to be a No Disqualification match.
In the women's division, Jamie Hayter is going to be defending her AEW Women's World Championship when she collides against former champion Hikaru Shida in singles competition.
Plus, FTR will be looking to settle the odds against Austin and Colten Gunn once and for all as the two teams will collide tonight. The Gunn's have been getting under the skin of FTR for several months now, which has all been leading to this.
Finally, rapper Rick Ross will be on the show as he is going to mediate the face-to-face between Keith Lee and Swerve Strickland. The former AEW World Tag Team Champions have showcased a lot of tension as of late, including Strickland walking out on his partner at ROH Final Battle, but how will things unfold when they come face to face?
Let's Hear From Ricky Starks
Ricky Starks kicks things off to a great ovation, and he admits it would be nice to be standing here as the new AEW World Champion but that's not how things turned out, as he lost. He admits he should've known better, but at least he lost like a man whereas MJF won like a coward. He can stand here with respect, but MJF doesn't have any of that, including a pair of these (as he grabs his privates). 
He says there will be a next time, and imagine how close he will be then. Starks says this doesn't mean it's the end of the road, this is just the start and if he has to work his way back up then that's fine, line them up so he can knock them down. He will be the man around here because he is Absolute Ricky Starks...this leads to an interruption from Chris Jericho, who is with Daniel Garcia and Sammy Guevara. 
Jericho claims he has been watching Starks for a long time, and he did come this close to being champion. He says Starks is a million-dollar talent, and he guarantees he will be a World Champion someday, but he's not ready yet. He doesn't want him to be a flash in the pan, and after talking it over with the others, they think he has what it takes to be a big star and all he needs is some influence and advice, and a little Chris Jericho.  
Jericho invites Starks to join the Jericho Appreciation Society, and Starks says he likes that Jericho knows how to stay relevant and constantly evolve. He was coming out here built like an air fryer, but now he's shredded and is dressed like a single father on his fifth divorce, which he loves. He admits the offer is tempting, but he says hell no. Starks mentions Jericho's recent loss and says the J in JAS might as well stand for jobbers. 
He labels Garcia and Guevara as "jazz holes" and he points out Garcia has lost his title and he couldn't care less about Sammy. He suggests on January 4th, that Jericho faces him one on one, but Jericho says that was the wrong answer and that leads to Jake Hager appearing to jump him as the group then begin their attack. Action Andretti then hits the ring and ends up cleaning house to help Starks as they send JAS packing.
Death Triangle (3) vs. The Elite (1) (Best-Of-Seven Series No Disqualification Match)
All six men begin brawling instantly with The Elite all being taken out of the ring with superkicks as Death Triangle then takes flight and takes them out on the outside. Back inside the ring, they focus on Nick Jackson until his partners make the save and Penta gets attacked with Michael Nakazawa even heading in to attack. Brandon Cutler looks to do the same but Alex Abrahantes stops him until Cutler sprays him in his face.
The Elite takes control until Penta uses a trash can to level things up and they then hold it over his lower regions as Penta dives with a dropkick from the top rope to crash it into him. The champions then slow the pace down as they set up tables and bring down a Christmas tree as the brawling continues. All three members of The Elite then get launched into the Christmas tree in the corner of the ring, but Nick Jackson fires back with a high crossbody. 
However, as he goes for a thrust kick, PAC avoids it and Nick ends up kicking a steel chair, tweaking the ankle injury from last week. PAC then trash it into the chair and heads to the top turnbuckle to stamp on it but Omega launches a trash can at him instead. Matt Jackson then takes out the Lucha Brothers, while Omega uses the trash can to hit a moonsault to PAC, which gets a near fall. 
Omega then pulls out a barbed wire broom which he attacks Rey Fenix with as his fellow Death Triangle members get set on tables outside the ring. The Young Bucks then scale the top turnbuckle and take out both men while Omega hits a Tiger Driver 98 on Fenix that lands both on the barbed wire, but the masked man kicks out. They look for the BTE Trigger but Abrahantes grabs Omega's leg which stops it momentarily. However, they fight back as Omega nails Fenix with a V-Trigger, but as he looks to hit his finisher, Fenix reverses and almost beats him with a roll-up.
That doesn't work so Fenix blasts Omega in the head with the hammer, but that's not enough to get the job done here! PAC then locks in the Brutalizer while using tinsel as Nick then gets locked into an ankle submission, but Matt comes in and saves both men. All three Death Triangle members have a hammer each, but Penta and PAC get pulled out as Omega nails Fenix with a snap dragon suplex. A chair is then placed in the ring as The Young Bucks plant Fenix head-first onto it for the win. 
Winners: The Elite (They remain 3-2 down)
After the match Death Triangle come back and attack the group with the hammers, busting Nick Jackson open. 
Renee Paquette Interviews Bryan Danielson
A clip of MJF from last week is shown as he reacts to Bryan Danielson ruining his moment. He calls him a worthless scumbag as everyone in the company wants to ride his wave and eat off his place. But when it comes to the reign of terror, Danielson will eat less than he desires, and more than he deserves.
Action Andretti is then interviewed as he says he did the impossible and defeated Chris Jericho, and his life hasn't been the same since. He knew that JAS would have built up anger to dish out, but he had Ricky Starks' back. 2.0 then turns up and says he's on a hot streak and is on fire, but as he turns around Jericho is there to blast him in the face with a fireball.
Renee Paquette then welcomes Bryan Danielson to the ring and asks where William Regal leaves the Blackpool Combat Club, and he knows he doesn't expect the group to forgive Regal as he has done some bad things. However, he trained here in San Antonio, Texas, and while he was first trained by HBK, the man who turned him into the wrestler he is today is Regal, and he turned him into the person that he is. 
Danielson knows the rest of BCC doesn't have the same relationship, but when Regal was in the hospital and he thought he wouldn't see him again, he cried. Regal has made him better and the entire industry. Danielson loved having Regal in AEW, and one thing Regal taught him is there are consequences to your actions, and that is one thing that MJF needs to learn. Danielson has been listening to everything MJF and he tells him to get his ass out here. 
Instead, he gets Ethan Page and Stokely Hathaway as he points out he would be the man with the World title if he'd faced MJF. He says the vegetable man thinks he gets to jump ahead of him, and Hathaway tells him to go and be a family man, but Danielson cuts them off and says he didn't hear them. Page says he called him a vegetable man because he will turn him into that. Danielson tells him to do it right here, but Page declines and opts to face him next week. 
Jon Moxley is then shown backstage and says he will be at "AEW Rampage," and he tells Adam Page they can keep fighting, but when will they settle it in the ring? He questions how Page saw things playing out with the accident, it's not his problem that Page has a glass jaw. He says he will have to teach Darius Martin a harsh lesson tonight. 
Jon Moxley vs. Darius Martin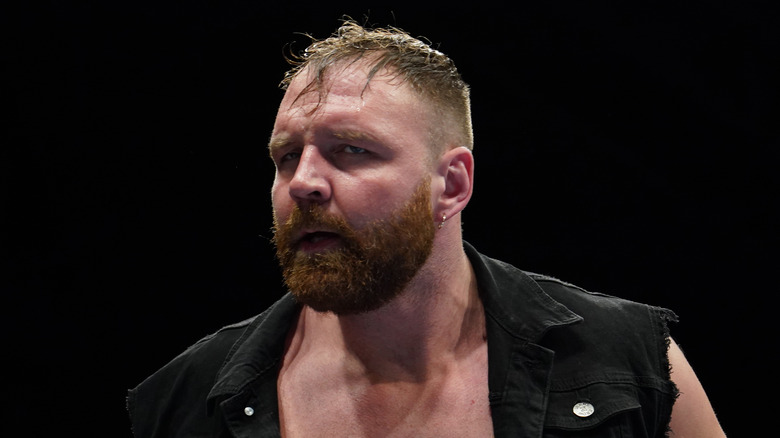 Etsuo Hara/Getty Images
Samoa Joe is shown in a pre-taped segment as he wishes everyone a happy holiday season, including Wardlow. That's because he won't be having a happy New Year, as he will take from him after he's finished the holiday cheer ends. 
HOOK vs. Exodus Prime 
HOOK immediately brings Exodus Prime down to the mat and he follows it by throwing hands to him in the corner, including a big slap. He then launches Prime across the ring and then nails a big lariat which he follows with some crossface strikes and then Red Rum. 
Winner: HOOK 
Stokely Hathaway is then shown backstage with Big Bill and Lee Moriarty attacking Jack Perry as he gets Chokeslammed into a dumpster. 
Jon Moxley vs. Darius Martin
Martin starts out showing no fear, taking the fight to Moxley and despite eating a slap to the face he sends the BCC star outside the ring with a big dropkick. However, Moxley brings his opponent out of the ring and launches him into the safety rail before taking the fight into the fans with a suplex onto the concrete floor. He shoves Dante Martin as he tries to check on his brother, and he then slams Darius into the guard rail again. 
However, Moxley chooses to trash talk Dante which allows Darius to hit a tope suicida, but as he goes for a top rope maneuver, Moxley nails him with a forearm strike which sends Darius to the floor. Back inside the ring, Moxley turns him inside out by launching him into the air and back down as he then begins working on the knee. Moxley then chops Darius and connects with a superplex as he remains in control with the hammer and anvil elbows. 
Darius fights back with a chop of his own and the two men then trade forearm strikes. The veteran hits a kick to the formerly injured knee as he then pulls at the brace Darius has on. He battles back again though with a Pele kick which busts Moxley open and allows him to get some momentum with lariats and a flat liner which gets him a near fall. However, Moxley then reads one of Martin's high-flying moves and he stomps down on his head which is followed by more elbow strikes. That's followed by the Deathrider for the win. 
Winner: Jon Moxley 
Gunn Club vs. FTR
Dax Harwood starts things out but shows the wounds of their double dog collar match so Cash Wheeler tags in and immediately takes control of their opponents, launching Colten Gunn into his brother repeatedly as he is beaten down in the corner. FTR then hit the ring at the same time with clotheslines that send both Gunns out of the ring as they continue to brawl with them around the ringside area. 
Colten does turn things around though by slamming Wheeler head-first onto the ring apron, but the FTR star immediately regains control as he stomps Colten in the corner. However, a distraction from Austin works well and allows his brother to connect with a dropkick, and Austin then tags in to help take control of Wheeler as they isolate him. Wheeler runs and drops Austin into the turnbuckles though, but before he can tag in Colten stops it, only to then miss with a splash in the corner. 
Harwood gets to tag in ad he drops both Gunns with some right hands as he unloads on chops to Austin until he's blindsided by Colten, but Harwood manages to hit him with a lariat as well. He looks for a Sharpshooter for Austin, but Colten drags him out of the ring instead, yet as they try to hit a piledriver outside the ring Wheeler dives out to hit Colten, only to be sent into the barricade for his troubles. 
Austin slams Harwood into the stairs and he then tunes up the band, but instead of hitting it he tells Dax to "suck it," and he locks in a Sharpshooter of his own until Wheeler breaks it up. He then launches Colten out of the ring, but as he dives from the apron Colten sidesteps which leads to Wheeler slamming into the guard rail. 
Back inside the ring, Harwood aims for a piledriver but his previous injuries stop him, and instead he goes for an O'Connor Roll which Austin reverses as he then holds the ropes and his brother's hand to get a win via cheating. 
Winners: Gunn Club
Sonjay Dutt is then shown in a video package with the rest of his group as he does an Acclaimed style rap.
Keith Lee & Swerve Strickland Mediation
Rick Ross is shown inside the ring as he prepares to mediate the situation between Keith Lee and Swerve Strickland. Ross welcomes him and says when he comes out he makes history, and tonight they will do that, he then calls Lee a "big motherf***er," which Lee hilarious reacts to as he looks shocked. Ross keeps asking for Swerve Strickland to appear, and eventually, he does. 
Swerve says he didn't know we were doing things on Lee's time again, he isn't waiting for anybody and he will do things his way. He says he tried with Lee and he gave him the whole world as they should own everything, but he tells Ross that he can't deal with all the accusations that Lee makes, with Ross says they can't deal with that. Swerve says Lee can't keep an eye on the ball, the titles, or his health. 
He also tells Lee to keep his eyes in the back of his head from now on, and that leads to Parker Boudreaux appearing as he attacks Lee from behind, but while he gets a few shots in, Lee can take him out with a clothesline. Ross says that Swerve is an icon and a legend as he watches on, and Lee then heads to confront him as another wrestler appears and jumps Lee, sending him into the guard rail while Ross comments on everything. 
Lee manages to hand his own but Boudreaux turns up again with a chair, hitting him from behind. The two men then work together to attack Lee as they set him up on the steel stairs and place a cinder block onto his chest, with Strickland nailing a diving foot stomp onto him, which explodes it all over him. 
Jamie Hayter (c) vs. Hikaru Shida (AEW Women's World Championship Match)
The two women waste no time showcasing their hard-hitting nature to kickstart this one as they go back and forth with a barrage of strikes and chops to get this started as a major fight, with Hikaru Shida dropping the champion with a knee strike. She continues her attack by launching Jamie Hayter into the turnbuckles before delivering a huge running knee strike as the Englishwoman is draped off the ring apron. 
Back inside the ring, Shida hits another running knee strike, but she goes to the well too much as the champion reverses by dropping Shida onto the top turnbuckle which she follows by stomping down on her. Hayter then suplexes Shida into the bottom turnbuckle, and she then drags her to the floor, and launches Shida into the steel stairs. She then repeatedly launches Shida into the guard rail before stomping down on her head and then relaxing while sitting on the chair to showcase her arrogance. 
Shida fires back with several strikes of her own, but Hayter can throw her into the second turnbuckle to slow her momentum, following it with another suplex which gets a near fall. They then go back and forth again with forearms until Shida hits a dropkick, and that leads to her hammering down right hands in the corner, following it up with a missile dropkick. 
However, Hayter responds with a snapmare from the turnbuckle to the ring apron, and she then tries to German suplex her to the floor but Shida holds onto the ropes and then sends Hayter into the turnbuckles, and then nails a suplex to the floor! Hayter connects with a big boot back inside the ring, but as she runs after her, Shida can reverse with a knee strike which gets her a near fall. 
She follows that up with a Meteora and then a Falcon Arrow, but Hayter just manages to kick out! Shida looks for a high-risk move but Hayter pushes her down to the mat only to miss with the moonsault press as Shida follows with a running knee strike which gets another near fall! Hayter plays possum and that allows her to drop Shida onto her knee and follow with a sliding lariat, and this time it's Shida kicking out to keep the match alive. 
Hayter nails a backbreaker, but yet again it's not enough to get the win. Shida comes back with a question mark kick and then an axe kick which is followed by a German suplex, but Rebel distracts the official which allows Britt Baker to head in with the kendo stick. Shida manages to take care of the situation though, hitting the dentist with the weapon herself. However, Hayter then connects with a Powerbomb which gets a near fall, and then a standing ovation from the crowd. Hayter comes in with a huge lariat, but Shida kicks out once more! She comes in again with a Ripcord Lariat, and this time she's able to keep Shida down in her first title defense. 
Winner (and still AEW Women's World Champion): Jamie Hayter
Afterward, the women continue to attack Shida until Toni Storm hits the ring and makes the save, but Hayter nails her in the back with the title belt. The women then attack Storm, and this time it is Saraya who hits the ring, dropping Baker with a thrust kick to send the heels scampering.