EJ Nduka Shares His Development In MLW, Learning From John Cena & World Title Goals - Exclusive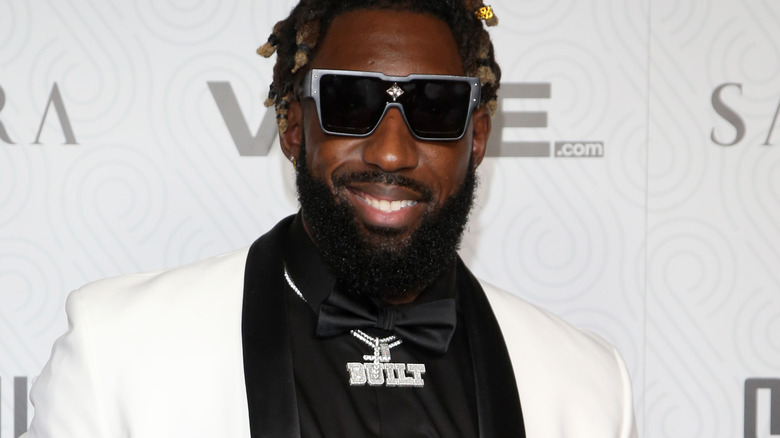 Gabe Ginsberg/Getty Images
EJ Nduka was a pro athlete first and a pro wrestler second, and "The Judge" knows such an experience is invaluable between the wrestling ropes. After being released by WWE during the COVID-19 pandemic, Nduka swiftly found his footing in Major League Wrestling and immediately became a main player in the promotion. Nduka was dominant in his debut, eliminating the most men ever in the Battle Riot, and it wasn't long before he found a friend in Calvin Tankman. The two formed a dominant duo as Hustle & Power, and became the World Tag Team Champions after defeating 5150.
MLW programming took the summer off, but a new season kicked off at the beginning of November and sparked a new beginning for Nduka. Throughout his MLW tenure, Nduka formed a friendly rivalry with World Champion Alex Hammerstone, but "The Judge" turned heel on Hammerstone after the champ agreed to a world title fight. The heel turn displayed Nduka in a new light, and he will soon face Hammerstone on an upcoming episode of "MLW Fusion."
In a new interview with Wrestling Inc.'s Dominic DeAngelo, EJ Nduka talks about being a heel, what he's learned so far in Major League Wrestling, the one-of-a-kind insight he garnered from speaking with John Cena, and more.
The MMA And Pro Wrestling Crossover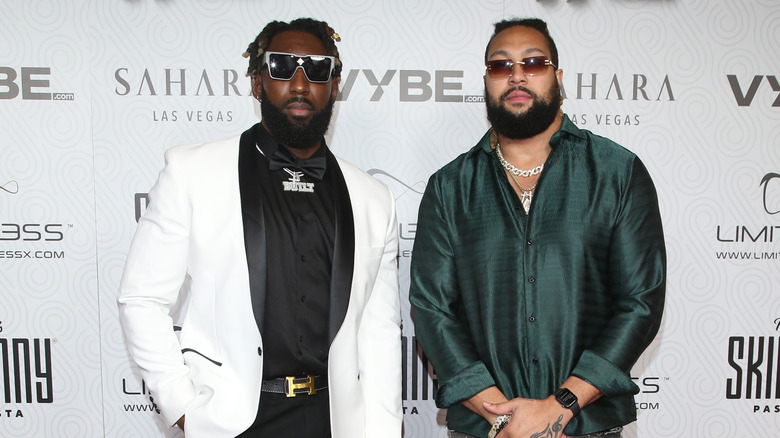 Gabe Ginsberg/Getty Images
You were just at the 14th annual World MMA Awards. How was that being a part of the ESPN environment and just being in that kind of atmosphere?
Man, it was dope. I can't even put into words. I am a huge MMA fan. I've been a huge fan since 2011. And so I got to see a lot of my favorite fighters. Got to sit down, I was table to table with them. I was invited by them, MMA, to do the "Fight of the Year." So it was the main event award, and it was awesome. I got to meet world champions, future world champions, Israel Adesanya, [Julianna] Pena, [Tai Tuivasa], like, oh man. I met so many people, and they're just awesome, awesome, awesome. And they're huge wrestling fans, too. It was super dope just to be in that environment. Dana White was there ... it was just incredible. Some of the greatest athletes in the world, and just to be in the same room and just be on the red carpet with them was dope. Met a lot of ESPN executives, UFC, shout out to that whole organization, World MMA Association. They put on an incredible show. We were on ESPN+ streaming on CBS Sports Network. Just from top to bottom, they really, really, really took care of us, from the second I got off the plane to the second that I got back home. It was an incredible experience.
Did you get to interact with somebody like a Dana White or anyone like that?
I mean, yeah. I didn't get to really talk to him like I would've, because it's an award show, so everybody's in and out. As a presenter, I'm over here trying to learn my lines. I co-presented with Laura Sanko, ESPN analyst and reporter, so that was actually dope. I did chop it up a lot with Israel though, backstage. We have a mutual set of friends. I'm good friends with Usman Muhammad, former UFC Champion. So we talked a little about that and he was like, "Oh, The Judge, I got to check you out, man." They're just cool people and just awesome.
Is there a certain MMA fighter that you're like, "Man, this guy would be just great in the pro wrestling ring"?
Israel, have you seen him?
Oh yeah.
His entrance is like it's crazy.
'Cause he does The Undertaker stuff too, right?
Yeah, yeah. I mean, he's already a fan.
Yeah.
I'm telling you, you guys would be surprised how many UFC fighters are fans of the sport, respectfully so. And I'm a huge fan of them, so it was just great conversations. I was talking to Pena, and she was talking about how she just was hanging out with Charlotte Flair. So there's a mutual respect there.
Turning Heel On Hammerstone
Have you ever kind of had the inkling to do some MMA fighting at all?
Oh, I did. I trained for three years, and I dabbled a little bit. I was going to Orange County jiu-jitsu over there. Before I even got into the wrestling world, I was training at Victory MMA in San Diego. I was doing a Muay Thai jiu-jitsu, a little bit of wrestling. And so I wasn't doing it to fight professionally, but they were asking. They kept kind of like, "Eh, eh." You know what I'm saying? I ended up joining their team, and I would go to team practice, shout out to Coach Frye. Man, I appreciate you. He was always saying like, "Hey EJ, you're a monster. You got to switch." He was like, "If you ever want to do this, let me know" ... And I said, "Look, I'm too pretty. Now, you see this face, come on. My ears still look good."
I'm just kidding. But yeah. I trained for a number of years. I had fun. It helped me stay competitive, helped me stay in shape. And I always say like this, there's nothing like being put in that octagon for three minute three rounds. And then basically that's just going at it. The adrenaline rush is incredible. The cardiovascular shape that you get into, the mental space, I have so much respect for these fighters and what they do, what they put their body through, because it is no joke.
It's taxing too, just the physical mentality. It's your entire body. You're getting out there and everything like that.
You can exhaust yourself before you throw one punch just from the adrenaline dump. Seriously, it's nuts. It's nuts. It's almost like you could be so nervous, it's like in your dreams when you're trying to run away but you can't because you can't feel your legs. That's literally how it feels when you're in there and you're exhausted ... If you don't keep your hands up and you don't stay cognitive, you going to get your ass knocked the hell out. All the way out. I'm talking about you going to wake up in 2059, you know what I'm saying?
You're knocking people out in MLW, and you started big too with Alex Hammerstone a couple weeks ago, slamming him through the table. Just a new era for The Judge. Talk about what that's like being on the other side, the heel aspect of things, and how does that kind of feel to embrace all that?
Hey, it feels great. When I was a babyface, I had fun. I was learning it. You get to figure out who you are, figure out who "The Judge" is, kind of see the scene. But as a heel, I'm having fun, you know what I'm saying? I'm getting to say some of the things that I might not have been able to say as a face, but now I'm letting every one of y'all know why I'm the best.
Being In The World Title Picture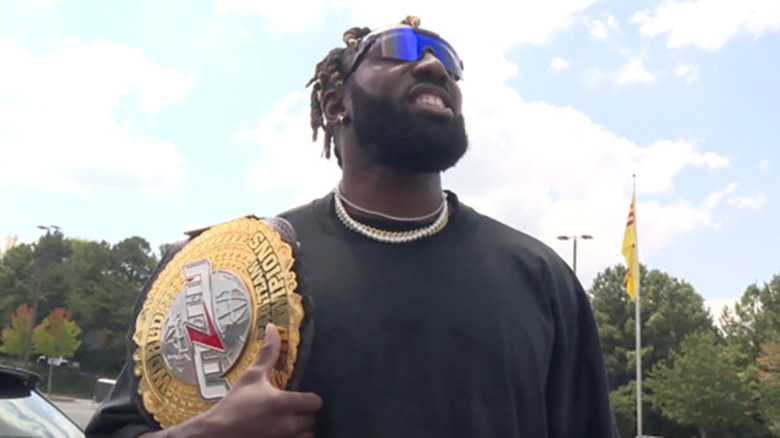 Major League Wrestling
Well, so being kind of put in that world title picture now, has that gotten you a new almost level of mentality and confidence going into it being like, "Hey, this is the direction I wanted to be on, and here I am on that path?"
I would be lying to you if I said yes, because I've had that direction from the day I got into this business. I wanted to be the best. I wanted to be the best, and I knew to be the best, I had to put myself in a position to become the best. And so I take acting classes on my own. I'm working out sometimes twice a day. I'm watching film. I'm constantly watching film. I'm constantly reaching out to coaches and just kind of figuring out what I need to do to be the best. And so me getting plugged into this storyline, rightfully so, it wasn't given, it was earned. Let me make that clear. Getting this opportunity to finally show everything that I've been showing. I've been planting seeds for the last 18 months. Just planting, planting, planting, knowing that one day I was going to reap a huge harvest.
And now everyone's getting to see exactly what I've been doing, and I'm just excited to show everybody what I've been working on. And that match was incredible. It was fun. We pushed each other to the limit, as you know. You were there. You saw.
Yep.
It was a dope. I always say the crowd was in it, but the crowd's in all my matches. And I can feel y'all ... When I come out, I like to think that I bring the energy, but that Philly crowd, hey, y'all are with me. And I appreciate it, even though I can't stand y'all because I'm a heel, okay? I don't need y'all. But yeah, y'all are dope. And I always have a lot of respect and admiration for you guys, because you're paying money to come see us, and my job is to perform. And that's exactly what I'm going to do.
You were talking about that Philly reaction, and they immediately popped for you at Battle Riot III, and that energy was there, man.
Yeah. And this last match, I was a heel, and they're still [popping], you know what I'm saying? As much as I was being an a**hole to them, they were like, "Oh, no." You know what I'm saying? So it was dope. It was incredible. We had an incredible match, main event of that thing. Let them know we ain't coming here to play. And we did what it did, and I came for the gold, you know what I'm saying? As advertised, I realized, and I understand that you see this gold over my shoulder, I am part of half of Hustle & Power, but I do want another gold over my shoulder. So I came in there with everything I had.
Getting Better And Staying Humble
How has it been? You've been there for over a year now at MLW.
Almost two years.
Is it almost two years now?
Yeah, going on 18 months.
What would you say you ultimately learned about yourself from being in MLW for this time being and given that spotlight?
I learned a lot about myself. I learned that if you honestly set aside and focus on what you've set to accomplish, you can do it. I always say, "Yo, no one's going to believe in you until you believe in yourself." And during the pandemic, it was a shaky time for a lot of us. People lost jobs, loved ones, family members, and everything was just in limbo. It was almost seems like we're just living in limbo, and people were just waiting for some sort of normalcy. And during that time, I had my son, Exodus, my amazing son. And obviously I lost my job with the WWE. And I was in a position, and I was in a point in my life where I was like, "Yo, what the hell am I going to do?" Because it wasn't like I can just get up and go get a job, because everything was shut the hell down.
And so I told myself, "If you can't get over in three months, you're done. That's it." And then rightfully so, at the Battle Riot, they popped and everything just skyrocketed. So immediately I was like, "Alright, I can do this. I'm onto something. Let me just keep getting better. Let me stay humble. Let me keep doing what I was doing to be successful." Because some guys, you get something, and a reaction like that, and things start going well, you lose that drive. But me, I got hungrier. I was like, "Okay, I got a little taste of it. Now I want the whole entree." You know what I'm saying? And I want dessert too.
And so I just locked in and continued training, continued watching film, learning more as much as I could. And good things just kept happening. Just kept happening, because like I said, planting those seeds, and life is all about the decisions you make. You just continue making good decision after good decision, inevitably good things are going to happen. Because I'm a strong believer, hard work always beats talent. You can be the most talented person in the room, but if you ain't doing nothing, I'm on your heels and I'm coming.
The Advice He Was Given By John Cena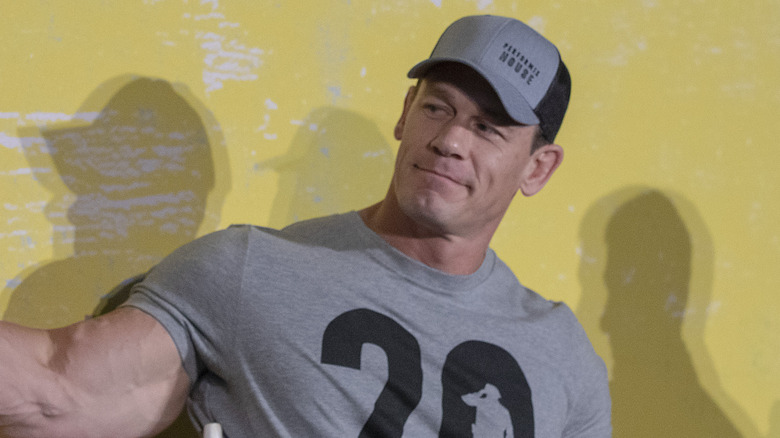 Tasos Katopodis/Getty Images
We did the [MLW] media scrums down in Dallas, and I thought this was just a fascinating story ... When you were with the WWE, you talked about how John Cena showed up at the Performance Center one time, and nobody came up to him or went and sought his advice or anything like that, but you were one of them that did it, and you talked to him for 45 minutes or something like that.
Yeah, yeah.
What did you guys talk about exactly?
So we talked for a while, because obviously John Cena is someone that I look up to and respect incredibly, and he's where I want to be, basically. He's the epitome of where I want to be. And so to get that opportunity — because it was the end of the day, and he didn't have to do this. He gave us his time. And that's one thing that people don't realize. When someone is giving you their time, that's the only thing on this earth that we can't get back. You know what I'm saying? And so I totally respected that. I waited my turn and I talked to him, and I had an idea of who I wanted to be in the WWE. And in this business, no one's going to tell you how good you are until it happens. No one's going to tell you, nobody owes you anything.
And I came to him and said, "Hey, look, this is what I want to do. This is the vision I have for 'The Judge.' I want it to be authentic. I want it to be amplified. These are the recipes. This is what I've been watching. This is what I..." And he was just nodding. He was like, "Yeah." I was expecting him to be like, "Oh, no." No, it was like we're on the same page, just chiming. And then he would give me some nuggets, some information. Be like, "Oh, maybe try it like this or this and that. And so I just started asking him questions. Like, "If you were to do this again, is there anything you would change? What is something you would tell yourself? If you had just gotten into this business, five things you would tell yourself." And he was just letting me know.
And I was asking him, "When you go into a match, what are some of the things that helped you be successful in where you get to?" Till this day, I still use it. I mean, I would never stop using it, but he gave me some incredible advice that I use in my matches and helps me structure my matches. Like, "Why are you doing that? What would The Judge do?" Just helping me understand like, you don't want to ever just do something to do something, because you want it to be meaningful. And he was incredible at making things meaningful. And so, incredible wealth of knowledge.
Learning From Edge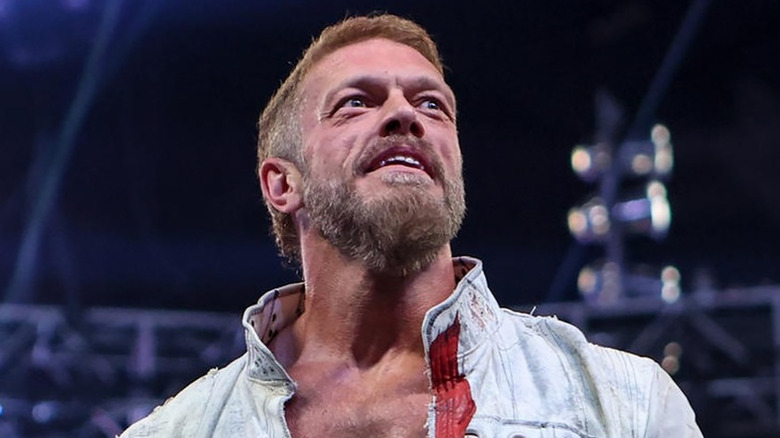 WWE
Him and Edge. Edge saw my first match. He came to speak to the PC, and I was main eventing a PC match, a PC live. And he so happened to watch my match. And immediately when I was done, he comes up to me, and he was like, "Bro, you have incredible fire." And I'm like, "Damn, Edge just gave me a compliment." You know what I'm saying? I'm like, "Damn." And so I picked his brain, like, "Hey, what can I work on?" This and that. And he told me, and he gave me his number, and I always talked to him. And it's like, "Hey, could you check this match out? How are the little ones? How's the family?" And he's an incredible person. Another wealth of knowledge, has just been very gracious to share some of it.
You are a pro athlete, and so having that kind of determination and drive and dedication to a sport really kind of puts the mentality at a different level that a lot of, I think, wrestlers, aren't used to knowing.
No question.
Do you think that's something that a lot of wrestlers can really learn from, and how would you go about instilling that in a lot of talent today?
Yeah, of course, bro. I've been a pro-rate athlete all my life. Since I left high school, I went straight to college, played professional, I mean, played college ball and then went on and played professional football for six years, became a pro bodybuilder, and now I'm a pro wrestler. And the recipe has never changed.
I like to say this, my college coach used to say this all the time. He said, "You become more valuable when you're more versatile." And to become more versatile, you have to continue to learn. You have to continue to add to your arsenal. And so you can take ammunition from here, here, here, ideas from here, here, here, but the second you think you know it all is the second you crash and burn. Because pride comes before the fall. And so my family, my little ones, they help me stay humble, because I don't do this for myself. As arrogant as The Judge is, the character, I am very selfless when it comes to this, because I'm trying to build an empire for my little ones, my son here and then the one on the way, and my wife and family. And that's my biggest drive.
The Nduka Mentality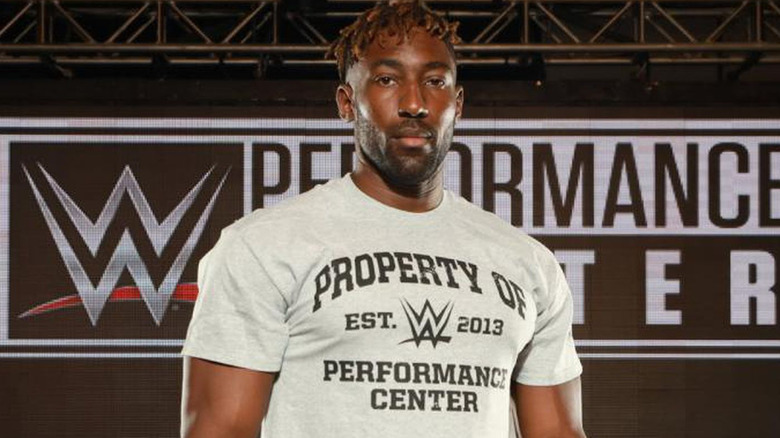 WWE
It's one of those things where when you become more selfless and more humble, naturally, you get to retain more and you learn more, because more people want to work with you, and more people believe in you, and they believe in your drive. Because when you have a business, a federation, a company, a promotion, or whatever you want to call it, and they believe in the talent and those things come together, woo, that's a recipe for a megastar. And that combination right there is lethal. And I feel like that was the perfect recipe that came when I got to MLW, because the WWE's where I learned how to wrestle, no question. I mean the Performance Center there, I'm there five, six days a week ... Because I was hungry. I knew to get to where I had to get to, I had to do something different. I couldn't do what everybody else was doing because I'm going to be like everybody else. And so I really, really dove in ...
Even now, people ask me all the time, "Hey man, how's it feel when you got released with the WWE? Was that the motivation for you to really do what you're doing now?" Hell yes, it was! What you mean? Hell yeah. Even if I got cut from working at Walmart, that's going be my motivation. It don't matter where I was, you know what I'm saying? And so I took that as motivation. It was a chip on my shoulder to prove to myself and my family that dad is not a failure. Dad can do what he said he is going to do.
And it was more of an example, because 10 years from now, my son Exodus is going to be looking up his dad. He's going to be watching matches. And obviously, he is going to see what happened in the past. And he's going to be like, "What did my dad do after that? What did he end up doing?" And he is going to see, your dad picked up the pieces and made another masterpiece. He picked up the pieces, and he kept going forward. And he did it the way he wanted to do it, you know what I'm saying? And he did it with tenacity and determination, and he was a savage with it. And that's exactly the mentality I brought with me.
And every time I go in the ring, it's like, yo, what we do transcends. If you're doing it for the right reason, it transcends everything, you know what I mean? There's a message always in the bottle. And if your message is, "Hey, no matter what, you can get through it," because your voice is the voice you hear the most. Nobody can talk to you more than this guy up here, the voice in your head. You understand what I'm saying? 
And so if you're constantly telling yourself you can do it, you can get better, you can learn, you have the ability. And then for me to be able to say those things, I had to do it. I'm in the gym once or twice a day. I'm watching film constantly. I'm taking acting classes. So I set myself up to be successful. So in the back of my head, I'm like, "I know what I did to get here, and I know what I need to do to get to where I'm going." And so that's exactly the kind of mindset I come into. I call it the Nduka mentality.
Staying Busy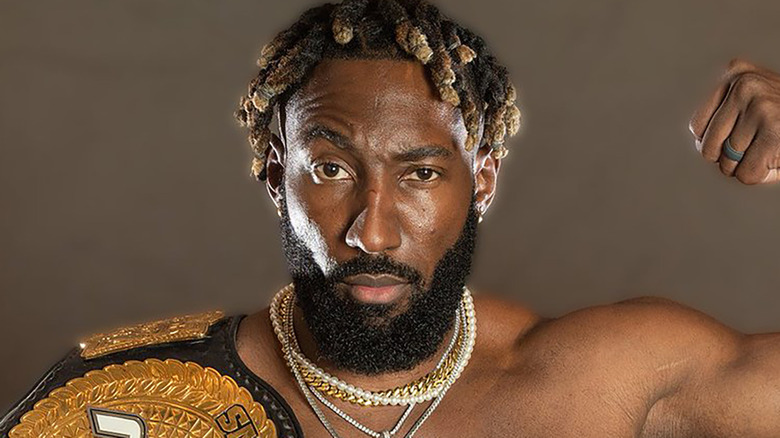 Major League Wrestling
Wrestling is such a multi-faceted industry ... Just a vast product, entertainment product that is considered sport, considered entertainment, considered so many different things, so to apply all those tools to the trade ... it's just like that's the important aspect of it all.
Brother, there's nothing like it. You hit it right on the nail. It's literally sports, acting, all of it encompassed in one, creativeness, creativity, like all in one. And then you get wrestling. And so there's nothing like it. And I got bit by the bug when I got an opportunity to start training at the PC, and I just continued to grow more and more passionate about it. And that's why I want to be the best. And that's why I will be the best.
Before I let you go, I got to ask you too, overall, with MLW coming back with Fusion and then Blood & Thunder in Philadelphia on January 7th coming up here.
That's correct.
Defending them tag belts too.
That's right, that's right.
Against the Samoan SWAT Team. It's big men galore in that baby.
Mm-hmm. S***'s going down.
What makes MLW stand out more from a presentation and production standpoint overall? Because there are a lot of neat aspects that MLW adapts, and then you see it later on, get applied to some of the mainstream wrestling products in a lot of ways too.
No question. First of all, I want to just say, shout out to my big dog, Biff [Lawson], Emilio [Sparks], and Federico. These guys really, really helped me portray who I wanted The Judge to be seen as. And so with that production crew, with a number of other guys, don't get me wrong, that whole team back there is incredible. And with a number of other guys, the production has gone up. The production value's gone up, the matches, the styles. Styles make good fights. And that's why I think MLW is so different from the other markets because we have lucha, we have strong style, we have powerhouse, we have technicians, we have it all in one. And we got a bunch of hungry people in that locker room who just want to come out and fight, me being including them

Anything else that you want to plug here? You always got some plates spinning and staying busy, man,
Come on now. The plates are always spinning with me.
Right?
Hey, yo, come on now. Hey, make sure y'all check me out on YouTube. I'm really trying to grow my YouTube channel. You can find my YouTube channel at EJ Nduka. My Instagram is @EJ_, that's it. No numbers, nothing else. Twitter is @EjTheJudge. And I'm just a guy that's about family, faith, and just trying to be the best version of myself and motivating others, because you could tell a leader about how they makes other people around them... How he makes them feel. And I try to be that leader, and God has blessed me with a lot of tools, but one of them that I'm most exceptionally excited about is being a leader, and doing as I do, not as I say. And so it's these past 18 months with MLW has been incredible because... Yo Dom, we talk, bro. And I told you what my plan was from before I even had my match. I said, "Look, this is what I'm fixing to do." You know what I'm saying? This is what I'm fixing to do. I'm fixing to be out here shining.