WWE SmackDown Results (12/30) - Roman Reigns & Sami Zayn Vs. John Cena & Kevin Owens, New Women's Champion Crowned, Drew McIntyre Returns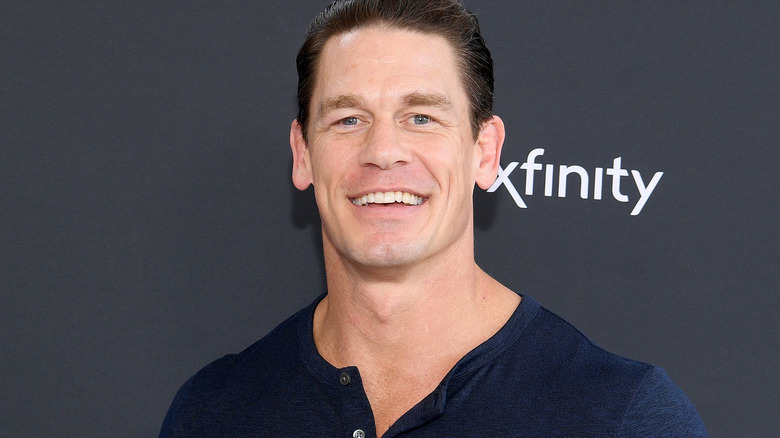 Dia Dipasupil/Getty Images
Welcome to Wrestling Inc.'s results of "WWE SmackDown" on December 30, 2022, coming to you live from the Amalie Arena in Tampa, Florida!
A massive tag team match will close out the year in the main event of tonight's show, as Undisputed WWE Universal Champion Roman Reigns and "The Honorary Uce" Sami Zayn will be teaming up to take on Kevin Owens and a returning John Cena. Tensions between Owens and Zayn have been building up over the past few weeks, leading Reigns to ask management for the match. Additionally, this will be a landmark match for Cena, as it will mark the twentieth consecutive year he has had at least one match in WWE. Which team will come out on top?
Another member of The Bloodline will be in action, as "The Enforcer" Solo Sikoa will be going one-on-one with The Brawling Brutes' Sheamus. The two men have been at odds with one another for the past few months due to the ongoing issues between their respective groups, and have previously faced one another a couple of times, as well as in the Men's WarGames Match. While Sikoa may have been victorious in their past encounters, will Sheamus finally be able to bring home the win?
Ronda Rousey will also be putting her "SmackDown" Women's Championship on the line against Raquel Rodriguez. Rodriguez earned herself the opportunity after winning a Gauntlet Match last week and has been looking to get her hands on "The Baddest Woman On The Planet" since she and her longtime friend Shayna Baszler injured her elbow five weeks ago. Will Rousey be able to hold on to her title, or will a new champion be crowned tonight?
We are live! Michael Cole and Wade Barrett greet audiences at home as Bray Wyatt heads to the ring.
We Hear From Bray Wyatt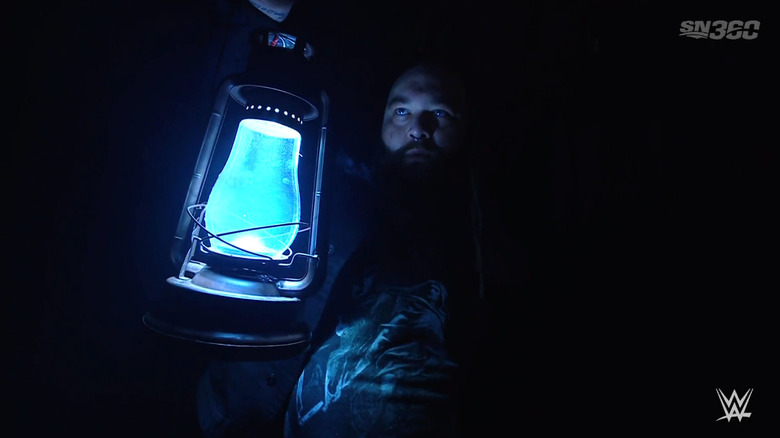 WWE/Fox
Wyatt introduces himself, then says he doesn't think of himself as a good person even though he tries to be one. He says he doesn't regret most of the horrible things he's done to get to where he is now, but he regrets attacking the cameraperson last week.
LA Knight's music hits and he cuts Wyatt off. He says Wyatt is "the master of the mind games", but he's getting gamed by him. He says he's most concerned with Wyatt "paying off one of his dudes" to come to the ring in the Uncle Howdy outfit, then says he used to be a force. He says he used to be something, but all he's proven as of late is that he's a fraud. He says he has the medicine, then says that as the "Royal Rumble" approaches, he will celebrate his inaugural one by beating Wyatt's ass.
Wyatt asks Knight who he thinks he is, then says it's time to remind the world of how cruel he can be when he feels like it. He then accepts Knight's challenge.
Uncle Howdy appears on the Titan Tron, then says to "revel in what you are" and "embrace the dark". He heads out to the ring in an all-white ensemble and slowly makes his way to the ring. He leaves his hat on the apron, then gets inside and stares down both Knight and Wyatt. He then clocks Wyatt as Knight rolls to the outside. He grabs his hat and heads to the back.
We then head backstage and see Sami Zayn knocking on The Bloodline's dressing room. Paul Heyman emerges and the pair embraces. Heyman asks what he can do for him and Zayn says he wants to talk strategy with Reigns. Heyman says he was just talking to Reigns and hypes him up on behalf of Reigns. He imparts some wisdom on Zayn and Heyman says the world will be admiring Reigns as the crowd chants him on. He adds that life on the Island of Relevancy requires one to stay three steps ahead at all times.
Back from the break, The Brawling Brutes head to the ring followed by Solo Sikoa and The Usos. 
Solo Sikoa (w/ The Usos) vs. Sheamus (w/ The Brawling Brutes)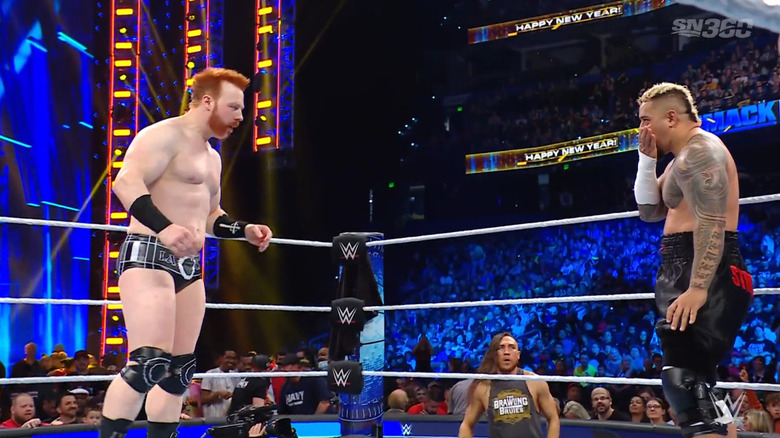 WWE/Fox
The bell rings and the two lock up. Sheamus looks for a shoulder tackle, but Sikoa blocks it. They exchange submissions before Sikoa delivers a right hand and a kick to Sheamus' midsection. He pushes Sheamus to the mat, then chokes him on the middle rope. Sheamus fires back with a kick and an uppercut, then follows it up with several right hands and tosses him to the outside.
Back from the break, Sheamus delivers several right hands to Sikoa's midsection. Sikoa delivers a Samoan Drop, then Sheamus delivers a clothesline and a kick to his face. He follows it up with a modified bodyslam and the Fifteen Beats of the Bodhran. Sikoa delivers a superkick, but Sheamus manages to hit a big knee. He goes for a pin, but Sikoa kicks out. Sikoa delivers a headbutt, but Sheamus fires back with an Irish Backbreaker and locks in the Texas Cloverleaf. Jey tries to help Sikoa reach the bottom rope, but the referee catches him as Jimmy gets his hand under the rope. The Brutes then stare Jey down and Jimmy delivers a superkick to Butch before Holland beats him down. The Usos get the better of him as Sheamus goes flying off the top of the ring post to take them down. This allows Sikoa to deliver a Uranage onto the apron before he tosses him back in the ring and delivers the Samoan Spike for the win
Winner: Solo Sikoa
After the match, The Usos and Sikoa attack Sheamus. Sikoa grabs a steel chair from the timekeeper's area, then sticks Sheamus' head through it. 
Drew McIntyre's music hits and he heads to the ring to make his triumphant return! He takes out The Usos, then stares down Sikoa and clotheslines him to the outside. He hits the Claymore Kick on Jimmy before The Bloodline retreats and McIntyre stands tall in the ring with The Brutes .
We then head to a video of the events leading to the title match between Ronda Rousey and Raquel Rodriguez.
Back from the break, Rodriguez heads to the ring followed by Rousey and Shayna Baszler.
Ronda Rousey (c) vs. Raquel Rodriguez for the SmackDown Women's Championship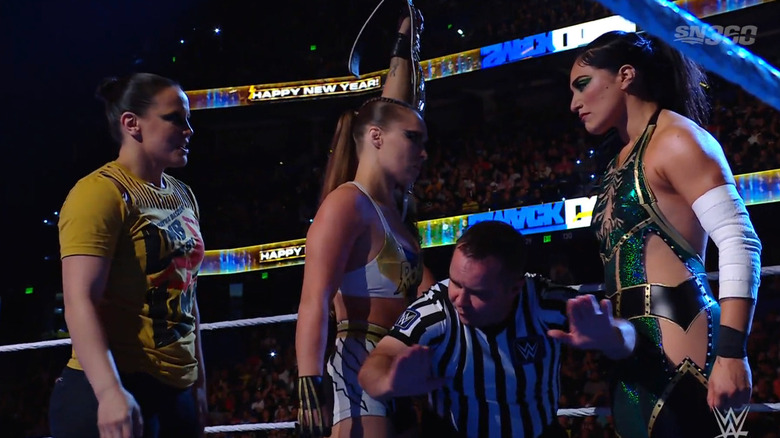 WWE/Fox
The bell rings and the two lock up. They exchange submissions before Rousey fires off several right hands. Rodriguez fires back with a pair of shoulder tackles and a spinning slam. The two women spill to the outside before Rodriguez plants Rousey on the apron, then gets her back inside and tosses her across the ring. She delivers a splash in the corner, then charges at her but instead collides with the ring post.
Back from the break, the two women hit one another with right hands to their midsection before Rodriguez delivers an elbow and a boot. Rousey delivers a hip toss, then mocks Rodriguez and goes to work on her elbow. Rodriguez fires back with a Fallaway Slam, then follows it up with a clothesline. She looks for a Spinning Slam, but Rousey counters it into an Arm Bar. Rodriguez reverses it into a Boston Crab, but Rousey trips her and locks in the Ankle Lock. Rodriguez escapes and delivers a flapjack. The two women spill to the outside before Rodriguez powerbombs Rousey into the apron.
Back from another break, Rodriguez delivers a Fallaway Slam. Rousey then locks in a Sleeper, but Rodriguez escapes and sends Rousey into the corner. She delivers the corkscrew elbow, then goes for a pin but Baszler puts Rousey's foot on the bottom rope. The referee catches her as Rodriguez and Rousey teeter on the top rope. Rousey locks in the Arm Bar and pulls her down. Rodriguez has no choice but to tap.
Winner (and still): Ronda Rousey
After the match, Charlotte Flair's music hits as she makes her surprise return! She gets in the ring and grabs a mic. Rousey taunts Flair about her arm injury and says she probably wants to challenge her at "Royal Rumble. Flair says she's not waiting until then and will be challenging her tonight. Rousey drops the title at her feet, then says "she's feeling spicy."
Ronda Rousey (c) vs. Charlotte Flair for the SmackDown Women's Championship
WWE/Fox
The bell rings and Flair delivers a big boot. She goes for a pin, but Rousey kicks out. Flair delivers a boot to Baszler, then delivers a Spear to Rousey. Rousey looks for the Arm Bar, but Flair reverses it into a roll up for the win.
Winner (and new): Charlotte Flair
We then head to The Bloodline in their dressing room. Zayn says he wants to make sure he's on the same page as Reigns' is and asks Reigns if it bothers him when the crowd cheers for him. A look of anger washes over Reigns' face, but he collects himself and says it doesn't.
We then head to a video showing Dominik Mysterio's recent arrest.
We then head to a video of New Day, Hit Row, Maximum Male Models, Ricochet, and Madcap Moss goofing off in the locker room and joking around. Ricochet takes it a little too far with Top Dolla, and Top Dolla shoves him.
Back at ringside, Imperium heads down.
We Hear From Imperium
WWE/Fox
Ludwig Kaiser says 2022 was the year of GUNTHER. Giovanni Vinci says no man on "SmackDown" will take the Intercontinental Championship away from GUNTHER and Kaiser throws it to a video of his reign.
Braun Strowman interrupts the trio before they can say anything else and grabs a mic. Strowman says he noticed something about the video: he wasn't in it because GUNTHER hasn't beat him. He says that while no man might not be able to beat him, a monster can.
Imperium looks to walk away, but Strowman says he's not asking them. He tosses Kaiser and Vinci out of the ring, leaving GUNTHER alone with him. GUNTHER looks to deliver a chop, but Strowman no-sells it and tosses GUNTHER to the outside. He delivers the Strowman Express to Kaiser and Vinci, but GUNTHER manages to send him through the barricade and hits him with a steel chair. The trio toss him into the ring steps before getting him back in the ring and going to work on his arm.
Officials run down to separate the four men, but are unsuccessful in peeling GUNTHER off Strowman. Ricochet runs down with a chair in hand to be the equalizer and Imperium retreats.
Back from the break, Kevin Owens and John Cena head to the ring, followed by The Bloodline.
Roman Reigns and Sami Zayn (w/ The Usos, Solo Sikoa and Paul Heyman) vs. John Cena and Kevin Owens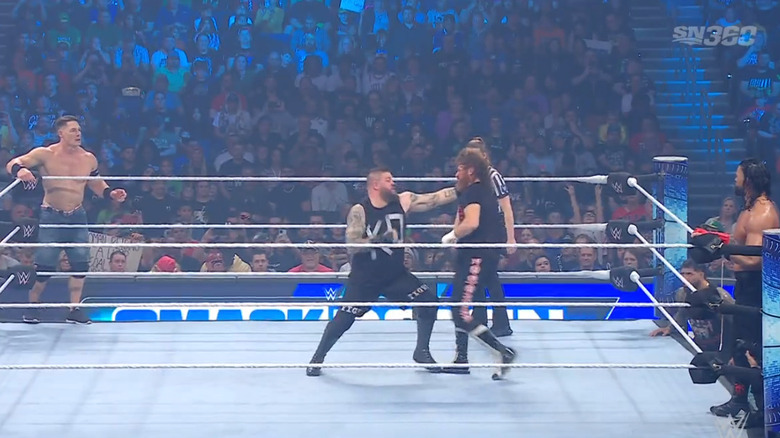 WWE/Fox
Zayn and Owens begin the action. The bell rings and the two lock up. Zayn delivers a back elbow before Owens delivers a senton. Zayn sends Owens' face bouncing off the top rope, and Owens sends him colliding with the top rope. Owens taunts Zayn and tells him to prove himself to Reigns as Reigns tells Zayn to tag him in. Zayn obliges and Owens looks to tag in Cena but before he can, Reigns clotheslines him and delivers several stomps. He follows it up with a suplex.
Back from the break, Owens fires off right hands on Zayn, but Zayn manages to deliver a suplex. Owens hits a clothesline to Zayn's back as Reigns pulls Cena off the apron and Zayn hits a Helluva Kick. Owens delivers a superkick, then looks to tag in Cena. Cena is still down, so Owens opts to deliver the Pop-Up Powerbomb. Reigns gets in the ring and beats down Owens, then drags Zayn to the corner and tags in. Owens delivers a superkick, then ascends to the top rope and delivers a Frog Splash. Reigns fires back with the Superman Punch, then looks for the Spear. Owens ducks out of the way and Reigns collides with the ring post. This opens the door for Cena to tag in. Zayn tags in as well and Cena delivers a pair of leaping shoulder tackles. He plants Zayn, then tags Owens back in. The pair hit a double Five Knuckle Shuffle on Reigns and Owens before Cena levels Reigns with the AA as Owens delivers the Stunner to Zayn for the win.
Winners: John Cena and Kevin Owens