Stephanie McMahon Resigns Her Position As Co-CEO Of WWE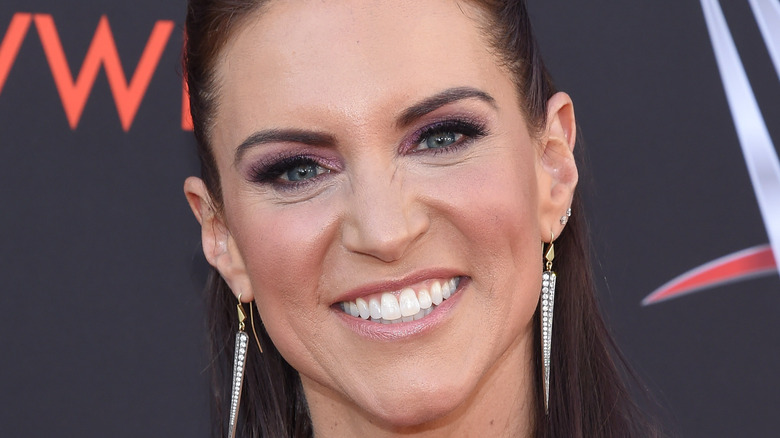 DFree/Shutterstock
Less than a week after Vince McMahon came out of retirement and reinstated himself to WWE's Board of Directors, his daughter, Stephanie McMahon, has stepped down as the co-CEO of the company.
Stephanie announced her decision via Twitter on Tuesday evening. In the statement, she recalled returning to WWE last year to serve as the co-CEO alongside Nick Khan, which she described as a "privilege." However, now that her father has returned to guide the company in collaboration with Khan and Paul "Triple H" Levesque, she believes that WWE is in a perfect position to deliver "unparalleled creative content and drive maximum value for shareholders."
In the statement, McMahon acknowledges her previous leave of absence, which she was undertaking before Vince stepped down as CEO amid his sexual misconduct and hush money scandals. However, it seems that Stephanie's latest absence will be more permanent, as she announced her "official resignation" and revealed that she'll be "cheering on WWE from the other side of the business."
Following Stephanie's announcement, WWE put out a press release that included thoughts from her father. "First, I'd like to express my full support for Stephanie's personal decision. I'll forever be grateful that she offered to step in during my absence and I'm truly proud of the job she did co-leading WWE," Vince said. "Stephanie has always been the ultimate ambassador for our company, and her decades of contributions have left an immeasurable impact on our brand."
Per WWE's press release, Khan will serve as the company's CEO moving forward. According to Vince, Khan's "business acumen and mastery of the media industry have helped catapult our business to record revenue and profitability," and he looks forward to working with him as WWE explores "strategic alternatives" during this critical juncture in the company's history.