AEW Dynamite Results (1/11): Death Triangle Faces The Elite, Adam Page Vs. Jon Moxley, Saraya Competes
Emma Mcintyre/Getty Images
This is Wrestling INC.'s results of "AEW Dynamite" for January 11, 2023! 
Tonight will see the company head back to The Kia Forum in Los Angeles, and Tony Khan has put together a stacked card for it featuring the best of seven series between Death Triangle and The Elite drawing to a close. The two teams head into this encounter with three wins each and will now settle things in an Escalera de la Muerte (Ladder Match) with the AEW World Trios Championship on the line. 
Elsewhere, "Hangman" Adam Page will be making his return to the ring for the first time since suffering his concussion back in October, and he will be pushing for revenge against the man who delivered that devastating blow to him, Jon Moxley. The two men have been desperate to get their hands on each other in recent episodes, and with Page now medically cleared they will be free to do so. 
Saraya is also going to be competing in only her second match since returning from injury as she teams with Toni Storm to face Jamie Hayter and Britt Baker in tag team action. However, there is the looming rumor that Mercedes Mone could be debuting for the company in this segment, but that remains to be seen. Bryan Danielson will also begin his journey to earning an AEW World Championship match against MJF tonight as he will face Konosuke Takeshita in a must-win match for the "American Dragon."
The unexpected team of JungleHOOK (Jungle Boy & HOOK) will also be in action for the first time as they get the chance to prove themselves when they face Big Bill and Lee Moriarty. Finally, fans can also expect to hear from the Jericho Appreciation Society following their surprise PWG appearance, as Chris Jericho will likely address his recent loss to Ricky Starks.
Jon Moxley vs. Adam Page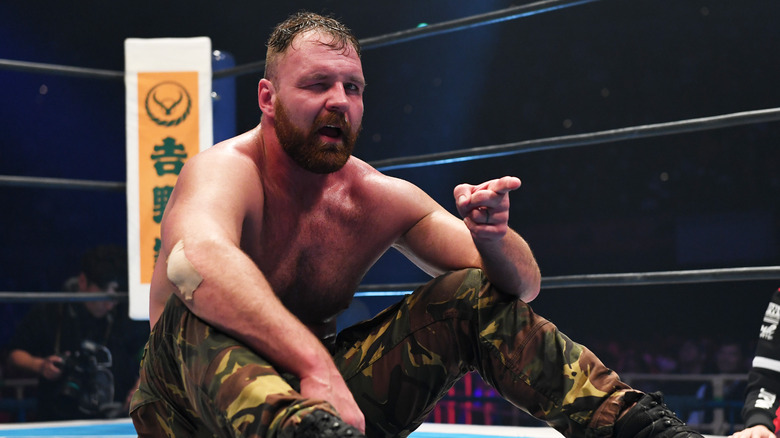 Etsuo Hara/Getty Images
The two men immediately start brawling as soon as the bell rings as Jon Moxley strikes the first blow, but "Hangman" Adam Page follows him back to the other corner and boots him in the face. The two of them trade chops as Jon Moxley then grabs Page by his head and slams him down to the mat as he follows it by shoving his boot into Page's face. Moxley then starts focusing on the arm of the Cowboy, but he fights back by throwing Moxley across the ring. 
He thinks about hitting his finisher, but instead, Moxley smashes him off the ring apron into the safety rail, but as he tries to throw him back into the ring, Page bounces off the bottom rope and nails Moxley with a lariat. However, as they get back into the ring Moxley hits the King Kong Lariat that injured Page in the first place, getting him a near fall. That is followed by stomps to the head and then a running kick.
Moxley is then dropped with a lariat as Page continues to fight back. They go back and forth with more strikes as Page screams for more and then sends the former WWE Superstar across the ring with a Fallaway Slam. Moxley looks for a German Suplex but Page lands on his feet and then blocks a lariat only to spin into one of his own before botting Moxley to the floor. 
Page heads to the top rope and connects with a big moonsault out to Moxley on the floor. Back in the ring he goes for the Buckshot Lariat but Moxley reverses into the Death Rider which Page kicks out of! He follows that with the hammer and anvil elbows and then the Bulldog Choke, and as they get back up he hits a Piledriver, but Page then kicks out at one! Moxley then flips off the fans as they chant "Cowboy sh*t," and he looks to hit another piledriver, but Page reverses with a Deadeye only for Moxley to respond with a Stomp as both men are down. 
Once again they go back and forth with elbow strikes, headbutts and open-hand slaps as they earn a standing ovation. Page hits a big lariat and immediately comes back with the Buckshot Lariat, keeping Moxley down. 
Winner: "Hangman" Adam Page 
After the match, AEW's doctor gets into the ring and is busy checking on Moxley. 
Adam Cole Returns...Bay Bay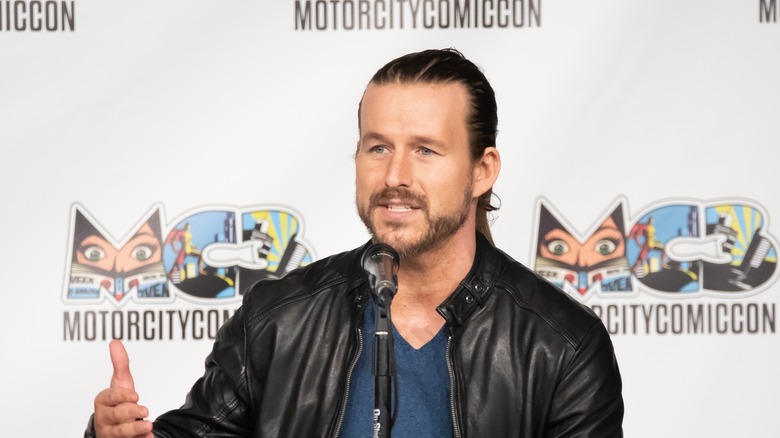 Brandon Nagy/Shutterstock
Tony Schiavone is shown in the ring and he says he takes no pleasure in welcoming the next guest ... Adam Cole, Bay Bay! For the first time since Forbidden Door, Cole is back in AEW, and he receives a huge ovation from the fans. He wants to know who is ready for storytime with Adam Cole, Bay Bay and he tells the fans they've no idea how much he wanted to say that, and he has been thinking about what to say for a long time. 
Cole admits this is a good news, bad news situation. After everything that has gone on, he has a new appreciation for pro wrestling and for his life. All he ever wanted to do was be a professional wrestler, and he has done some cool stuff including being with the best pro wrestling company on the planet, AEW. He has also realized how much he has missed being here, but he has been banged up with serious back-to-back head injuries and a shoulder problem. Cole was scared, seeing doctors multiple times a week and he had serious dizzy spells and if he was in a car for more than 15 minutes he would vomit.
Cole struggled with anxiety when he slept, and he had to pace and Britt Baker would check if he was okay, and he admitted to her that he didn't know what was happening to him. The fans didn't know either, but Cole notes so many of them were there for him, he'd read about them missing him and checking on his recovery. He says that meant the world to him. He says wrestling is give and take, they give everything they have and fans show their appreciation, and he notes that even though he has given nothing for six months they were still there for him. 
Cole says now it is time for the bad news. However, that's not for him, it's for the AEW locker room because Adam Cole is back! He's not going anywhere, his career was over and he thought for sure he was finished, but instead, he says he's not done yet. He has been one of the best wrestlers on the planet for 15 years, and he won't stop until he is the very best, and he thinks he's yet to scratch the surface of what he is capable of and he tells people to remember this day, when the new Adam Cole is born. He will make a promise that one day he will be at the top of the mountain. 
The Acclaimed are then shown backstage as they claimed they will be getting stars on the Hollywood walk of fame.
Big Bill & Lee Moriarty vs. HOOK & Jungle Boy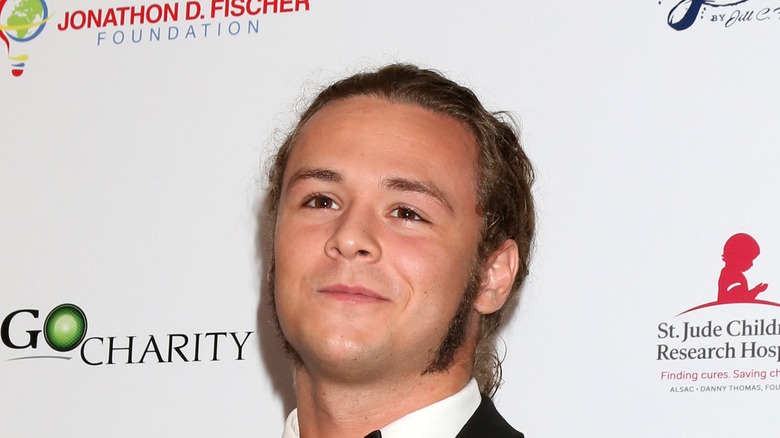 Kathy Hutchins/Shutterstock
Jungle Boy Jack Perry starts things off with Lee Moriarty as the latter connects with a chop only for the former AEW World Tag Team Champion to respond, and he then bounces off the ropes and sends The Firm star across the ring with a hip toss and then a dropkick as HOOK then tags in. He focuses on Moriarty's arm for a while and brings Perry back in as they hit some combination offense to keep in control.
Stokely Hathaway grabs the boot of Jungle Boy which leads to him trying to dive out of the ring and take him, but he gets caught by Big Bill. He sets a Chokeslam onto the apron but HOOK breaks it up by sliding out and kicking him in the face only for Moriarty to nail Perry with a boot. This allows Bill to tag in as he drops Perry with a big boot, sending him to the floor as Moriarty jumps out and hits a knee to the back of his head. 
Moriarty controls Perry throughout the break but he hits a powerbomb and makes the tag as HOOK then tries to suplex Bill which he blocks several times. He then charges into the corner but gets blasted with a kick from Perry who follows it with a dropkick from the top turnbuckle, sending him into HOOK who nails a T-Bone Suplex which gets a huge response. Meanwhile, back inside the ring Perry locks in the Snare Trap and secures the win for his team while HOOK blocks Bill from trying to stop it. 
Winners: Jungle Boy & HOOK
Orange Cassidy and Danhausen are shown backstage with Paul Walter Hauser and he brings his Golden Globe, but says he is going to wait until "AEW Rampage" to show it. He asks Cassidy if he and and Trent are okay and they both awkwardly say yes.
Konosuke Takeshita vs. Bryan Danielson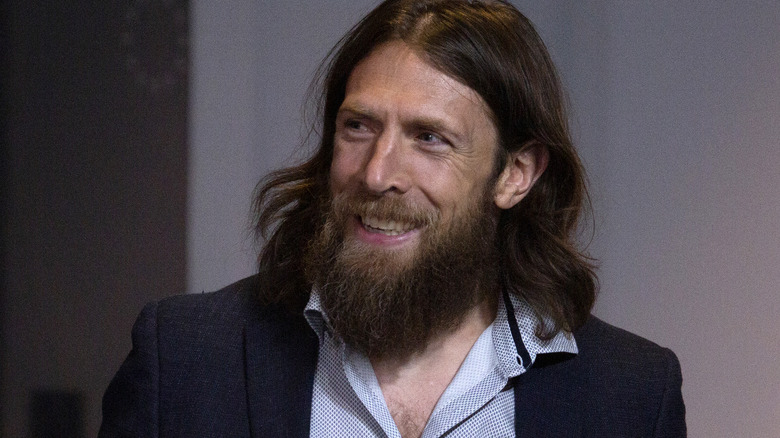 Santiago Felipe/Getty Images
Before the match, MJF comes out and says he has heard Konosuke Takeshita is someone the fans think is good, but he hasn't watched any of his stuff as he then mocks his name and says he needs him to win this. Takeshita speaks in Japanese and MJF mocks that and tells him to speak American, so he tells the champion to kiss his ass. He then says much like Bryan the fans are irrelevant and he then points out Ken Jeong in the audience and he mocks him for being a success 20 years ago as he then mocks his television show being canceled. Freddie Prinze Jr. is then shown as he names someone he wishes he thought was canceled. 
The match then gets started after Danielson chases MJF away and it doesn't take long for Danielson to get control with his submission skills as he locks in the Dragon Sleeper, but Takeshita gets out and then nails Danielson with a big forearm strike. The two then trade them back and forth as Danielson manages to block a few, but as he aims for the LeBell Lock, his opponent reaches the ropes.
"The American Dragon then hits his running dropkicks into the corner, but he goes one too many times as Takeshita reverses with a Blue Thunder Bomb, getting himself a near fall. Danielson picks up the pace after that with a running elbow strike which drops the bigger man, and once again they then start unloading chops onto each other and Danielson then throws him out to the floor and follows it with a tope suicida. 
Back inside the ring, Takeshita turns things around, but as he tries to powerbomb him out of the ring, Danielson counters and then runs and charges into him as the two men crash and burn, which is followed by Takeshita hitting a brainbuster to the floor! He looks for a senton from that back inside the ring, but Danielson gets the knees up and then puts in the LeBell Lock, but Takeshita gets the legs to the ropes. 
Danielson instantly starts firing back with his kicks, but the last one is blocked and Takeshita hits an elbow strike and they then start throwing them at each other with Takeshita coming out on top with a huge lariat. Despite Danielson's kicks, he is caught by a huge German Suplex and then a shot to the back of the neck, but Danielson avoids the running knee and then hits the Busaiku Knee, which Takeshita kicks out of! Danielson begins his stomps to the face, and that is transitioned into the LeBell Lock, and Takeshita is out. 
Winner: Bryan Danielson
Juice Robinson is shown backstage, and he says he's here to kick ass, take names, and win championships. He says if Darby Allin is giving out open challenges, he will answer it at "Rampage."
Toni Storm & Sarays vs. Britt Baker & Jamie Hayter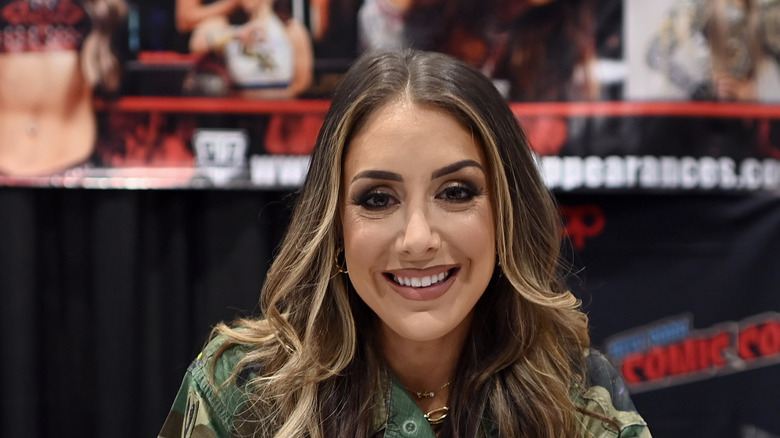 Roy Rochlin/Getty Images
Jamie Hayter and Toni Storm kicks things off with the champion getting a huge response from the fans, yet it is Storm who gets in control early by nailing several aggressive forearms. However, the champion responds with chops only to be taken down with a dropkick as she then uses her hip attack to send Hayter to the floor as Saraya tags in and cannonballs into Hayter from ring apron as she then hits a knee strike and launches Hayther into the ropes repeatedly before tripping her. 
Storm comes back in and they look for a double suplex but Hayter blocks it and takes both women down only for Storm to drag her back to the floor. Hayter throws Storm to the apron and Britt Baker pulls her down, and on the other side, Saraya gets thrown into the ring apron. Hikaru Shida then makes her way down to ringside while the action continues. Baker hits a double under-hook suplex to Storm as the heels isolate her in the corner. 
Hayter smashes Saraya off the ring apron while she then slams Storm to the mat with a snap suplex into a powerslam on the rotation. Saraya manages to tag in though and she hits several elbows and then a running knee strike to Baker before hitting the Knight Cap, which gets her a near fall. She screams her catchphrase but gets kicked in the face for her efforts only for Saraya to hit back with a knee to the face. Storm returns to action with the hip attack and then a DDT off the ropes, but Baker kicks out. 
Storm sets in a Cloverleaf but Hayter comes in and boots her in the face as they then place Storm onto the top turnbuckle and Baker hits an Avalanche Air Raid Crash, getting a near fall. Hayter drops Storm across her knee, and Saraya then breaks the pinfall only to be thrown outside while Storm plants the champion with a suplex and then Storm Zero, but Baker stops the pin. 
Saraya and Baker brawl inside the ring as Baker slams Saraya down, and Hayter and Storm then go back and forth with forearm strikes until they both fall down. Rebel gets on the ring apron, and Shida slides the kendo stick into the ring which Baker uses. Hayter then nails Storm with the Hayterade to get the win as Shida appears to be shocked. 
Winners: Britt Baker & Jamie Hayter
Let's Hear From The Jericho Appreciation Society
Albert L. Ortega/Getty Images
Eddie Kingston and Ortiz are shown in a backstage segment discussing their upcoming tag team match on "Rampage," while it is confirmed that Bryan Danielson will face Bandido next week on "AEW Dynamite."
Chris Jericho talks about them appearing at PWG recently, which he claims was a surprise heard around the world while Tay Melo then says she is the street fight. Jericho points out Jake Hager sent Ricky Starks through a table and Action Andretti was sent to the minor leagues, with Jericho claiming the Starks experiment is over, but it appears that isn't the case but Starks is here...and with Andretti by his side. 
Starks says they're a group of idiots who couldn't get the job done last week when they put him through a table as he is standing tall right now, while Jericho then calls Andretti Oliver Twist who is an orphan, but he tells Jericho to shut up before he takes the baseball bat to shove it up his ass, but that gets Daniel Garcia to tell him to shut up. However, Andretti says he didn't know his babysitter Sammy Guevara lets him speak, as he points out Guevara can't keep control of his own wife or where her hands go, because last week they were between his legs. 
Garcia says he remembers when he was a pro wrestler like Andretti, but now he's a sports entertainer he's on top of the world. Starks then calls out Hager and his stupid hat and claims he is the village idiot while he also mocks his lisp. Next week he wants them to compete one on one, and Hager says he likes his hat but he wears lots of hats. One says professional undefeated MMA fighter and next week he will slap Starks' face...off of his face.
Death Triangle (c) vs. The Elite (Match Seven - Escalera de la Muerte for the AEW World Trios Championship))
Etsuo Hara/Getty Images
Straight away all six men get into the action with Kenny Omega and PAX brawling inside the ring as Penta takes Omega out with a backstabber and Matt Jackson does the same to PAC. Penta then looks for Fear Factor which is reversed only for Penta to nail him with a superkick, he gets taken out by Omega, and the flurry of attacks continues with Death Triangle coming out on top with a Frog Splash from Rey Fenix. 
He then launches himself out of the ring to Omega, but The Young Bucks take out Fenix with their aerial skills as a ladder is put into the ring. Matt is pulled down as he tries to climb, but he manages to send PAC to the floor and then nail Penta with a Destroyer. But as he climbs Fenix leapfrogs into an arm drag as Omega then pulls him down from the ladder and hits a snap dragon suplex, with Penta getting the same treatment. 
He tries to dive out of the ring but before he can PAC cuts him off with a dropkick from the top rope, but Omega then launches him with a suplex, and this time his dive outside the ring works. However, PAC avoids it and Omega drives himself through a table, only for Matt Jackson to launch himself from the top turnbuckle to hit crossbody PAC through another table! Inside the ring, Nick Jackson suffers from the numbers game and gets sent into a ladder in the corner, and Omega eats a double superkick. They then set the ladder under his buttocks as Penta dropkicks it into him from the top turnbuckle.
Penta focuses on kicks to Matt, but he responds with a knee strike as they then trap him in the corner with a ladder which Nick runs up and dives outside the ring to Fenix on the outside. Penta then gets back body dropped onto a ladder, but as Nick tries to dive onto him while he's laying on it, Fenix gets on the top rope and throws him with his legs bouncing off the steel.
PAC stomps Omega's hand which is trapped inside a ladder, but Omega stops him from climbing the ladder to be spiked with the poisonrana. Fear Factor is then hit on Matt and Fenix dives out to attack Nick for good measure. Nick comes back to stop them suplexing his brother into a ladder and a flurry of kicks takes down their opponents as Matt then nails all of his Northern Lights Suplexes, finishing with one into a ladder. Outside the ring, Penta is on a table and Nick crashes him through with a 450 Splash. 
Matt seemingly has it won until Alex Abrahantes gets involved and pushes him off, which leads to Brandon Cutler facing off with him as Omega takes out the manager with a V-Trigger. However, as he claims the ladder PAC hits his hand with a hammer and then nails the Falcon Arrow on the floor. However, a ladder bridge is then made from the top rope onto the ladder rung, and Penta takes Matt out with a Fear Factor on the ladder bridge. 
Omega then stops Fenix and he hits the One-Winged Angel from the ladder, and he manages to goad PAC in by putting his knees up to reverse the Black Arrow. Omega gets up and manages to claim the gold for his team!
Winners (and NEW AEW World Trios Champion): The Elite (4-3)