Darby Allin Teases Collaboration With Tony Hawk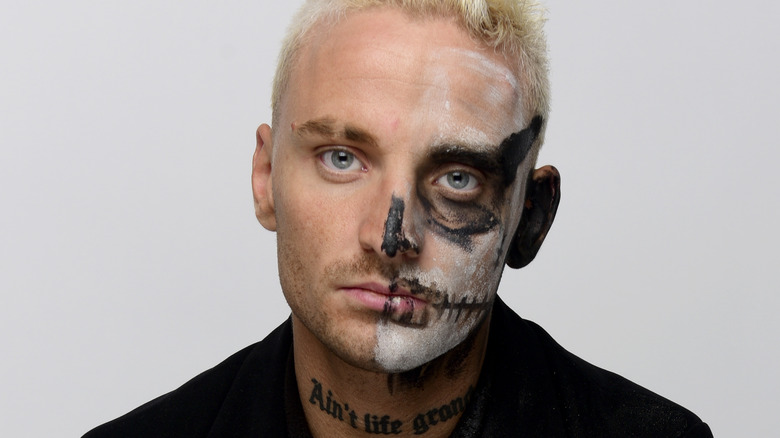 Vivien Killilea/Getty Images
Darby Allin was back hanging out with a legendary friend on Monday night – and no, this time it wasn't Sting.
The AEW star shared a photo on Twitter of himself posing alongside legendary skateboarder Tony Hawk on Monday, both smiling as Allin held up his TNT Championship belt and pointed at his childhood hero. "Keep an eye out for Hawk vs wolf podcast!" Allin captioned the tweet.
Allin has long been open about his friendship with Hawk, the record-breaking skateboarder who became a household celebrity behind his namesake video game franchise. Hawk has made several appearances on AEW television in support of Allin, whether it be in a pre-filmed backstage segment or being shown in the crowd. The skateboarding star first appeared on AEW "Dynamite" in 2020 when he and Allin were shown in a black-and-white skate video in which Allin tried to land an ollie off a ladder down onto a skate ramp below, repeatedly hitting the ground hard while still dealing with an injury.
Allin has been open about Hawk's influence on his daredevil style in the past, telling the "Insight with Chris Van Vliet" podcast in 2021 that his skateboard hero taught him to always keep active to avoid getting into a slump, no matter what you do: "That was the one thing that Tony Hawk told me," Allin said. "He's like 54 and killing it on the skateboard scene still. He said, 'Just don't stop because the moment that you take a break, that's when everything starts to feel like sh**.' So after I have this crazy match, I've got to go to the skatepark, or I have to swim, or jump out of a helicopter, whatever I have to do."