NIL Athlete Derrian Gobourne Discusses Signing With WWE, Meeting Top Star, Upcoming Tryout, Potential In-Ring Name, & More! - Exclusive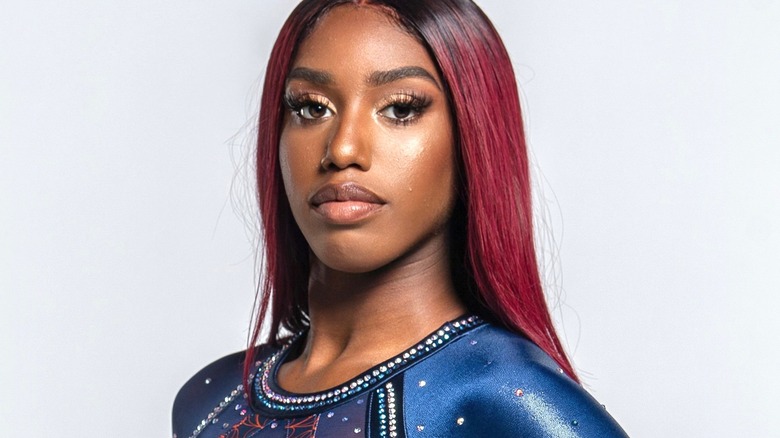 Auburn University
It takes a lot of very specific traits to become a WWE superstar. You need to be athletic, of course; a sense of style doesn't hurt, and most importantly, you need to have that "it factor." By all accounts, Auburn University student Derrian Gobourne has those traits in spades. Gobourne isn't just an All-American athlete, she's a six-time — six-time, six-time! —All-American athlete. Most recently, she finished the 2022 season by earning NCAA All-America First Team (bars, floor), 2022 WCGA All-America First Team (floor), 2022 SEC Co-Specialist of the Year, and 2022 All-SEC. While racking up all of those accolades, she also made time in mid-2022 to sign on as a WWE Next In Line (NIL) athlete.
In this exclusive interview with Wrestling Inc. Senior News Editor Nick Hausman, Gobourne opens up about signing on as an NIL athlete, what her future with the company looks like, which superstars have influenced her so far, and more!
A Lifetime Of Athletic Achievements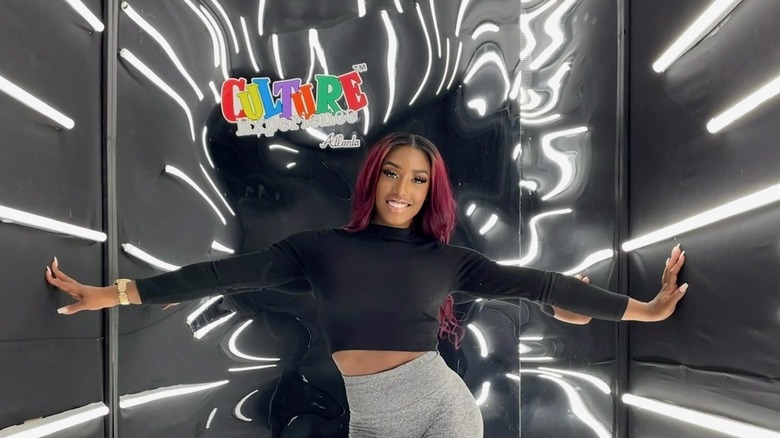 Auburn University
Nick Hausman: You're a six-time All-American and the 2019 National Champion on vault. Did I get all of that correctly?
Derrian Gobourne: You did, yes.
Man, six times. When you hit five were you like, "I don't know, can I do six?" Or were you, "I got six, maybe seven in me?"
The way it went, I had a great season last year, and so it was kind of like they were racking up. Especially when I went to nationals, we did amazing. And so when you get top eight, you automatically become an All-American. And so I got second on floor, I was runner-up and second on bars, so I got two more there.
How long have you been in gymnastics?
I've been in gymnastics almost 20 years. Almost 20 years.
How old are you?
I'm 23.
So there you go, basically your whole life. Got it.
I think it was about 15 years, if I'm not mistaken, but I started competing when I was seven. And so I started off as a competitive cheerleader. I really, really loved it, but I got bored, and there was a gymnastics facility right next to the competition, the cheerleading competition. And so I was, "Mom, I really, really want to go in. I want to see what's going on in there." And so my mom took me, and I fell in love. It took me a while to convince her to let me do it, but when she finally did, I fell in love with it. It was a challenge, and it was something that pushed me, and I loved it.
What's scarier when you're doing that, the tension and the nerves, or the fact you could fall, break your neck? Which one of those do you find more scary?
Probably the nerves, because I feel like I've been doing this for so long, and I try not to think I'm going to fall and break my neck because that may not be the smartest thing. But I think the nerves, when you're competing in front of thousands of people, that's very nerve-wracking. But I love it, I love that pressure and I love those nerves.
The pressure of competing in front of thousands of people where you could potentially get really hurt, but you don't think about that because you're very confident in yourself. Now that obviously sets you up for WWE, but there's this other note I read where you are an apparel merchandising major. So are you a fashionista as well?
Yes, I am. I love fashion. I love glam. I've always been like that. My mom had me in modeling when I was younger, so I think that's where everything started. And I've always wanted to model, and I loved fashion, and I really couldn't really tap into that when I was in high school because I was doing gymnastics. And it really took up so much time. And even now in college, I do have more time to tap into the fashion scene, but not really because like I said, gymnastics just takes up so much time. I love it. I've always been a glam girl.
Sticking The Landing In WWE
Auburn University
What's been your level of pro wrestling fandom in your life?
The funny thing is, I really didn't grow up watching wrestling at all. I know my mom did, because when I signed with Next In Line, she was, "Oh my God, I used to watch this when I was younger." So I was like, that's interesting. But it wasn't something that we grew up watching. But I did look into it a little bit, and at first I was... because like I said, I'm a glam girl, so I thought that I had to be a tomboy to be into this. But when I searched more into it and then I looked up Bianca Belair, which is someone that I really look up to, I saw how she was a glam girl, and everything about her was feminine, and very bedazzled and glam. And I was like, "Oh my God, this could be so cool."
How do you first get introduced to the WWE NIL program?
What they do is they go out and scout. And so they were at Nationals last year, and they saw me perform my floor routine, and he ended up reaching out to my agent and he wanted to sign me to the Next In Line. And like I said, at first I was a little iffy because I wasn't sure, I wasn't familiar with WWE. And so I was like, "I don't know, am I going to get hurt? Is this what I want to do? Is this really me?" And so like I said, I did more research, and I was like, "This is who I am. I'm glam, I'm a character." I just love stuff like that. So that's how it all happened, and I'm really excited.
Are you planning after college to go to the Performance Center to give this a shot?
I think I'll do a little trial. It won't be the big tryouts where there's multiple athletes, because I'm already in the Next In Line program. So I think it'll be a separate tryout, something like that. And then I'll go down to Orlando to the training facility and see what happens from there.
Do you have an idea on when that tryout could be, or no?
Yeah, I think it's July, if I'm not mistaken. It's right after my season ends, so everything is going to happen so fast, but I'm really excited.
Have you had a chance to meet anybody from WWE?
I met Bianca Belair [at] SummerSlam in Tennessee this summer, which was awesome. She was so cool, and really someone that I look up to. Not only does she look like me, but I said we were very similar with our fashion, and she was an athlete as well, so that was really cool. She was very nice and down to earth. Triple H, of course, I met Triple H, I think he's awesome. Really awesome dude. I love him.
Did Triple H give you any advice or insight into what he expects from you as an NIL athlete?
No, he was just saying how he was super excited to have all of us, the NIL athletes, join WWE. And that was really cool, because he's a big deal, so I was starstruck a little, but that was cool. And then we did some charity work while we were in Tennessee, the NIL athletes, and I met some older wrestlers. I really don't remember their names, but they were really cool. I had a really good time.
The Empress Has Arrived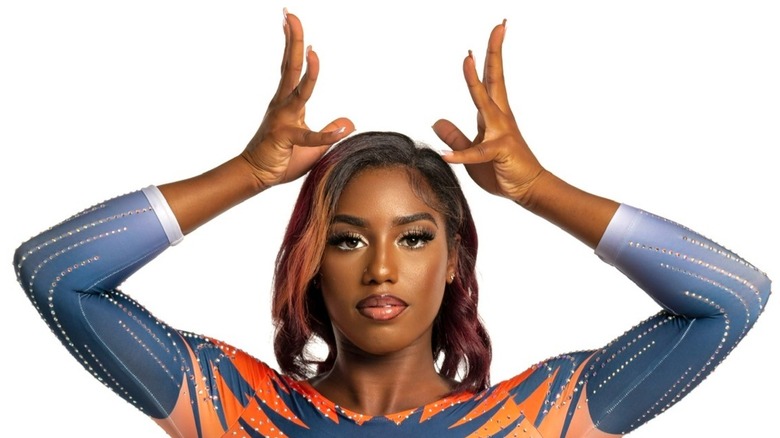 Auburn University
I love, by the way, that your mom is the wrestling fan in all of this. Was she listing her favorite wrestlers and stuff? Because a lot of parents get nervous when their kids go into pro wrestling. The fact your mom is, wow, it's a little bit different than what I hear from most wrestle parents when their kids get into wrestling.
She didn't really mention a favorite. She was really happy for me because that's something that she grew up with. She was like, "I don't know, I never thought that you would be a part of that," so she was really excited.
They come in all kinds. You're going to find out all about pro wrestling fans here, Derrian. They're all walks. Do you have an idea of a ring name yet? Have you thought that far ahead or no?
A little bit, yes. They call me queen here, or queen of the floor. As I transitioned to the next part of my life, I was thinking something like "Empress." I think that's pretty fly. I was like, "I don't want to do the same thing because I'm not in that stage of life anymore." As I transition, probably the Empress or something like that.
Have you taken a bump? Do you know what a bump is in wrestling? I feel weird asking that.
No, it's okay. I don't know what a bump is.
A bump is where you fall flat on your back. You're going to do that a lot in pro wrestling. Have you taken a bump yet?
I have not.
Oh, okay. Call me when you have, let's see how you feel about pro wrestling. [laughter] I'll close here. Let's say you get to WWE, you're signed, the Empress is there, do you have any bucket list stuff? Is there something you'd really like to accomplish if you became a WWE superstar?
Not really. I'm going into this very open. Like I said, I'm not really familiar with everything there, but that's how I started at Auburn. I want to take the same approach. I came to Auburn very open and open-minded and open hearted, and I got so much out of that. I feel like there's an abundance of things when you go in open. And obviously I want to have a good time. I want to show people who Derrian is, and I want to spread love and I want to spread joy. But honestly, I don't have any goals or anything on my bucket list. I really want to go and take it all in and see how far I can go.