Former WWE Writer Details How The Brand Draft Works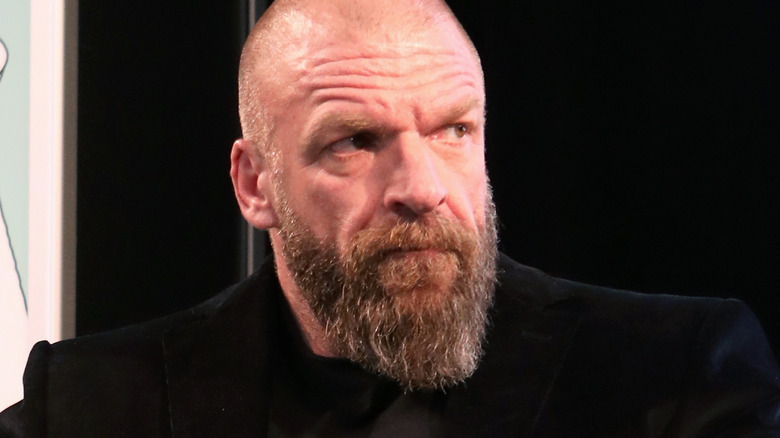 Samantha Burkardt/Getty Images
There are certain events in WWE that promise to deliver surprises, one being the WWE draft that takes place on occasion. The most recent iteration happened in 2021, and saw top stars like "WWE SmackDown" Women's Champion Charlotte Flair and "WWE Raw" Women's Champion Bianca Belair jump to their current home brands. One of WWE's former writers, Chris Dunn, recently appeared on the "Behind Enemy Lines" podcast to give some backstage details on how the draft is handled in the creative department.
"Ever year I was there, it completely varied. It's like those are the highest-level of conversations. Now, there have been ones where it's been planned out months in advance. There have been ones that change even the day of. But usually, this is how you want to do it — you pick your top man and woman from each brand and then you pick their opponents for the year. Like, what are fresh matches? And kind of go from there." Dunn used examples like Roman Reigns and Charlotte Flair as top stars that creative would try to build the brands around. When those stars are succeeding and participating in engaging stories, the entire roster flourishes. "That's kind of what you want to do, you want to build a brand around your big tentpoles like SummerSlam, Rumble, 'Mania, and the draft process, but it varies consistently."
Overall, the creative team wants to get ahead of the game as much as possible, and the draft often complicates those plans. However, it's common for WWE to enact a trade if plans need adjusting. Perhaps the most famous instance of this was in 2004, when Triple H was drafted to "SmackDown," only to later be traded back to "Raw" in exchange for Booker T and The Dudley Boyz.
If you use any quotes from this article, please credit "Behind Enemy Lines" with an h/t to Wrestling Inc. for the transcription.