Triple H And Kevin Dunn Ribbed Michael Cole At WWE Royal Rumble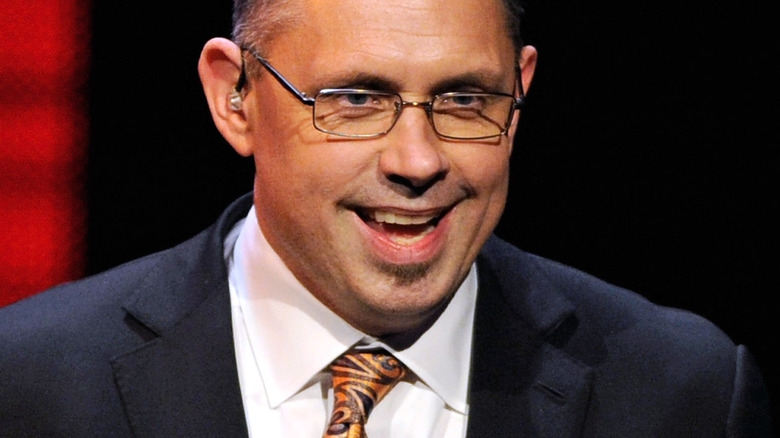 Ethan Miller/Getty Images
Michael Cole was ribbed at the 2023 Royal Rumble premium live event, and he has described what his initial reaction was. Fans were in for a surprise before the men's Royal Rumble match got started, as Pat McAfee made his entrance to serve as the color commentator. McAfee hadn't been seen on WWE TV for months after taking an analyst role for ESPN College GameDay.
Fans weren't the only ones surprised by McAfee's appearance. Cole was a guest on "The Pat McAfee Show," and he revealed he had no clue that McAfee would appear and was preparing for a two-man booth with Corey Graves.
"When the music hit, because when I think Pat McAfee, I still think of White Stripes, so, when the first couple of bars of the new song hit, I didn't immediately recognize it," Cole said. "Then Hunter, Paul Levesque was in my ear, and he said, 'Are you gonna sell it?' I mouthed to him in the spy cam, 'Sell what?' I'm like, 'Sell what?' Then I looked up and I saw your video board, and I'm like, 'Oh my God, you're ribbing me.'"
At first, Cole didn't know if McAfee would be an entrant in the men's Royal Rumble match, or if he'd be doing commentary. Once he saw McAfee's blazer, the answer became clear. Cole said he sent a text message to both Levesque and the Executive Vice President of Television Production, Kevin Dunn, telling them, "You f***ers, I can't believe that you guys ribbed me."
If you use any quotes in this article, please credit "The Pat McAfee Show," with an H/T to Wrestling Inc. for the transcription.