Dana Brooke Discusses WWE Trashing 24/7 Title, Possibly Wrestling In NJPW, The Bella Twins's Raw XXX Criticism, & More! - Exclusive
There is only one woman who can say she has been in every women's WWE Royal Rumble match ever, and that woman is Dana Brooke. While she may have come up short, yet again, in 2023, the determined WWE star never lets a loss stand in her way.
Brooke has been best known to WWE fans the past few years as one of the tentpoles of the now-defunct 24/7 Championship picture. While many deemed the division a laughable failure, Brooke took it on herself to maximize her time on-screen with the title, and hoped to eventually transform it into a secondary women's singles title. That dream, unfortunately, came to an end not long ago when Nikki Cross won the title and then unceremoniously threw it near a trashcan (unlike Madusa in WCW, the title didn't actually make it into the trash).
In this exclusive interview with Wrestling Inc. Senior News Editor Nick Hausman from Friday's WWE Royal Rumble weekend Special Olympics training event, Brooke discusses the dissolution of the 24/7 division, dream matches she has yt to compete in, the Bella Twins' criticism of "WWE Raw XXX," and more.
WWE Trashing The 24/7 Title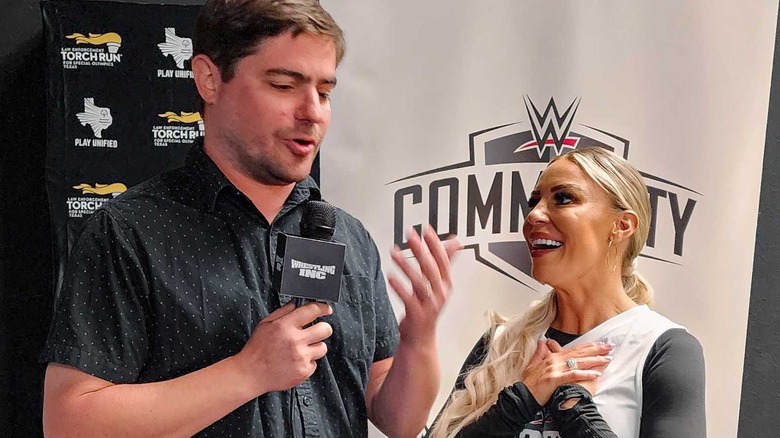 Wrestling Inc.
Nick Hausman: It's so great watching you work with these athletes out here today. What was it like? What stands out for you when you do an event like this?
Dana Brooke: I absolutely love it. It warms my heart. It actually motivates me, because seeing them give it all they got makes me want to give it all I got. And today I worked with them on their WWE poses, and they got to put it to work with their entrances, and so it was amazing to see.
Well, you do a lot of work too, Dana. You are one of the hardest-working women. I've heard stories about you setting up the ring and being there early, and then they threw away your 24/7 Championship title, Dana. I know you tweeted about it, but have you gotten over it? Have you got a new goal in mind now that the 24/7 title's no longer around?
Yes. You can't cry over spoiled milk, so I had to kind of keep on going, find motivation, keep chugging along, and that's what I do. I'm a workhorse. You might not see it all the time, but behind cameras, I'm working every single day to be the best person I can possibly be inside of the ring, and also outside with the WWE community.
Still More To Do
You've worked with so many women on the roster, but there's some legends that are coming back around these days. Trish has come back, Lita's around sometimes — is there a big bucket list Hall of Famer name that you'd love to get in the ring with and share that moment with?
Who I would love to share the ring with would be Michelle McCool. Last year I got to work with her in the Rumble, and she was the one that actually eliminated me, so I'd love to get back in there with her and do our thing. Trish is a role model of mine. We always connect backstage. She always gives me words of wisdom. Beth Phoenix is amazing, so the list goes on and on and on, but those are a few to name.
WWE's kind of cracked open that forbidden door, and we've seen a couple WWE talent go over to New Japan. New Japan is now embracing women's wrestling. Of course, there's some big names over there, as well ... I mean, you've been in the WWE bubble. Would you like to go out, maybe experience what a New Japan match is like and work in that space?
Yeah, it's amazing because I do work with quite a few girls that have that experience as well, too, in the WWE ring. And it always feels like they push me to my limits. They elevate me. They bring out what's best in me. But WWE is always home. It feels like it's always home. So, given that opportunity, I would have to talk it over, and we would go from there.
Last question. I wanted to get your thoughts on the Bella Twins this past week. They were talking about how they didn't think the women were very well served on "Raw XXX." What's your response to something like that?
The Bella Twins have been here. They've carved their way. They carved their path. I respect them wholeheartedly, but us women are doing our thing anytime we are given our chance, and we kill it, and we knock it out of the ballpark with a smile on our face, and that's how professionals do it.