Seth Rollins Calls Out His Rumored WrestleMania 39 Opponent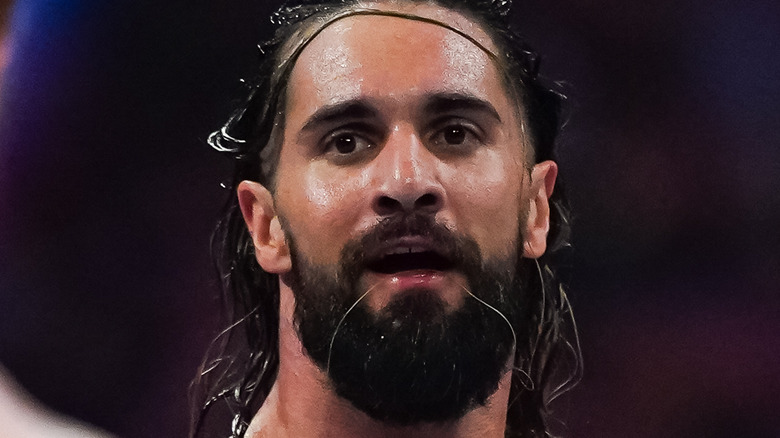 Alex Bierens De Haan/Getty Images
All signs point to a marquee match between Seth Rollins and Logan Paul at WrestleMania 39.
The seeds were sown during last Saturday's 30-Man Royal Rumble where Paul eliminated Rollins from the battle royal, showboated for several seconds, and even seemed to taunt Rollins by imitating The Visionary's mannerisms. On Friday, Paul once again mocked Rollins by posting a video from the Rumble elimination, which ends with Rollins photoshopped in clown makeup.  
look at this dude @WWERollins pic.twitter.com/PMh6MDGEbR

— Logan Paul (@LoganPaul) February 2, 2023
In response, Rollins explained why he took issue with Paul "bragging" about the elimination.
Seth Rollins on Instagram live a few min ago goes in & reiterates he does not like Logan Paul 💀💀💀 pic.twitter.com/KxrH0E1oZ1

— Wrestle Ops (@WrestleOps) February 3, 2023
"All I know is I don't like Logan Paul," Rollins said via Instagram Live. "A lot of us really don't. I don't really need him in my locker room, in my space. The guy is ultra-talented as far as athletic ability is concerned. He snuck up on me at the Rumble, dumped me, fine, whatever. I took my eyes off the ball — that's on me. But don't go bragging about it like you did something otherwordly.
"It's probably the coolest thing he's done in life, but I just advise him to stay in his lane. He's a freak...no doubt...but at the end of the day, he's not a wrestler, you know? He just wants to be famous. He doesn't care about the industry. He's not a wrestler, so he should stay in his lane. If buying counterfeit Pokémon cards is your lane, stay in that lane. If you come knocking on my door, I will knock you out. And you don't have your brother for backup, because he's gonna get cooked in a few weeks [by Tommy Fury]."
Rollins ended the video by admitting that things could get heated when he and Paul "come face-to-face" at some point in the future.
As of this writing, two matches are confirmed for April's WrestleMania 39 — Roman Reigns vs. Cody Rhodes and Charlotte Flair vs. Rhea Ripley.