Tony Khan Recently Reached Out To Former WWE Star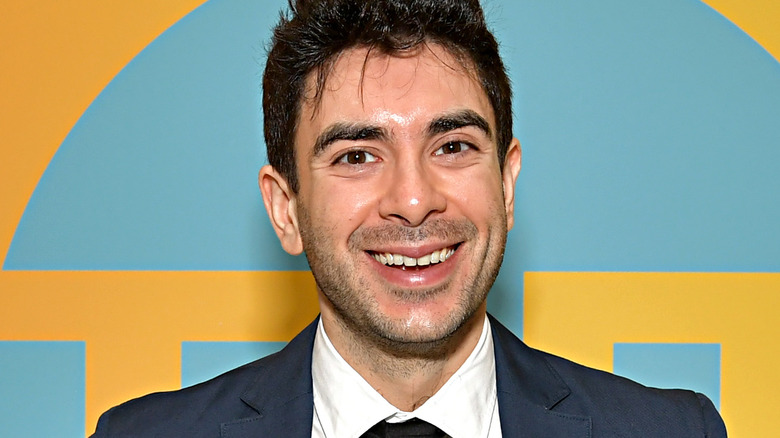 Emma Mcintyre/Getty Images
AEW's Jake Hager — formerly known in WWE as Jack Swagger – has had a solid career in combat sports. But in 2013 when Dutch Mantel, in the persona of Zeb Colter, became his manager, that version of Hager went on what was arguably the most significant run of his time in pro wrestling. On the most recent episode of "Story Time with Dutch Mantel," Mantel and Hager reflected on the differences they see between AEW and WWE in their experiences, and more specifically, how large the roster is compared to spots available at the top.
"We have more than 80 [on the AEW roster], for sure," Hager said. "I feel like we have more than 100, and so a lot of the storylines have rotated every other week if you notice, if you watch it. But, you know, right now, I don't need to work that much and I get paid the same, so it's a great benefit for me, and then I don't have to get overdone, overblown, and overused."
Mantel also revealed that AEW owner Tony Khan reached out to him nearly a month ago to catch up on what was happening in their respective lives. Whether this will lead to any collaboration on future shows or projects remains to be seen. But he also had a story to tell about the first time they actually cross paths in the flesh.
"I met [Tony] one time in Jacksonville –- that's where he's from or, I guess, where he lives. WWE was in Jacksonville," Dutch recalled. "We were doing the military show -– that's where you got the DQ with Rusev. I remember it because you got the DQ and I went, 'Well, what the hell?' And that's when Tony was there and I was in the back, and he came up and introduced himself and said his dad owned the Jacksonville Jaguars."