This WWE Star Thought Zeb Colter Was Legitimately Racist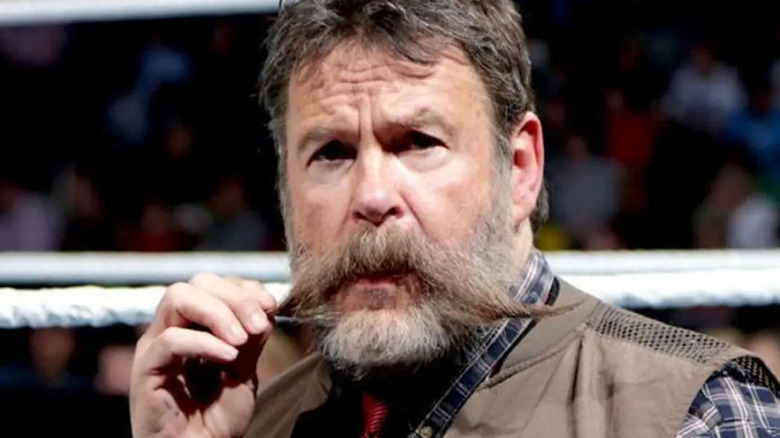 WWE
Dutch Mantell, known as Zeb Colter during his last run with WWE, claims one former WWE on-air talent thought he was legitimately racist. The Colter character Mantell played was anti-immigration, which was apparent when Jake Hager, known as Jack Swagger in WWE, had a feud with Alberto Del Rio. Mantell recalled his character being convincing enough that Del Rio's onscreen manager, Ricardo Rodriguez, thought he was a racist in real life, Mantell revealed on his "Story Time with Dutch Mantell" podcast.
"You know, he told somebody, he said, 'He's really racist,'" Mantell said. "I went, 'What?' 'Cause we sold him that we hated Mexicans. So, that's doing your job if you can convince the people you work with that you're really racist, 'cause I'm not racist. I hate racist people, I hate 'em. I only hate two types of people: racists and Mexicans. That's a joke, people."
Mantell also discussed how Vince McMahon felt about the character and one line that was frequently used by Mantell that he was enamored with.
"A lot of our whole push was based on immigrants 'sneaking across the border,' Vince loved that," Mantell recalled. "They would tell me sometimes, 'In this interview, do the little sneaking across' and he said, 'Always roll those R's when you say Alberto Del Rio.'"
In the past, Mantell has admitted that he was uncomfortable with the character at times. In particular, he requested that a line from a promo he was set to cut on the Prime Time Players be removed. Mantell was supposed to use an "affirmative action" line, but he felt it would just make the Colter character a flat-out racist.
If you use any quotes from this article, please credit "Story Time with Dutch Mantell," with an H/T to Wrestling Inc. for the transcription.