Impact Wrestling Results (02/09) - Joe Hendry Defends Digital Media Title, Steph De Lander Debuts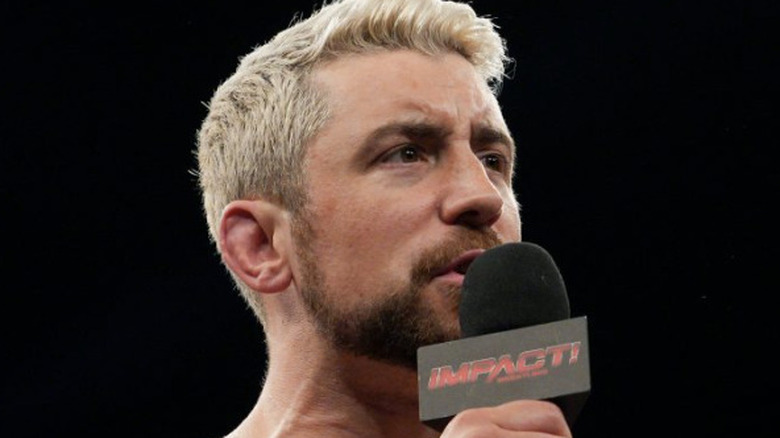 Impact Wrestling
Welcome to Wrestling Inc.'s results of "Impact Wrestling" on February 9, 2023!
On this week's episode, Joe Hendry will defend his Impact Digital Media Championship against Matt Cardona. Hendry won the title by beating Cardona's tag team partner Brian Myers back in November. After Hard to Kill, Hendry made fun of Cardona with a new music video that dubbed him "Edge's b*itch." Cardona is now seeking to regain the Digital Media title that he once held last year.
In tag team action, Knockouts World Champion Mickie James and Tommy Dreamer will team up to take on Jason Hotch and John Skyler of The Good Hands. This all stems from Bully Ray recently picking on James, which led to Dreamer making the save last week. Ray is banned from ringside for this bout.
In a pair of No Surrender qualifying matches, PCO will take on Shera, and Brian Myers will take on Dirty Dango. The winners of those bouts will advance to a four-way number one contender's match on February 24. The winner of that bout will be next in line for an Impact World Championship match.
Two Knockouts matches will go down as Steph De Lander (formerly known as Persia Pirotta in "WWE NXT") will make her in-ring debut against the powerhouse Jordynne Grace. Taya Valkyrie and Jessicka of The Death Dollz will be in action as they take on the unlikely pairing of Taylor Wilde and Killer Kelly.
The show opens with a video package looking back at last week while previewing what's to come tonight.
Matt Cardona arrives and initially has trouble accessing the locker room. The guy working the door mistakes him for Joe Hendry and leads him to the wrong room at first. The guy then escorts Cardona to a closet as opposed to the cocktail platter that Hendry's room had.
Qualifying Match: Brian Myers vs. Dirty Dango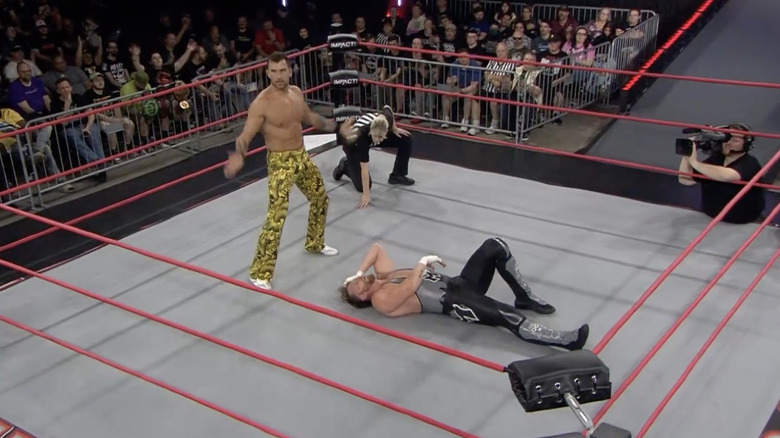 Impact Wrestling
Dango takes Myers to the corner to start before doing to hip thrusts. Myers with a headlock and then shoulder tackle. Dango comes back with arm drags and then a float over suplex into an arm bar on the mat. Dango with a leg drop, but Myers rolls outside. Myers goes under the ring and pulls Dango into the ring apron shoulder-first. Myers takes control with a headlock in the ring. Myers connects with a suplex, then covers. Myers and Dango clash at the same time and hit the mat. 
Dango gets back up with chest chops and a whip across the ring with uppercuts. Side Russian Legsweep from Dango, followed by the Dirt Bag Shuffle leg drop. Falcon Arrow from Dango, kick out at two. Dango hops outside the ring but Myers pulls the apron so he splits on it. Myers hits Roster Cut outside and then inside the ring for the pinfall win.
Winner: Brian Myers
Gisele Shaw and Jai Vidal walk into catering. Shaw ruins a couple meals before walking into Deonna Purrazzo. Deonna says it's her business now that Shaw mentioned Chelsea Green. Purrazzo throws a bowl of beans in Shaw's face. Santino Marella intervenes and books Purrazzo vs. Shaw for No Surrender.
Gia Miller interviews Trey Miguel. Trey is freaked out about what Crazzy Steve is up to. Trey's graphic behind him turns to red blood pouring instead of green spray paint.
The Good Hands vs. Tommy Dreamer & Mickie James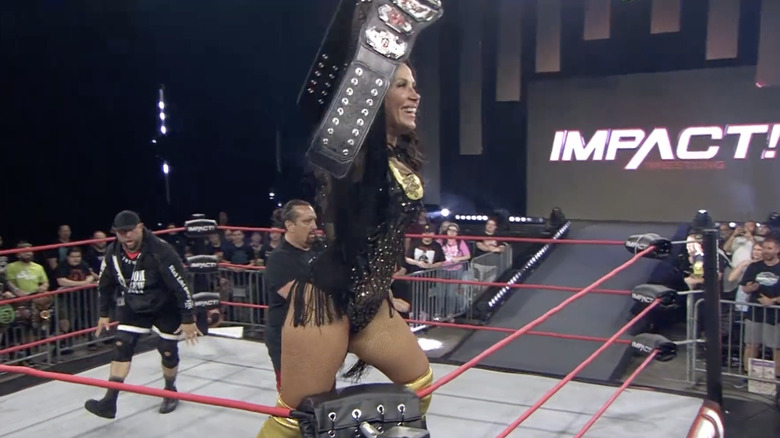 Impact Wrestling
The Goods Hands enter with a promo. They bash Florida as the skin tag of the company for heel heat.
Mickie and Hotch start the bout with a wrist lock. Dreamer comes in with a leg drop and twists the arm to tag in Mickie, who jumps in with an arm breaker. Dreamer and James pick apart Skyler until Dreamer throws both of The Good Hands out of the ring. Dreamer leaps off the apron with double flying clotheslines. James jumps off the top rope with a double crossbody. Good Hands get back in and double team Dreamer by keeping him in the heel corner and working quick tags. Dreamer breaks free with a cutter on Skyler. 
Mickie comes back in with clotheslines to Hotch. She does a head scissors out of the corner and then a flapjack. Skyler breaks up Mickie's cover by pulling her hair. Mick Kick connects. Mickie and Dreamer hit stereo DDTs and Mickie pins Hotch for the win.
Winners: Mickie James and Tommy Dreamer
Bully Ray attacks Dreamer as they celebrate. He comes face to face with Mickie, but Masha attacks her from behind. Masha drops the champ with the Snow Plow. Bully and Masha stand tall.
Johnny Swinger and Zicky Dice run into Santino backstage. Santino reminds Swinger he needs to win 50 matches to get a title shot. Dango interjects and they all argue until Dango and Santino leave. Dice hypes up Swinger.
A video package on Rich Swann airs as he gears up for a World title match.
Steph De Lander vs. Jordynne Grace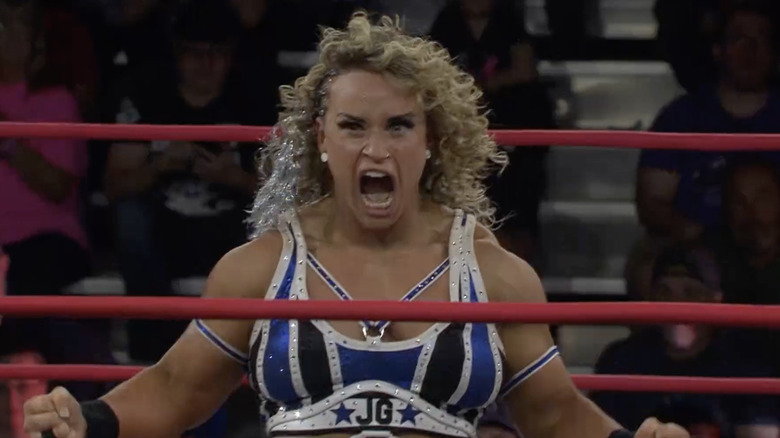 Impact Wrestling
De Lander cuts a promo beforehand, stating that Jordynne has had a fall from grace since losing her title. Now she's about to lose to a newcomer.
They lock up to start, but De Lander pushes Jordynne into the corner. Jordynne punches Steph and then kicks her out of the ring. Grace does a dropkick in the ropes and flips back into the ring. Steph gets in a cheap shot, allowing her a cover for one. Steph drives her shoulder into Grace in the corner, cover. Steph applies a headlock, but Grace powers up to her feet, but Steph takes her back down. De Lander hits a big suplex, but Grace gets right back up. 
Grace with forearm shots. Steph picks her up, but Grace slips out. Backhand and a German suplex from Grace, but Steph kicks out. Steph prevents the Grace Driver, so Jordynne slaps her. Grace hits Snake Eyes, followed by a big boot and two count. Jordynne manages to hit the Grace Driver for the three.
Winner: Jordynne Grace
Matt Cardona vents to another personnel backstage about his locker room situation. The guy leads Cardona outside the venue and shuts the door.
Gia Miller interviews Josh Alexander. Josh recognizes Swann's journey and what he did during the pandemic, but Josh has had his own journey of beating challenger after challenger. Josh says Swann will not be his friend at No Surrender. Kenny King interrupts and claims he's the only credible threat to the world title. Swann interrupts and tells King to keep his name out of his mouth. Swann sucker punches him and King plays the victim. Swann challenges him to a match, but King backs down and leaves.
Killer Kelly & Taylor Wilde vs. Death Dollz, The Hex returns
Impact Wrestling
Rosemary and Taya are representing Death Dollz. Taya starts things with Kelly as the two lock up. Kelly kicks Taya and swings at Rosemary in the face corner. Rosemary comes in to cover after Taya hits a German off the ropes. Rosemary does the Upside Down in the ropes to choke Kelly. Wilde reads her tarot cards on the apron and then tags in. Wilde runs into the turnbuckle then is hit by Rosemary. Wilde holds Rosemary in their corner before tagging Kelly.
Kelly does a stalling bridge into a cover. Wilde back in with a knee and couple punches. Double clotheslines take them both down. Taya and Kelly get the tags. Taya controls with a kick and clothesline. Taya hits a Blue Thunder Bomb for a nearfall. Kelly does a running kick and looks for a tag, but Wilde is still reading her cards. Wilde tosses a devil card at Kelly. Kelly runs into Road to Valhalla with an assist from Rosemary. Taya covers for three.
Winners: Death Dollz
While celebrating, Father James Mitchell returns. He tells Rosemary it's been quite some time since they last crossed paths. He says Jessicka reminds him of somebody he knows. He then reveals that he was sent to put a 'hex' on Rosemary. The Hex (Allysin Kay and Marti Bell) ambush Jessicka and Taya from behind. Rosemary runs back in and gets beat up as well.
Eddie Edwards pleas for Shera to take out PCO tonight.
Motor City Machine Guns talk to Kushida when Ace and Bey interrupt. Ace says they are not the same team from before they went to Japan. Bey lays out a challenge for a six-man tag match including Kenta.
Qualifying Match: Shera vs. PCO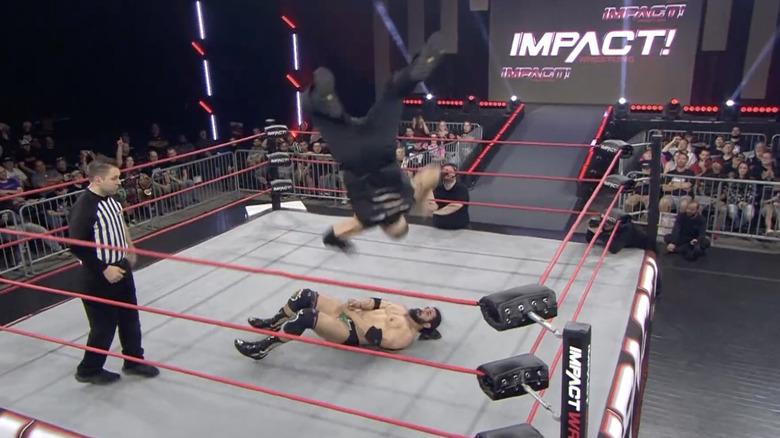 Impact Wrestling
PCO delivers several gut punches to start. Shera rolls out, so PCO flips through the ropes to take him down on the outside. PCO chokses Raj Singh and then Shera at the same time. They push him off into the ring apron. Shera takes PCO back inside and to the corner for a spear. PCO is busted open as he chokes Shera in the corner. Shera elbows him off, but PCO counters with a clothesline. PCO drops Shera with a reverse DDT. PCO goes up top for a huge moonsault. PCO covers for the win.
Winner: PCO
Matt Cardona tells Gia Miller that he had to change in the parking lot. He leaves and finds Myers hanging out with a few guys singing Hendry's catchy theme song.
Frankie Kazarian talks to Sami Callihan about what he's doing with The Design lately. The trio walks up and Kazarian challenges Kon to a match at No Surrender.
The announcers run down the cards for No Surrender and next week's show, which will be headlined by Rich Swann vs. Kenny King.
Digital Media Championship: Joe Hendry (c) vs. Matt Cardona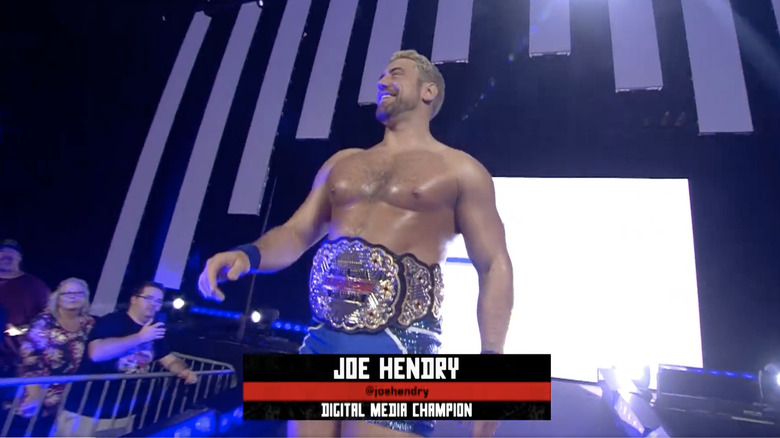 Impact Wrestling
Hendry starts with a promo, saying he recently beat Moose and now he gets to defend against "Edge's b*tch." Cardona hits Radio Silence right off the bat, but Hendry manages to kick out. Cardona is tossed to the outside where Hendry runs him over with a clothesline. Back inside, Hendry hits a powerslam and stalling suplex, cover. Hendry is taken to the outside and both men are down in pain. We return from break to find Cardona kicking Hendry in the corner. Hendry makes a brief comeback, but Cardona hits a neckbreaker for a cover. 
Cardona puts the champ in a headlock. Hendry approaches Cardona, but Cardona pulls the ref in between them. Hendry is thrown off and eats Reboot in the corner, cover. Hendry hits the Trust Fall, but Cardona kicks out. Hendry lands a big cutter, Cardona puts his foot on the rope. Cardona hits Radio Silence again, but the champ kicks out. Cardona jumps off the top, but Hendry catches him with a powerbomb.
Myers runs out and slides the title in the ring. Myers accidentally hits Roster Cut on Cardona. Hendry tosses Myers out and hits Standing Ovation on Cardona for the win.
Winner: Joe Hendry (c)
Moose runs out and spears Cardona before Hendry dumps Moose out of the ring. Hendry says tonight's about Matt Cardona and he plays the "Edge's b*tch" song. Cardona sits in the ring at a loss for words to end the show.