AEW Star Addresses Rey Mysterio Airport Situation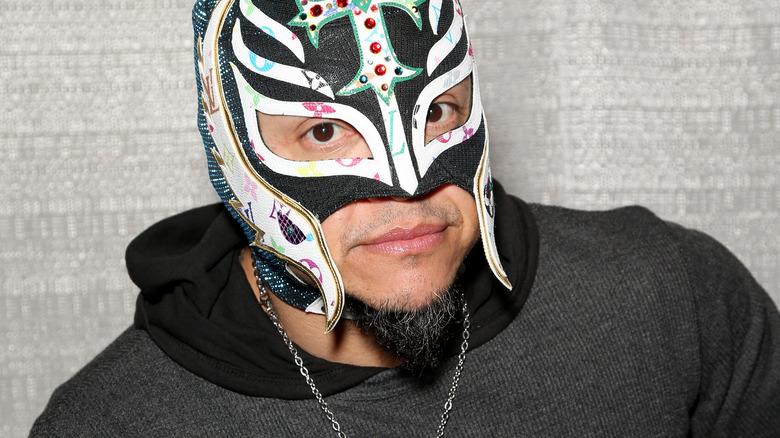 Gabe Ginsberg/Getty Images
Over the weekend, a video of Rey Mysterio being bombarded at the airport by autograph seekers went viral, and on this morning's edition of "Busted Open Radio," Mark Henry wasn't having any of it, coming to the defense of Mysterio turning down "fans" asking for a signature when it was clear they were looking to make a buck reselling such signed memorabilia.  
So these creeps showed up to the airport to stalk wrestlers for autographs.

Ran into Rey Mysterio who was polite and agreed to one autograph.

And these entitled goofballs are upset he didn't sign everything they had. pic.twitter.com/GhtAc6eK8c

— WrestleCringe (@WRESTLECringe) February 10, 2023
"I guarantee you it's about 15 to 20 guys. You see them every week in the airport as soon as we land. They'll drive seven to eight hours sometimes," Henry claimed, while adding that some of these "fans" will even bring kids with them in order to get something signed for the purpose of selling it. "The World's Strongest Man" further cited a story he had heard about The Undertaker admonishing one such grifter for doing something similar and expressed his displeasure at how those peddlers treated Mysterio, calling him "one the nicest people in pro wrestling."
"Guys I have zero respect for you. Zero and now it's worse," Henry stated, issuing a warning to those types. "Every time I see you — and you know who you are — I will have all the AEW talent not to sign for you. When you come to the hotel, I'm going to have security throw you out now, because I'm just going to make your life a living hell. Because if you try to tear down my brother — and I consider Rey family — you have made an enemy of me. It's the worst you could have done."