Tony Khan Names Wrestlers He Loved To Watch Get Beat Up As A Kid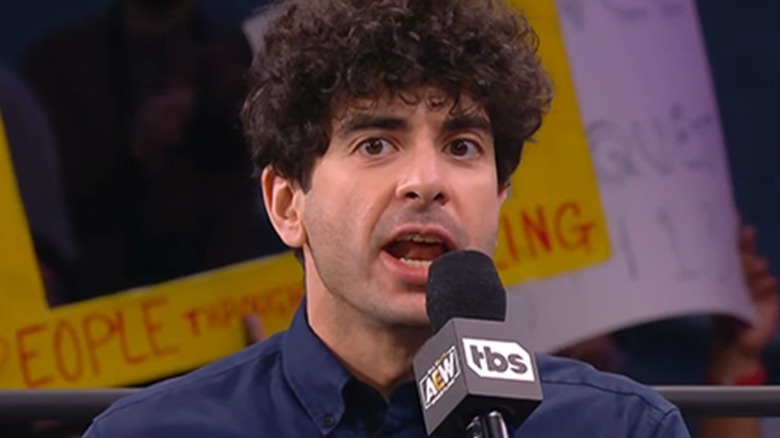 AEW
It's no secret that AEW President Tony Khan is a longtime pro wrestling fan. When he was growing up, there were several heels he couldn't wait to see get their comeuppance. Khan discussed the subject during an appearance on 105.3 FM's "The K&C Masterpiece." 
"'Ravishing' Rick Rude and Bobby 'The Brain' Heenan, and Ric Flair at times when Ric Flair was wrestling Sting," Khan said when asked to name the wrestlers he loved to hate as a kid.
Rude was managed by Heenan, who had a major assist in "The Ravishing One's" WWE Intercontinental Championship victory against "The Ultimate Warrior" at WrestleMania V in 1989. Flair and Sting had a legendary feud that featured a slew of world title matches, such as their famous 45-minute time limit draw at NWA's Clash of the Champions in 1988. One of the many memorable moments in the Flair-Sting rivalry was Sting being kicked out of The Four Horsemen.
Khan went on to praise Sting for his work in AEW. He called "The Icon" one of the greatest wrestlers in the world. The AEW boss believes that while Sting solidified his legacy long before his AEW run, he's certainly left his mark on the company. Khan said that Sting has had some of the most memorable matches in AEW history.
Sting recently revealed to D Magazine that his AEW contract will expire in 2023, and when the deal is up, so is his time donning the white and black face paint.