The Undertaker Learned A Valuable Lesson From Bruiser Brody: 'Sit Down And Shut Up'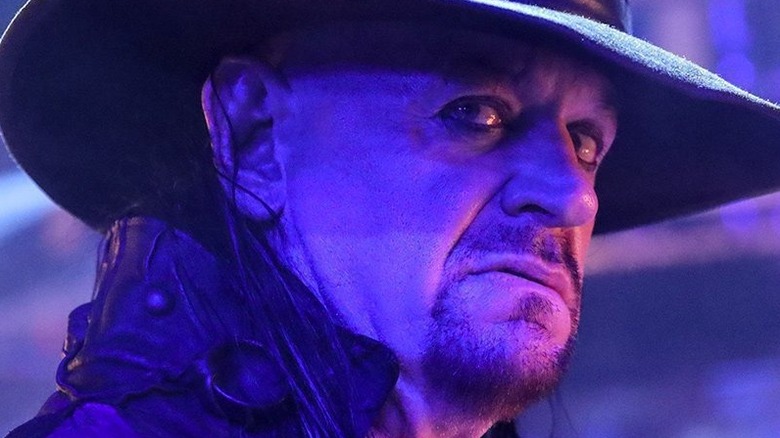 WWE
In a career spanning four decades, The Undertaker faced some of the most legendary names in pro wrestling history. During his appearance on Mike Tyson's "Hotboxin' with Mike" podcast, the WWE legend recalled the valuable lesson he learned in his first match, which was in World Class Championship Wrestling (WCCW), against the legendary Bruiser Brody. 
"Don't judge a book by its cover, and there's a reason why you're supposed to sit down, shut up and watch," he said.
Wrestling under a black mask as Texas Red, Undertaker stood at 6 feet, 8 inches, and weighed over 300 pounds at just 19 years of age. During the in-ring introductions, the Hall of Famer realized that he was bigger than Brody. As the two behemoths locked up, he heard Brody say "relax kid" as the two walked towards the corner. With Brody against the turnbuckle, Undertaker shoved Brody but accidentally clipped him in the face. "His whole demeanor changed on me," said the WWE legend.
Trapped in a standing armbar in the center of the ring, he walked Brody into the ropes and called for a clothesline. Brody then delivered a big boot that made the Undertaker's eyes roll into the back of his head. "Holy s**t, I'm in a whole different world now. It was time for me to get my first lessons and don't f**k with the old guys," Undertaker said. 
Brody manhandled his opponent with elbow strikes to the back of the neck, a chair shot on the outside of the ring, and three more running boots. Though he made a few rookie mistakes, Undertaker impressed Brody enough that Brody told the WCCW office to keep him rather than send him away to another territory.
If you use any quotes from this article, please credit "Hotboxin' with Mike" podcast with a h/t to Wrestling Inc. for the transcription.