Jim Ross On Getting Young Wrestlers To Sell: 'You Almost Have To Have A Meeting'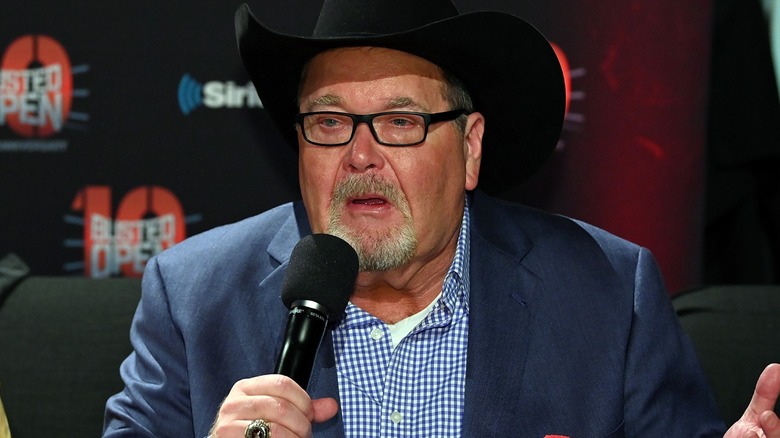 Slaven Vlasic/Getty Images
One of the biggest critiques leveled against the current generation of wrestlers in their back-and-forth contests is the lack of selling in their matches. Effectively, if one wrestler can't make it look as if they are being hurt or affected by the other's offense, then what's the point? Selling has been regarded as a lost art in the business as a result, because without it, audience buy-in for a match — or even for individual wrestlers alone — becomes much more difficult, and what you're left with is just cool-looking moves.
The lack of selling these days is not lost on AEW commentator Jim Ross. On a recent episode of "Grilling JR," Ross expressed his frustration about younger talent not understanding its importance. "Trying to get young guys to sell nowadays, you almost have to have a meeting," he said while watching a bout between Ric Flair and Ricky Steamboat that — you guessed it — featured all kinds of selling of one another's maneuvers. 
He continued to explain why talent not selling in matches is helpful to no one. "It's horrible. It's lazy and it's selfish and it's insecure. and there are a million other negative adjectives I can use to describe it. It's part of the essence of the presentation." Ross didn't offer any other specifics or details on which young stars might be in his sights due to their improper selling techniques., but it's clear that he does not like a lot of what he's seeing across the wrestling landscape these days.
If you use any quotes from this article, please credit "Grilling JR" with a h/t to Wrestling Inc. for the transcription.