AEW Star Hikaru Shida Returns To Ice Ribbon In March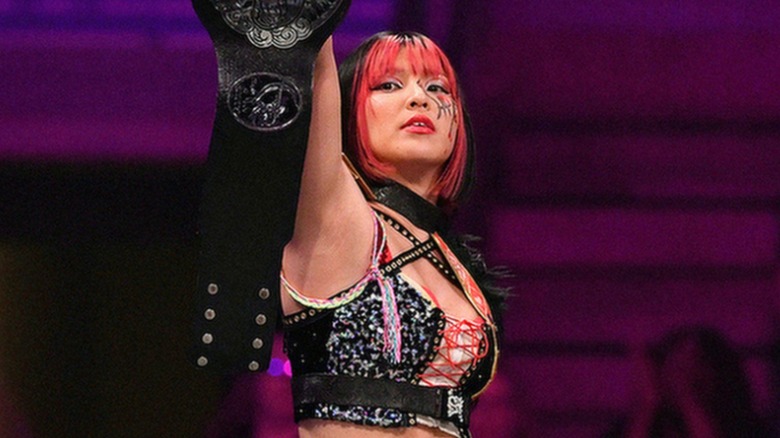 AEW
Hikaru Shida is heading back to Ice Ribbon next month to defend her tag team championship with teammate Ibuki Hoshi.
Shida, who is currently a member of the AEW women's roster, shared a video of herself on Twitter Tuesday morning, waving to the camera and telling fans "Don't worry, I'll be back soon!"
✈️â†'🇯🇵
Heading super busy days!!!! Don't worry, I'll be back soon!
いざ日本へ!!燃え尽きるまでやるぞ!!#魔界 #MAKAI #コルバタ志田組 #wavepro #iceribbon #OZアカデミー pic.twitter.com/VEOUsljZ44

— HIKARU SHIDA 志田 光 (@shidahikaru) February 28, 2023
The former AEW Women's Champion said her recent schedule has made for "super busy days" as she was set to fly back to Japan for her upcoming appearance with the Saitama-based Ice Ribbon promotion. Monthly Puroresu also shared the news Tuesday about Shida's upcoming appearance, tweeting, "The [AEW] star Hikaru Shida is coming back to [Ice Ribbon], and her presence will be felt on the Korakuen Hall on March 19th!"
The March 19 show will run out of the famous Tokyo venue — a step up for the promotion that typically hosts its shows out of the Ice Ribbon Dojo in the Saitama prefecture, just north of Japan's biggest city.
Shida – AEW's breakout women's wrestler of 2021 and the promotion's longest-reigning women's world champion – is a one-time ICEx60 Champion with the Ice Ribbon promotion. In addition, she is a five-time tag team champion, holding the belts with the likes of Tsukasa Fujimoto, Maki Narumiya, and her current tag team partner Hoshi. Shida and Hoshi won the International Ribbon Tag Team Championship last September. The duo has only been able to defend the titles once so far, beating BIG DEKAI members Totoro Satsuki and Yuna Manase on New Year's Eve.