Jake Roberts Says That Honky Tonk Man's Snake Pit Guitar Shot Seriously Injured Him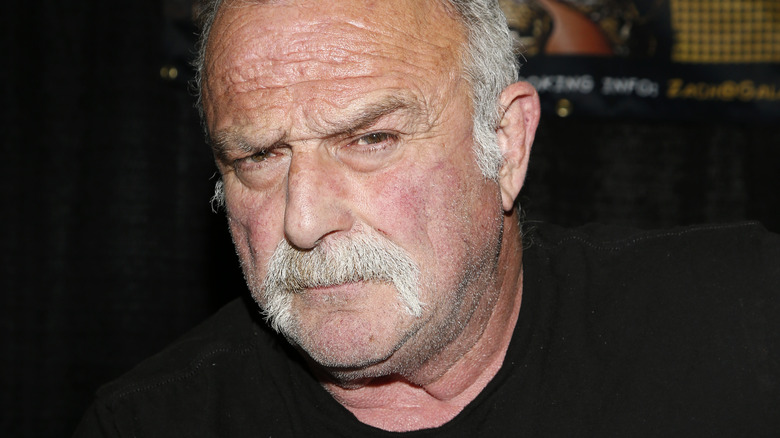 Gabe Ginsberg/Getty Images
Jake Roberts opened up about how a 1987 guitar shot he received from The Honky Tonk Man set him back both physically and mentally. The WWE Hall Of Famer was fresh off a face turn during that time and began working with Honky Tonk Man in a program and that was the major topic of this week's "Snake Pit" podcast.
"I enjoyed working with him," Roberts told co-host Marcus DeAngelo. "The only thing I didn't enjoy was that one guitar shot."
Roberts had no problem with taking the guitar shot. His only problem is that Honky Tonk Man hit him in the head with the side of the guitar. Roberts called it a "chicken s*** shot," but didn't think there was any ill will towards him from Honky Tonk Man. Roberts suffered major damage to the neck as he said his C6 and C7 vertebrae were destroyed, but he wrestled two more years before having surgery. Roberts made clear he'd like to let bygones be bygones after all the friction the two had over the years because of it.
Lingering Effects
Jake Roberts said the pain and the guitar itself lingered long after The Honky Tonk Man smashed it over his head.
"My wife picked fiberglass out of my back for about two weeks, and that s*** you can't see," he said.
Roberts also mentioned that the aftermath of the guitar shot led him to take pain pills way too often. He said he went to multiple chiropractors to address the pain, but it just wasn't helping. Roberts' lawyer told him that he should sue "the f***" out of WWE, but his love for wrestling caused him to not press the issue any further. He noted that Vince McMahon never brought it up.
"He didn't say s***. He didn't ask me how I was, he didn't ask me nothing."
If you use any of the quotes in this article, please credit "Snake Pit with Jake Roberts" with an h/t to Wrestling Inc. for the transcription.