Kevin Nash Never Saw A Script In WWE Until He Returned In 2002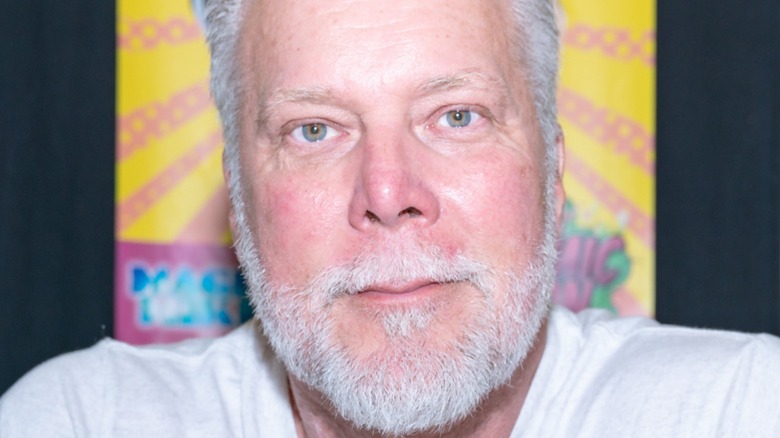 Markus Wissmann/Shutterstock
In professional wrestling, the live interaction between the wrestlers and the crowd is similar to a Broadway play, the physicality is derived from combat sports, and the storylines come straight from the world of television and film. And promos are what bring everything together as they are the wrestler's narration of the story, and a good one is what makes a match highly anticipated, a storyline legendary, and a performer remembered.
WWE Hall of Famer Kevin Nash is known for his ability to cut excellent promos. Nash has been open about being a proponent of giving unscripted promos, but he spoke about WWE opting to write scripts for wrestlers' promos on his podcast, "Kliq This." "It wasn't until I came back in 2002 or whatever that they started handing you [a script], and then going down at 1:00 and having rehearsals," Nash mentioned.
WWE has long been criticized for how scripted its product is, with the company moving toward the trend around the time it went public. Given the influx of revenue and the number of viewers the Attitude Era garnered, it's believed that Vince McMahon chose to make the product more controlled. McMahon began putting multiple writers in place to create the show, going as far as ripping up scripts on the day of a show, causing panic among the writers and wrestlers to create a new one.
Nash was also asked if his time with WCW was all improvisational, to which he said yes. Similarly, AEW owner and president Tony Khan believes that wrestling is best when things are unscripted. In addition, he has mentioned that he doesn't believe in "handcuffing" his talent, opting to allow them to tell the story in their own words and their own way.