WWE Raw Results (03/06) - John Cena Returns, Sami Zayn Vs. Jimmy Uso, Seth Rollins Comes Face To Face With Logan Paul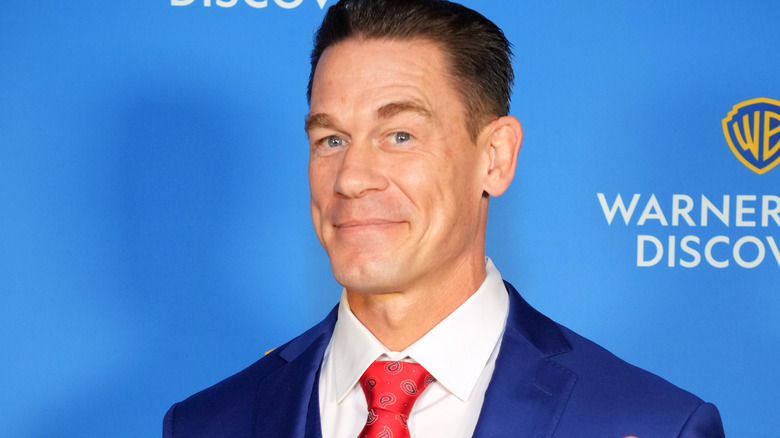 Kevin Mazur/Getty Images
Welcome to Wrestling Inc.'s results of "WWE Raw" on March 6, 2023, coming to you live from the TD Garden in Boston, Massachusetts!
John Cena will be making his WWE return tonight in light of recent reports stating that he is currently set for a match against United States Champion Austin Theory at "WrestleMania 39". Cena last appeared on the December 30 episode of "WWE SmackDown", during which he joined forces with Kevin Owens to defeat Undisputed WWE Universal Champion Roman Reigns and the former "Honorary Uce" Sami Zayn.
Speaking of The Bloodline, two members are set for singles action, as one half of the Undisputed Tag Team Champions Jimmy Uso goes head-to-head with Zayn while Kevin Owens squares off with Solo Sikoa. Dissension within the group has continued to grow, with Reigns declaring on "SmackDown" that if Jey Uso doesn't appear on this Friday's edition of the show, then Jimmy will be blamed for his brother's recent absence.
Seth "Freakin" Rollins has been looking to get his hands on Logan Paul ever since Paul interfered in the Men's Elimination Chamber match and cost him the United States Championship. Last week, he used The Miz's phone to call Paul and challenge him to meet him in-person. Paul accepted, and tonight the two will confront one another in what promises to be a heated exchange of words.
Before she defends her title against Asuka at "The Showcase of the Immortals", "Raw" Women's Champion Bianca Belair will be facing Carmella. An irate Carmella blindsided both Asuka and Belair with an attack when the duo came face-to-face following her loss to the former.
Additionally, Judgment Day's Finn Balor will be colliding with Johnny Gargano. The winner of the 2023 Men's Royal Rumble Cody Rhodes, "The Man" Becky Lynch, and "The All Mighty" Bobby Lashley are all advertised to appear on tonight's show.
We are live! We head to a video of Paul Heyman, Solo Sikoa, and Jimmy Uso arriving at the arena earlier today. Heyman goes over the game plan with Jimmy and Sikoa. He tells Jimmy that he needs to take care of the Sami Zayn problem regardless of what Jey chooses to do on Friday while Sikoa solves the Kevin Owens problem. The duo walk off, and Heyman calls Roman Reigns.
Corey Graves and Kevin Patrick greet audiences at home as Kevin Owens heads to the ring. Sikoa follows.
Kevin Owens vs. Solo Sikoa
Owens wastes no time. He fires off right hands before the pair spill to the outside and Owens whips Sikoa into the barricade. Sikoa sends Owens colliding with the ring post, and the two get into the ring. The bell sounds, and Owens rains down right hands. Sikoa fires back with an uppercut and a series of stomps, then delivers a knee to Owens' spine and a right hand to his head. He then delivers several more stomps and a running knee, then follows it up with a diving headbutt. Sikoa locks in a chinlock, but Owens fires back with a senton. Jimmy Uso runs down to the ring and distracts Owens, allowing Sikoa to deliver a hip attack. Owens rolls to the outside, and Sikoa follows him out there before delivering a second hip attack.
Back from the break, Sikoa fires off several right hands and headbutts. He hits a Samoan Drop, then charges at Owens. Owens ducks out of the way and delivers a DDT, then follows it up with a series of forearms. He sends Sikoa shoulder first into the ring post and looks for a Stunner, but Sikoa ducks it. Owens lands a pair of superkicks and a cannonball, then ascends to the top and delivers a Swanton Bomb. He goes for a pin, but Jimmy breaks the fall and begins beating down Owens, causing a disqualification.
Winner: Kevin Owens (via disqualification)
After the match, Jimmy and Sikoa continue to beat down Owens. They lay him on the announce desk and Sikoa sets up for a splash, but Sami Zayn appears out of nowhere and saves Owens. He grabs a chair and begins swinging it around, causing Sikoa and Jimmy to retreat. He then extends his hand to Owens and offers to help him up after the pair wind up back in the ring, but Owens refuses to take it and slides out. He then heads to the back.
Back from the break, we head backstage to Bobby Lashley. He says he is tired of playing kid games with Bray Wyatt and showed up on "SmackDown" this past Friday to face him man to man. He says Wyatt decided to send Uncle Howdy instead and asks Wyatt what it will take to meet him in-person as Wyatt's logo flashes on the screen behind him.
We head backstage to Carmella and Byron Saxton. Carmella says that she will beat Belair tonight before Chelsea Green walks in and the pair begin bonding. Green suggests that they go over Adam Pearce's head to complain about his performance as a WWE official, and Carmella agrees. She then asks Green to be in her corner, and Green says she will be there.
Back at ringside, Bianca Belair heads down. Carmella and Green follow.
Bianca Belair vs. Carmella (w/ Chelsea Green)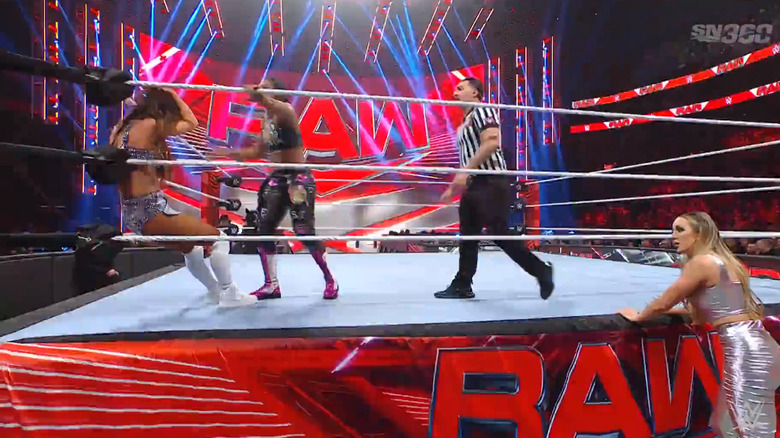 WWE/USA Network
The bell rings and the two lock up. They go back and forth with submission holds before Carmella tosses Belair to the outside and sends her crashing into the announce desk. Belair chases Carmella back in the ring, then delivers a dropkick before Carmella plants her.
Back from the break, Carmella delivers a hair whip and ascends to the top. She looks for a Frog Splash, but Belair catches her and rolls through. She hits a backbreaker and a moonsault off the ropes, then goes for a pin. Green causes a distraction, and the referee misses the fall. Belair pulls Green in the ring, but Carmella catches her with a superkick and saves Belair. Belair delivers a series of right hands before Green tries interfering once more. Belair tosses Green into the timekeeper's area and gets back in the ring. Carmella rolls her up (with her feet on the ropes), but Belair kicks out and hits the KOD for the win.
Winner: Bianca Belair
After the match, Carmella and Green beatdown Belair, but Asuka's music hits and she spits her mist into Green's face. She gives Belair a friendly nod before the two stare one another down.
We head backstage to Sami Zayn and Kevin Owens. He asks Owens if he understands what he's been telling him and says the only way to take down The Bloodline together. Zayn tells Owens to listen to him, but Owens cuts him off and says he knows they're too much for one person to handle. He says they may be able to take down the stable together, but he doesn't want to do it with Zayn. He tells Zayn he doesn't care what he does and tells him to leave him out. A dispirited Zayn walks away.
Seth Rollins and Logan Paul Come Face-To-Face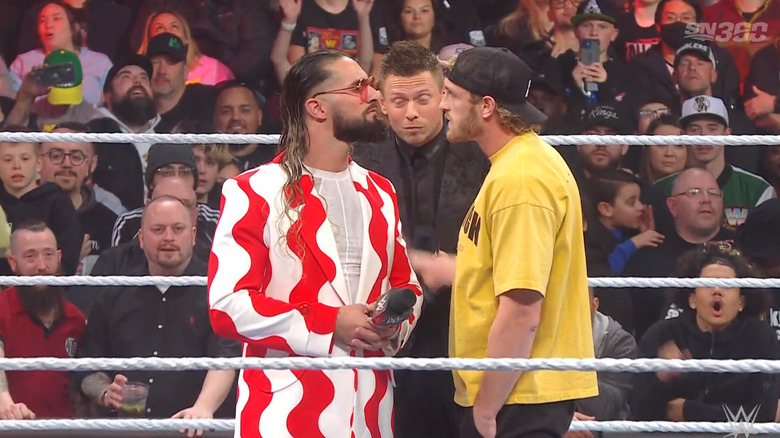 WWE/USA Network
Back from the break, The Miz is in the ring. He says he will be moderating the upcoming face-to-face between Seth "Freakin" Rollins and Logan Paul ahead of his duties as host of "WrestleMania 39", and will put his biases aside. He then introduces Paul, and Rollins follows.
Miz tries and gets the fans to stop singing Rollins' song, but they refuse to do so.
Rollins mocks Paul and says it sounds like fans know who he is, but they haven't been formally introduced. He tells Paul who he is before Paul says he knows who Rollins is. He says he is the guy he eliminated in the Royal Rumble and kept him from winning Elimination Chamber, then says he doesn't know what Rollins' problem with him is other than he is better than Rollins has been in the past twenty years. Rollins tells Paul no one likes him because he is scum and "a human dumpster fire", then says no one wants to see him here. He says Boston came to see him get his pound of flesh and says it's time to fight.
The two prepare to get physical, but Miz stops them. Paul tells Miz he does what he wants, but he won't fight Rollins now because he doesn't fight for free. Miz interjects and says as host of WrestleMania, he can make the match happen for the Premium Live Event. Rollins makes sure he heard Miz right, then tosses him out of the ring in an effort to get him to go to the back and do such. Rollns and Paul begin to brawl, and Paul looks for the Curbstomp. Rollins ducks it and hits an intervening Miz with a superkick. He shoves Paul into the corner, but Paul knocks him down with a right hand and tells him to let him know about WrestleMania.
Omos and MVP then head to the ring, with Dolph Ziggler following.
Omos (w/ MVP) vs. Dolph Ziggler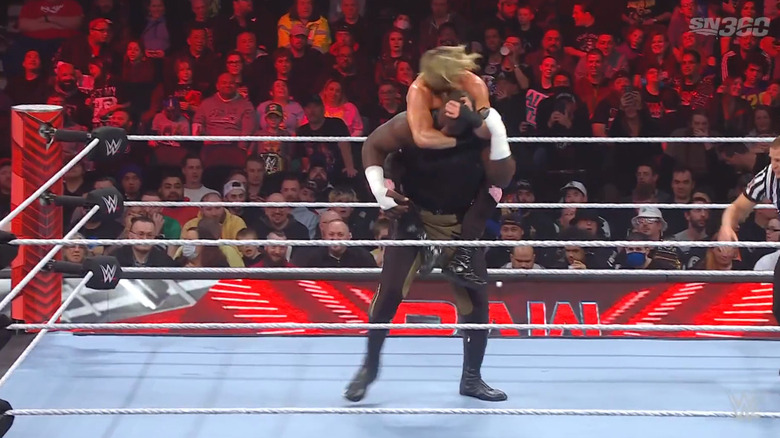 WWE/USA Network
The bell rings and Ziggler locks in a Sleeper. Omos gets Ziggler off his back, then delivers a big boot as Ali watches on from the crowd. He follows it up with a two handed chokeslam for the win.
Winner: Omos
After the match, MVP grabs a mic. He says Brock Lesnar asked him to hype up his WrestleMania match with Omos, and he did just that.
We head backstage to Maximum Male Models, who are complimenting someone. Baron Corbin walks in and says he appreciates their comments, but they tell him they were talking about Otis. We pan over and see him talking to Chad Gable. Maxxine Dupri tells Corbin that she sees something in him, and if he can help them get rid of Gable tonight so they can get to Otis, then she will sign him. Corbin agrees.
Back at ringside, Judgment Day heads down. Johnny Gargano and Dexter Lumis follow.
Back from the break, we head backstage to Paul Heyman, Solo Sikoa, and Jimmy Uso. Heyman tells Jimmy that he has the ability to put an end to the Sami Zayn problem once and for all, then reminds him of how important it is for him to make sure Jey shows up on Friday.
Finn Balor (w/ Judgment Day) vs. Johnny Gargano (w/ Dexter Lumis)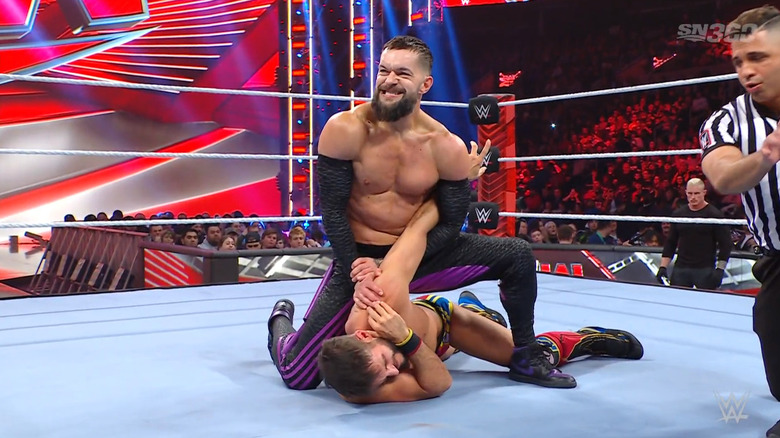 WWE/USA Network
The bell rings and the two lock up. They go back and forth with holds before Balor delivers a shoulder tackle. Gargano fires back with an arm drag and a dropkick. Balor hits a shoulder to Gargano's midsection, but Gargano manages to hit a hurricanrana and a kick that sends him out of the ring. He then delivers a tope suicida.
Back from the break, Balor delivers a stomp but Gargano catches him with a kick. He hits a pair of back elbows and a clothesline, then follows it up with a Spear and a knee. Balor fires back with a Sling Blade, but Gargano manages to hit a pair of superkicks. Balor hits a double stomp and dropkicks Gargano in the corner, then ascends to the top.
Edge's music hits and Damian Priest and Rhea Ripley climb the ramp as they anticipate his appearance. Edge surprises Balor and pushes him off the top, allowing Gargano to hit a DDT for the win.
Winner: Johnny Gargano
After the match, Priest looks to attack Gargano, but Lumis pushes him. Meanwhile, Edge is inside the ring and he hits Balor with a Spear.
Back at ringside, Nikki Cross heads down. Piper Niven follows. 
We head backstage to Edge and Byron Saxton. Saxton asks Edge for his comments in regards to what just happened, and Edge says the pair have cost one another matches and affected one another's careers. He tells Balor he will be in the ring next week, and invites Balor to meet him there. 
Nikki Cross vs. Piper Niven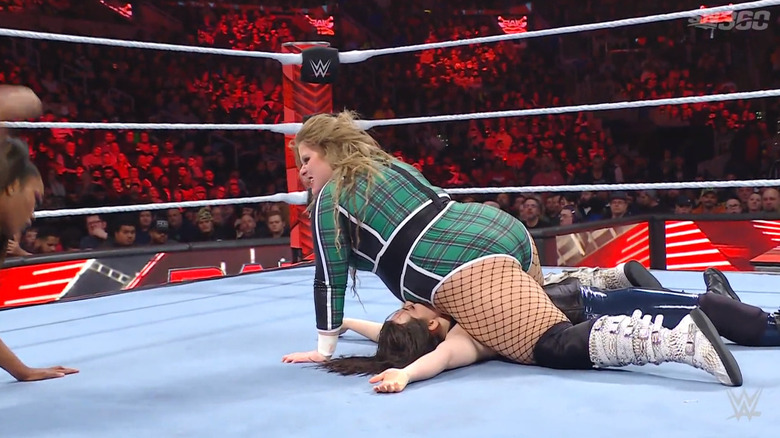 WWE/USA Network
Cross attacks Niven from behind before the match can even start. She jumps on Niven's back, and the bell rings. Cross delivers a crossbody, but Niven rolls to the outside before Cross can pin her. Cross delivers a dropkick to Niven's knee and looks for a swinging neckbreaker, but Niven catches her and plants her with the Loch Ness Slam for the win.
Winner: Piper Niven
Back from the break, John Cena heads down to the ring as the hometown crowd gives him a warm welcome. However, before he can speak, Austin Theory's music hits and he heads to the ring.

Austin Theory Confronts John Cena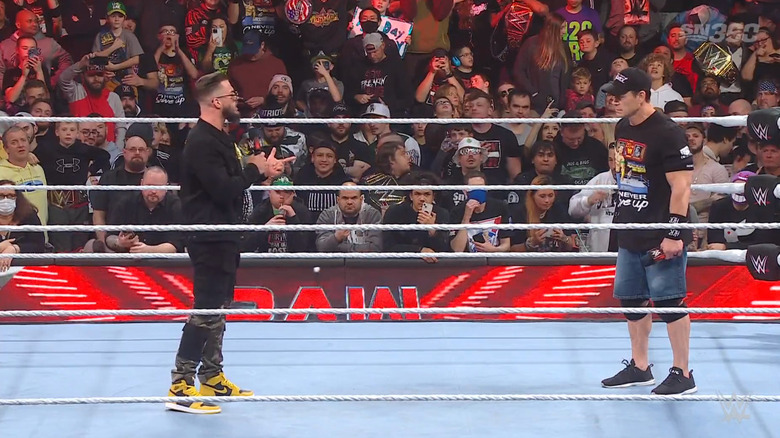 WWE/USA Network
Theory says he has all the respect in the world for Cena. He says Cena is the reason he became a wrestler in the first place and he has all the respect for him. He says he has a gift for Cena, then offers Cena a United States Championship match at "WrestleMania 39". Cena declines his gift, then says while he took a second to think it over, his answer is no because he hasn't earned the right to give his gift. He says no one cares about Theory because they don't believe him. He says he doesn't believe in himself and has no heart, then says he's been in his place. Cena says Theory is in his ruthless aggression era and says he has no heart and soul, then adds that Theory is a "pair of trunks away from being a jabroni". He tells Theory he has the best name in WWE because he is simply a theory. He says in theory, fans should be in arenas to see him, but no one cares and he's wasting everyone's time. Cena says himself and Boston would like to give him a gift: the option to leave the ring and remain in one piece.
Theory says he isn't going anywhere "like the bald spot on [Cena's] head". He says he's seen all the shirts like the one he's wearing that say "never give up". He asks Cena if that's what he's doing, then asks him where the hustle, loyalty, and respect is. He then tells Cena that you shouldn't meet your hero because they always disappoint.
Cena tells Theory he would rather be bald than have crowd noises added to his matches, then says he said no to Theory because he isn't ready. He says if they square off at WrestleMania, then Theory loses everything whether he wins or loses. He further explains his point, adding that if Theory were to win, then he would have to face the harshest critics: the fans. He says Theory made it personal when he brought fans into things, then thanks his family and the fans. He asks fans if they want to see the match, and they erupt. Cena says he will never give up on fans, then says Theory made the biggest mistake of his life by offering Cena the match. He wishes Theory locks and says he's going to need it.
Cena walks off, but before he heads to the back, he tells Theory that he is n no way ready for the WrestleMania stage. He then says someone who is ready for it is here tonight and introduces Cody Rhodes. Rhodes heads out and the two men embrace. 
Chad Gable and Otis then head to the ring. Baron Corbin follows.
Chad Gable vs. Baron Corbin
WWE/USA Network
The bell rings and Corbin delivers a splash. We see Maximum Male Models watching on from backstage as Corbin delivers a splash and rains down elbow strikes. Gable fires back with a German suplex, but Corbin delivers a chokeslam. Gable locks in the Ankle Lock, and Corbin taps out.
Winner: Chad Gable
Back from the break, Becky Lynch and Lita head to the ring.

We Hear From Becky Lynch, Lita and Trish Stratus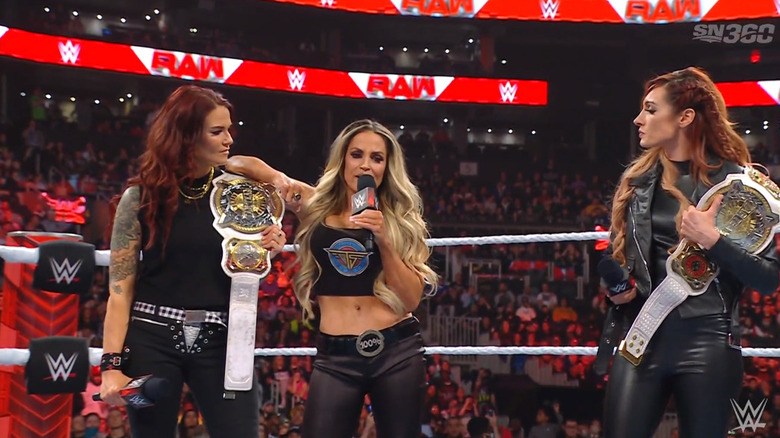 WWE/USA Network
Lynch says "The Man" and Lita have come around, then says when two legends come together, they don't miss. Lita says you either let an opportunity pass by or you make the most of it and while Damage CTRL didn't take it easy, they did make it worth it. Lita says there is someone they have yet to thank for helping them last week, and Trish Stratus' music hits.
Stratus heads to the ring and tells Lita she always has her back. She says getting to see her team up with Lynch to capture gold meant a lot to her.
Damage CTRL's music hits and the trio head to the ring. Bayley says Lita, Stratus, and Lynch love to steal the spotlight for their benefit. She says she sees through them and calls them selfish. She says the three of them will be the reason Lita and Stratus never come back. Stratus says she warned her that she could quickly go from is retired to was retired. She challenges Damage CTRL to a six-woman tag team between them and herself, Lynch, and Lita. Bayley accepts, and Dakota Kai and IYO SKY ask her what she's doing. SKY and Kai then look to attack Stratus and Lita, but Lita and Stratus then toss them out of the ring. Bayley tries to retreat, but Lita, Stratus, and Lynch surround her. Stratus sets up for the Chick Kick, but Bayley manages to escape.
Back from the break, Jimmy Uso and Solo Sikoa head to the ring. Sami Zayn follows.
Sami Zayn vs. Jimmy Uso (w/ Solo Sikoa)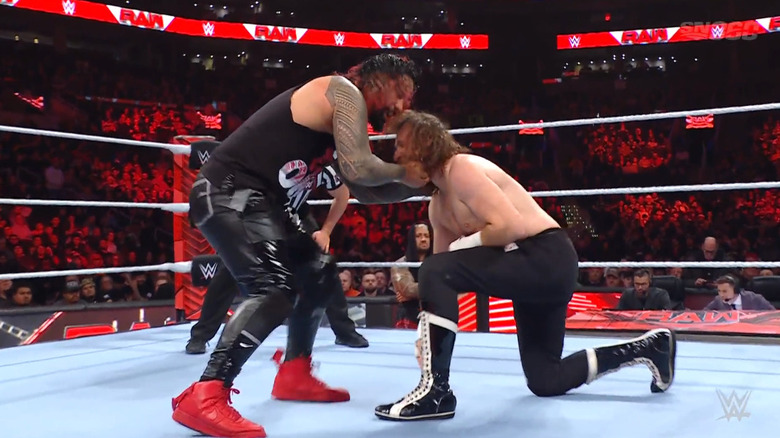 WWE/USA Network
The bell rings and Zayn wastes no time. He fires off several right hands and tosses him out of the ring, then follows him out there. Jimmy whips Zayn into the barricade, but Zayn manages to toss him into the timekeeper's area.
Back from the break, Zayn and Jimmy go back and forth with right hands. Zayn gains the upper hand and delivers a Tornado DDT off the middle rope, then delivers a diving crossbody. Jimmy tosses him to the outside, where Sikoa sets up for the Samoan Spike. The referee catches him and ejects him from ringside, allowing Zayn to deliver the Blue Thunder Bomb. He goes for a pin, but Jimmy kicks out.
Back from another break, Jimmy delivers a kick to Zayn's head as he sits on the top rope. Zayn goes flying, but Jimmy catches him with a kick. Jey heads down to ringside through the crowd and gets up on the announce desk. Zayn looks for a Helluva Kick, but Jimmy ducks it. Zayn then manages to roll up Jimmy for the win.
Winner: Sami Zayn
After the match, Jey gets in the ring and the brothers stare one another down. He grabs Jimmy's "We The Ones" Usos shirt and tugs on it before he hops out of the ring to join Zayn on the ramp, where he hugs him. He holds up the one symbol with Zayn, but out of nowhere, he superkicks Zayn and yells at him. He tells him that it's always been about family, then tosses him in the ring. The Usos blindside Zayn with an attack, and Sikoa joins them. Cody Rhodes' music hits and he runs down to the ring to make the save.